Los riesgos acentuados de una desaceleración estadounidense
CAMBRIDGE – La economía de Estados Unidos avanza a pasos agigantados, y el crecimiento del PIB por sobre la tendencia parece que continuará en 2018 y 2019. Si bien la expansión está en su noveno año, no hay ninguna señal de un desplome inminente.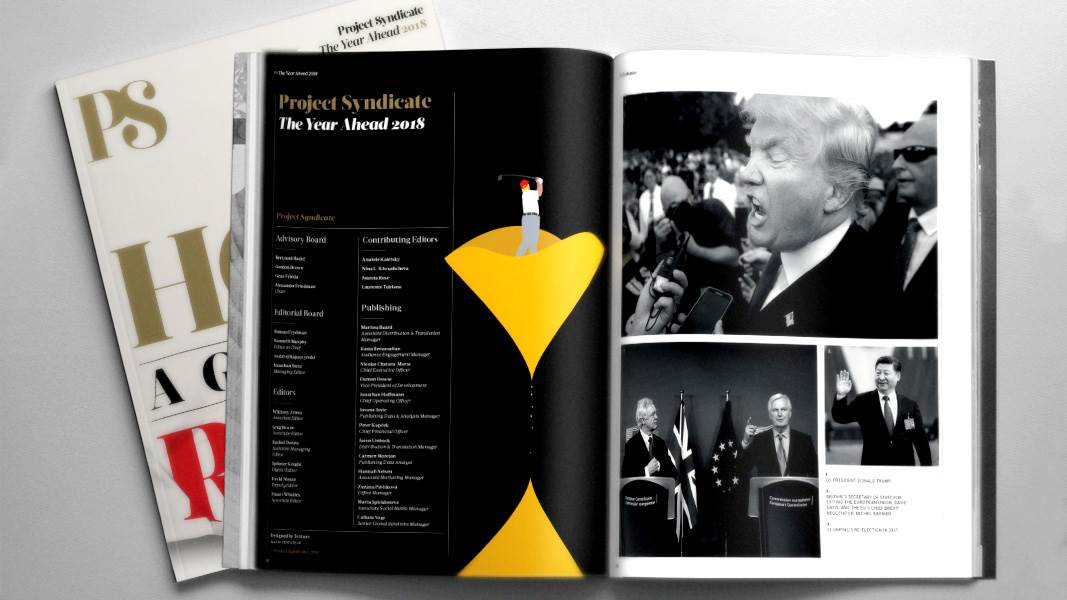 The Year Ahead 2018
The world's leading thinkers and policymakers examine what's come apart in the past year, and anticipate what will define the year ahead.
El mayor riesgo para la expansión económica es la fragilidad del sector financiero. Una década de tasas de interés excesivamente bajas ha llevado los precios de los activos a picos extremos. El rendimiento real de los bonos del Tesoro a diez años es aproximadamente cero. El ratio precios-ganancias del índice de acciones S&P 500 está alrededor del 70% por encima de su promedio histórico. Si estos precios y los precios de otros activos regresaran a sus puntos de referencia históricos, los inversores sufrirían pérdidas superiores a 10 billones de dólares, lo que derivaría en caídas en el gasto de los consumidores y en la inversión empresarial.
La actividad económica también podría desacelerarse como resultado de un conflicto internacional en Corea, una intensificación de las disputas comerciales y acontecimientos políticos internos en Estados Unidos.  
Las desaceleraciones son una característica normal de la economía estadounidense, que ha experimentado nueve recesiones en los últimos 50 años. Lo que hace que la situación actual sea inusual y más preocupante que en el pasado es el bajo nivel de las tasas de interés de corto plazo, lo que limita la capacidad de la Reserva Federal de Estados Unidos para hacer que la política monetaria pueda hacer frente a la próxima recesión.
La Fed suele responder a una desaceleración reduciendo marcadamente la tasa de los fondos federales de corto plazo. Durante la desaceleración más reciente, la Fed redujo la tasa de referencia de más del 5% en julio de 2007 a apenas 0,16% en diciembre de 2008, una reducción total de más de cinco puntos porcentuales. Hoy, con la tasa en sólo el 1,4%, la Fed tiene poco margen para una reducción significativa de la tasa. En su reunión de diciembre, el pronóstico mediano del Comité Federal de Mercado Abierto para la tasa de los fondos federales a fines de 2019 todavía era una tasa bajísima del 2,9%.
Para estimular la demanda en la última desaceleración, la Fed también puso en práctica lo que llamó una "política monetaria no convencional". Prometió mantener bajas las tasas de corte por un tiempo y comprar bonos de largo plazo para su propia cartera. Esta estrategia estaba destinada a mantener lo suficientemente bajas las tasas de interés de largo plazo para impulsar la demanda de acciones y bienes raíces, y así aumentar la riqueza y el gasto. No es claro si esta estrategia ofrece el estímulo esperado mientras las tasas de interés reales se mantienen.  
La responsabilidad de estimular la economía en la próxima desaceleración por ende recaerá en la política fiscal -cambios en los impuestos y el gasto púbico.
Un nuevo recorte impositivo temporario no funcionaría. La experiencia demuestra que un recorte temporario de los impuestos a las ganancias personales ofrecerían muy poco estímulo, porque la mayoría de los contribuyentes utilizarían el ingreso neto extra resultante para pagar deuda o aumentar sus ahorros, en lugar de gastar más.
Pero la ley impositiva de 2017 ofrece una oportunidad para un recorte impositivo permanente al preservar los recortes que hoy están programados para vencer en 2025. Los republicanos que diseñaron y votaron a favor de la ley de 2017 esperaban extender esos recortes más allá de 2025 en una legislación subsiguiente. Una desaceleración económica en los próximos años sería un buen momento para hacer que los recortes se vuelvan permanentes.
La otra manera de revertir una desaceleración económica sería incrementar el gasto del gobierno. Hoy hay un respaldo bipartidario generalizado de un mayor gasto en infraestructura de todo tipo, de la misma manera que en la desaceleración de 2007. Si bien la administración Obama hablaba de proyectos "inmediatos" cuando promovía su legislación de presunto estímulo, la realidad es que se invirtió muy poco dinero en infraestructura, debido a las largas demoras vinculadas a la implementación de estos proyectos.
El Congreso de Estados Unidos y la Casa Blanca ahora deberían empezar a desarrollar un inventario de proyectos de infraestructura que se pudieran implementar cuando la economía se desacelere. Si no se produce una desaceleración en los próximos años, de todas maneras sería deseable que se empezaran algunos de estos proyectos.  
Otra forma de gastar para estimular la economía serían mayores desembolsos para defensa. Debido a la regla de "recortes automáticos" en la Ley de Control Presupuestario de 2011, se requiere que el nivel de gastos de defensa caiga del 4,3% del PIB en 2012 a apenas el 2,8% del PIB en 2023, el porcentaje del PIB más bajo desde la Segunda Guerra Mundial. Los expertos en defensa coinciden en que este nivel es demasiado bajo para las necesidades de defensa de Estados Unidos. Un incremento en los gastos al 4% o más del PIB sería una fuente importante de mayor demanda general y un aporte crucial para la seguridad nacional.
El alto nivel de la deuda nacional -alrededor del 77% del PIB ahora y encaminado al 97% al final de los próximos diez años- crearía una fuerte resistencia a los recortes impositivos o a un incremento del gasto. Pero una desaceleración económica importante con un margen limitado para una acción por parte de la Fed le dejaría pocas opciones al Congreso.
La necesidad de un futuro estímulo fiscal deja en claro que Estados Unidos necesita empezar ahora a desarrollar una estrategia para desacelerar el crecimiento de la deuda nacional. Es la única manera de crear suficiente espacio para una política fiscal expansionista que, en definitiva, la economía terminará necesitando.