Die wachsende Gefahr eines Abschwungs in den USA
CAMBRIDGE – Die US-Konjunktur läuft bestens und das BIP-Wachstum dürfte auch 2018 und 2019 weiterhin über dem Trend liegen. Obwohl die Wirtschaft ins neunte Wachstumsjahr in Folge geht, deutet nichts auf einen bevorstehenden Konjunktureinbruch hin.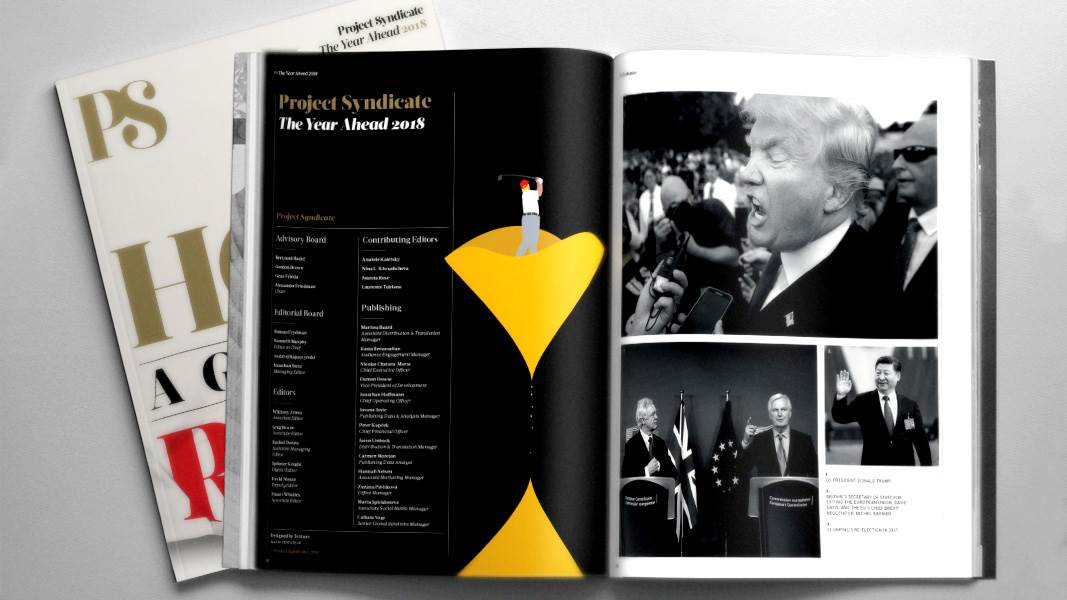 The Year Ahead 2018
The world's leading thinkers and policymakers examine what's come apart in the past year, and anticipate what will define the year ahead.
Die Fragilität des Finanzsektors stellt das größte Risiko für das Wirtschaftswachstum dar. Ein Jahrzehnt zu niedriger Leitzinsen hat die Preise für Vermögenswerte in ungeahnte Höhen steigen lassen. Die reale Rendite für zehnjährige US-Staatsanleihen beträgt etwa null. Das Kurs-Gewinn-Verhältnis des US-Aktienindex S&P 500 liegt rund 70% über dem historischen Durchschnitt. Sollten diese und andere Aktienbewertungen auf ihren historischen Vergleichsmaßstab zurückfallen, würden Anleger Verluste in Höhe von über 10 Billionen Dollar erleiden, was zu einem Rückgang der Konsumausgaben und Unternehmensinvestitionen führen würde.
Auch internationale Konflikte in Korea, vermehrte Handelsstreitigkeiten oder innenpolitische Ereignisse in den USA könnten eine Konjunkturabschwächung nach sich ziehen.
Abschwünge sind ein charakteristisches Merkmal der US-Wirtschaft, die in den vergangenen 50 Jahren neun Rezessionen erlebt hat. Was die gegenwärtige Situation ungewöhnlich und besorgniserregender macht als in der Vergangenheit, ist das niedrige Niveau der kurzfristigen Zinsen, das die Möglichkeiten der US-Notenbank Fed einschränkt, der nächsten Rezession mit geldpolitischen Maßnahmen entgegenzuwirken.
Traditionell reagiert die Fed mit einer deutlichen Senkung ihres Leitzinses auf einen Abschwung. Während des jüngsten Abschwungs hat die Fed die Federal Funds Rate, zu der sich Banken gegenseitig über Nacht kurzfristige Kredite geben, von über 5% im Juli 2007 auf lediglich 0,16% im Dezember 2008 und damit insgesamt um über fünf Prozentpunkte gesenkt. Beim derzeitigen Stand von nur 1,4% hat die US-Notenbank wenig Spielraum für eine deutliche Zinssenkung. Bei seiner Sitzung im Dezember rechnete der Offenmarktausschuss für Ende 2019 im Mittel mit einem Leitzins von immer noch sehr geringen 2,9%.
Um die Nachfrage während des letzten Abschwungs zu beleben, hat die US-Notenbank zudem sogenannte "unkonventionelle geldpolitische Maßnahmen" ergriffen und versprochen, die kurzfristigen Zinsen für längere Zeit auf niedrigem Niveau zu belassen und langfristige Wertpapiere für ihr eigenes Portfolio anzukaufen. Mit dieser Strategie sollten die langfristigen Zinsen niedrig genug gehalten werden, um die Nachfrage nach Aktien und Immobilien anzukurbeln und so für Vermögenszuwächse und mehr Konsum zu sorgen. Unklar ist, ob diese Strategie für den erhofften Impuls sorgen würde, solange die realen Zinsen niedrig bleiben.
Somit wird die Fiskalpolitik – die Beeinflussung von Steuern und Staatsausgaben – beim nächsten Abschwung dafür verantwortlich sein, die Wirtschaft anzukurbeln.
Eine erneute temporäre Verringerung der Abgabenbelastung würde nicht funktionieren. Die Erfahrung zeigt, dass von einer vorübergehenden Einkommensteuersenkung kaum Impulse ausgehen, weil die meisten Steuerpflichtigen die höheren Nettoeinnahmen nutzen, um Schulden abzuzahlen oder mehr zu sparen und nicht, um mehr Geld auszugeben.
Aber die US-Steuerreform 2017 bietet die Möglichkeit, die Steuern dauerhaft zu senken, indem die Entlastungen beibehalten werden, die 2025 auslaufen sollen. Die Republikaner, die das Steuergesetz 2017 entworfen und verabschiedet haben, gingen davon aus, dass die Steuersenkungen durch kommende Gesetze über 2025 hinaus verlängert werden. Ein wirtschaftlicher Abschwung in den nächsten Jahren wäre ein guter Zeitpunkt, dauerhafte Senkungen gesetzlich zu verfügen.
Die andere Möglichkeit einem Wirtschaftsabschwung entgegenzuwirken ist die Erhöhung der Staatsausgaben. Wie beim Abschwung, der 2007 eingesetzt hat, stoßen höhere Ausgaben für Infrastrukturvorhaben aller Art inzwischen parteiübergreifend auf breite Unterstützung. Als die Regierung Obama für ihr Konjunkturprogramm warb, das die erhoffte Wende bringen sollte, hatte sie von "schaufelfertigen" Projekten gesprochen, die nur darauf warten umgesetzt zu werden. Doch in der Realität ist aufgrund der langen Verzögerungen, zu denen es bei der Umsetzung solcher Vorhaben kommt, nur sehr wenig von diesem Geld für Infrastruktur ausgegeben worden.
Der US-Kongress und das Weiße Haus sollten jetzt beginnen, eine Aufstellung der Infrastrukturprojekte zu erstellen, die umgesetzt werden können, wenn sich die Wirtschaft abschwächt. Wenn es in den nächsten Jahren keinen Abschwung geben sollte, wäre es trotzdem wünschenswert mit der Realisierung einiger dieser Vorhaben anzufangen.
Höhere Verteidigungsausgaben wären eine weitere Möglichkeit die Konjunktur anzukurbeln.
Aufgrund einer Bestimmung im Gesetz zur Sanierung des US-Haushalts von 2011 (Budget Control Act), die eine lineare Ausgabenkürzung ("Sequester") verlangt, soll die Höhe der Verteidigungsausgaben von 4,3% des BIP im Jahr 2012 auf lediglich 2,8% des BIP im Jahr 2023 sinken. Gemessen an ihrem BIP würden die USA so wenig Geld für Verteidigung ausgeben wie nie zuvor seit Ende des Zweiten Weltkriegs. Verteidigungsexperten sind sich einig, dass ein Etat auf diesem Niveau viel zu niedrig ist, um Amerikas militärischen Anforderungen zu genügen. Eine Erhöhung der Ausgaben auf 4% des BIP oder mehr würde die Nachfrage insgesamt steigern und einen entscheidenden Beitrag zur nationalen Sicherheit leisten.
Aufgrund der hohen Staatsverschuldung – die bei derzeit rund 77% des BIP liegt und zum Ende der nächsten zehn Jahre auf 97% zusteuert – würden Steuersenkungen oder höhere Staatsausgaben auf großen Widerstand stoßen. Aber ein deutlicher Konjunkturabschwung und geringer Handlungsspielraum für Maßnahmen seitens der Fed würden dem Kongress kaum eine andere Wahl lassen.
Die Notwendigkeit künftiger Konjunkturprogramme verdeutlicht, dass die USA jetzt mit der Entwicklung einer Strategie beginnen müssen, um das Wachstum der Staatsverschuldung zu verlangsamen. Das ist die einzige Möglichkeit genügend Spielraum für die expansive Fiskalpolitik zu schaffen, die die Wirtschaft letzten Endes nötig haben wird.
Aus dem Englischen von Sandra Pontow.