Пакистанская головоломка
НЬЮ-ЙОРК – Рассказывают, что Гарольд Браун, министр обороны США при президенте Джимми Картере, так описывал гонку вооружений между США и СССР: «Они вооружаются, когда мы вооружаемся. И они вооружаются, когда мы не вооружаемся».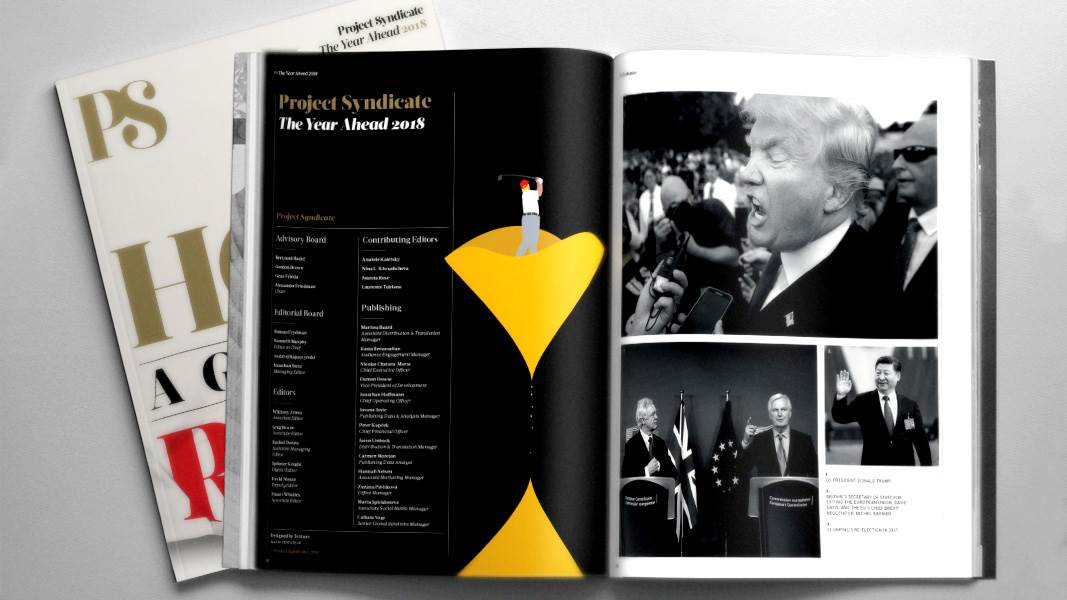 The Year Ahead 2018
The world's leading thinkers and policymakers examine what's come apart in the past year, and anticipate what will define the year ahead.
С точки зрения правительства США, нынешнее состояние отношений страны с Пакистаном удивительно похоже: Пакистан делает то, что нам не нравятся, когда мы ему помогаем; и он делает то, что нам не нравится, когда мы его наказываем.
С пакистанской же точки зрения, прошлое выглядит по большей части историей неоднократного предательства: на какое-то время США сближаются с Пакистаном, но лишь для того, чтобы потом, как только это будет выгодно их руководству, прекратить предоставление помощи. Например, США вооружали моджахедов, которые воевали с СССР в соседнем Афганистане в 1980-е годы, но затем, вскоре после вывода советских войск в 1989 году, фактически ушли из региона. В этом изложении очень удобно забывается тот факт, что Пакистан начал разрабатывать ядерное оружие в нарушение американских законов, что и привело к необходимости остановить выделение финансовой помощи.
В последующие годы значительная часть объёмов американской финансовой помощи была восстановлена. Но взаимное недоверие сохранялось, отчасти потому, что отец ядерной программы Пакистана помогал развитию ядерных программ в Ливии, Северной Корее и Иране (и правительство Пакистана об этом, по-видимому, знало).
Обе страны вновь сблизились после 11 сентября, когда администрация Джорджа Буша-младшего выдвинула ультиматум правительству Пакистана, предложив ему сделать выбор между отношениями с США и с талибами, которые открыли территорию Афганистана для «Аль-Каиды». Пакистан пообещал стать партнёром в войне с террористами, и за это он был вознаграждён в 2004 году, получив статус «основного союзника вне НАТО». Это позволяло стране получать некоторые наиболее современные виды вооружений и военных технологий.
Однако сейчас новый президент США оказался разочарован в Пакистане. Но он не стал сообщать об этом частным образом в Вашингтоне или Исламабаде, Дональд Трамп предпочёл сделать это публично: «США совершенно глупо выделили Пакистану более 33 млрд долларов в виде помощи в течение последних 15 лет, а они не дали нам ничего кроме лжи и обмана, считая наше руководство дураками. Они предоставили убежище террористам, за которыми мы охотимся в Афганистане без достаточной поддержки. Хватит!».
Если бы меня спросили (а меня не спросили), я бы порекомендовал передать подобное послание по дипломатическим каналам, потому что открытая, перегруженная риторикой критика ещё больше осложнит вероятность смены политического курса в Пакистане (предполагается, что такова официальная цель США), и уже тем более не позволит этой стране начать выглядеть как государство-сателлит. Я бы также выступил против разрыва связей в сфере безопасности и поддержал идею привязать помощь США к определённым действиям Пакистана.
Действительно, после 11 сентября большой ошибкой США стало обращение с Пакистаном как с американским союзником. От союзника можно ожидать значительной степени общности политических интересов. В случае же Пакистана такие ожидания не оправданы.
У Пакистана самый быстро растущий ядерный арсенал в мире, эта страна стала домом для некоторых наиболее опасных мировых террористов (например, некоторое время она была таким домом для Усамы бен Ладена), и, как утверждает Трамп, она предоставляет убежище «Талибану», который делает всё возможное для дестабилизации Афганистана. Пакистанская политика – это угроза не только американским усилиям в Афганистане на протяжении последних 15 лет, но и жизням тысяч американских солдат, которым там до сих пор размещены.
Однако даже переход к более расчётливым и деловым отношениям не сможет теснее сблизить США и Пакистан. Пакистан – это демократическая страна только по названию, поскольку в ней политически доминируют армия и спецслужбы, и она хочет такой Афганистан, в котором господствующую роль будет играть «Талибан». А США по многим причинам этого не хотят.
Кроме того, в последние годы США укрепляли связи с самым главным соперником Пакистана – Индией, причём достигнутые экономические и стратегические успехи сейчас способствуют дальнейшему прогрессу в этих отношениях. Естественным партнёром Пакистана во всё большей степени становится Китай, который уже активно инвестирует в пакистанскую инфраструктуру и превратился в важного поставщика военной техники. Китай тоже настороженно относится к Индии, которая вскоре превзойдёт его по численности населения и уже начинает превращаться в экономического и стратегического конкурента, с которым у Китая к тому же спорная граница.
Тем не менее, США не должны бросать Пакистан. Плохие ситуации всегда могут стать ещё хуже. Сегодня Пакистан – это слабое государство; а завтра он может стать недееспособным государством. Это был бы региональный и глобальный кошмар, учитывая наличие ядерного оружия и террористов в стране.
Именно поэтому экономическую и гуманитарную помощь следует предоставлять и дальше, хотя и под более пристальным надзором за тем, как она используется. Определённое ограниченное сотрудничество в сфере борьбы с терроризмом и в Афганистане всё ещё возможно. Для снижения шансов начала войны США должны также продолжать работать с индийцами и пакистанцами, помогая укреплению их отношений (эти отношения до сих пор далеко не так развиты, как отношения США и СССР на пике Холодной войны).
Имеет также смысл подключить Пакистан на регулярной основе к американо-китайской повестке. США и Китай обсуждают сейчас различные сценарии на Корейском полуострове, касающиеся их войск, ядерного оружия и нестабильности в этом регионе. Проведение переговоров о том, как можно избежать кризиса с участием Пакистана (и о том, как с ним справляться, если политика предотвращения не сработает), является не менее неотложной задачей.