Los aliados que Estados Unidos olvidó en Siria
AFRIN, SIRIA – El 20 de enero, Turquía inició una campaña de bombardeos aéreos e intenso fuego de artillería sobre el norte de Siria, con el objetivo declarado de neutralizar una amenaza a su seguridad en la frontera sur de Turquía. El área atacada (y Afrin, ciudad desde la que combato) están bajo control de las Unidades de Protección del Pueblo Kurdo (YPG).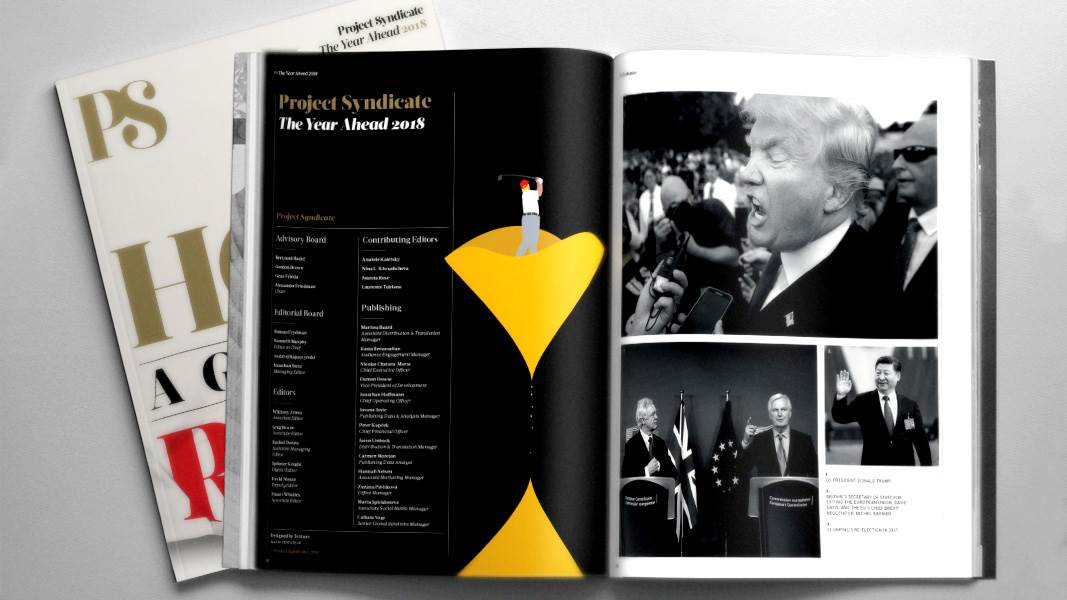 The Year Ahead 2018
The world's leading thinkers and policymakers examine what's come apart in the past year, and anticipate what will define the year ahead.
Como comandante de las Fuerzas Democráticas Sirias (FDS), que incluyen las YPG, lo diré claramente: las acusaciones turcas de que estamos llevando la guerra al otro lado de la frontera son totalmente falsas. En realidad, es todo lo contrario; con la operación "Rama de Olivo", Turquía nos está atacando a nosotros. Y por razones que no logro comprender, lo hace con el consentimiento tácito de la comunidad internacional.
Nuestras fuerzas no promueven ataques contra el estado turco (las YPG sólo han respondido con fuego a posiciones turcas que nos bombardearon). La guerra que libramos es solamente contra los yihadistas de Estado Islámico (ISIS), y en esta lucha hemos tenido apoyo de Estados Unidos. Pero ahora que ISIS está prácticamente derrotado, nuestros aliados internacionales hacen silencio, mientras los cohetes turcos retumban cada vez más fuerte.
Desde el inicio del conflicto sirio en 2011, Turquía siempre estuvo del lado equivocado. Cooperó estrechamente con la milicia rebelde salafista Ahrar Al Sham, cuyos líderes pertenecieron a Al Qaeda en Afganistán. También dio apoyo a los yihadistas de la rama siria de Al Qaeda, Jabhat Fatah Al Sham (antes llamada Frente Al Nusra).
Y hasta hace poco, la dirigencia turca hizo la vista gorda a los combatientes extranjeros que pasaron por su territorio para unirse a ISIS en Siria. En octubre de 2014, el entonces vicepresidente de los Estados Unidos, Joseph Biden, dijo ante testigos que el presidente turco Recep Tayyip Erdoğan había admitido en privado que Turquía "dejó pasar demasiada gente". Más tarde Biden pidió disculpas por la revelación, pero reafirmó que Turquía se ha equivocado una y otra vez en su manejo del conflicto.
Las FDS, por su parte, han apoyado las aspiraciones democráticas de la región, al combatir por un Medio Oriente libre de yihadistas. Más de un año antes de que ISIS llegara a ser un nombre familiar en Estados Unidos y Europa, ya morían combatientes nuestros tratando de contenerlo. Defendimos comunidades y minorías de la furia de los yihadistas, y evitamos que esclavizaran a más mujeres y apedrearan a más disidentes. Y al eliminar a ISIS de la frontera turca, frustramos su intento de extender su influencia en Europa.
Nuestra campaña contra ISIS en Kobanî en 2015 llevó a Estados Unidos a aumentar el suministro de armas, entrenamiento y apoyo aéreo. Mediante esta cooperación, las FDS pusieron a ISIS al borde del colapso. Pero los combates tuvieron un altísimo costo para mis soldados, que soportaron todo el embate de la ferocidad yihadista; ISIS mató a miles de nuestros combatientes, mientras que el ejército estadounidense, que sufrió unas 4500 bajas en la Guerra de Irak, sólo perdió cuatro soldados en Siria.
Ahora que la lucha contra ISIS está llegando a su fin, Estados Unidos parece haber perdido interés en apoyarnos; esto permite a Turquía dispararnos misiles y artillería con total impunidad. Según el Observatorio Sirio de Derechos Humanos, la operación turca mató al menos a 70 civiles (entre ellos, 21 niños) y a más de cien soldados de las FDS, incluida una mujer soldado cuyo cuerpo fue mutilado por fuerzas turcas. Ahora mismo estamos expuestos a la furia desatada de un ejército de la OTAN, sin acceso a un solo helicóptero para evacuar a nuestros heridos.
El gobierno turco asegura que combate a las FDS porque somos "terroristas". Los desafío a mostrar pruebas de dichas acusaciones. En realidad, nuestra mayor amenaza para Turquía no son las armas, sino las ideas y la organización política. Erdoğan tiene miedo de nuestros valores democráticos; hemos traído libertad a regiones gobernadas por una dictadura brutal durante casi cincuenta años. Un Erdoğan que está dando rienda libre a tendencias autocráticas teme que su poder se vea amenazado por la presencia de una democracia auténtica en la frontera sur de Turquía.
Para Erdoğan, lo mejor que puede pasar en Siria sería su reconstrucción como un estado árabe sunnita que margine a los kurdos y otras minorías. Pero esto iría en detrimento de la enorme diversidad siria. Nosotros, en cambio, somos favorables al mosaico étnico y religioso de Siria, y nos imaginamos un futuro de coexistencia entre cristianos, circasianos y yazidíes, grupos todos ellos que Turquía ha ignorado.
Erdoğan afirma que quiere "entregar Afrin a sus verdaderos dueños", para que los más de 3,5 millones de refugiados sirios en Turquía puedan regresar "a su propia tierra lo antes posible". Pero muchos creemos que el verdadero objetivo de Erdoğan en Afrin es "limpiar" de kurdos la región para convertirnos en minoría en nuestro propio hogar. ¿A dónde pretenden que nos vayamos? En Afrin los kurdos no somos intrusos.
Mientras Erdoğan se muestra cada vez más errático y se distancia de sus aliados occidentales, la mayor parte del sufrimiento es para los kurdos. Tenemos voluntad de ser buenos vecinos y buscar un acuerdo negociado. Pero mientras Turquía siga atacándonos impunemente no nos quedará más opción que defendernos.
Traducción: Esteban Flamini