Les Alliés oubliés de l'Amérique en Syrie
AFRIN, SYRIE – Le 20 janvier, la Turquie a lancé sur le Nord de la Syrie, une campagne de frappes aériennes et de pilonnages d'artillerie, afin, prétend-elle, de neutraliser la menace posée à sa sécurité sur sa frontière sud. La zone attaquée, ainsi qu'Afrin, la ville d'où je combats, est contrôlée, par les Unités de protection du peuple kurde, les YPG.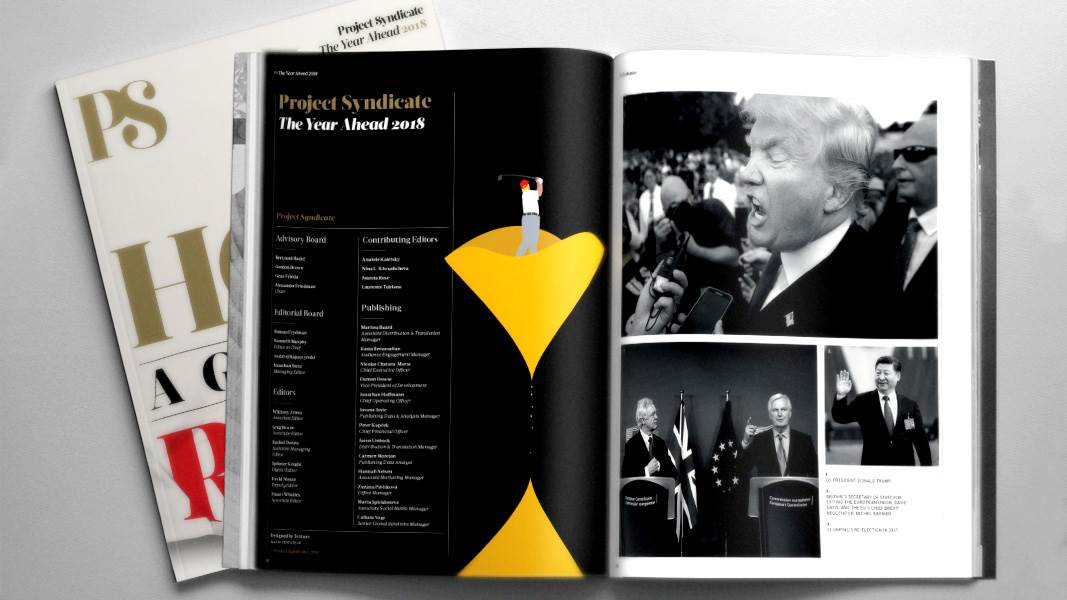 The Year Ahead 2018
The world's leading thinkers and policymakers examine what's come apart in the past year, and anticipate what will define the year ahead.
En tant que commandant des forces démocratiques syriennes (FDS), qui comprennent les YPG, je puis dire sans ambages que les allégations turques sont sans fondement et que nous ne cherchons nullement à propager la guerre de l'autre côté de la frontière. La vérité est exactement l'inverse : avec l'opération « Rameau d'olivier », c'est la Turquie qui nous attaque. Et malgré cela, pour des raisons que je ne parviens pas à comprendre, elle le fait avec l'appui tacite de la communauté internationale.
Nos forces ne prennent part à aucune agression contre l'État turc. (Les YPG se sont contentées de répondre aux tirs des positions turques qui nous avaient bombardés). Notre seule guerre est contre les djihadistes de l'organisation État islamique (EI), une lutte que les États-Unis nous ont aidés à mener. Désormais, alors que le combat contre l'EI est à peu près terminé, nos soutiens internationaux se font plus discrets – au moment même où s'intensifient les frappes des missiles turcs.
Depuis le début du conflit syrien, en 2011, la Turquie se range du mauvais côté. Elle a coopéré étroitement avec le groupe rebelle salafiste Ahrar Al-Cham, dont les dirigeants étaient membres d'Al-Qaida en Afghanistan. Elle a aussi envoyé de l'aide aux djihadistes de la branche syrienne d'Al-Qaida, le front Fatah Al-Cham, ex front Al-Nosra.
Il n'y a pas si longtemps, les dirigeants turcs feignaient encore de ne pas remarquer les combattants étrangers qui passaient par leur pays pour rejoindre les rangs de l'EI en Syrie. En octobre 2014, Joseph Biden, alors vice-président des États-Unis, affirmait en public que le président turc Recep Tayyip Erdoğan admettait en privé que la Turquie avait « laissé passer trop de monde ». Quoique Biden ait plus tard présenté ses excuses pour ces propos, ils indiquent suffisamment que la Turquie s'est régulièrement trompée dans son approche du conflit.
Les FDS, quant à elles, ont soutenu les aspirations démocratiques de la région en combattant pour libérer le Moyen-Orient des djihadistes. Plus d'un avant qu'aux États-Unis et en Europe les gens n'en connaissent le nom, nos combattants donnaient déjà leur vie pour chasser l'EI.  Nous avons défendu des communautés et des minorités contre a fureur des djihadistes, et les avons empêchés de soumettre plus de femmes encore à l'esclavage, de lapider plus encore de dissidents. En éloignant l'EI de la frontière turque, nous avons en outre contrarié ses efforts pour s'implanter plus profondément en Europe.
Notre campagne contre l'EI à Kobané en 2015 a conduit les États-Unis à augmenter leurs livraisons d'armes, leurs aides à l'entraînement et leur soutien aérien. Grâce à ce partenariat, les FDS ont amené l'EI au bord de l'effondrement. Mais ces batailles ont été livrées au prix d'un lourd tribut payé par mes soldats, qui ont enduré la férocité des djihadistes. L'EI a tué des milliers de nos combattants, alors que les troupes américaines, qui ont dû déplorer 4 500 victimes lors de la guerre d'Irak, n'ont perdu que quatre soldats en Syrie.
Aujourd'hui, tandis que s'achève le combat contre l'EI, les États-Unis semblent moins empressés de nous soutenir, ce qui a permis à la Turquie d'utiliser contre nous, en toute impunité, ses missiles et son artillerie. Selon l'Observatoire syrien des droits de l'homme, au moins 70 civils, dont 21 enfants, ont été tués lors de l'opération, tandis que plus de 100 soldats des FDS ont péri, et parmi eux une femme, dont le corps a été mutilé par les forces turques. Nous sommes, en ce moment même, exposés à la colère déchaînée d'une armée de l'OTAN, sans même avoir accès à un hélicoptère pour évacuer nos blessés.
Les dirigeants turcs prétendent combattre les FDS parce que ce sont des « terroristes ». Je les mets au défi de présenter la moindre preuve à l'appui d'une telle accusation. En réalité, la plus grande menace que nous représentons pour la Turquie, ce ne sont pas nos armes, mais nos idées et notre organisation politique. Ce que craint Erdoğan, se sont nos valeurs démocratiques. Nous avons apporté la liberté à des régions qui depuis plus de cinq décennies vivaient sous une dictature brutale. Alors qu'Erdoğan laisse libre cours à ses tendances autocratiques, il s'inquiète qu'une vraie démocratie, à la frontière sud de la Turquie, puisse menacer sa propre main mise sur le pouvoir.
Pour Erdoğan, le meilleur scénario serait la transformation de la Syrie en un État arabe sunnite, dont les Kurdes et les autres minorités seraient évincées. Mais elles auraient lieu au détriment de la grande diversité de la Syrie. Nous soutenons, bien au contraire, la mosaïque ethnique et religieuse de la Syrie, et envisageons un avenir de coexistence parmi chrétiens, Circassiens, yézidis, et tous les groupes que la Turquie écarte.
Erdoğan prétend vouloir « rendre Afrin à ses vrais propriétaires », et par conséquent permettre aux plus de trois millions et demi de réfugiés syriens en Turquie de revenir « dès que possible dans leur vraie patrie ». Mais pour beaucoup d'entre nous, le véritable objectif d'Erdoğan à Afrin est de créer une régionKurdenrein, pour emprunter à la langue allemande un néologisme qui rappelle des temps sinistres, et de faire des Kurdes une minorité dans leur propre pays. Où sommes-nous censés aller ? Les Kurdes ne sont pas à Afrin des occupants sans droit ni titre.
Tandis qu'Erdoğan devient de plus en plus imprévisible et s'aliène ses alliés occidentaux, ce sont les Kurdes qui souffrent le plus. Nous n'avons d'autre intention que d'être des voisins pacifiques et travaillons à une solution négociée. Mais aussi longtemps que la Turquie continuera de nous tirer dessus, sans susciter la moindre condamnation sérieuse, nous n'aurons d'autre choix que de nous défendre.
Traduction François Boisivon