Der wahre Tribut des Handelskriegs
CHICAGO – Ein neuer Tag, ein neuer Angriff auf den Handel. Warum führt mittlerweile jeder Streit – sei es um geistiges Eigentum, Einwanderung, Umweltschäden oder Reparationszahlungen – zu neuen Bedrohungen für den Handel?
Über weite Strecken des letzten Jahrhunderts steuerten und schützten die Vereinigten Staaten das von ihnen am Ende des Zweiten Weltkriegs geschaffene regelbasierte Handelssystem. Dieses System erforderte eine grundlegende Abkehr von den Vorkriegsverhältnissen des gegenseitigen Misstrauens zwischen konkurrierenden Mächten. Die USA förderten allerseits die Einsicht, dass Wachstum und Entwicklung in einem Land zu mehr Handel und Investitionen führt und somit allen zugutekommen könnte.
Im Rahmen dieser neuen Praxis wurden Regeln etabliert, die egoistischem Verhalten und Drohgebärden der Wirtschaftsmächtigen einen Riegel vorschoben. Die USA fungierten als wohlwollender Hegemon, der denjenigen, die sich gegen diese Regeln stellten, gelegentlich auf die Finger klopfte. Unterdessen halfen die in diesem System verankerten multilateralen Institutionen – insbesondere der Internationale Währungsfonds – Ländern mit dringend benötigten Finanzmitteln aus, sofern die Regeln befolgt wurden. 
Amerikas Macht speiste sich aus seiner Kontrolle über die Stimmrechte in den multilateralen Institutionen, sowohl direkt als auch durch seinen Einfluss auf die Länder der G7. Außerdem verfügten die Vereinigten Staaten auch selbst über enorme Wirtschaftskraft. Wichtig war jedoch, dass die meisten Länder darauf vertrauten, dass die USA ihre Macht nicht zur Förderung ihrer nationalen Interessen missbrauchen würden, zumindest nicht im Übermaß. Und die USA hatten wenig Grund dieses Vertrauen zu enttäuschen. Kein Land konnte ihnen hinsichtlich ihrer wirtschaftlichen Produktivität das Wasser reichen und ihr einziger militärischer Rivale, die UdSSR, befand sich weitgehend außerhalb des globalen Handelssystems. 
Die Ausweitung des regelbasierten Handels und der Investitionen eröffnete für US-Firmen lukrative neue Märkte. Und weil Amerika sich Großzügigkeit leisten konnte, gewährte es einigen Ländern Zugang zu seinen Märkten, ohne von ihnen das gleiche Maß an Zugang zu deren Märkten zu fordern.
Wenn politische Entscheidungsträger aus einer Schwellenökonomie Bedenken hinsichtlich der möglichen Auswirkungen eines offeneren Handels auf einen Teil ihrer Beschäftigten äußerten, versicherten ihnen die Ökonomen umgehend, dass die langfristigen Gewinne lokale Nachteile aufwiegen würden. Die lokale Politik müsste lediglich die Gewinne aus dem Handel zu den abgehängten Gruppen umverteilen. Das war leichter gesagt als getan. Doch angesichts des Gesamtnutzens  wurden die Proteste der Abgehängten in diesen entstehenden Demokratien als annehmbarer Preis betrachtet und sie waren leicht einzudämmen. Tatsächlich nutzten die Schwellenökonomien neue Technologien sowie die kostengünstigeren Transport- und Kommunikationsmittel so gut, dass sie große Teile der Produktion aus den Industrieländern übernehmen konnten.
Subscribe now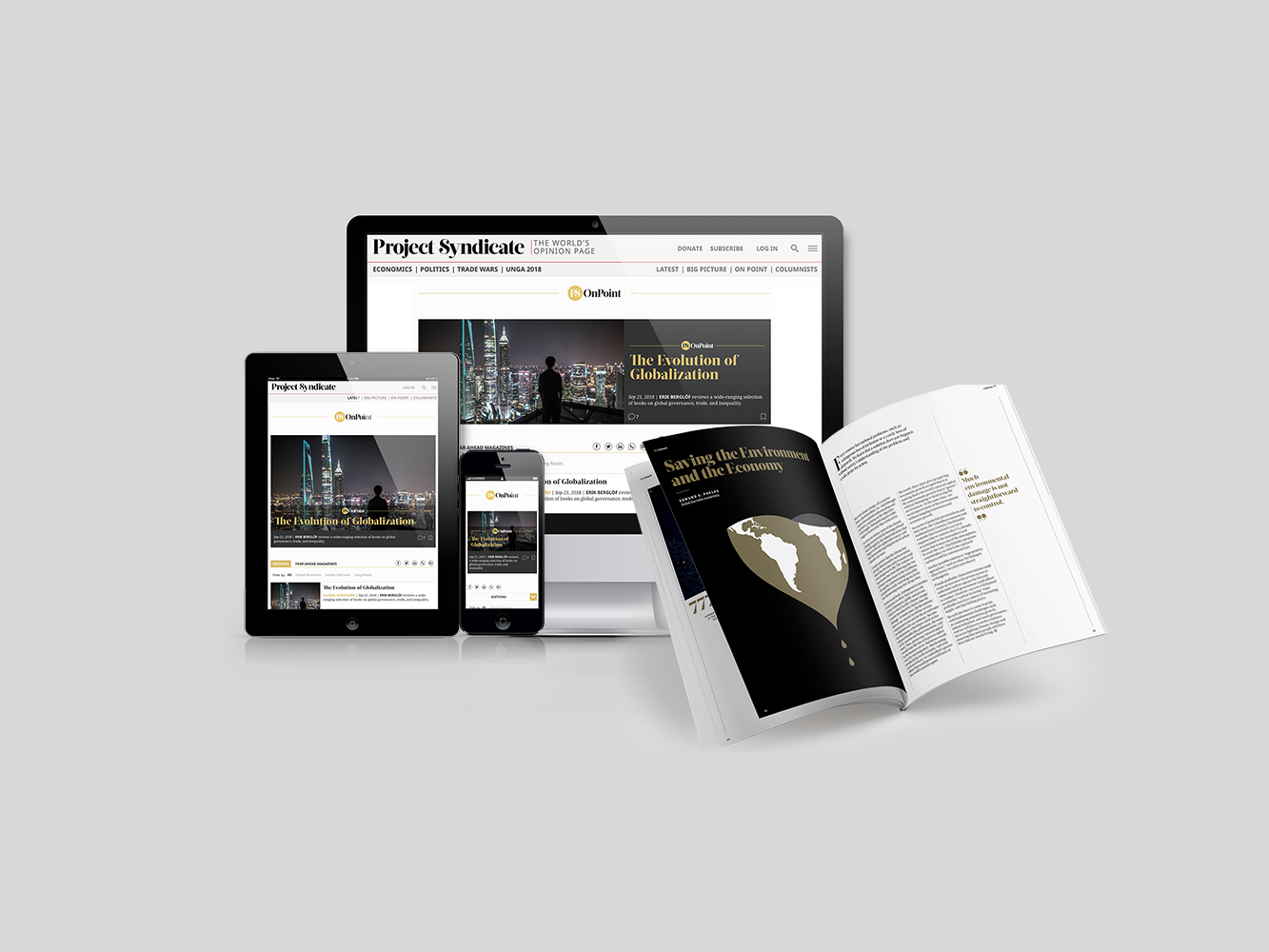 Subscribe now
Subscribe today and get unlimited access to OnPoint, the Big Picture, the PS archive of more than 14,000 commentaries, and our annual magazine, for less than $2 a week.
Erneut traf der Handel die Arbeiter in diesen Ländern, doch Hauptleidtragende waren diesmal gering qualifizierte Arbeitskräfte in den Industrieländern – insbesondere in Kleinstädten –während hochqualifizierte Arbeitnehmer in den städtischen Dienstleistungsbranchen zu den großen Nutznießern zählten.
Anders als in den Schwellenländern, in denen die Demokratie noch nicht so tief verwurzelt war, konnte die Unzufriedenheit einer wachsenden Gruppe von Beschäftigten in den Industrieländern nicht ignoriert werden. Die politischen Entscheidungsträger reagierten daher auf die Gegenbewegung gegen den Handel in zweifacher Weise. Zunächst versuchten sie, ihre Arbeits- und Umweltstandards mittels  Handels- und Finanzierungsabkommen anderen Ländern aufzuzwingen. Zweitens drängten sie auf eine weitaus strengere Durchsetzung der geistigen Eigentumsrechte, von dem sich ein Großteil im Besitz westlicher Unternehmen befindet.
Keiner der beiden Ansätze erwies sich zur Eindämmung der Jobverluste als besonders wirksam, aber um die alte Ordnung zu stören, bedurfte es einer viel umfassenderen Entwicklung: nämlich des Aufstiegs Chinas. Ebenso wie Japan und die ostasiatischen Tigerstaaten gründete Chinas Wachstum auf Exporten aus dem verarbeitenden Gewerbe. Aber im Gegensatz zu den erwähnten Ländern droht China mittlerweile, sowohl im Bereich Dienstleistungen als auch hinsichtlich Grenztechnologien in direkte Konkurrenz mit dem Westen zu treten.
China hielt dem Druck von außen stand, führte eigene Arbeits- und Umweltstandards ein und enteignete geistiges Eigentum nach seinen Bedürfnissen. Mittlerweile befindet sich das Land in Bereichen wie Robotik und künstliche Intelligenz nahe genug an der technologischen Grenze, so dass der Lückenschluss mit eigenen Wissenschaftlern bewerkstelligt werden kann, sollte dem Land der Zugang zu jenen Produktionsfaktoren verwehrt werden, die man derzeit importiert. Am beunruhigendsten für die Industrieländer ist, dass Chinas aufstrebender Technologie-Sektor auch die militärischen Fähigkeiten des Landes stärkt. Und im Gegensatz zur Sowjetunion von damals ist China voll in das Welthandelssystem integriert.
Die zentrale Prämisse der regelbasierten Handelsordnung - dass das Wachstum eines Landes anderen zugutekommt - bricht nun zusammen. Die fortgeschrittenen Ökonomien stellen fest, dass die strengeren Regulierungsstrukturen und -standards, die sie im Laufe ihrer eigenen Entwicklung einführten, sie nun im Wettbewerb gegenüber unterschiedlich regulierten, relativ armen, aber effizienten Schwellenökonomien benachteiligen. Und diese Länder wehren sich gegen Versuche von außen, Standards einzuführen, auf die man sich nicht demokratisch im eigenen Land geeinigt hat - wie hohe Mindestlöhne oder die Beendigung des Einsatzes von Kohle -  zumal die reichen Länder von heute während ihrer eigenen Entwicklung diese Standards auch nicht hatten.
Ebenso problematisch ist, dass Schwellenländer wie China die Öffnung ihrer Heimatmärkte für die weltweite Industrie verzögern. Unternehmen aus Industrieländern sind besonders darauf erpicht, ungehinderten Zugang zum attraktiven chinesischen Markt zu erhalten, und sie drängen ihre jeweiligen Regierungen dazu, diesen Markt für sie zu sichern.
Das größte Problem besteht jedoch darin, dass der alte Hegemon USA angesichts der wirtschaftlichen und militärischen Herausforderung durch China das Wachstum des Landes nicht mehr als reinen Segen betrachtet. Die USA verfügen über wenig Anreiz, ein System, das die Herausbildung eines strategischen Rivalen ermöglicht, wohlwollend zu lenken. Kein Wunder, dass das System zusammenbricht.
Wie geht es nun weiter? Man kann China zwar bremsen, aber nicht stoppen. Stattdessen muss ein mächtiges China den Wert neuer Regeln erkennen und sogar Hüter dieser Regeln werden. Damit das eintritt, muss das Land eine Rolle bei deren Einstellung spielen. Andernfalls könnte die Welt in zwei oder mehr einander argwöhnisch gegenüberstehende, isolierte Blöcke zerfallen, wodurch auch die Menschen-, Produktions- und Finanzströme zum Erliegen kämen, die uns heute verbinden. Das wäre nicht nur wirtschaftlich katastrophal, sondern würde auch Missverständnissen und der Möglichkeit eines militärischen Konflikts Vorschub leisten.
Leider kann man die Uhren nicht zurückdrehen. Verlorenes Vertrauen ist nicht wie von Zauberhand wiederherzustellen. Es bleibt zu hoffen, dass China und die Vereinigten Staaten die Eröffnung neuer Fronten im Handels- und Technologiekrieg vermeiden und gleichzeitig die Notwendigkeit von Verhandlungen anerkennen. Idealerweise würden sie eine einstweilige bilaterale Überbrückungsvereinbarung schließen. Im Anschluss daran würden alle großen Länder zusammenkommen, um eine neue Weltordnung auszuhandeln, die anstelle eines einzigen Hegemons mehrere Mächte oder Blöcke aufweist und auch Regeln enthält, die sicherstellen, dass sich alle verantwortungsbewusst verhalten – ungeachtet des politischen oder wirtschaftlichen Systems und des Entwicklungsstandes.
Beim letzten Mal brauchte es eine Depression, einen Weltkrieg und eine Supermacht, damit die Welt Vernunft annahm. Kann es diesmal anders sein?
Aus dem Englischen von Helga Klinger-Groier