Trumps merkantilistischer Schlamassel
CAMBRIDGE – Als US-Präsident Donald Trump im März 2018 spottete, "Handelskriege sind gut und leicht zu gewinnen", verwarfen viele seine Bemerkung als weitgehend harmlose rhetorische Ausschmückung. Aber war sie das?
Der Grund, warum sich Länder am internationalen Handel beteiligen, ist, Importe – Konsumgüter, in der Produktion verwendete Halbfertigwaren und Investitionsgüter – im Austausch gegen Exporte zu erhalten. So verstanden sind Exporte schlicht die Güter, die die Amerikaner aufzugeben bereit sind, um etwas zu bekommen, was sie haben wollen oder brauchen.
Doch vergrößert der internationale Handel unterm Strich zugleich die Gesamtgröße des wirtschaftlichen Kuchens, denn er sorgt dafür, dass sich Länder jeweils auf das konzentrieren können, was sie am besten können. Auf diese Weise produzieren sie Waren in den Bereichen, in denen sie relativ gesehen produktiver sind. Laut David Ricardos Theorie komparativer Kostenvorteile beruhen die relativen Stärken von Ländern auf Unterschieden bei der Faktorausstattung. Und wie die Ökonomen Paul Krugman und Elhanan Helpman in den 1980er Jahren zeigten, stehen die relativen Stärken von Ländern außerdem mit ihren Investitionen in verschiedenen Spezialisierungsbereichen in Beziehung.
Durch seine Übernahme eines primitiven merkantilistischen Modells, in dem Exporte "gut" sind und Importe "schlecht", hat Trump diese bestechende wirtschaftliche Logik umgekehrt. In einem merkantilistischen Modell trägt ein Exportüberschuss durch Anhäufung von Papierforderungen (früher Gold) zum nationalen Wohlstand bei. Dies scheint zu sein, was Trump vorschwebt, wenn er klagt, dass China der US-Wirtschaft – überwiegend durch Tausch chinesischer Waren gegen US-Schatzanleihen – jedes Jahr 500 Milliarden Dollar entziehe. Es ist freilich schwer erkennbar, warum der Erhalt einer Menge hochwertiger Waren zu einem niedrigen Preis auf einen "Verlust" hinauslaufen sollte.
Trump scheint sich auf eine von seinem Handelsberater Peter Navarro propagierte Theorie zu stützen. Navarro hat darauf verwiesen, dass Importe in der vom BIP erfüllten Identitätsbeziehung mit einem Minuszeichen davor dargestellt werden. (Anders ausgedrückt: Das BIP entspricht dem Verbrauch, den Inlandsinvestitionen und den Exporten, abzüglich der Importe.) Es schließt daraus, dass eine zollbedingte Verringerung der Importe wie durch Zauber zu einem Anstieg der nationalen Produktionsleistung (BIP) führen wird, die die zuvor durch die Importe bediente Nachfrage erfüllt. Er lässt dabei unbeachtet, dass die darauf zwangsläufig folgenden Vergeltungsmaßnahmen zu einer Kontraktion des internationalen Handels insgesamt und des BIP der USA führen werden. (Am Rande bemerkt: Ich hoffe, dass Navarro sich seine Kenntnisse in internationaler Makroökonomie nicht im Rahmen seiner Promotion an der Universität Harvard bei Richard Caves in den frühen 1980er Jahren erworben hat; Caves vertrat völlig andere Vorstellungen.)
Nun trifft es mit Sicherheit zu, dass China den internationalen Handel beschränkt und ausländische Investitionen mit hohen Kosten belegt, häufig, indem es ausländische Unternehmen zwingt, ihren chinesischen Partnern Technologien zu übertragen. Der direkte Diebstahl von Technologien durch chinesische Organisationen ist ebenfalls ein wichtiges Problem. Es wäre besser für die Welt – und fast mit Sicherheit auch für China –, wenn diese restriktiven Praktiken eingeschränkt würden. Doch wenn das Ziel der USA darin besteht, Handelsbarrieren abzubauen, ist die Verhängung von Zöllen auf chinesische Importe ein seltsamer Weg, um das zu erreichen.
Subscribe now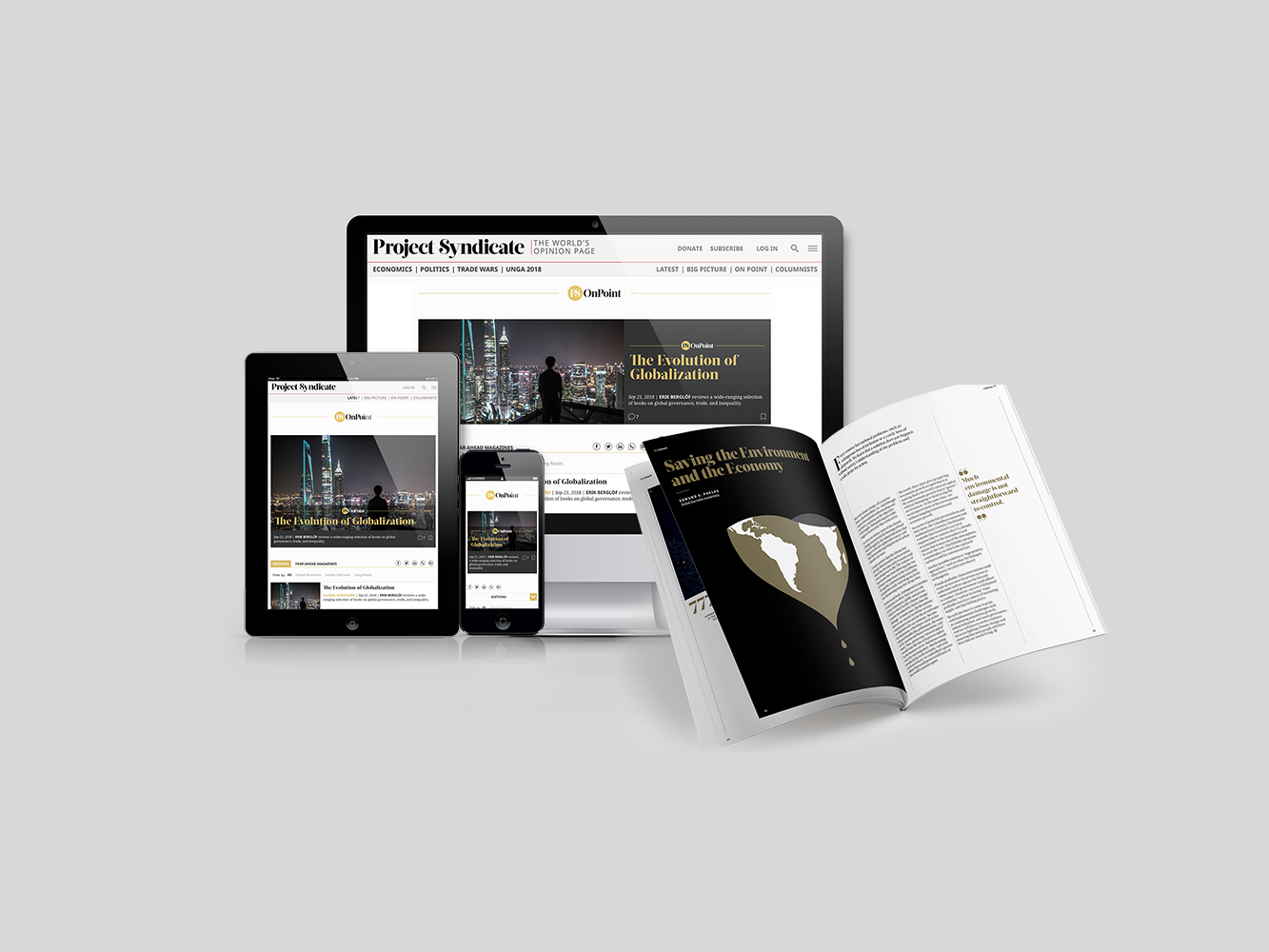 Subscribe now
Subscribe today and get unlimited access to OnPoint, the Big Picture, the PS archive of more than 14,000 commentaries, and our annual magazine, for less than $2 a week.
Natürlich gab es vor ein paar Monaten einen Moment, an dem China bereit schien, im Rahmen einer Vereinbarung zur Vermeidung sich gegenseitig hochschaukelnder Zölle wichtige Reformen einzuleiten. Doch selbst damals war etwa seltsam an der vorgeschlagenen Regelung: Die Trump-Regierung forderte eine quantitative Liste konkreter US-Exporte, die China in größeren Mengen importieren würde.
Die Chinesen waren natürlich gern zu einem derartigen Vorgehen bereit, denn dies entspricht einer auf Befehl und Kontrolle beruhenden Form der Wirtschaftslenkung. Doch müsste der amerikanische Ansatz eigentlich ein anderer sein. In Anerkenntnis der Tatsache, dass wir nicht wissen, ob zusätzliche chinesische Käufe in Gestalt von Agrargütern, Ford-Pritschenwagen oder Flugzeugen von Boeing (die früher einmal als zuverlässig galten) erfolgen sollten, müssten die USA für eine allgemeine Reduzierung von Zöllen und anderen Handelsbeschränkungen eintreten, damit der Markt entscheiden kann, welche Waren produziert und getauscht werden können.
So oder so erscheint es nun wahrscheinlich, dass die USA es mit einem dauerhaften Handelskrieg zu tun haben werden, was langfristige Kosten für die amerikanischen Verbraucher und Unternehmen bedeutet. Trotz noch immer günstiger Auswirkungen der Steuerreform des Jahres 2017 und der Streichung schädlicher Bürokratie durch die Regierung schwächt sich das Wachstum derzeit ab, und Trump hat – vergeblich – versucht, der US-Notenbank und unproduktiven US-Unternehmen die Schuld dafür zuzuschieben. Das wahre Problem ist Trumps handelspolitischer Ansatz, der viel schlimmer ist als der seines Amtsvorgängers und die US-Wirtschaft durchaus in die Rezession drücken könnte.
Allgemeiner besteht das Problem darin, dass das politische Establishment der USA einen Konsens erreicht hat, dass irgendetwas getan werden müsse, um Chinas restriktive Handelspraktiken einzuschränken. Manchmal jedoch ist es besser, sich mit einer nicht idealen Situation abzufinden.
Was Trump angeht, so scheint er Zölle zu lieben, weil sie "schlechte" Importe behindern und die Staatseinnahmen erhöhen. Anders als viele andere wirtschaftliche Argumente, die er vorgetragen hat, scheint sein Eintreten für Zölle echt zu sein, und sein Bekenntnis zu dieser Politik daher unumstößlich. Dies jedoch macht es schwer ersichtlich, wie die USA eine zufriedenstellende Handelsvereinbarung mit China treffen können. Schlimmer noch: Trump könnte einen Einsatz von Zöllen als Verhandlungsinstrument gegenüber vielen anderen Ländern weiter ausweiten.
Insgesamt würde ich nicht sagen, dass Trump den niedrigsten "wirtschaftlichen IQ" unter den Präsidenten der jüngsten Zeit hat. Doch besteht eindeutig eine große Kluft zwischen dem, was er weiß, und dem, was er zu wissen glaubt. Und da Letzteres die US-Handelspolitik bestimmt, hat Amerika ein ernstes Problem.
Aus dem Englischen von Jan Doolan