Les taxes de Trump sur l'Amérique
BERKELEY – Mitch McConnell, le chef républicain de la majorité du Sénat des États-Unis, a récemment proclamé que « 2017 a été la meilleure année pour des conservateurs depuis 30 ans que j'en fais partie, » non seulement parce que l'administration du Président Donald Trump « s'est avérée être… très solide, conservatrice, à droite du centre et favorable aux entreprises. »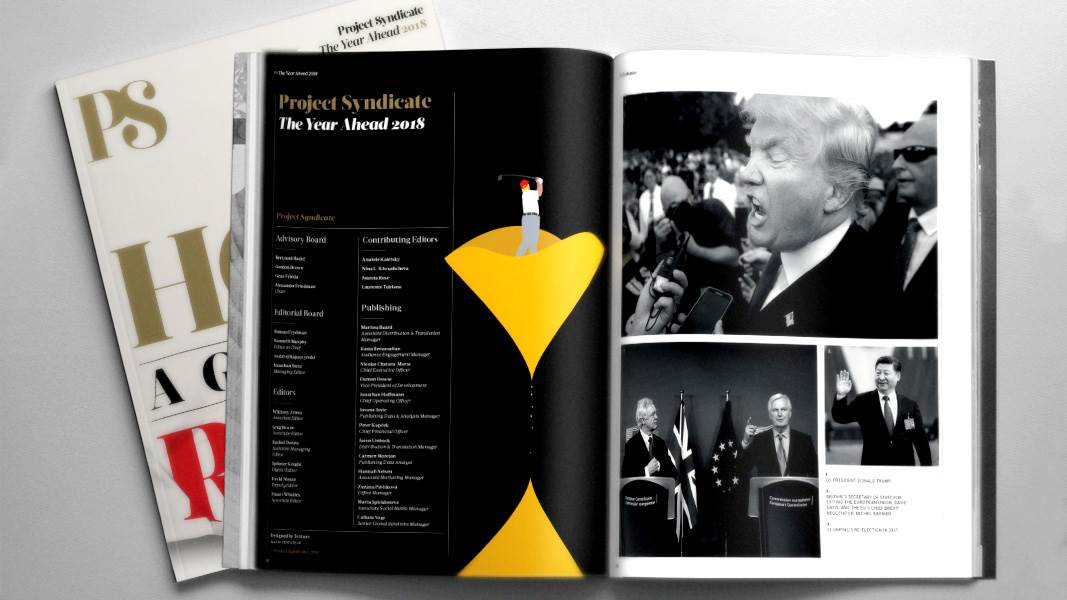 The Year Ahead 2018
The world's leading thinkers and policymakers examine what's come apart in the past year, and anticipate what will define the year ahead.
Des sentiments analogues sont certainement partagés par les donateurs Républicains, occupés à déguster leurs hors-d'œuvre à la crevette. Après tout, l'administration Trump a fait marche arrière sur les règlements environnementaux et a réduit les impôts pour les riches. Des objections ?
Évidemment, Trump et sa famille sont des aspirants kleptocrates. Mais cela signifie qu'ils s'opposent à ce que le gouvernement s'empare de « leurs » richesses. Ils sont les alliés naturels de ceux qui pensent que l'écart des revenus et des richesses de l'Amérique pourrait supporter de se creuser encore davantage.
Et ils ne se soucient pas non plus du fait que l'administration Trump soit complètement incompétente, ni que la législation fiscale de l'année passée a été le projet de loi le plus mal rédigé de mémoire d'homme. L'incompétence crasse de Trump fournit en tous cas aux Républicains du Congrès bien plus d'opportunités de créer des lacunes législatives et d'assurer un traitement préférentiel pour leurs donateurs. Il semblerait que pour le Parti Républicain, une kleptocratie incompétente et erratique soit la meilleure forme de gouvernement.
Ou au moins cela était le cas jusqu'au 1er mars 2018, le jour où Trump a fait part de son intention d'imposer des taxes sur les importations mondiales de 25 % sur l'acier et 10 % sur l'aluminium. Cette décision, remarque Pat Roberts, sénateur républicain du Kansas, « ne sera pas bien accueillie dans les régions agricoles. »
Comme le précise Roberts, le mouvement de Trump vers le protectionnisme cette année contredit ses premières réalisations politiques. « Nous avons un train de réforme fiscales qui apporte beaucoup d'avantages au milieu des affaires, » a déclaré Roberts au Kansas City Star, « et c'est une mesure politique qui est contraire à cela. » Son souci est que Trump poursuive à présent « une politique commerciale qui aboutira essentiellement au fait que tous les avantages de la réforme fiscale seront balayés par des coûts de production plus élevés répercutés sur les consommateurs. »
Il a raison. En fin de compte, les consommateurs américains vont payer les droits de douane de Trump. Des mesures protectionnistes aussi étendues vont affecter chaque secteur de l'industrie américaine d'une manière ou d'une autre et les industriels ne vont certainement pas absorber les prix de revient d'absorption plus élevés des moyens de production de l'acier et de l'aluminium. En même temps, d'autres pays présenteront des droits de douanes de leur cru contre les exportations des États-Unis. L'Union européenne, par exemple, prévoit à présent d'imposer des droits de douane d'urgence sur des produits américains particulièrement représentatifs, comme les motos Harley-Davidson, le whiskey bourbon et les jeans Levi's.
Ainsi, Trump a proposé essentiellement une nouvelle taxe sur les consommateurs américains et les industries d'exportation, dont les coûts seront supportés en grande partie par ses propres partisans dans le centre des États-Unis et dans la Rust Belt. En outre, Trump semble être parvenu à cette conclusion quasiment du jour au lendemain. Les marchés boursiers ont été pris au dépourvu et ont immédiatement chuté d'environ 1,5%. Et selon le témoignage du Kansas City Star, « [Roberts] et d'autres sénateurs républicains n'ont reçu aucune information officielle de la Maison Blanche. »
Pourtant les Républicains ont été si effrayés par Trump que dans sa meilleure réponse, Paul Ryan, le Président de la Chambre des Représentants, a réussi à dire qu'il « espérait que le président allait considérer les conséquences fortuites de cette idée et qu'il allait prendre en compte d'autres approches avant de progresser dans cette voie. »
Il s'avère que la décision de Trump a été prise contre l'avis - et en effet, en dépit des objections - non seulement de son conseiller économique en chef Gary Cohn, mais également de son conseiller à la sécurité nationale le Général H.R. McMaster, de son Secrétaire au Trésor Steven Mnuchin et de son Secrétaire à la défense James Mattis.
D'autre part, le Secrétaire au commerce Wilbur Ross est apparemment favorable aux droits de douane. Mais ses raisons sont loin d'être claires. Le Département du Commerce lui-même reconnaît assurément que plus d'Américains bénéficient des prix plus bas de l'acier et de l'aluminium que des prix plus élevés.
Un autre défenseur des droits de douane est Peter Navarro, récemment promu Directeur de la politique commerciale et industrielle et Directeur du Conseil national du commerce de la Maison Blanche. Cela n'a rien de surprenant. Navarro a écrit un certain nombre de livres alarmistes concernant le rapport commercial de l'Amérique à la Chine, notamment un intitulé Death by China - ou La Mort par la Chine. Néanmoins Navarro n'a pas encore pu expliquer comment créer un plus grand secteur sidérurgique national par des droits de douane va rapporter un gain net pour l'économie américaine.
Un dernier défenseur clé des droits de douane est le Représentant américain du commerce Robert Lighthizer, qui a autrefois travaillé en tant qu'avocat pour l'industrie sidérurgique. Comme dans le cas de Ross, le raisonnement de Lighthizer n'est pas entièrement clair. Il doit savoir que les droits de douane de Trump n'auront à peu près aucune chance de stimuler les secteurs de l'acier et de l'aluminium américains sans imposer également des coûts substantiels à l'économie. Ne se rend-il pas compte qu'il joue finalement sa propre réputation sur la question de savoir si l'administration a une politique commerciale réussie ou évidemment stupide ?
À présent que Trump a mis le feu au régime mondial des échanges, chacun se demande si les ploutocrates et leurs marionnettes du Congrès se rendront compte bientôt qu'un gouvernement incompétent enchaîné aux caprices imprévisibles d'un président labile n'est pas en fait idéal pour soutenir et pour créer des richesses. Dans une kleptocratie, les prédateurs découvrent souvent qu'ils sont les proies.