Trumps belasting voor heel Amerika
BERKELEY – Mitch McConnel, leider van de Republikeinse meerderheid in de Amerikaanse Senaat, verkondigde onlangs dat '2017 het beste jaar voor de conservatieven is geweest in de dertig jaar dat ik hier zit,' en niet in het minst omdat de regering van Donald Trump 'zeer solide, conservatief, rechts van het midden, en pro-zakenleven … is gebleken.'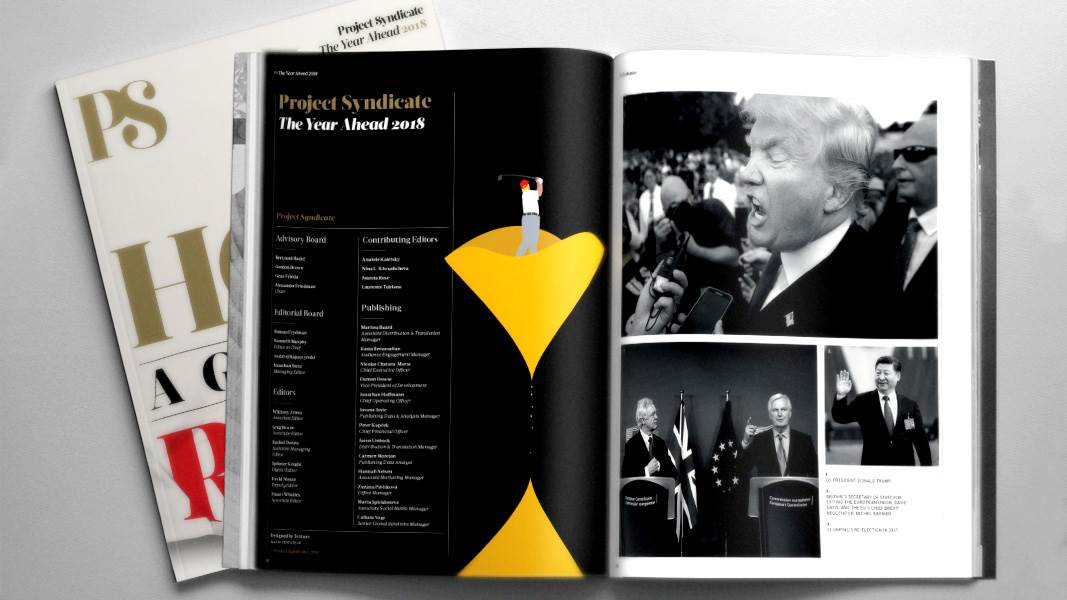 The Year Ahead 2018
The world's leading thinkers and policymakers examine what's come apart in the past year, and anticipate what will define the year ahead.
De geldschieters van de Republikeinen delen onderling terwijl ze exquise hors-d'oeuvres verorberen zonder twijfel overeenkomstige sentimenten. De regering Trump heeft tenslotte milieuwetgeving ingetrokken en de belastingen voor de rijken verlaagd. Daar kan toch niemand tegen zijn?
Natuurlijk, Trump en zijn familie zijn aspirant kleptocraten. Maar dat betekent ook dat ze tegen een overheid zijn die 'hun' rijkdom afneemt. Zo vormen ze de natuurlijke bondgenoten van zij die denken dat de inkomens- en welvaartskloof in Amerika nog veel dieper kan.
En vergeet verder gewoon dat de regering Trump volledig incapabel is, of dat de belastingwetgeving van vorig jaar het slechtst opgestelde wetsvoorstel sinds mensenheugenis was. Als Trumps onnozelheid de Republikeinen in het Congres al iets oplevert zijn dit zelfs nog meer kansen om mazen in de wet te creëren en te garanderen dat hun geldschieters een voorkeursbehandeling krijgen. Je gaat bijna denken dat de ideale regeringsvorm voor de Republikeinse partij een incompetente, onberekenbare kleptocratie is.
Tot 1 maart 2018 dan tenminste, de dag dat Trump zijn intentie uitsprak om algemene importheffingen van 25% op staal en 10% op aluminium op te leggen. Deze beslissing, zo merkt Pat Roberts, Republikeins senator uit Kansas, op, 'gaat op het boerenland niet goed vallen.'
Zoals Roberts onderstreept is Trumps verschuiving dit jaar richting protectionisme in tegenspraak met zijn eerdere beleid. 'Er ligt een heel pakket aan belastinghervormingen dat veel profijt aan bedrijven biedt,' zo vertelde Roberts de Kansas City Star, 'en dit is een beleidswijziging die daar regelrecht tegen in gaat.' Hij is bezorgd dat Trump 'een handelspolitiek zal voeren die er in essentie op neerkomt dat alle voordelen van de belastinghervormingen opgeheven worden door hogere productiekosten die worden doorberekend aan de consument.'
Hij heeft gelijk. Uiteindelijk is het de Amerikaanse consument die voor de heffingen van Trump gaat betalen. Dit soort uitgebreide protectionistische maatregelen zullen elke sector van de Amerikaanse industrie op een of andere manier raken, en producenten zullen zeker niet in hun eentje de kosten van duurder staal en aluminium ophoesten. Ondertussen zullen andere landen hun eigen importheffingen op Amerikaanse exporten introduceren. Zo is de Europese Unie bijvoorbeeld van plan om de tarieven op Amerikaanse producten zoals Harley Davidson motoren, bourbon-whiskey, en Levi's spijkerbroeken op te schroeven.
Dus Trump stelt in feite nieuwe belastingen voor de Amerikaanse consument en export voor, waarvan de kosten grotendeels gedragen zullen worden door zijn eigen supporters in het Amerikaanse achterland en de Rust Belt. Bovendien lijkt Trump schijnbaar uit het niets tot deze beslissing te zijn gekomen. De aandelenmarkten voorzagen niets en kelderden meteen met om en nabij 1,5%. En volgens de berichtgeving van de Kansas City Star werden '[Roberts] en andere Republikeinse senatoren niet officieel door het Witte Huis ingelicht.'
En toch zijn de meeste Republikeinen zo geïntimideerd door Trump dat de enige woorden die Paul Ryan, voorzitter van het Huis van Afgevaardigden, bijeen wist te rapen waren 'dat hij hoopt dat de president de onvoorziene gevolgen van dit idee nog eens zou willen heroverwegen en dat hij ook andere benaderingen wil bekijken voordat hij het doorzet.'
Het blijkt nu dat Trumps beslissing niet alleen tegen het advies – en zelfs onder protest – van zijn belangrijkste economische adviseur Gary Cohn genomen is, maar ook dat van nationale veiligheidsadviseur generaal H.R. McMaster, minister van Financiën Steve Mnuchin, en minister van Defensie James Mattis.
Minister van Handel Wilbur Ross is daarentegen blijkbaar wel voor de importheffingen. Maar waarom blijft volstrekt onduidelijk. Het ministerie van Handel zelf onderschrijft juist dat er meer Amerikanen profiteren van lagere staal- en aluminiumprijzen dan van hogere.
Een andere voorstander van de heffingen is Peter Navarro, die onlangs werd bevorderd tot directeur Handels- en Productiebeleid en directeur van de Nationale Handelsraad op het Witte Huis. Dit komt niet als een verrassing. Navarro heeft een reeks alarmerende boeken over de Amerikaanse handelsrelatie met China geschreven, inclusief een met de titel Death by China. Desalniettemin is Navarro nog niet in staat gebleken om uit te leggen hoe het creëren van een grotere binnenlandse staalindustrie door middel van importheffingen nettowinst voor de Amerikaanse economie gaat opleveren.
Een laatste cruciale supporter van de tarieven is de Amerikaanse handelsgezant Robert Lightizer, voorheen actief als advocaat in de staalindustrie. Net zoals bij Ross is het niet geheel helder wat Lightizer precies denkt. Hij moet toch weten dat Trumps heffingen weinig tot geen kans maken de Amerikaanse staal- en aluminiumindustrie een impuls te geven zonder tegelijk substantiële kosten aan de economie op te leggen. Realiseert hij zich niet dat zijn reputatie uiteindelijk afhankelijk is van of de regering een succesvolle of juist duidelijk stupide handelspolitiek bedrijft?
Nu Trump de lont in het kruitvat van het wereldhandelssysteem heeft gestoken vraag je je af of de Amerikaanse plutocraten en hun schoothondjes in het Congres zich eerdaags zullen beginnen te realiseren dat een bungelende regering die slechts vastgeklonken is aan de onvoorspelbare grillen van een labiele president wellicht toch niet ideaal is om rijkdom te behouden en te scheppen. Binnen een kleptocratie komen jagers er immers dikwijls achter dat ze zelf prooi zijn geworden.
Vertaling Melle Trap