El impuesto de Trump a Estados Unidos
BERKELEY – Mitch McConnell, el líder de la mayoría republicana del Senado de Estados Unidos, recientemente proclamó que "2017 era el mejor año para los conservadores en los 30 años que he estado aquí", entre otras razones porque la administración del presidente Donald Trump "resultó ser… muy sólida, conservadora, de centro-derecha, pro-negocios".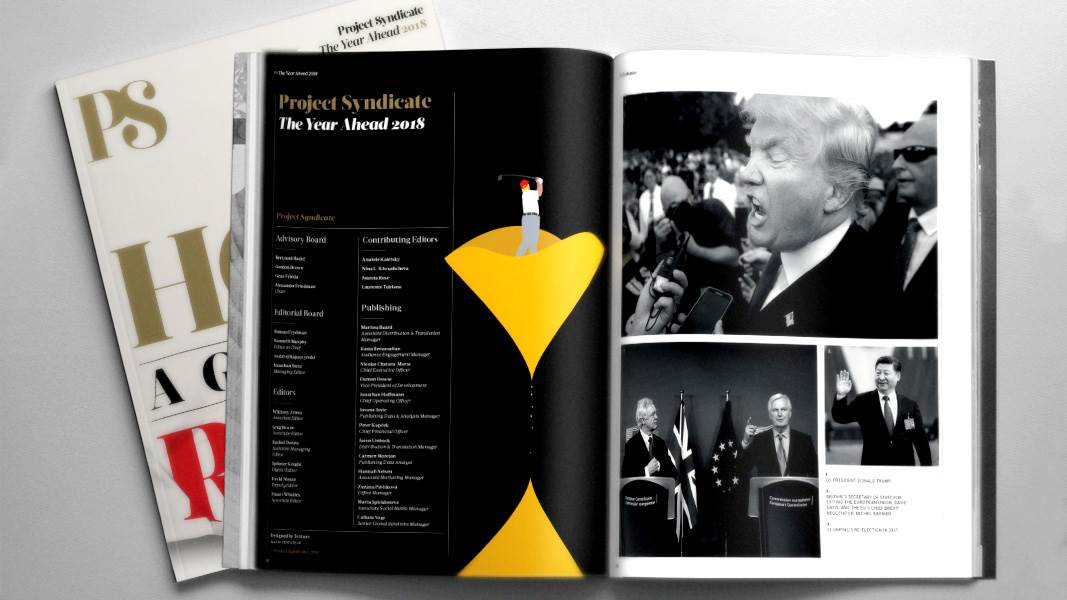 The Year Ahead 2018
The world's leading thinkers and policymakers examine what's come apart in the past year, and anticipate what will define the year ahead.
Sin duda, es posible escuchar a los donantes republicanos expresar sentimientos similares mientras degustan sus canapés de langostinos. Después de todo, la administración Trump ha reculado en materia de regulaciones ambientales y ha recortado impuestos para los ricos. ¿Qué puede no gustarles?  
Sin duda, Trump y su familia son cleptócratas en ciernes. Pero eso significa que están en contra de que el gobierno se quede con "su" riqueza. Son aliados naturales de quienes piensan que la brecha de ingresos y riqueza de Estados Unidos podría ser inclusive mayor de lo que ya es.
Y no importa si la administración Trump es completamente inepta, o si la legislación impositiva del año pasado fue el proyecto de ley peor redactado de la historia reciente. La ineptitud de Trump, en todo caso, les da a los republicanos del Congreso más oportunidades aún para crear resquicios legislativos y garantizar un trato preferencial para sus donantes. Parecería que para el Partido Republicano, una cleptocracia incompetente y errática podría ser la mejor forma de gobierno.
O al menos esto era así hasta el 1 de marzo de 2018, el día en que Trump dejó en claro su intención de imponer, de forma generalizada, aranceles a las importaciones del 25% sobre el acero y del 10% sobre el aluminio. Esa decisión, observa Pat Roberts, senador republicano de Kansas, "no va a caer bien en los sectores agrícolas".
Como señala Roberts, la estrategia de Trump hacia el proteccionismo este año va en contra de sus primeros logros en materia de políticas. "Tenemos un paquete de reforma impositiva que le está trayendo muchos beneficios a la comunidad empresarial", le dijo Roberts al Kansas City Star, "y ésta es una medida política que va en contra de eso". Su preocupación ahora es que Trump quiera aplicar "una política comercial que esencialmente resulte en que todos los beneficios de la reforma impositiva sean absorbidos por los mayores costos de producción que se trasladan a los consumidores".
Tiene razón. Al final, los consumidores norteamericanos son los que pagarán por los aranceles de Trump. Esas amplias medidas proteccionistas afectarán a todos los sectores de la industria estadounidense de una manera u otra, y los fabricantes ciertamente no absorberán todos los costos de los insumos de acero y aluminio más caros. Al mismo tiempo, otros países introducirán aranceles propios sobre las exportaciones estadounidenses. La Unión Europea, por ejemplo, está planeando aplicar aranceles a productos típicamente norteamericanos como las motos Harley-Davidson, el borbón y los pantalones Levi's.
De manera que Trump esencialmente ha propuesto un nuevo impuesto a los consumidores y a las industrias exportadoras de Estados Unidos, cuyos costos serán absorbidos, en gran medida, por sus propios seguidores en el corazón y el Cinturón de Óxido de Estados Unidos. Es más, Trump parece haber llegado a su decisión casi de la nada. A los mercados bursátiles los tomó desprevenidos e inmediatamente cayeron alrededor del 1,5%. Y según el informe del Kansas City Star, "Roberts y otros senadores republicanos no recibieron ningún anticipo formal desde la Casa Blanca".
Es más, los republicanos se han sentido tan amedrentados por Trump que la mejor respuesta que pudo pergeñar Paul Ryan, el portavoz de la Cámara de Representantes, fue que "espera que el presidente considere las consecuencias no intencionadas de esta idea y analice otras estrategias antes de avanzar".
Resulta ser que la decisión de Trump fue tomada en contra del consejo -por cierto, de las objeciones- no sólo de su principal asesor económico, Gary Cohn, sino también de su asesor de seguridad nacional, el general H.R. McMaster, su secretario del Tesoro, Steven Mnuchin, y su secretario de Defensa, James Mattis.
Por otro lado, el secretario de Comercio, Wilbur Ross, aparentemente favorece los aranceles. Pero no está del todo claro por qué. El propio Departamento de Comercio sin duda reconoce que más norteamericanos se benefician de los precios más bajos del acero y del aluminio que de los precios más elevados.
Otro defensor de los aranceles es Peter Navarro, quien recientemente fue promovido a director de la Oficina para la Política Comercial e Industrial y director del Consejo Nacional de Comercio de la Casa Blanca. No es una sorpresa. Navarro ha escrito una cantidad de libros alarmistas sobre la relación comercial de Estados Unidos con China, incluido uno titulado Muerte por China. Sin embargo, Navarro todavía no ha sido capaz de explicar de qué manera la creación de una industria del acero doméstica más grande a través de aranceles dará como resultado un beneficio neto para la economía estadounidense.
Un último defensor clave de los aranceles es el representante comercial de Estados Unidos, Robert Lighthizer, quien anteriormente se desempeñó como abogado para la industria del acero. Como sucede con Ross, no está del todo claro qué piensa Lighthizer. Tiene que saber que los aranceles de Trump prácticamente no tendrán posibilidades de impulsar las industrias del acero y del aluminio de Estados Unidos sin también imponer costos sustanciales a la economía. ¿No toma conciencia de que su propia reputación en definitiva dependerá de si la administración tiene una política comercial exitosa o una claramente estúpida?  
Ahora que Trump ha incendiado el sistema comercial global, cabe preguntarse si los plutócratas de Estados Unidos y sus falderos en el Congreso pronto tomarán consciencia de que un gobierno torpe encadenado al capricho impredecible de un presidente lábil no es, en verdad, ideal para sustentar y crear riqueza. En una cleptocracia, los depredadores muchas veces descubren que ellos son la presa.