Un año nuevo Trump
WASHINGTON, DC – Cuando el presidente norteamericano, Donald Trump, levantó campamento rumbo a su mansión-club privado en Palm Beach, Florida, para las fiestas, dejó a Washington en ascuas. Es obvio que Trump y sus fuertes aliados en el Congreso -tiene más de los que uno podría esperar- están decididos a torpedear lo que supuestamente es una investigación legal independiente sobre si Trump y su equipo de campaña conspiraron con Rusia en sus esfuerzos por derrotar a Hillary Clinton en 2016.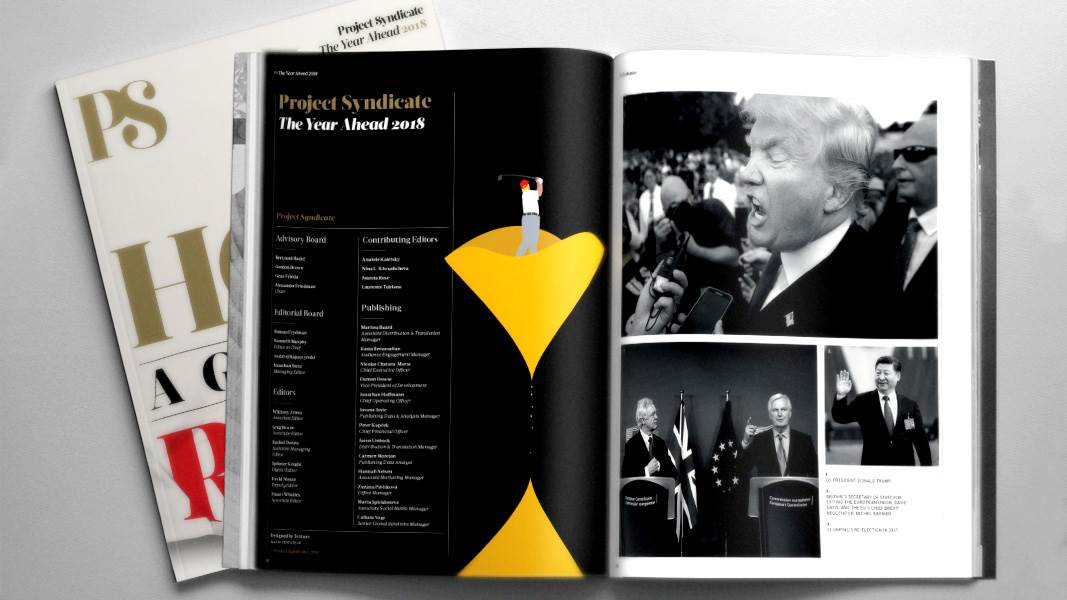 The Year Ahead 2018
The world's leading thinkers and policymakers examine what's come apart in the past year, and anticipate what will define the year ahead.
El comportamiento del equipo de Trump con el asesor especial Robert Mueller y el FBI, que está cooperando en la investigación de Mueller, hace que el comportamiento de Richard Nixon y sus colaboradores con los investigadores del Watergate parezca dócil y respetuoso en comparación. Si bien Nixon despidió al primer fiscal independiente, Archibald Cox, en la infame "Masacre del sábado por la noche", se nombró a otro fiscal y Nixon, finalmente, renunció antes que enfrentar un juicio político de la Cámara de Representantes y una condena del Senado. (En ese caso, habría tenido que dejar el cargo sin una valiosa pensión).
Curiosamente, Trump y sus asesores tampoco parecen haber aprendido de la historia más reciente. Al despedir al director del FBI James Comey, Trump se puso una soga al cuello con el nombramiento de un asesor especial. Hoy no se puede saber si se llevará a cabo un intento de juicio político. Pero la mayoría de los observadores creen que republicanos clave en la Cámara de Representantes, donde comenzaría el juicio político, se unieron a la suerte de Trump, principalmente porque le temen a su base leal (aproximadamente un tercio del país, agrupado en muchos distritos parlamentarios).
Eso podría cambiar si los demócratas se adueñan de la Cámara en las próximas elecciones de mitad de mandato de noviembre. Pero aún si los demócratas ganaran ambas cámaras del Congreso, es muy probable que no puedan reunir la mayoría de dos tercios que se necesita para condenar a Trump en el Senado.
Trump claramente teme que Mueller encuentre argumentos para procesarlo. Una fuerte posibilidad es que el presidente sea acusado de obstruir a la justicia -una ofensa impugnable y un delito a la vez-. Una acusación penal de obstrucción requiere pruebas de intención para recibir una condena, pero los esfuerzos seriales de Trump por incidir en la investigación, o detenerla, sugieren que teme ser vulnerable. Que un presidente en verdad pueda ser inculpado es un interrogante sin respuesta; pero si Mueller cree que el presidente no debería ser inculpado, presentaría sus cargos ante la Cámara, que luego decidiría si avanzar o no con el juicio político. 
Trump está decidido a evitar ambos desenlaces, y está claramente preocupado de no poder lograrlo. Pero no es sólo Trump el que podría estar en problemas legales. Mueller ha llevado adelante una tarea disciplinada y hermética, sin filtraciones; pero se calcula que el yerno de Trump, Jared Kushner, será procesado.
Eso puede explicar por qué Trump está transitando por donde Nixon nunca se animó a andar, calumniando tanto a Mueller como al FBI. Hasta ahora, ambos han gozado de respeto bipartidario. Pero Trump se ha sentido frustrado por las advertencias que recibió de que despedir a Mueller desataría una tormenta política. (Como el fiscal general adjunto Rod Rosenstein debe tomar la decisión de despedir a Mueller, y ha dicho que no ve razones para hacerlo, Trump primero tendría que despedir a Rosenstein, lo que se parecería bastante a la Masacre del sábado por la noche, el punto de inflexión de la presidencia de Nixon). De modo que, al plantear interrogantes sobre la integridad de Mueller y del FBI, Trump y sus aliados están intentando preparar el escenario para una desestimación pública generalizada de cualquier cosa que informe Mueller.
Ha sido un espectáculo desalentador. Trump denuncia al FBI en sus tuits y otras declaraciones. Sus aliados de derecha en la Cámara de Representantes (inclusive más partidaria que el Senado) han sometido al nuevo director del FBI, Christopher Wray, a interrogatorios hostiles en varias audiencias de comisión. Y han acribillado a preguntas al director adjunto, Andrew McCabe -que era cercano a Comey y podía corroborar sus declaraciones de que Trump intentó persuadirlo de limitar la investigación- durante ocho y nueves horas cada vez.
El acoso de altos funcionarios del Departamento de Justicia y del FBI por parte de comités de la Cámara no ha tenido precedentes desde las cacerías de brujas anticomunistas de los años 1950. Esta estrategia busca forzar la destitución o reasignación de funcionarios problemáticos del FBI y de la Justicia. Lamentablemente, eso está teniendo cierto éxito. Según se dice, McCabe se retirará en 2018, y una encuesta reciente reveló una caída significativa del respaldo público a la investigación de Mueller en los últimos seis meses.
Es por este motivo que la capital está en ascuas. Nadie puede asegurar que Trump no vaya a tomar alguna medida drástica -ya sea relacionada con asuntos internacionales o con la investigación de Rusia- durante su descanso en Palm Beach. Mientras Trump sigue sucumbiendo a los halagos de Vladimir Putin (el oficial de inteligencia norteamericano retirado James Clapper recientemente dijo que Putin, un ex agente de la KGB, es un gran oficial de caso en el manejo que hace de Trump), las relaciones estadounidenses con Rusia se están deteriorando.
Ambas partes están tomando medidas que profundizan las tensiones bilaterales. Submarinos rusos han estado merodeando cerca de cables de comunicaciones occidentales vitales en el lecho del Océano Atlántico, lo que implica el riesgo de un daño grave para las economías y los modos de vida de Estados Unidos y Europa. En respuesta, la OTAN planea establecer un nuevo comando central para monitorear esas actividades. Aviones militares rusos también han estado volando cerca de aviones de la OTAN.
Es más, la administración Trump recientemente anunció que permitiría la venta de armas defensivas letales a Ucrania, para contrarrestar la agresión rusa allí -una medida que, según Rusia, no hará más que engendrar más violencia-. Luego está Corea del Norte, con la cual una guerra es bastante posible, según algunos oficiales militares retirados.
Se sabe que Trump es volátil e impulsivo, pero hasta ahora sus principales asesores lo han contenido. Hacen un esfuerzo muy grande, evitando tomar medidas o decirle cosas que pudieran molestarlo. El Washington Post hace poco reveló que sus asesores de inteligencia evitan hablar de Rusia. 
Pero se cree que la constelación de funcionarios de política exterior e inteligencia que rodean a Trump está a punto de cambiar. Se espera que el secretario de Estado, Rex Tillerson, sea reemplazado por una figura de línea más dura a comienzos de 2018. Ya comenzó un éxodo de miembros del personal de la Casa Blanca, debido a una insatisfacción propia o de parte de Trump. Aún si pasamos las fiestas en relativa calma, es evidente que el 2018 será un año tumultuoso.