Trump im Neuen Jahr
WASHINGTON, DC – Während sich US-Präsident Donald Trump anschickt, die Jahreswende in seinem Privatclub in Palm Beach, Florida zu verbringen, hinterlässt er eine nervöse Hauptstadt. Es ist offensichtlich, dass Trump und seine starken Unterstützer im Kongress – und das sind mehr, als man meinen möchte –, fest entschlossen sind, die unabhängige rechtliche Untersuchung zu behindern, die feststellen soll, ob sich Trump und sein Wahlkampfteam bei der Präsidentschaftswahl 2016 abgesprochen haben, um Hillary Clinton zu besiegen.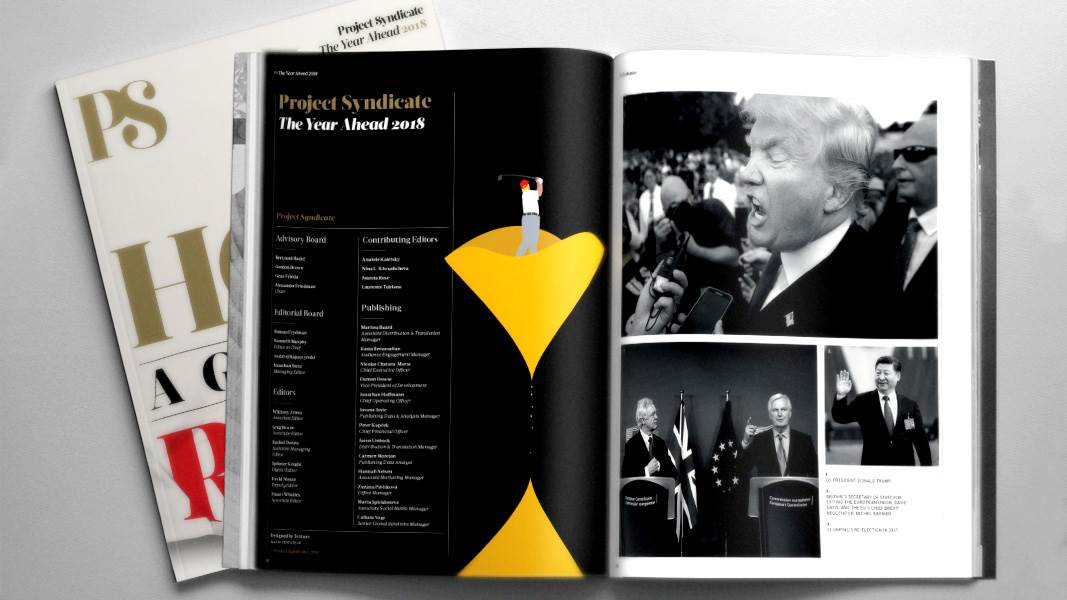 The Year Ahead 2018
The world's leading thinkers and policymakers examine what's come apart in the past year, and anticipate what will define the year ahead.
Das Verhalten des Trump-Lagers gegenüber Sonderermittler Robert Mueller und dem FBI, das Muellers Ermittlungen unterstützt, lässt das Verhalten von Richard Nixon und seinen Leuten gegenüber den Watergate-Ermittlern im Vergleich blass und respektvoll aussehen. Nixon feuerte zwar den ersten unabhängigen Sonderermittler Archibald Cox im Zuge des berühmt-berüchtigten "Samstagabend-Massakers", aber es wurde ein anderer ernannt, und Nixon trat schließlich zurück, um einem Amtsenthebungsverfahren durch das Repräsentantenhaus und einer Verurteilung durch den Senat zu entgehen (und um seine Pension zu behalten).
Seltsamerweise scheinen Trump und seine Berater nicht aus der näheren Geschichte gelernt zu haben. Durch die Entlassung des FBI-Direktors James Comey hat sich Trump der Ernennung eines Sonderermittlers ausgesetzt. Ob es ein Amtsenthebungsverfahren geben wird, ist noch ungewiss. Aber die meisten Beobachter glauben, die Schlüsselfiguren unter den Republikanern im Repräsentantenhaus, wo das Amtsenthebungsverfahren beginnen würde, stehen hinter Trump, hauptsächlich aus Angst vor seinen loyalen Unterstützern (ungefähr ein Drittel des Landes, verteilt über viele Wahlkreise des Kongresses).
Das könnte sich ändern, wenn die Demokraten das Haus im nächsten November nach den Zwischenwahlen übernehmen. Aber selbst, wenn die Demokraten beide Kongresskammern gewinnen würden, ist es unwahrscheinlich, dass sie die Zweidrittelmehrheit zusammenbekommen, die notwendig ist, um Trump im Senat zu verurteilen.
Trump befürchtet ganz offensichtlich, dass Mueller Gründe finden wird, ihn anzuklagen. Es ist ziemlich wahrscheinlich, dass der Präsident der Behinderung der Justiz beschuldigt wird – sowohl ein Grund für Amtsenthebung als auch eine Straftat. Eine strafrechtliche Anklage wegen Behinderung erfordert einen Nachweis des Vorsatzes, um zur Verurteilung zu führen, aber Trumps wiederholte Versuche, in die Ermittlungen einzugreifen oder diese gar zu vereiteln, weisen darauf hin, dass er besorgt ist, er könne verletzlich sein. Ob ein Präsident tatsächlich angeklagt werden kann, ist eine noch nicht geklärte Frage. Aber wenn Mueller glaubt, der Präsident sollte nicht angeklagt werden, würde er seine Anklage dem Haus vorlegen, das dann entscheiden würde, ob ein Amtsenthebungsverfahren einzuleiten ist.
Trump ist entschlossen, beide Szenarien zu verhindern und er ist ganz eindeutig besorgt, dass ihm dies nicht gelingen könnte. Aber es ist nicht nur Trump, der Ärger mit der Justiz bekommen könnte. Mueller ist sehr diszipliniert und diskret vorgegangen, nichts ist durchgesickert, aber es wird allgemein angenommen, dass Trumps Schwiegersohn Jared Kushner angeklagt werden wird.
Das erklärt möglicherweise, warum Trump versucht, sowohl Mueller als auch den FBI zu verunglimpfen, etwas, was Nixon nie gewagt hätte. Bisher wurden beide von beiden Parteien gleichermaßen respektiert. Aber Trump war frustriert durch die Warnungen, dass eine Entlassung Muellers einen politischen Flächenbrand auslösen würde. (Weil der stellvertretende Leiter des Justizministeriums Rod Rosenstein Mueller entlassen müsste und bereits gesagt hat, er sehe dazu keinen Anlass, müsste Trump zuerst Rosenstein entlassen, was zu sehr wie das Samstagabend-Massaker aussehen würde, der Wendepunkt in der Präsidentschaft Nixons.) Indem sie also Muellers Integrität und die des FBI in Frage stellen, versuchen Trump und seine Verbündeten, die Öffentlichkeit darauf vorzubereiten, alles abzulehnen, was Mueller berichten wird.
Es war ein bestürzendes Spektakel. Trump verurteilt den FBI in seinen Tweets und anderen Aussagen. Seine rechten Unterstützer im Repräsentantenhaus (noch voreingenommener als der Senat) haben den neuen FBI-Direktor Christopher Wray feindseligen Fragen in verschiedenen Ausschusssitzungen unterzogen. Und sie haben den stellvertretenden Direktor Andrew McCabe in acht- und neunstündigen Sitzungen gegrillt. Dieser stand Comey nahe und könnte dessen Behauptung bestätigen, Trump wollte ihn davon überzeugen, die Untersuchungen zu beschränken.
Eine derartige Schikanierung hochrangiger Mitarbeitern von Justizministerium und FBI ist seit der antikommunistischen Hexenjagd in den 1950ern nicht mehr vorgekommen. Diese Strategie soll die Entlassung oder Versetzung von unliebsamen Beamten beider Institutionen bewirken. Leider hat sie einigen Erfolg. McCabe will 2018 in den Ruhestand gehen, und eine gerade durchgeführte Umfrage zeigt einen erheblichen Rückgang der öffentlichen Unterstützung von Muellers Ermittlungen über die letzten sechs Monate.
Deswegen ist man nervös in Washington. Niemand kann sicher sein, dass Trump während seines Aufenthalts in Palm Beach nicht irgendeine dramatische Maßnahme in Sachen internationale Angelegenheiten oder Russlandermittlungen ergreift. Während Trump weiterhin Putins Schmeicheleien erliegt (James Clapper, ein US-Geheimdienstler im Ruhestand, bemerkte neulich, Putin, ein ehemaliger KGB-Agent, würde den Fall Trump ganz hervorragend handeln), verschlechtern sich die Beziehungen zwischen den USA und Russland.
Beide Seiten unternehmen Schritte, die die Spannungen zwischen den Ländern verstärken. Russische U-Boote bewegen sich verdächtig nahe an wichtigen Kommunikationskabeln des Westens auf dem Boden des Atlantiks und drohen damit mit ernsthaftem Schaden für Wirtschaft und Lebensart der USA und Europas. Als Reaktion darauf will die NATO ein neues Kommandozentrum zur Überwachung derartiger Aktivitäten einrichten. Russische Militärflugzeuge sind auch in der Nähe von NATO-Flugzeugen geflogen.
Darüber hinaus hat die Trump-Administration vor kurzem angekündigt, dass sie den Verkauf letaler Verteidigungswaffen an die Ukraine erlauben werde, als Reaktion auf die Aggression Russlands dort – ein Schritt, der, wie Russland sagt, nur noch mehr Gewalt hervorbringen wird. Und dann ist da noch Nordkorea, mit dem ein Krieg, so verschiedene Militäroffiziere im Ruhestand, durchaus möglich ist.
Trump ist für seine Wankelmütigkeit und Impulsivität bekannt, aber bisher haben ihn seine wichtigsten Berater zurückgehalten. Das ist ein hartes Stück Arbeit. Sie versuchen, zu verhindern, dass er Maßnahmen ergreift beziehungsweise geben ihm bestimmte Dinge nicht weiter, von denen sie wissen, dass sie ihn aufregen. Die Washington Post berichtete vor kurzem, seine geheimdienstlichen Informanden vermieden es, über Russland zu sprechen.
Aber die Konstellation der Außenpolitiker und Geheimdienstler um Trump soll sich demnächst ändern. Es wird allgemein erwartet, dass Außenminister Rex Tillerson 2018 durch einen aggressiveren Politiker ersetzt wird. Es hat ein Exodus an Mitarbeitern im Weißen Haus begonnen, sei es, weil sie selbst oder weil Trump un zufrieden waren. Selbst wenn wir einigermaßen friedlich über die Feiertage kommen, wird 2018 ganz klar ein unruhiges Jahr.
Aus dem Englischen von Eva Göllner.