La nouvelle année de Donald Trump
WASHINGTON, DC – En vacances pour les fêtes de fin d'année dans sa luxueuse propriété privée de Palm Beach, en Floride, le président américain Donald Trump a quitté Washington quelque peu tendu. Manifestement, Trump et ses proches alliés du Congrès – plus nombreux que l'on pourrait le croire – sont déterminés à torpiller ce qui est censé être une enquête judiciaire indépendante autour d'une possible collusion entre Trump et la Russie pendant la campagne présidentielle américaine de 2016, visant à précipiter la défaite d'Hillary Clinton.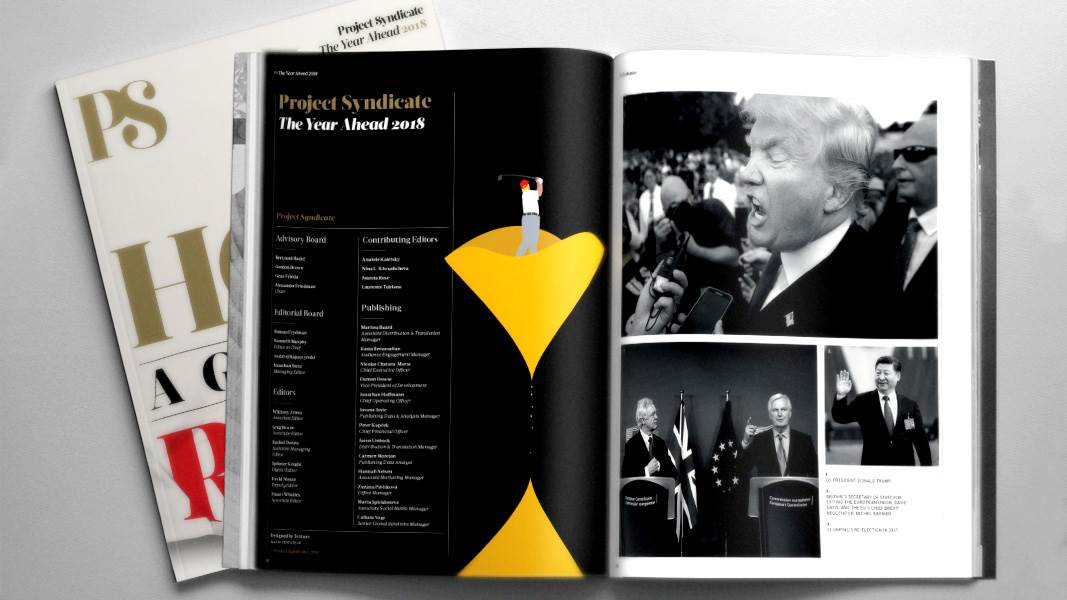 The Year Ahead 2018
The world's leading thinkers and policymakers examine what's come apart in the past year, and anticipate what will define the year ahead.
Comparés aux comportements du camp Trump à l'égard du conseiller spécial Robert Mueller et du FBI, qui apporte son aide dans l'enquête de Mueller, les agissements de Richard Nixon et de ses soutiens contre les enquêteurs du Watergate paraîtraient presque mesurés et respectueux. À l'époque, Nixon avait certes fait renvoyer un premier enquêteur indépendant, Archibald Cox, lors du célèbre « massacre du samedi soir ». Mais après la désignation d'un deuxième enquêteur, Nixon avait en fin de compte démissionné, plutôt que d'avoir à affronter une procédure de destitution devant la Chambre des représentants, ainsi qu'une condamnation devant le Sénat (qui l'aurait privé d'une confortable retraite une fois démis de ses fonctions).
Étrangement, Trump et ses conseillers ne semblent pas avoir tiré les leçons de cet épisode historique pourtant récent. En licenciant le directeur du FBI, James Comey, Trump s'est en effet exposé au risque de voir désigné un conseiller spécial. Pour l'heure, impossible de savoir si une procédure de destitution sera initiée. La plupart des observateurs pensent néanmoins que les Républicains clés de la Chambre des représentants, où débuterait une procédure d'impeachment, lieraient leur sort à celui de Trump, principalement par crainte des réactions des loyaux électeurs du président (qui représentent environ un tiers du pays, concentrés dans de nombreuses circonscriptions parlementaires).
Ceci pourrait changer si les Démocrates s'emparaient de la Chambre des représentants à l'issue des élections de mi-mandat, en novembre prochain. Pour autant, même si les Démocrates venaient à gagner les deux chambres du Congrès, ils seraient sans doute dans l'incapacité de mobiliser la majorité de deux tiers nécessaire à une condamnation de Trump devant le Sénat.
De toute évidence, Trump redoute que Mueller réunisse des motifs d'inculpation. Possibilité réelle, le président pourrait être accusé d'avoir fait entrave à la justice – ce qui est à la fois un motif de destitution et un crime. Bien qu'une condamnation fondée sur une accusation criminelle d'entrave à la justice exige la preuve d'une intention, les nombreux efforts fournis par Trump pour nuire à l'enquête ou l'interrompre témoignent d'une inquiétude du président quant à sa propre vulnérabilité. La question de l'inculpation effective d'un président américain est une question non résolue ; mais si Mueller venait à considérer que Trump ne doit pas être inculpé, il porterait alors les accusations devant la Chambre des représentants, qui déciderait ensuite de procéder ou non à une destitution.
Trump est déterminé à désamorcer ces deux scénarios, mais redoute clairement d'échouer. D'ailleurs, Trump n'est pas le seul à risquer des ennuis judiciaires. En effet, bien que Mueller gère l'enquête avec discipline, dans le silence, et sans aucune fuite, beaucoup s'attendent également à ce que soit mis en accusation le gendre du président, Jared Kushner.
C'est peut-être la raison pour laquelle Trump s'aventure là où Nixon n'a jamais osé aller, en s'efforçant de décrédibiliser Mueller et le FBI. Jusqu'à présent, l'enquêteur et l'institution conservent le respect des deux partis. De son côté, Trump est frustré par l'impossibilité de licencier Mueller, le président ayant été mis en garde sur le risque de voir une telle démarche déclencher une tempête politique. (C'est en effet le procureur général adjoint Rod Rosenstein qui a compétence pour licencier Mueller. Or, il a affirmé ne disposer d'aucun motif pour le faire. Ainsi, Trump devrait commencer par licencier Rosenstein, ce qui rappellerait beaucoup trop le massacre du samedi soir, point de non retour de la présidence Nixon.) Trump et ses alliés préfèrent donc au préalable poser les bases d'un rejet public global des éléments du futur rapport Mueller, en semant le doute sur l'intégrité de l'enquêteur et celle du FBI.
Le spectacle est absolument consternant. C'est par des tweets et autres déclarations que Trump s'attaque au FBI. Ses alliés de droite à la Chambre des représentants (plus partisane que le Sénat) ont soumis le nouveau directeur du FBI, Christopher Wray, à des interrogatoires hostiles dans le cadre de plusieurs audiences en commission. Pendant huit à neuf heures consécutives, ils ont également passé sur le gril le directeur adjoint Andrew McCabe – qui était proche de Comey, et qui peut effectivement prouver que Trump a tenté de persuader celui-ci de limiter la portée l'enquête.
Cette intimidation de la part des commissions de la Chambre des représentants à l'encontre de hauts fonctionnaires du Département de la Justice et du FBI est sans précédent depuis la chasse aux sorcières anticommuniste menée dans les années 1950. Cette stratégie a pour objectif de forcer la démission ou la mutation de responsables dérangeants au sein du FBI et de la justice. Malheureusement, elle semble dans une certaine mesure porter ses fruits, puisqu'il a été affirmé que McCabe prendrait sa retraite en 2018, et qu'un récent sondage a révélé au cours des six derniers mois une nette baisse de confiance du public dans l'enquête de Mueller.
Telles sont les raisons des tensions actuelles dans la capitale. Personne ne peut être certain que Trump ne prendra pas telle ou telle mesure irréfléchie – dans les affaires internationales ou l'enquête liée à la Russie – pendant son séjour à Palm Beach. Car si Trump continue de succomber aux flatteries de Vladimir Poutine (l'ancien responsable du renseignement américain James Clapper ayant récemment confié que Poutine, ancien agent du KGB, était maître dans l'art de manœuvrer Trump), les relations entre les États-Unis et la Russie se détériorent bel et bien.
Les deux camps prennent en effet des mesures qui accentuent les tensions bilatérales. Des sous-marins russes ont en effet épié plusieurs câbles indispensables aux communications occidentales au fond de l'océan Atlantique, soulevant un sérieux risque de dommage pour l'économie ainsi que le mode de vie aux États-Unis et en Europe. En réaction, l'OTAN prévoit de créer un nouveau centre de commandement, pour surveiller ces activités. Plusieurs chasseurs russes ont également frôlé un avion de l'OTAN.
L'administration Trump a par ailleurs annoncé récemment qu'elle autoriserait la vente d'armes de défense létales à l'Ukraine, pour contrer l'agression russe dans le pays – démarche dont la Russie a affirmé qu'elle ne ferait qu'engendrer davantage de violence. Intervient ensuite la question de la Corée du Nord, contre laquelle une guerre est tout sauf exclue, d'après plusieurs anciens responsables militaires américains.
C'est bien connu, Trump est un président imprévisible et impulsif. Mais jusqu'à présent, ses principaux conseillers sont parvenus à le maîtriser. Ils travaillent dur pour cela, en évitant de prendre des mesures ou de lui confier des informations susceptibles de le contrarier. Le Washington Post a même révélé dernièrement que ceux qui briefent le président en matière de renseignement évitaient de parler de la Russie.
Seulement voilà, cette constellation de responsables de la politique étrangère et du renseignement qui gravitent autour de Trump sera sans doute redessinée prochainement. Pour début 2018, beaucoup annoncent d'ores et déjà le remplacement du secrétaire d'État Rex Tillerson par une personnalité plus va-t-en-guerre. Un exode des membres de la Maison-Blanche a débuté, dû à un mécontentement de leur côté ou de celui du président. Même si nous parvenons à traverser les fêtes dans un calme relatif, l'année 2018 s'annonce clairement agitée.   
Traduit de l'anglais par Martin Morel