Le raisonnement de Trump sur Jérusalem et ses conséquences
NEW YORK – Cinquante ans se sont écoulés depuis la Guerre des Six jours, le conflit de juin 1967 qui, au même titre que d'autres événements, continue de définir l'impasse israélo-palestinienne. Après la fin des combats, Israël a pris le contrôle de toute la Cisjordanie, de Gaza et de Jérusalem, en plus de la péninsule de Sinaï et du Plateau du Golan.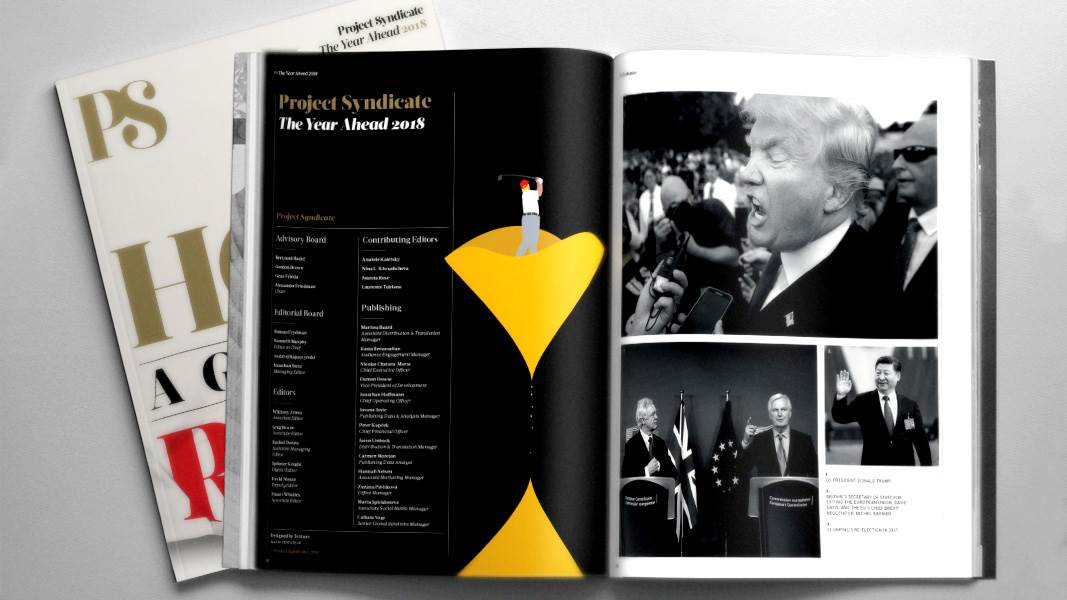 The Year Ahead 2018
The world's leading thinkers and policymakers examine what's come apart in the past year, and anticipate what will define the year ahead.
À cette époque, le monde considérait alors ces résultats militaires comme provisoires. La Résolution 242 du Conseil de sécurité des Nations Unies dont le fond allait devenir une solution diplomatique au problème des Palestiniens apatrides, a été adoptée à peu près cinq mois après la fin de la guerre. Mais comme cela est souvent le cas, ce qui a commencé comme une situation provisoire a duré.
C'est dans ce contexte que le Président Donald Trump a récemment déclaré que les États-Unis reconnaissaient Jérusalem comme la capitale d'Israël. Trump a énoncé que les États-Unis ne prenaient pas en ce sens une position sur le statut final de Jérusalem, notamment sur « les frontières spécifiques de la souveraineté israélienne ». Il a précisé que les États-Unis se montraient favorables à une solution à deux États si elle convenait aux deux camps. Il a choisi en outre de ne pas commencer à déménager réellement l'ambassade des États-Unis de Tel Aviv, bien qu'il ait pu choisir de simplement requalifier ce qui est à présent le consulat des États-Unis à Jérusalem.
La tentative de changer la politique des États-Unis tout en arguant du fait que peu de choses ont changé n'a pas persuadé grand-monde. La plupart des Israéliens ont été satisfaits de la nouvelle position des États-Unis et la majeure partie du monde arabe en a été exaspérée.
Pourquoi Trump a-t-il justement choisi ce moment pour faire ce geste ? Cela est une question de conjecture. Le président a suggéré qu'il s'agissait simplement de reconnaître la réalité et que les échecs politiques de ses prédécesseurs en cette matière n'avaient apporté aucune avancée diplomatique. Cela est vrai, bien que la raison que la diplomatie a échoué durant des décennies n'ait rien à voir avec la politique des États-Unis envers Jérusalem, mais tout à voir avec les divisions entre Israéliens et Palestiniens et avec les fossés qui se sont creusés entre les deux camps.
D'autres ont attribué cette annonce des États-Unis à la politique nationale américaine, une conclusion soutenue par l'échec de la déclaration unilatérale des États-Unis à exiger quoi que ce soit d'Israël (par exemple, d'empêcher la construction de colonies) ou d'offrir quoi que ce soit aux Palestiniens (par exemple, en soutenant leur revendication à l'égard de Jérusalem). Bien que la décision ait entraîné quelques violences, elle ressemble plutôt à une occasion perdue qu'à une crise créée.
Ce qui a rendu cette déclaration non seulement controversée mais potentiellement contreproductive, c'est que l'administration Trump a passé une bonne partie de sa première année à mettre au point un plan pour résoudre le conflit israélo-palestinien. Cette annonce a très bien pu affaiblir les perspectives déjà limitées de ce plan.
L'administration Trump semble avoir à l'esprit de donner à des tiers, à l'Arabie saoudite en particulier, un rôle central dans le rétablissement de la paix. À l'appui de cette approche figure l'opinion selon laquelle l'Arabie saoudite et d'autres gouvernements arabes sont davantage concernés par la menace perçue en provenance d'Iran, que par quelque chose que ce soit en rapport avec Israël. En conséquence, on suppose qu'ils sont préparés à mettre de côté leur hostilité de longue date envers Israël, un pays qui partage en grande partie leur opinion à l'égard de l'Iran.
Des progrès sur la question israélo-palestinienne créeraient un contexte politique dans le monde arabe, en leur permettant d'avancer dans cette voie. Ce qu'espère l'administration Trump, c'est que les Saoudiens emploieront leurs ressources financières pour persuader les Palestiniens d'accepter de faire la paix avec Israël aux conditions qu'Israël acceptera.
Le problème est que le seul plan auquel le gouvernement israélien est susceptible d'accepter va proposer aux Palestiniens beaucoup moins que ce qu'ils exigent historiquement. Si cela est vrai, les dirigeants palestiniens eux-mêmes pourraient bien déterminer qu'il est plus sûr de dire non, plutôt que de signer un plan qui est certain de décevoir un grand nombre des leurs et de les laisser sous la coupe du Hamas et d'autres groupes radicaux.
Les Saoudiens également sont peut-être peu disposés à être associés avec un plan que de nombreuses personnes risquent de tenir pour une trahison. La première priorité pour les nouveaux dirigeants saoudiens sous le prince héritier Mohammed ben Salman est de consolider le pouvoir, ce que le prince accomplit en s'associant à la lutte contre la corruption dans le Royaume et en poursuivant une politique étrangère nationaliste et anti-iranienne.
Mais ni l'une ni l'autre de ces tactiques ne se déroule entièrement comme prévu. La lutte contre la corruption, jusqu'ici populaire, risque d'être ternie par la poursuite sélective des contrevenants (ce qui suggère qu'il s'agit davantage d'une affaire de puissance que de réforme) et de rapports au sujet du style de vie du prince héritier. D'autre part, les efforts anti-Iran sont devenus inséparables de ce qui est devenu une guerre impopulaire au Yémen et d'embarras diplomatiques au Liban et au Qatar. En attendant, les projets ambitieux visant à réformer le pays sont s'avérer plus faciles à concevoir qu'à mettre en pratique et sont sûrs de déplaire aux éléments plus conservateurs.
Le problème pour Trump et pour Jared Kushner, son beau-fils qui conduit la politique américaine dans ce domaine, est que les Saoudiens sont susceptibles de s'avérer être beaucoup moins un allié diplomatique que prévu, par rapport aux attentes de la Maison Blanche. Si le nouveau prince héritier s'inquiète de sa position politique nationale, il sera peu disposé à serrer les coudes avec un président américain considéré comme étant trop proche d'un Israël peu disposé à répondre ne serait-ce qu'à des exigences palestiniennes minimales pour la reconnaissance d'un État.
Tout cela nous ramène à Jérusalem. Trump a soutenu que reconnaître la ville comme étant la capitale d'Israël était « une étape attendue depuis longtemps pour faire avancer le processus de paix et le travail vers un accord durable. » Il s'avère de plus en plus que le coup politique de Trump aura précisément l'effet contraire.