Дональд Трамп против мира на Ближнем Востоке
ИЕРУСАЛИМ – За последние три недели правительство США атаковало палестинский народ сразу на трёх фронтах. Сначала – 17 ноября – администрация президента Дональда Трампа объявила о своём решении (впоследствии отменённом) закрыть дипломатический офис Организации освобождения Палестины в Вашингтоне. Затем – 5 декабря – Конгресс США единогласно одобрил закон Тейлора Форса, блокирующий предоставление финансовой помощи Палестинской администрации (ПА) в 2018-2024 годах, если ПА не прекратит выплачивать ежемесячные пособия и иные субсидии семьям убитых или осуждённых палестинских боевиков. Впрочем, как покажет время, наиболее губительной для усилий по достижению мира станет третья атака, осуществлённая днём позже.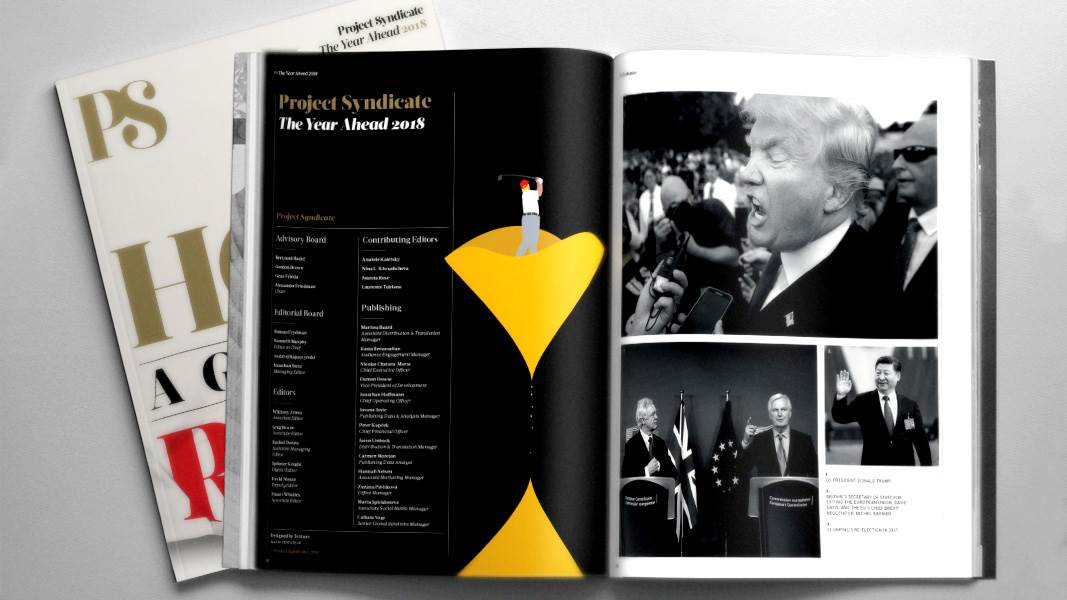 The Year Ahead 2018
The world's leading thinkers and policymakers examine what's come apart in the past year, and anticipate what will define the year ahead.
Игнорируя тотальную глобальную оппозицию, не говоря уже о ранее принятых резолюциях Генеральной Ассамблеи и Совета Безопасности ООН, Трамп объявил, что США намерены официально признать Иерусалим столицей Израиля. Сигнал ясен: администрация Трамп решительно настроена навязать израильский вариант мирного соглашения с палестинцами, а не помочь выработке равноправного соглашения между двумя сторонами в качестве посредника.
Администрация Трампа, конечно, представляет это решение совсем не так. Как сообщила газета New York Times накануне заявления президента, сотрудники его администрации уверены: данное решение, предполагающее перенос в Иерусалим посольства США в Израиле, поможет ускорить мирный процесс, «избавив американскую позицию от двусмысленности». По их словам, вопрос о посольстве всё равно встаёт каждые шесть месяцев, когда президенту приходиться подписывать очередное разрешение на сохранение посольства в Тель-Авиве. Этот процесс, по их мнению, регулярно создаёт политическую напряжённость.
В своей речи по данному поводу Трамп повторил этот аргумент. Официальное признание Иерусалима столицей Израиля, утверждает он, «является шагом, который давно следовало сделать, чтобы помочь мирному процессу и заключению долгосрочного соглашения». Он также заявил, что его решение «никоим образом не означает отказа от нашей полной приверженности работе над заключением долгосрочного мирного соглашения», «очень хорошего для израильтян, и очень хорошего для палестинцев».
Однако в той же самой речи Трамп фактически признал превосходство Израиля: «Израиль – это суверенное государство, у которого есть право, как и любого другого суверенного государства, определять собственную столицу». Несмотря на все свои старания Палестина, конечно, до сих пор не получила признания США в качестве суверенного государства. В итоге, Трамп не просто не стремится к справедливому миру между двумя сторонами, он фактически уже объявил победу Израиля, а палестинцам дал указание спокойно смириться с поражением.
Однако палестинцы уже не раз демонстрировали колоссальные способности к сопротивлению. Например, этим летом, когда израильское правительство в одностороннем порядке решило установить металлоискатели у входа в Харам аль-Шариф и мечеть Аль-Акса, палестинцы две недели проводили демонстрации перед мечетью, вынудив израильтян отменить это решение.
Перенос посольства США в Иерусалим является намного более мощным символическим шагом, а значит, он может спровоцировать более мощное сопротивление – и не только со стороны 300 тысяч палестинцев, которые проживают в Восточном Иерусалиме, или даже 12 миллионов палестинцев во всём мире. Администрация Трампа не понимает, что Иерусалим, третье по значимости священное место в исламе после Мекки и Медины, – это не просто израильско-палестинский вопрос. В нём напрямую, жизненно заинтересованы все 350 миллионов арабов и 1,5 миллиарда мусульман во всём мире.
Трамп может подумать, что его нынешний медовый месяц с Саудовской Аравией позволит ему избежать негативной реакции арабских лидеров. Но наследный принц Мухаммад ибн Салман и так сталкивается со слишком сильной оппозицией своим реформам, чтобы открыто встать на одну сторону с Израилем в таком крайне эмоциональном вопросе, как Иерусалим.
Это факт: лидеры мусульманского и арабского мира не намерены позволить Трампу передать Иерусалим Израилю в одностороннем порядке, исключительно ради удовлетворения интересов его скромной избирательной базы – христианско-сионистских евангелистов США (за Трампа проголосовали менее четверти американских евреев). Более того, Мохаммед Штайе, член центрального комитета движения «Фатх», уже пообещал, что палестинское руководство – в координации с Иорданией и другими арабскими государствами – будет сопротивляться этому диктату.
Но не только арабы или мусульмане поддерживают справедливое палестинское требование равноправного мирного соглашения. Во всём мире эту позицию поддерживает бесчисленное количество людей, всех вер и происхождения, равно как и резолюции Совета Безопасности ООН, Генеральной Ассамблеи ООН и Международного суда ООН. Точно так же обстоят дела и в самих США: по данным опроса, опубликованного Арабским американским институтом, только 20% американцев (включая американских арабов и американских евреев) одобряют перенос посольства США из Тель-Авива в Иерусалим.
Палестинцы выступают за урегулирование по принципу двух государств, с Восточным Иерусалимом в качестве столицы Палестинского государства и Западным Иерусалимом в качестве столицы Израиля. Напротив, израильтяне постоянно срывают процесс урегулирования на основе принципа двух государств. Они требуют, чтобы весь Иерусалим принадлежал им. Иными словами, именно позиция правительства Израиля – и администрации Трампа – должна измениться, чтобы израильско-палестинский конфликт когда-нибудь был урегулирован.
В Израиле это многие понимают: 25 видных израильтян, включая бывших дипломатов, армейских генералов и учёных, подписали письмо специальному посланнику Трампа по вопросам ближневосточного урегулирования, осудив иерусалимское решение. «Вопрос о статусе Иерусалима, – говорится в письме, – находится в центре израильско-палестинского конфликта, и этот статус должен определяться в рамках урегулирования этого конфликта».
Любое реалистичное мирное соглашение должны быть готово к проверке временем. Это означает, что оно должны быть справедливым, а не приводить к тому, чтобы одна из сторон закипала от обид, причём эти обиды разделяли миллионы людей во всём мире. Любая попытка засунуть решение в глотку палестинцам будет повышать вероятность насилия, а не заключения мира.