Donald Trump gegen den Frieden im Nahen Osten
JERUSALEM – Innerhalb von drei Wochen attackierte die Regierung der Vereinigten Staaten das palästinensische Volk an drei Fronten. Zunächst kündigte die Administration unter Präsident Donald Trump am 17. November ihre (später zurückgezogene) Entscheidung an, das diplomatische Büro der Palästinensischen Befreiungsorganisation in Washington, DC zu schließen. Am 5. Dezember stimmte dann der US-Kongress einstimmig für die Verabschiedung des Taylor Force Acts, eines Gesetzes, im Rahmen dessen die Unterstützung für die Palästinensische Autonomiebehörde (PA) von 2018 bis 2024 gestrichen wird, wenn die PA die Auszahlung monatlicher Gehälter und anderer Beihilfen für die Familien getöteter oder verurteilter palästinensischer Militanter nicht einstellt. Doch die dritte Attacke, die sich am darauffolgenden Tag ereignete, erweist sich als die verheerendste für die Friedensbemühungen.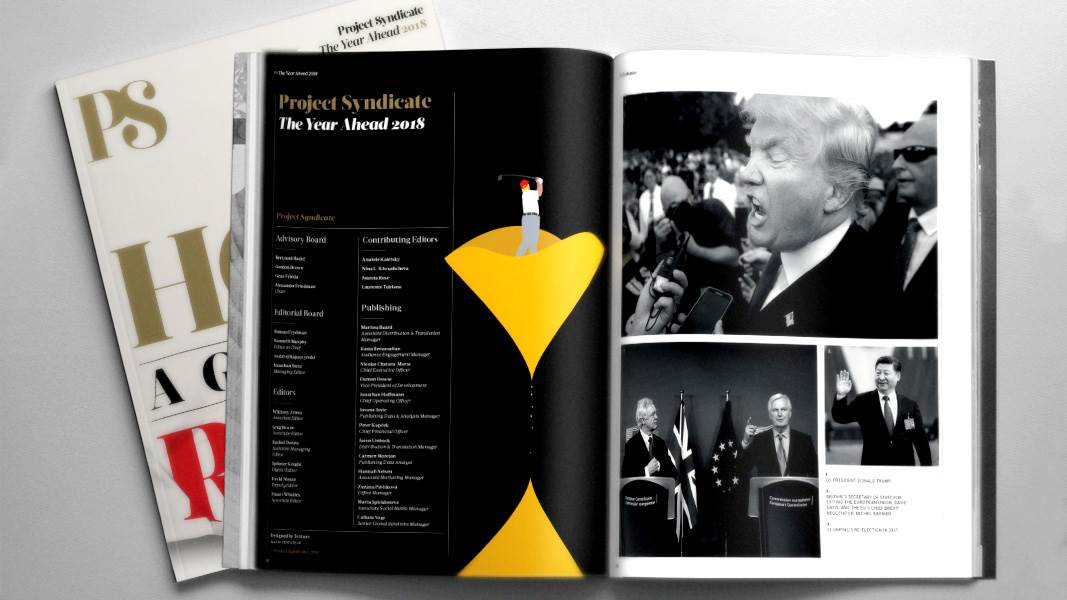 The Year Ahead 2018
The world's leading thinkers and policymakers examine what's come apart in the past year, and anticipate what will define the year ahead.
Trotz weltweiten massiven Widerstandes, von vergangenen Resolutionen der UN-Generalversammlung und des Sicherheitsrates ganz zu schweigen, kündigte Trump an, dass die USA Jerusalem als Hauptstadt Israels offiziell anerkennen werden. Die Botschaft ist klar: die Trump-Administration ist entschlossen, den Palästinensern die israelische Version von Frieden zu diktieren, anstatt ein faires Abkommen zwischen den beiden Seiten zu vermitteln.
Die Administration Trumps stellt das natürlich anders dar. Wie die New York Times kurz vor der Ankündigung berichtete, sind offizielle amerikanische Regierungsvertreter der Ansicht, die Entscheidung, die auch die Verlegung der amerikanischen Botschaft in Israel nach Jerusalem betrifft, könnte den Friedensprozess tatsächlich beschleunigen, weil man damit "eine Quelle der Unklarheit in der amerikanischen Position beseitigt." Schließlich, so die Erklärung, müsse man sich alle sechs Monate mit der Botschaftsfrage beschäftigen, wenn der Präsident einen neuen Erlass zu unterzeichnen hätte, um die Botschaft in Tel Aviv zu belassen – ein Prozess, der aus ihrer Perspektive immer wieder politische Spannungen hervorruft.  
In seiner Erklärung zu diesem Thema wiederholte Trump dieses Argument. Die offizielle Anerkennung Jerusalems als Hauptstadt Israels, so seine Behauptung, "ist ein lange überfälliger Schritt, um den Friedensprozess voranzutreiben und auf ein dauerhaftes Abkommen hinzuarbeiten." Überdies stellte er fest, dass die Entscheidung "in keiner Weise eine Abkehr von unserem starken Engagement für ein dauerhaftes Friedensabkommen bedeuten soll", eines Abkommens, "das für die Israelis ein großartiger Deal ist und auch für die Palästinenser."  
Aber in derselben Rede verriet Trump die Vormachtstellung, die er Israel zuschreibt: "Israel ist ein souveräner Staat, der wie jeder andere souveräne Staat das Recht hat, seine eigene Hauptstadt zu bestimmen." Freilich wird Palästina trotz aller Bemühungen von den Vereinigten Staaten nicht als souveräner Staat anerkannt. Trump ist also weit davon entfernt, sich um ein faires Friedensabkommen für beide Seiten zu bemühen. Vielmehr hat er Israel praktisch zum Sieger erklärt – und die Palästinenser angewiesen, die Niederlage stillschweigend hinzunehmen. 
Doch die Palästinenser haben eine ausgeprägte Widerstandsfähigkeit an den Tag gelegt. Erst im letzten Sommer, als die israelische Regierung einseitig die Installation von Metalldetektoren an den Eingängen zum Haram Asch-Scharif (Tempelberg) und der Al-Aksa-Moschee beschloss, demonstrierten die Palästinenser zwei Wochen lang außerhalb der Moschee und zwangen damit die Israelis ihre Entscheidung zurückzunehmen.
Die Verlegung der US-Botschaft nach Jerusalem ist ein weitaus stärkerer symbolischer Schritt, der noch erheblich größeren Widerstand auslösen könnte – nicht nur bei den 300.000 in Ostjerusalem lebenden Palästinensern, sondern auch bei den über 12 Millionen Palästinensern auf der ganzen Welt. Was die Administration Trumps nicht versteht, ist die Tatsache, dass Jerusalem – der drittheiligste Ort des Islam nach Mekka und Medina – nicht nur ein israelisch-palästinensisches Problem darstellt; vielmehr haben alle der 350 Millionen Araber und 1,5 Milliarden Muslime ein direktes und entscheidendes Interesse daran.
Trump glaubt vielleicht, dass seine derzeitige Phase der Harmonie mit Saudi Arabien es ihm ermöglicht, dem Gegenwind durch arabische Spitzenpolitiker auszuweichen. Doch Kronprinz Mohammed bin Salman ist mit zu viel Widerstand gegen seine eigenen Reformen beschäftigt, um sich bei einem derart emotionsgeladenen Thema wie Jerusalem offen auf die Seite Israels zu stellen.
Faktum ist, dass führende Kräfte der gesamten muslimischen und arabischen Welt es Trump nicht gestatten werden, Jerusalem einseitig Israel zu überantworten, nur damit er seinen kleinen Wählerkreis an christlich-zionistischen Evangelikalen in Amerika zufriedenstellen kann (Trump wurde von weniger als einem Viertel der amerikanischen Juden unterstützt). Und tatsächlich hat Mohammed Schtaje, Mitglied des Zentralkomitees der Fatah, bereits angekündigt, dass sich die palästinensische Führung in Absprache mit Jordanien und anderen arabischen Staaten dem Diktat widersetzen wird.  
Doch nicht nur Araber oder Muslime unterstützen die Forderung der Palästinenser nach einem fairen Friedensabkommen, sondern auch unzählige Menschen weltweit - Menschen aller Glaubensrichtungen und Herkunftsländer ebenso wie die Resolutionen des UN-Sicherheitsrates und der UN-Generalversammlung sowie der Internationale Gerichtshof. Das gilt sogar für die Vereinigten Staaten: laut einer vom Arab American Institute veröffentlichten Umfrage sind nur 20 Prozent der Amerikaner (einschließlich amerikanischer Araber und amerikanischer Juden) für die Verlegung der US-Botschaft von Tel Aviv nach Jerusalem.  
Die Palästinenser fordern eine Zweistaatenlösung, mit Osterjerusalem als Hauptstadt des palästinensischen Staates und Westjerusalem als Hauptstadt Israels. Im Gegensatz dazu haben die Israelis eine Zweistaatenlösung konsequent vereitelt und ganz Jerusalem für sich allein reklamiert. Kurzum: die Position der israelischen Regierung – und die der Trump-Administration – müssen sich ändern, wenn der israelisch-palästinensische Konflikt jemals gelöst werden soll.
Das erkennen auch viele Menschen in Israel: 25 prominente Israelis, darunter ehemalige Diplomaten, Armeegeneräle und Wissenschaftler, unterzeichneten einen Brief an Trumps Nahost-Friedensgesandten, in dem sie die Jerusalem-Entscheidung verurteilen. "Der Status Jerusalems", so schreibt man, "bildet den Kern des israelisch-palästinensischen Konflikts und muss daher im Zusammenhang mit der Lösung dieses Konflikts festgelegt werden."
Jeder tragfähige Friedensvertrag muss sich im Lauf der Zeit bewähren. Und das heißt, er muss fair und gerecht sein und nicht eine Partei vor Wut schäumen lassen – vor allem, wenn diese Wut Millionen Menschen weltweit erfasst. Der Versuch, den Palästinensern den Frieden aufzuzwingen, macht nicht den Frieden wahrscheinlicher, sondern nur noch mehr Gewalt.
Aus dem Englischen von Helga Klinger-Groier