Donald Trump frente a la paz en Oriente Próximo
JERUSALÉN – En cerca de tres semanas, el gobierno de Estados Unidos ha atacado al pueblo palestino en tres frentes. Primero, el 17 de noviembre la administración del Presidente Donald Trump anunció su decisión (rescindida más adelante ) de cerrar la oficina diplomática de la Organización de Liberación de Palestina en Washington, DC. Luego, el 5 de diciembre el Congreso votó por unanimidad la adopción de la Taylor Force Act, que bloquea la ayuda a la Autoridad Palestina de 2018 a 2024, a menos que deje de pagar salarios mensuales y otros beneficios a las familias de los militantes palestinos caídos o presos. Pero fue el tercer ataque, el que vino al día siguiente, el que será más devastador para los esfuerzos por lograr la paz.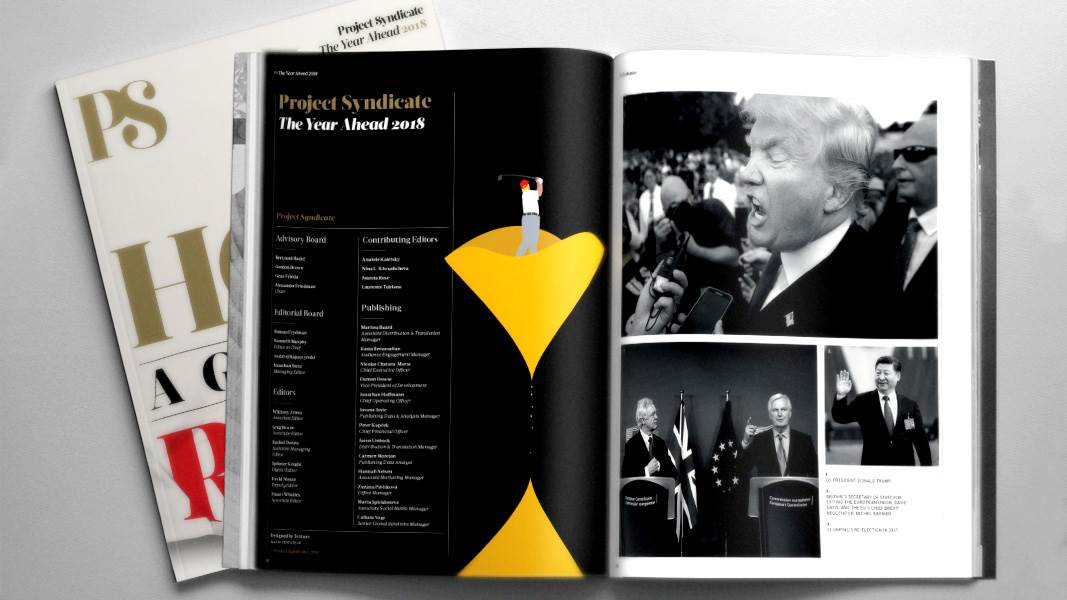 The Year Ahead 2018
The world's leading thinkers and policymakers examine what's come apart in the past year, and anticipate what will define the year ahead.
Desafiando a la abrumadora oposición global, por no mencionar las resoluciones pasadas del Consejo de Seguridad y la Asamblea General de las Naciones Unidas, Trump anunció que Estados Unidos reconocerá oficialmente a Jerusalén como capital de Israel. El mensaje es claro: la administración Trump está decidida a dictar la versión israelí de la paz a los palestinos, en lugar de mediar un acuerdo equitativo entre ambos bandos.
Por supuesto, no es así como la administración Trump lo presenta. Como informó el New York Times antes del anuncio, sus autoridades creen que la decisión, que implica la mudanza de la embajada en Israel a Jerusalén, en realidad podría acelerar el proceso de paz "al eliminar una fuente de ambigüedad de la posición estadounidense". Después de todo, señalan, la cuestión de la embajada reaparece cada seis meses, cuando el presidente tiene que firmar una nueva autorización para mantener la embajada en Tel Aviv, proceso que, desde su perspectiva, genera cada vez tensiones políticas.
En su discurso sobre el tema, Trump reiteró este argumento, afirmando que reconocer oficialmente a Jerusalén como capital de Israel es "un paso que hacía mucho había que dar para hacer avanzar el proceso de paz y trabajar hacia el logro de un acuerdo duradero". También señaló que la decisión "no tiene la intención, de manera alguna, de reflejar un distanciamiento de nuestro intenso compromiso con la facilitación de un acuerdo de paz duradero (…) que sea un muy buen trato tanto para los israelíes como los palestinos".
Pero en el mismo discurso, Trump traicionó la superioridad que le atribuye a Israel: "Israel es una nación soberana con el derecho, como cualquier otra nación soberana, a determinar su propia capital". A pesar de todos sus esfuerzos, Palestina no es reconocida como estado soberano por Estados Unidos. Así que, lejos de buscar un acuerdo de paz justo entre las dos partes, Trump ha declarado en la práctica la victoria para Israel y ha instruido a los palestinos a que acepten en silencio la derrota.
No obstante, los palestinos han demostrado una profunda capacidad de resistencia. El pasado verano, cuando el gobierno israelí decidió unilateralmente instalar detectores de metal en la entrada de la Mezquita Al Haram Al Sharif/Al Aqsa, se manifestaron fuera de la misma por dos semanas, obligando a los israelíes a revertir la decisión.
La mudanza de la embajada estadounidense a Jerusalén es una medida mucho más potente y sugiere que podría generar una resistencia incluso más formidable, y no solo de los 300.000 palestinos que habitan en Jerusalén Oriental, o los más de 12 millones de palestinos de todo el mundo. La administración Trump no ve que Jerusalén (el tercer lugar sagrado del islam tras la Meca y Medina) no es solo un problema entre Israel y Palestina; afectamente directa y vitalmente a los 350 millones de árabes y los 1,5 mil millones de musulmanes del mundo.
Tal vez Trump piense que su actual luna de miel con Arabia Saudí le permitirá escapar a la reacción de los líderes árabes, pero el Príncipe Heredero Mohammed bin Salman está enfrentando demasiada oposición a sus propias reformas como para alinearse abiertamente con Israel en un asunto que despierta tantas pasiones como Jerusalén.
El hecho es que los líderes del mundo musulmán y árabe no permitirán a Trump entregar Jerusalén a Israel unilateralmente para satisfacer a su pequeña base de evangélicos cristianos sionistas (recibió el apoyo de menos de una cuarta parte de los judíos estadounidenses). De hecho, Mohammad Shtayyeh, miembro del comité central de Fatah, ya ha anunciado que el liderazgo palestino resistirá el dictamen, en coordinación con Jordania y otros estados árabes.
No son solo árabes o musulmanes quienes apoyan las justas demandas de los palestinos para un acuerdo de paz equitativo. Innumerables personas de todo el mundo, de todas las fes y orígenes, así como resoluciones del Consejo de Seguridad de la ONU, la Asamblea General de la ONU y el Tribunal Internacional de Justicia, también apoyan esta postura. Es así incluso en Estados Unidos: según una encuesta dada a conocer por el Instituto Árabe-Estadounidense, solo un 20% de los estadounidenses (incluidos los de origen árabe y judío) son partidarios de mudar la embajada de EE.UU. de Tel Aviv a Jerusalén.
Los palestinos proponen una solución de dos estados con Jerusalén Oriental como capital de un estado palestino y Jerusalén Occidental como capital de Israel. En contraste, los israelíes han frustrado una y otra vez la solución de dos estados y exigido que Jerusalén sea entera para ellos. En pocas palabras, la que debe cambiar es la postura del gobierno israelí (y la de la administración Trump) si el conflicto entre Israel y Palestina se ha de solucionar alguna vez.
Muchos en Israel lo reconocen: 25 israelíes prominentes, entre ellos ex diplomáticos, generales del ejército y académicos, firmaron una carta al enviado de paz de Trump al Oriente Próximo en que se denuncia la decisión de Jerusalén, "El estatus de Jerusalén", escribieron, "está en el centro del conflicto entre Israel y Palestina y se debe determinar en el contexto de la solución del mismo".
Todo acuerdo de paz viable debe ser capaz de resistir el paso del tiempo, y eso significa ser justo e imparcial, más que dejar a una parte hirviendo de resentimiento, especialmente si ese resentimiento se extiende a millones de personas en todo el planeta. Intentar obligar a los palestinos a aceptar una solución aumentará las probabilidades de incluso más violencia, no de paz.
Traducido del inglés por David Meléndez Tormen