Trump y el futuro de Jerusalén
TEL AVIV – Henry Kissinger, ex secretario de Estado de los Estados Unidos, dijo que Israel en realidad no tiene política exterior, sólo política interna. Pero lo mismo puede decirse de Estados Unidos, particularmente en relación con el conflicto entre Israel y Palestina.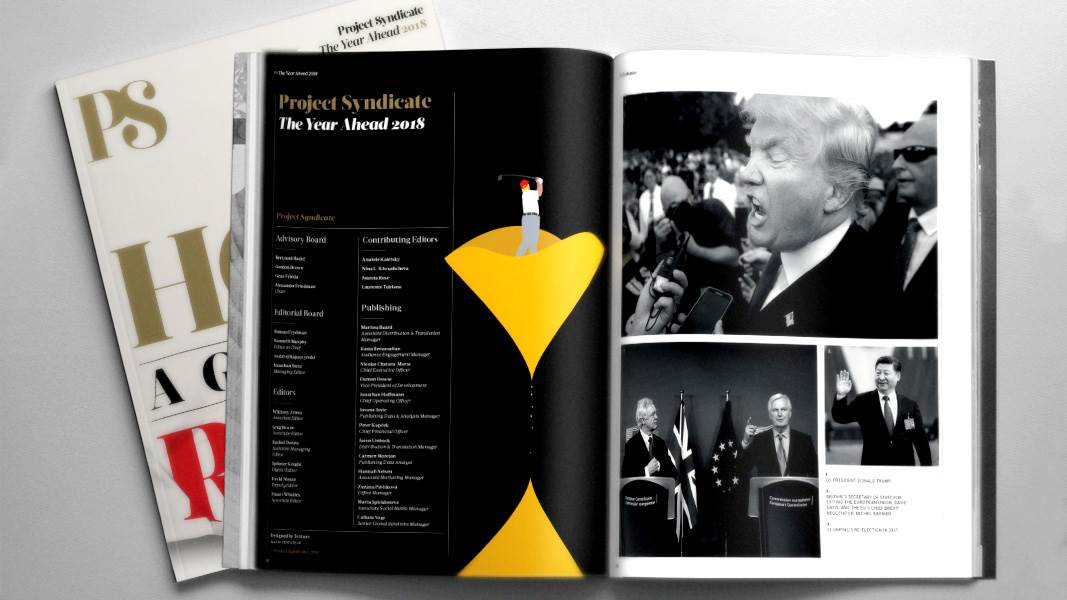 The Year Ahead 2018
The world's leading thinkers and policymakers examine what's come apart in the past year, and anticipate what will define the year ahead.
Todos los presidentes estadounidenses que intentaron resolver el conflicto se encontraron con obstáculos políticos internos inmensos, incluso insuperables. Con la reciente decisión de reconocer a Jerusalén como capital de Israel, Donald Trump lleva esta tendencia al siguiente nivel, aunque puede ser que el resultado sólo sea más estancamiento.
La declaración de Trump sobre Jerusalén es la última manifestación de la búsqueda de legitimidad interna de este presidente improbable, por la que prácticamente se ha obsesionado con cumplir sus promesas de campaña más extremas y contraproducentes, entre ellas el abandono o renegociación de importantes tratados internacionales como el Acuerdo Transpacífico y el acuerdo de París sobre el clima. También es un intento de complacer los sueños mesiánicos de su inmenso electorado evangélico.
Pero las acciones de Trump tienen implicaciones diplomáticas más amplias, que parece incapaz de calcular. Obviamente, la declaración de Trump fue recibida con furia por los palestinos, cuyo presidente Mahmoud Abbas aseguró que "a partir de ahora" no aceptará que Estados Unidos tenga "ningún papel" en el proceso de paz, e incluso pidió que el mundo reconsidere el reconocimiento de Israel.
En tanto, las potencias antiestadounidenses (Hezbollah, Irán, Rusia y Turquía) aprovecharon la polémica decisión de Trump como una oportunidad para mejorar su propia influencia regional, a costa de Estados Unidos y sus aliados. Esperan posicionarse como adalides de una gran causa árabe y musulmana, supuestamente traicionada por la endeble reacción de los nuevos amigos árabes de Israel, en particular Arabia Saudita.
Pero esta respuesta contra Estados Unidos no ayudará a los palestinos. La furia no es una estrategia (algo que los palestinos ya aprendieron del peor modo en el pasado). Tal vez Abbas también siga esperando que el Reino Unido pida disculpas por la declaración de Balfour (1917), cuyo centenario Israel celebró hace poco.
El hecho es que, pese a estar desmoralizadas por años de vanos "procesos de paz", las masas palestinas no están de humor para una tercera intifada. Y culpan por sus padecimientos no sólo al ocupante, sino también a su propia dirigencia, no elegida y totalmente impopular, que no les ofrece un sentido de dirección ni objetivos alcanzables.
Tampoco ha ayudado mucho al pueblo palestino alguna vez la retórica incendiaria de sus simpatizantes árabes. La declaración de Trump sobre Jerusalén no es "el comienzo del fin de Israel", como prometió Hassan Nasrallah, líder de Hezbollah, la milicia que en este momento sólo trata de distraer la atención de su vergonzosa guerra en apoyo del régimen genocida de Bashar al-Assad en Siria.
En cuanto a Irán (el patrono de Hezbollah), el apoyo que prometió a las "Fuerzas Islámicas de Resistencia" palestinas es sólo una nueva muestra de la vieja política iraní de búsqueda de hegemonía regional, que viene de mucho antes de la declaración de Trump. Y aunque la jugada refuerce la pretensión iraní de ser los paladines auténticos de Jerusalén y Palestina, es probable que las mayores ganancias para Irán sean sentimentales, ya que el Medio Oriente sunita (liderado por una Arabia Saudita cuya búsqueda de dominio regional equivale a una lucha por la supervivencia del régimen) no se encolumnará detrás del ascendiente imperio shiita (especialmente si eso implica un choque abierto con Israel y Estados Unidos).
Palestina tampoco debe esperar mucho de Rusia. El presidente Vladimir Putin es un realista; sabe que acudir al llamado de asumir un papel de liderazgo en el conflicto palestino‑israelí perjudicaría sus relaciones con ambas partes, sin acercarlas en lo más mínimo a un acuerdo. Rusia no tiene (y jamás tuvo) vocación de pacificadora.
Así que en muchos aspectos, la declaración de Trump sobre Jerusalén no cambia nada. Cuando el polvo se asiente, los palestinos y sus amigos internacionales podrán ver que la declaración no descarta la eventual división de la ciudad en dos capitales como parte de un acuerdo de paz, y mucho menos garantiza a Israel la soberanía sobre toda Jerusalén en cuanto "capital eterna".
De hecho, es una fantasía suponer (como aparentemente supone el primer ministro israelí Binyamin Netanyahu) que el apoyo de Trump es la clave para que los palestinos y sus simpatizantes árabes y musulmanes acepten un dominio judío‑israelí sobre una ciudad que es tan importante para ambas partes. Hasta el mismo Trump admitió los límites de la soberanía israelí sobre Jerusalén, y afirmó su compromiso con el statu quo en relación con los sitios sagrados de Jerusalén oriental.
Además, la mesurada respuesta de la dirigencia árabe no debe interpretarse como validación del supuesto de Netanyahu de que sus nuevos aliados en Arabia Saudita y Egipto pueden obligar a los palestinos a aceptar un acuerdo de paz mediado por Estados Unidos que no satisfaga los requisitos centrales del relato nacional palestino.
En cualquier caso, el gobierno expansionista de Netanyahu tiene los días contados. La torpe declaración de Jerusalén no salvará al actual gobierno de coalición de los enormes escándalos de corrupción y los conflictos internos irreconciliables. Ni siquiera podría salvarlo un plan de paz favorable a Israel que promoviera Trump (suponiendo que sea posible tras la declaración).
La coalición de derecha de Netanyahu no es, sencillamente, socio para un acuerdo histórico, ni sobre Jerusalén ni sobre ningún elemento de la disputa. La única salida para Israel es una nueva coalición más centrista, acompañada de la adopción por los palestinos de una posición más mesurada y estratégica. En ese caso, la declaración de Trump sobre Jerusalén no impediría una solución acorde a los parámetros de paz planteados por Bill Clinton. De hecho, cuando hace casi dos decenios dirigí el equipo negociador israelí, ambas partes aceptaban la idea de particionar Jerusalén, con fronteras flexibles, a lo largo de líneas étnicas.
Para mejorar las probabilidades de éxito, hay que poner fin al monopolio estadounidense del proceso de paz entre Israel y Palestina, y adoptar un modelo de negociación más similar al del acuerdo de 2015 sobre el programa nuclear iraní, en el que un grupo de países (que en el caso referido fueron los cinco miembros permanentes del Consejo de Seguridad de las Naciones Unidas – China, Estados Unidos, Francia, el Reino Unido y Rusia – más Alemania) colaboren en busca de resultados.
Traducción: Esteban Flamini