Reconozcamos al Estado palestino
MADRID – Una vez más, el presidente Trump ha optado por la vía unilateral en política exterior. Con su reconocimiento de Jerusalén como capital de Israel, Trump dinamitó nada menos que 70 años de consenso internacional. Y, una vez más, Trump ha aplicado una lógica que malinterpreta y deteriora la realidad de Oriente Próximo, haciendo imprescindible que la UE dé un paso al frente.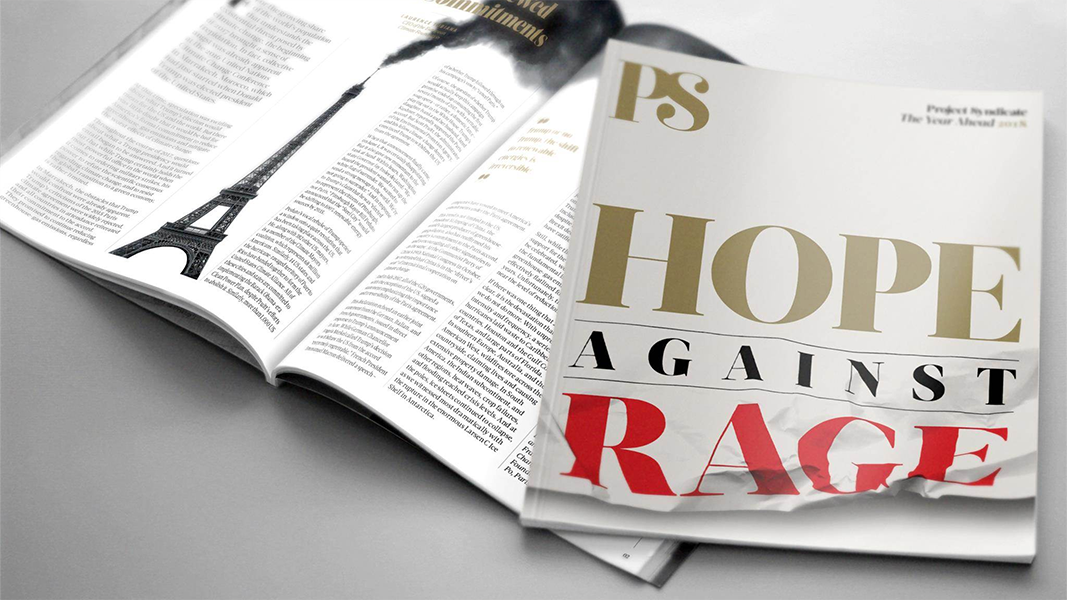 The Year Ahead 2018
The world's leading thinkers and policymakers examine what's come apart in the past year, and anticipate what will define the year ahead.
La lógica de la administración Trump en Oriente Próximo se apoya en su alianza con Arabia Saudí. Desde los tiempos de John Fitzgerald Kennedy, todos los presidentes estadounidenses habían escogido uno de los tres siguientes destinos para sus primeros viajes al extranjero: México, Canadá o Europa. El presidente Trump, fiel a su estilo, rompió con estos precedentes y eligió Arabia Saudí, donde participó el pasado mayo en una cumbre junto con 54 países de mayoría musulmana. Este simbólico gesto vino acompañado de un incendiario discurso en el que vilipendió al régimen iraní y abogó por su aislamiento.
Justo después de pasar por Riad, el presidente visitó Israel, donde insistió en su retórica antiiraní. Arabia Saudí e Israel no mantienen relaciones diplomáticas, pero si hay algo que tienen en común, además de ser aliados de Estados Unidos, es su oposición frontal a Teherán. Hace dos meses, el jefe de las fuerzas armadas israelís llegó incluso a mostrarse partidario de compartir datos de inteligencia con Arabia Saudí con tal de contrarrestar a Irán, afirmando que "con el presidente Trump, hay una oportunidad de construir una nueva coalición internacional en la región". Esta inercia se ha visto intensificada por el nombramiento de Mohámed bin Salmán como heredero al trono saudí, y por su afán de impulsar un cambio de tercio tanto en el plano doméstico como en el exterior.
Aprovechando las circunstancias, Trump ha querido dar un golpe de efecto. Con sus declaraciones sobre Jerusalén, Trump ha situado a los saudíes ante un dilema: ¿priorizar su defensa de la causa palestina, o normalizar su relación con Israel para seguir robusteciendo la alianza contra Irán? De hecho, estas semanas ya venían circulando rumores sobre un supuesto plan de paz apoyado por Arabia Saudí y muy favorable a los intereses israelís, aunque tanto Washington como Riad negaron que estos rumores tuviesen fundamento alguno.
Es cierto que algunas voces entre la población saudí vienen proponiendo dejar más de lado la espinosa cuestión del estatus de Jerusalén y el conflicto árabe-israelí en general. También es cierto que Trump procuró matizar sus palabras y hacerlas más digeribles para los árabes, aclarando que no estaba tomando partido sobre los límites geográficos de la soberanía israelí en Jerusalén, y que el traslado de la embajada desde Tel Aviv no se produciría inmediatamente. Sin embargo, como dice Martin Indyk, vicepresidente de la Brookings Institution, los estadounidenses "pueden intentar limitar daños todo lo que quieran, pero no serán capaces de hacerlo, porque Jerusalén es un tema demasiado candente".
Las protestas en Oriente Próximo no se han hecho esperar, aunque haya primado la contención —que no debe confundirse con indiferencia— y afortunadamente no haya tenido lugar la violencia a gran escala que algunos temían. Tampoco se ha hecho esperar la reacción por parte de la Organización de Estados Islámicos. En una cumbre extraordinaria celebrada en Estambul, la OIC reafirmó "la centralidad de la causa de Palestina y Al-Quds Al-Sharif [Jerusalén] para la comunidad musulmana", reconoció a Jerusalén Este como la capital de Palestina y condenó duramente la decisión de Trump. Cabe recordar que Jerusalén alberga la mezquita de Al-Aqsa, el tercer lugar más sagrado para los musulmanes.
A este hecho se refirió directamente el rey Salmán de Arabia Saudí al advertir a Trump, poco antes de su anuncio, de la potencial peligrosidad del mismo. Posteriormente, Riad tildó la decisión de "injustificada" e "irresponsable". Y es que Arabia Saudí no puede desmarcarse de la defensa de los palestinos y ceder toda la iniciativa a otros países como Turquía o incluso Irán, sobre todo tras haber cometido un error similar al romper relaciones con Catar. Además, resultaría poco comprensible que los saudíes apoyasen de pronto un plan radicalmente distinto a la Iniciativa de Paz Árabe, conocida precisamente como "Iniciativa saudí", que fue aprobada en 2002 y refrendada este mismo año.
Seamos claros: el escenario deseado por Trump es una entelequia. En primer lugar, Arabia Saudí no está en disposición de hacer las renuncias que se le reclaman. En segundo lugar, nunca podrá fructificar una estrategia que excluya a los palestinos. Y, por último, afrontar un problema de este calado alardeando de ser "gente de negocios, no políticos" —en palabras del yerno de Trump, Jared Kushner, al que el presidente encomendó el proceso de paz— está destinado a fracasar. Aunque Trump no ha descartado la solución de los dos Estados, que es la que respaldan las Naciones Unidas, puede que con su desmesura le haya puesto la puntilla. Y todo esto sin que exista siquiera una presión social significativa en Estados Unidos que explique el golpe de timón de su presidente.
Llegados a este punto, la mejor manera de favorecer que ambos bandos vuelvan a sentarse a la mesa de negociación es reducir el desnivel del terreno de juego. Y eso pasa por que la UE lance un mensaje tan contundente como necesario: el reconocimiento inmediato del Estado de Palestina. Más del 70% de los Estados miembros de las Naciones Unidas ya han dado este paso, y es el momento de que la UE en su conjunto haga lo propio, como preludio de una mayor implicación en la resolución de este conflicto de extraordinaria importancia.
El camino hacia una solución basada en el establecimiento de dos Estados debe partir de la Iniciativa de Paz Árabe. En esencia, esta iniciativa estipula que la Liga Árabe reconocería a Israel a cambio de su regreso a las fronteras pre-1967, si bien podría contemplarse un enfoque más gradual y operativo. La solución biestatal —que garantizaría que Israel pudiese preservar su carácter judío y democrático, y debería garantizar la viabilidad del Estado palestino— sigue representando la salida más creíble al conflicto árabe-israelí, y por tanto no debemos renunciar a ella. Pero si queremos hacer realidad esa "separación desde el respeto" de la que hablaba en los '90 Isaac Rabin, no hay tiempo que perder: cada segundo que pasa estamos más cerca de un punto de no retorno.