L'UE doit reconnaître l'État palestinien
MADRID – Une fois encore, le Président des États-Unis Donald Trump a adopté une approche unilatérale de la politique étrangère - cette fois, en reconnaissant Jérusalem comme étant la capitale d'Israël. Et une fois encore, Trump a mal interprété les réalités du Moyen-Orient. Étant donné que son dernier coup - qui a effectivement réduit en miettes plus de 70 ans de consensus international - risque de précipiter une détérioration rapide dans la région, il est impératif que l'Union européenne fasse une proposition.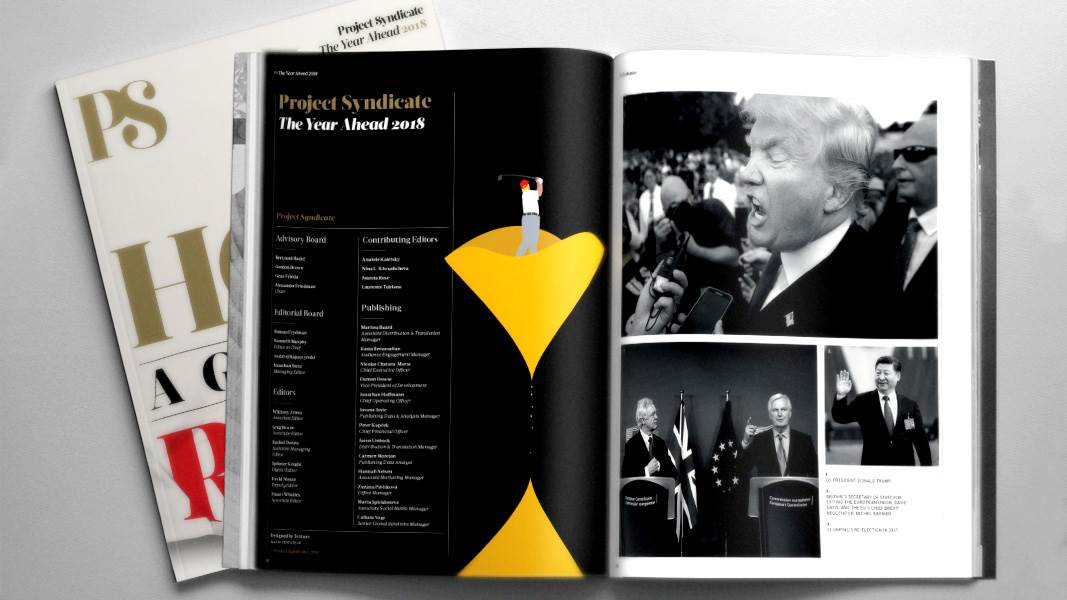 The Year Ahead 2018
The world's leading thinkers and policymakers examine what's come apart in the past year, and anticipate what will define the year ahead.
La politique du Moyen-Orient de l'administration Trump repose sur une alliance revigorée entre les États-Unis et l'Arabie saoudite. Chaque Président américain depuis John F. Kennedy a fait sa première visite à l'étranger au Mexique, au Canada, ou en Europe. Pas Trump. Il s'est dirigé droit sur Riyadh, où il a participé à un sommet avec 54 pays majoritairement musulmans et a prononcé un discours enflammé visant à diffamer l'Iran, qui selon lui doit être fui par la communauté internationale.
Après l'Arabie saoudite, Trump s'est rendu en Israël, où il a lancé une nouvelle salve de rhétorique anti-iranienne. L'Arabie saoudite et Israël n'entretiennent pas de relations diplomatiques, mais sont des alliés des États-Unis et ont l'Iran pour ennemi commun. En novembre, le chef des armées de Défense d'Israël, le Lieutenant-Général Gadi Eisenkot, a même exprimé sa franchise en partageant des renseignements avec l'Arabie saoudite pour contrer l'Iran. « Avec le Président Trump, » a indiqué Eisenkot à la publication saoudienne Elaph, « il y a une chance d'établir une nouvelle coalition internationale dans la région. »
Le rapprochement saoudien-israélien a été favorisé par le nouveau prince héritier de l'Arabie Saoudite, Mohammed ben Salman (MBS), qui poursuit un programme de modernisation à la fois sur le plan national et en termes de politique étrangère. Ce mois-ci, MBS aurait prétendument proposé un plan de paix israélo-palestinien fortement favorable à Israël, bien que les États-Unis et les gouvernements saoudiens aient depuis nié ces rapports.
Quoi qu'il en soit, Trump a clairement voulu tirer profit de ces circonstances pour faire un coup diplomatique. Pourtant sa décision pour Jérusalem place les Saoudiens face à un dilemme : soit accorder une priorité plus élevée à la défense de la cause palestinienne, soit normaliser les liens avec Israël comme un moyen de contenir l'Iran.
Quelques Saoudiens semblent pencher en faveur de ce dernier cas, en proposant de mettre de côté les questions épineuses au sujet du statut de Jérusalem et des Palestiniens en général. Trump a également tenté de nuancer sa déclaration, en affirmant qu'il ne prenait pas position sur les frontières géographiques spécifiques de la souveraineté israélienne à Jérusalem et que l'ambassade des États-Unis ne déménagerait pas immédiatement de Tel Aviv.
Mais comme l'a déclaré Martin Indyk, l'ancien délégué spécial des États-Unis aux négociations israélo-palestiniennes, les Américains « peuvent essayer de limiter tous les dégâts qu'ils veulent, mais ils n'y parviendront pas, parce que Jérusalem est une question trop sensible. » Cette réalité s'est traduite par l'éruption de manifestations de rue à travers le Moyen-Orient peu après l'annonce de Trump, bien que la violence à grande échelle redoutée par certains n'ait pas eu lieu.
Fait encore plus révélateur, l'Organisation de la coopération islamique a tenu un sommet extraordinaire à Istanbul, où ses membres ont réaffirmé « la centralité de la cause de la Palestine et d'Al-Quds Al-Sharif [Jérusalem] pour l'Ummah musulman, » a reconnu Jérusalem Est comme tant la capitale de la Palestine et a vigoureusement condamné les actes de Trump.
Aucun musulman n'est apparemment préparé à oublier que Jérusalem abrite la mosquée d'Al-Aqsa, le troisième site le plus sacré de l'Islam. Le Roi Salman d'Arabie saoudite s'est référé à cette mosquée en avertissant Trump du caractère nocif de la décision de Jérusalem. Et quand Trump a tout de même annoncé sa décision, le Royaume l'a tournée en dérision en la jugeant « injustifiée » et « irresponsable. »
La simple vérité est que l'Arabie saoudite ne peut pas se distancer de la cause palestinienne et permettre à d'autres pays comme la Turquie ou même l'Iran d'en être le porte-étendard. Cela équivaudrait à une erreur tactique de même genre que la rupture des relations avec le Qatar il y a quelques mois. Il serait également difficile, voire impossible, pour les Saoudiens de soudainement soutenir un plan qui était radicalement différent de l'initiative arabe pour la paix, connue sous le nom de « Initiative saoudienne, » qui a été approuvée en 2002 et approuvée par la Ligue arabe cette année.
Ainsi le scénario de rêve de Trump, selon lequel l'Arabie saoudite s'allie avec Israël pour faire pression sur les Palestiniens pour faire la paix, ne va pas se matérialiser. D'abord, l'Arabie saoudite n'est pas en mesure d'écarter les revendications arabes sur Jérusalem. En second lieu, une stratégie qui n'accorde aucune voix au chapitre aux Palestiniens sur leur destin, ni sur Jérusalem, ne réussira jamais. Et troisièmement, l'administration Trump - en particulier son gendre Jared Kushner, à qui Trump a confié la mission américaine du processus de paix israélo-arabe - ne dispose que d'une équipe d'hommes d'affaires, mais pas de politiciens, comme l'a Kushner lui-même récemment fait remarquer. Mais Jérusalem et plus généralement le conflit israélo-palestinien, sont des sujets trop périlleux pour être traités comme de simples affaires commerciales.
Bien que Trump n'ait pas écarté la solution à deux États - l'approche approuvée par les Nations Unies - il lui a peut-être porté un coup fatal. La seule manière de la sauver, ou même d'obliger les Israéliens et les Palestiniens à s'asseoir à nouveau à la table des négociations, consiste à trouver une situation plus équitable pour les deux camps.  Dans ce but, l'UE doit prendre l'initiative et envoyer un message aussi puissant que nécessaire, en reconnaissant immédiatement - comme plus de 70% des États membres de l'ONU l'ont déjà fait - l'État de Palestine.
Le chemin vers une solution à deux États doit commencer par l'Initiative de paix arabe, qui stipule que la Ligue arabe doit identifier Israël s'il doit se retirer dans ses frontières d'avant 1967, bien qu'une approche alternative plus progressive puisse être envisagée. La solution à deux États - qui permettrait à Israël de maintenir son caractère juif et démocratique et devrait garantir la viabilité de l'État palestinien - représente toujours la sortie la plus crédible du bourbier israélo-arabe. Mais si nous devons réaliser la « séparation en raison du respect » que Yitzhak Rabin avait envisagée dans les années 1990, il n'y a plus de temps à perdre : le point de non-retour se rapproche chaque jour un peu plus dangereusement.