Trump und Bannon
WASHINGTON, DC – Das gerade erschienene Buch Fire and Fury: Inside the Trump White House über Donald Trump und seine dysfunktionale Präsidentschaft hat weite Teile Washingtons in helle Aufregung gestürzt. Trotz der verfassungsmäßig fragwürdigen Drohung des Weißen Hauses, zu versuchen, das Buch zu unterdrücken, wurde das Veröffentlichungsdatum vier Tage vorgezogen. Doch die meisten Enthüllungen in Fire and Fury sind zwar zutiefst beklemmend, aber keine echte Überraschung.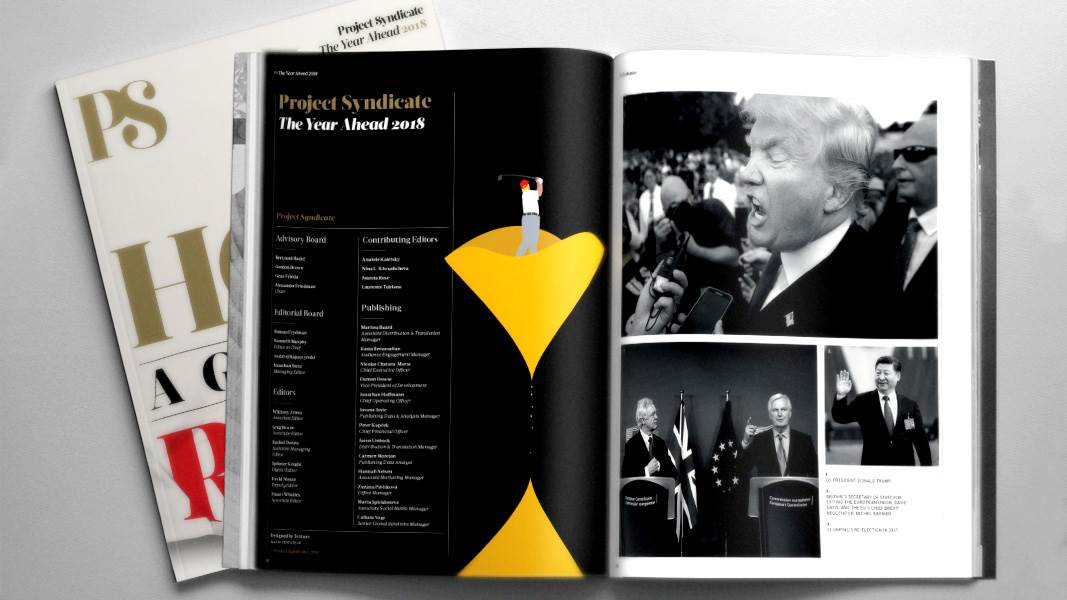 The Year Ahead 2018
The world's leading thinkers and policymakers examine what's come apart in the past year, and anticipate what will define the year ahead.
Es ist noch unklar, wie der kontroverse Verfasser des Buches, Michael Wolff, an einige seiner Informationen gekommen ist. Doch ist anzunehmen, dass er viele seiner Interviews auf Band aufgenommen hat – insbesondere jene, die für die an vielen Stellen im Buch zu findenden langen Gespräche verwendet wurden. Das Besonderes an Wolffs Buch sind die namentlichen Zitate hochrangiger Regierungsmitglieder dazu, wie der Präsident funktioniert (oder nicht funktioniert).
Ansonsten erzählt das Buch überwiegend, was der größte Teil des politisch-journalistischen Washingtons ohnehin schon wusste: Trump ist als Präsident unqualifiziert und sein Weißes Haus ein Hochrisikogebiet voller unerfahrener Mitarbeiter. Die einzige Überraschung ist, dass nicht mehr Katastrophen passiert sind – zumindest noch nicht.
Ein guter Teil dessen, was vor Erscheinen des Buches veröffentlicht wurde, betrifft einen Konflikt zwischen zweien der redseligsten, streitlustigsten, von sich selbst eingenommensten Prahlhälse, die die US-Politik je erlebt hat: Trump und seinem einstigen Chefstrategen Stephen Bannon. Im Sommer 2016, als es seinem Wahlkampfteam an einer Führungspersönlichkeit fehlte, machte Trump Bannon – einen schmuddeligen, konfliktfreudigen ehemaligen Geschäftsmann, der zu diesem Zeitpunkt Chef der rassistisch-nationalistischen Website Breitbart News war – zum Wahlkampfleiter. Bannon hatte eine Menge hochfliegende Ideen, wie ein rechtsstehender "populistischer" Wahlkampf aussehen sollte.
In vieler Hinsicht freilich ähnelte Bannons idealer Wahlkampf stark dem, was Trump bereits sagte und tat: einem Appell an die Arbeiterschaft mit Angriffen auf die Einwanderung – etwa der Aussage, er würde eine "große, wunderschöne Mauer" entlang der Grenze zu Mexiko bauen, für die die Mexikaner bezahlen würden – und auf Handelsvereinbarungen, die laut Trump den USA gegenüber unfair seien. Diese Wähler entwickelten sich zum Kern von Trumps Basis, und sein Erfolg – und Hillary Clintons verblüffendes Scheitern – dabei, diese Wählergruppe für sich zu gewinnen, erklärt bereits zu einem großen Teil, warum er Präsident ist und nicht sie.
Das Problem für Trump ist, dass die Bürger, um die er sich bemühte, nie auch nur annähernd eine Mehrheit der Wähler darstellten. Seine berühmte "Basis" umfasst nur deutlich unter 40% der US-Öffentlichkeit. Doch Trump und Bannon zogen es anscheinend vor, nicht hierrüber nachzudenken.
Trump neigt dazu, seine Frustration an anderen auszulassen – er ist an seinen Fehlschlägen nie selbst schuld – und so war dann zwangsläufig Bannon das Ziel, der mehr mit seiner Macht im Weißen Haus prahlte, als gut für ihn war, und sich wichtiger machte, als er das hätte tun sollen. Bannon wurde geschasst; im August schied er aus der Regierung aus. Obwohl er und Trump im Kontakt blieben, scheint das Zerwürfnis zwischen beiden im Nachhinein als letztlich unvermeidlich.
Trump und Bannon waren wie zwei übergewichtige Männer, die versuchten, sich einen einzigen Schlafsack zu teilen. Ihre politische Welt war nicht groß genug für beide. Sie waren sich bitter uneins, wen sie im Rennen um die Besetzung eines Senatssitzes in Alabama unterstützen sollten. Trump unterstützte auf Bannons Drängen schließlich den unberechenbaren ehemaligen Richter am Obersten Gerichtshof von Alabama, Roy Moore, der zweimal aus dem Amt entfernt worden war und die Wahl letztlich verlor. Bannon war bestrebt, das Republikanische "Establishment" durch Unterstützung ähnlicher "Außenseiter" als Kandidaten bei den Kongresswahlen in diesem Jahr zu erschüttern, was es Trump im Erfolgsfall noch schwerer machen könnte, Siege im Kongress zu erzielen.
Trotz seiner Dementis war es Trump, der mehr oder weniger zustimmte, Wolff – dessen Ruf für den ruppigen Umgang mit Personen, über die er schreibt, Trump eigentlich aus seinen Jahren in New York City hätte bekannt sein müssen – zu gestatten, die Mitarbeiter des Weißen Hauses für sein Buch interviewen zu lassen. Einige Mitarbeiter haben erklärt, sie seien der Ansicht gewesen, dass ihre Gespräche mit Wolff "vertraulich" gewesen seien und dass sie also nicht öffentlich mit ihren Bemerkungen verknüpft werden würden. Doch auch wenn das stimmt, wird es den erbosten Präsidenten nicht unbedingt besänftigen: Sie haben all diese Dinge gesagt.
Bannons große Sünde in Bezug auf Wolffs Buch bestand aus Trumps Sicht in seinen äußerst negativen Äußerungen über die Familie des Präsidenten. Besonders wütend war Trump über Bannons Beschreibung des inzwischen berühmten Treffens seines Sohnes Donald Jr. und anderer führender Mitglieder des Wahlkampfteams mit einigen Russen, die behaupteten, "Schmutz" über Hillary Clinton zu besitzen, im Juni 2016 im Trump Tower. Bannon erzählte Wolff, dass das Treffen "verräterisch" gewesen sei. Doch je nachdem, was bei diesem Treffen tatsächlich durchgesickert ist, lag Bannon möglicherweise nicht allzu weit daneben. (Trump selbst nahm bei der Rückkehr von seiner zweiten Auslandsreise als Präsident an Bord der Air Force One an einem Meeting teil, um eine Erklärung zu entwerfen, die vertuschen sollte, was bei dem Treffen im Trump Tower geschah.)
Angeblich war Trump außerdem wütend, dass Bannon das Lieblingskind des Präsidenten, Ivanka, als "dumm wie ein Ziegelstein" beschrieb. Wolff berichtet zudem, dass Ivanka und ihr Ehemann, der leitende Berater im Weißen Haus Jared Kushner, vereinbart hätten, dass Ivanka nach ihrem erwarteten Riesenerfolg im Weißen Haus für das Präsidentenamt kandidieren sollte.
In typisch übertreibender Manier behauptete Trump faktisch, dass Bannon nichts mit seinem Wahlsieg zu tun gehabt hätte und dass beide fast nie allein miteinander gesprochen hätten. Und wie üblich drohte Trump, Bannon zu verklagen. Trump droht häufig mit Klage vor Gericht, ohne diese je einzureichen. Aber selbst die Drohung kann für das mutmaßliche Ziel teuer werden.
Doch sollte die momentane Besessenheit mit den Grabenkämpfen im Trump-Lager andere Realitäten nicht verdecken. Abseits all des Dramas verfolgt Trump bestimmte klare Ziele, und er hat Minister und Behördenleiter, die diese teilen – und die sich von der Veröffentlichung eines pikanten Berichts über das Verhalten des Präsidenten nicht ablenken lassen.
Während ein großer Teil Washingtons und seines Pressecorps die jüngsten Enthüllungen diskutierte, wurde das Justizministerium, das eigentlich eine gewisse Unabhängigkeit vom Weißen Haus aufweisen solle, in ein parteipolitisches Instrument für eine Vendetta des Präsidenten umgewandelt. Tatsächlich kam letzte Woche heraus, dass das Justizministerium eine Untersuchung der bereits gründlich überprüften E-Mails von Hillary Clinton wiederaufnehmen würde. Außerdem wurde bekannt, dass das FBI sich mit der Clinton-Stiftung befassen würde.
Der Einsatz einer staatlichen Behörde zur Bestrafung einer früheren Gegnerin eines Präsidenten erinnert an das Verhalten, aufgrund dessen das Amtsenthebungsverfahren gegen Richard Nixon eingeleitet wurde – und an eine deutlich andere Regierungsform als die Demokratie.
Aus dem Englischen von Jan Doolan