Bannon déballe tout
WASHINGTON, DC – Publié tout récemment, le livre sur Donald Trump et les dysfonctionnements de sa présidence (Fire and Fury: Inside the Trump White House) laisse une grande partie de Washington sous le choc. Malgré les menaces constitutionnellement douteuses formulées par la Maison-Blanche pour étouffer le livre, sa date de publication a été avancée de quatre jours. Les révélations de Fire and Fury sont pour certaines profondément inquiétantes, mais dans l'ensemble pas si surprenantes.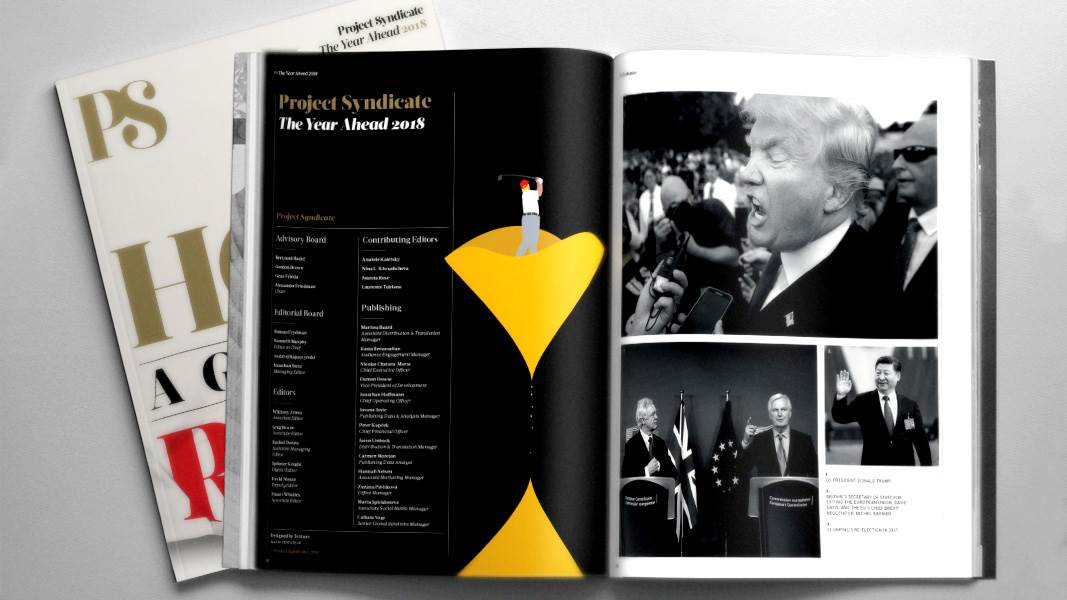 The Year Ahead 2018
The world's leading thinkers and policymakers examine what's come apart in the past year, and anticipate what will define the year ahead.
Si pour l'heure nul ne sait exactement comment Michael Wolff, auteur de l'ouvrage à controverse, a obtenu certaines de ses informations, on peut supposer qu'il a enregistré un grand nombre de ses entrevues, notamment celles qui fondent les longues conversations présentes dans le livre. Wolff est ainsi parvenu à recueillir les déclarations personnelles de hauts dirigeants concernant la manière dont fonctionne, ou ne fonctionne pas, la présidence Trump.
Seulement voilà, le livre ne nous apprend pour l'essentiel que ce que le Washington politique et journalistique sait déjà pertinemment : Trump n'a pas les compétences pour être président, et sa Maison-Blanche est un repaire à haut risque de conseillers inexpérimentés. La seule véritable surprise, c'est que davantage de catastrophes ne se soient pas produites – ou du moins pas encore.
Une grande partie de ce qui a été publié avant la sortie du livre concerne le bras de fer entre deux des égos les plus volubiles, les plus querelleurs et les plus vantards que la politique américaine ait jamais connus : d'une part Donald Trump, et de l'autre son ancien chef de la stratégie, Stephen Bannon. À l'été 2016, manquant d'un leader à ses côtés à l'approche des élections, Trump a choisi comme directeur de campagne Stephen Bannon – ancien homme d'affaires inélégant et dissipé, qui était à l'époque de sa désignation président exécutif de Breitbart News, site Internet prônant le nationalisme blanc. Bannon débordait ainsi de grandes idées sur ce à quoi pourrait ressembler une campagne « populiste » de droite.
Mais à de nombreux égard, la campagne idéale de Bannon ressemblait déjà aux discours et aux actes de Trump jusqu'à lors : séduire la classe ouvrière en s'attaquant à l'immigration – notamment en annonçant la construction d'un « magnifique et grand mur » le long de la frontière avec le Mexique, qui serait financé par les Mexicains eux-mêmes – et en critiquant des accords commerciaux considérés par Trump comme inéquitables pour l'Amérique. Ces citoyens sont venus former la base électorale de Trump, et la capacité du candidat à les attirer vers lui, combinée à l'incapacité d'Hillary Clinton à y parvenir, explique en grande partie pourquoi Trump est aujourd'hui président, et pas Hillary.
Le problème pour Trump, c'est que les citoyens séduits par son discours ont toujours été loin de constituer une majorité d'électeurs. Sa fameuse « base électorale » représente bien moins de 40 % de la population américaine – un chiffre auquel Trump et Bannon préfèrent semble-t-il ne pas penser.
Trump a tendance à reporter ses frustrations sur autrui, n'assumant jamais la responsabilité de ses échecs, et c'est inévitablement Bannon qui en a fait les frais, lui qui vantait à l'excès son propre pouvoir à la Maison-Blanche, et qui en revendiquait davantage que de raison. Il a ainsi été exclu de l'administration, et s'est retiré au mois d'août. Même si Bannon et Trump sont restés en contact, il semble rétrospectivement que le fiasco était inévitable.
Trump et Bannon étaient comme deux grands costauds qui auraient tenté de partager un même sac de couchage. Dans leur monde politique respectif, il n'y avait pas de place pour deux. Ils ont été en profond désaccord sur le candidat à soutenir pour le siège de sénateur de l'Alabama, mais face à l'insistance de Bannon, Trump a finalement appuyé l'ancien juge de la Cour suprême Roy Moore, qui avait été démis de ses fonctions à deux reprises, et qui a en fin de compte perdu la course au Sénat. Bannon entendait bouleverser l'« establishment » républicain en soutenant des candidats « outsiders » de même profil dans le cadre des élections de mi-mandat de cette année ; dans un tel scénario, il pourrait être encore plus difficile pour Trump d'obtenir des victoires au Congrès.
Même s'il prétend le contraire, c'est bien Trump qui a plus ou moins autorisé Wolff, dont la réputation journalistique tranchante aurait dû être connue du président après ses années passées à New York, à interviewer plusieurs responsables de la Maison-Blanche dans la perspective d'un livre. Certains conseillers ont expliqué avoir initialement pensé que leur entrevue avec Wolff s'effectuerait en « off », et que leur nom ne serait donc pas associé publiquement aux remarques formulées. Que ce soit sincère ou non, la fureur du président ne peut être apaisée : ils ont bel et bien dit ces choses.
Aux yeux de Trump, le plus grave péché commis par Bannon dans le cadre du livre de Wolff est d'avoir eu des mots très déplaisants à l'égard de la famille du président. Trump est particulièrement furieux de la description que fait Bannon de la désormais célèbre rencontre organisée en juin 2016 dans la Trump Tower, lors de laquelle étaient présents le fils du président, Donald Jr., des hauts responsables de la campagne, et plusieurs protagonistes Russes disant détenir des « informations compromettantes » sur Hillary Clinton. Cette rencontre, Bannon la décrit à Wolff comme une « trahison ». Quelle que soit le crédit à attribuer aux éléments qui auraient fuité de ce rendez-vous, Bannon n'est sans doute pas très éloigné de la réalité. (Trump a lui-même participé à une réunion à bord d'Air Force One, de retour de son deuxième déplacement présidentiel à l'étranger, visant la rédaction d'une déclaration destinée à étouffer ce qu'il s'était passé pendant la rencontre de la Trump Tower.)
Trump serait également très en colère que Bannon ait décrit son enfant chérie, Ivanka, comme quelqu'un de « bête comme une brique ». De même, selon Wolff, Ivanka et son époux haut conseiller à la Maison-Blanche, Jared Kushner, auraient convenu qu'après leur réussite certaine et spectaculaire à la Maison-Blanche, ce serait au tour d'Ivanka de se porter candidate à la présidence des États-Unis.
Exagérant ses propos comme à son habitude, Trump a ouvertement déclaré que Bannon n'y était pour rien dans sa victoire présidentielle, et qu'ils n'avaient tous deux quasiment jamais discuté seul à seul. Toujours comme à son habitude, Trump a par ailleurs menacé de poursuivre Bannon en justice. Bien souvent par le passé, Trump a menacé untel ou untel de procès qu'il n'a finalement jamais initiés, mais ces menaces se révèlent parfois coûteuses pour ceux qui en font l'objet.
L'obsession momentanée pour ces disputes au sein du camp Trump ne doit pas éclipser d'autres réalités. Au-delà de ce nouveau feuilleton, Trump poursuit certains objectifs clairs, entouré de membres du cabinet et de responsables d'agence qui partagent ces objectifs – et qui ne s'en laisseront pas détourner par un livre croustillant sur les comportements du président.
En effet, pendant que le tout Washington et ses journalistes discutaient des dernières révélations, le Département de la Justice, qui est censé conserver une certaine indépendance vis-à-vis de la Maison-Blanche, se trouvait refaçonné en un instrument partisan au service de l'assouvissement des rancœurs du président. Ainsi, il a été annoncé la semaine dernière que le DoJ procédait à la réouverture d'une enquête sur la question déjà profondément explorée des e-mails d'Hillary Clinton. S'annonce également une enquête du FBI portant sur la Fondation Clinton.
L'utilisation d'une agence gouvernementale pour punir l'ancien opposant d'un président au pouvoir rappelle le comportement qui valut à Richard Nixon d'être destitué, et témoigne d'une forme de gouvernement très éloigné de la démocratie.
Traduit de l'anglais par Martin Morel