Bannon el malo
WASHINGTON, DC – El libro que se acaba de publicar sobre Donald Trump y su presidencia disfuncional (Fire and Fury: Inside the Trump White House) ha dejado perplejo a gran parte de Washington. A pesar de la amenaza constitucionalmente dudosa de la Casa Blanca de frenar la salida del libro, la fecha de publicación se adelantó cuatro días. Pero el grueso de las revelaciones de Fire and Fury, aunque profundamente inquietantes, no son para nada sorprendentes.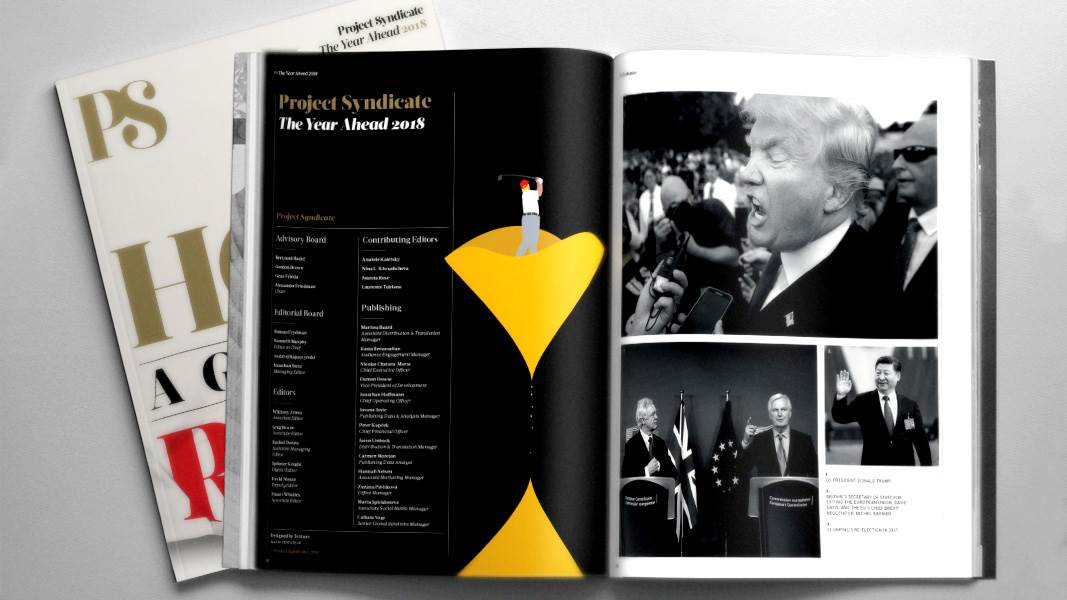 The Year Ahead 2018
The world's leading thinkers and policymakers examine what's come apart in the past year, and anticipate what will define the year ahead.
Todavía no se sabe a ciencia cierta cómo hizo Michael Wolff, el polémico autor del libro, para obtener parte de su información, pero es de suponer que grabó muchas de sus entrevistas, particularmente aquellas utilizadas para las largas conversaciones que se encuentran a lo largo del libro. Lo que Wolff consiguió es obtener citas atribuidas a altos funcionarios sobre cómo funciona, o no funciona, el presidente.
Sin embargo, el libro principalmente nos cuenta lo que la mayor parte del Washington político-periodístico ya sabía: que Trump no está calificado para ser presidente y que su Casa Blanca es una zona de alto riesgo de colaboradores inexperimentados. La única sorpresa es que no hayan ocurrido más calamidades -al menos todavía.
Una buena porción de lo que se difundió antes de la publicación del libro tiene que ver con una batalla entre dos de los fanfarrones más charlatanes, discutidores y con más amor propio que haya visto la política estadounidense: Trump y su otrora estratega jefe, Stephen Bannon. En el verano de 2016, cuando su campaña carecía de un líder, Trump nombró a Bannon -un ex empresario desaliñado y rudimentario que en ese momento era el presidente ejecutivo de Breitbart News, un sitio web que pregonaba el nacionalismo blanco- para el cargo de director ejecutivo de la campaña. Bannon estaba lleno de grandes ideas sobre cómo debería ser una campaña "populista" de derecha.
En muchos sentidos, sin embargo, la campaña ideal de Bannon se asemejaba mucho a lo que Trump ya estaba diciendo y haciendo: apelar a los obreros atacando a la inmigración -diciendo, por ejemplo, que construiría "un muro grande y hermoso" a lo largo de la frontera con México, que sería pagado por los mexicanos- y a los acuerdos comerciales que, según Trump, era injustos con Estados Unidos. Estos votantes llegaron a conformar el núcleo de la base de Trump, y su capacidad para seducirlos, combinada con la imposibilidad de hacerlo por parte de Hillary Clinton, sirve para explicar por qué él es presidente y ella no.
El problema para Trump es que los ciudadanos a los que estaba seduciendo nunca llegaron a representar una casi mayoría de los votantes. Su famosa "base" está muy por debajo del 40% de la población. Pero Trump y Bannon aparentemente prefirieron no pensar en eso.
Trump es proclive a depositar sus frustraciones en los demás -nunca tiene la culpa de sus fracasos- e inevitablemente estas frustraciones fueron descargadas sobre Bannon, quien se jactó más de lo que le convenía de su poder en la Casa Blanca, y habló más de lo que debía. Bannon fue desplazado de la administración y se fue en agosto. Aunque él y Trump se mantuvieron en contacto, en retrospectiva, una eventual disputa parece haber sido inevitable.
Trump y Bannon eran como dos hombres excedidos de peso que intentaban compartir una única bolsa de dormir. Su mundo político no era lo suficientemente grande para ambos. Discutieron duramente sobre a quién respaldar en la carrera para ocupar una banca en el Senado por Alabama; pero, a instancias de Bannon, Trump terminó respaldando al errático ex juez de la Corte Suprema estatal Roy Moore, que había sido removido de la banca en dos ocasiones, y que terminó perdiendo la carrera. Bannon pretendía sacudir al "establishment" republicano respaldando a candidatos "externos" similares en las elecciones de mitad de mandato de este año que, si resultaran exitosos, podrían complicarle aún más a Trump las chances de obtener victorias en el Congreso.
A pesar de sus desmentidos, fue Trump quien más o menos aceptó permitirle a Wolff, cuya reputación por atacar a sus entrevistados Trump supuestamente conocía de sus años en la ciudad de Nueva York, conversar con personal de la Casa Blanca para un libro. Algunos colaboradores dicen que creyeron que estaban hablando con Wolff "off the record", o sea que no estarían públicamente asociados con sus comentarios. Pero, aun así, no sirvió de mucho para tranquilizar a un presidente furioso: dijeron lo que dijeron.
A los ojos de Trump, el gran pecado de Bannon con respecto al libro de Wolff fue decir cosas sumamente negativas sobre la familia del presidente. Trump estaba particularmente enfurecido con la descripción que hizo Bannon de una reunión hoy famosa en la que su hijo, Donald Jr., y otro personal sénior de la campaña tuvieron en la Torre Trump en junio de 2016 con algunos rusos que dijeron que tenían "mugre" sobre Hillary Clinton. Bannon le dijo a Wolff que la reunión fue "traidora". Pero, dependiendo de lo que realmente sucedió en esa reunión, Bannon tal vez no estaba tan errado. (El propio Trump participó en una reunión a bordo del Air Force One, cuando regresaba de su segundo viaje presidencial al exterior, para redactar un comunicado que encubriera lo que sucedió en esa reunión en la Torre Trump).
También se dice que a Trump lo enfureció que Bannon hubiera descripto a la hija preferida del presidente, Ivanka, como "tonta como un ladrillo". Wolff también dice que Ivanka y su marido, el asesor sénior de la Casa Blanca Jared Kushner, habían acordado que después de su esperado éxito arrollador en la Casa Blanca, sería Ivanka quien se postularía para presidente.
Exagerando las cosas, como es su costumbre, Trump dijo que, en verdad, Bannon no había tenido nada que ver con su victoria electoral y que los dos casi nunca se habían dirigido la palabra. Y, como es su costumbre, Trump amenazó con demandar a Bannon. Trump tiene un largo historial de demandas legales intimidatorias que nunca llegó a presentar, pero la amenaza en sí puede resultarle costosa al supuesto blanco.
Sin embargo, la obsesión momentánea con las peleas dentro del campo de Trump no debería ocultar otras realidades. Detrás del drama, Trump tiene en claro ciertos objetivos, y a los jefes de Gabinete y de la agencia que los comparten -y que no se distraen con la publicación de un relato jugoso del comportamiento del presidente.
Mientras que gran parte de Washington y de sus corresponsales de prensa discutían las últimas revelaciones, se estaba transformando al Departamento de Justicia, que supuestamente es independiente de la Casa Blanca, en un instrumento partidario para llevar adelante los enconos del presidente. En verdad, la semana pasada, se reveló que el Departamento de Justicia estaba reabriendo una investigación de la cuestión ya investigada meticulosamente de los correos electrónicos de Hillary Clinton. El FBI, también se reveló, tendría en la mira a la Fundación Clinton.
El uso de una agencia gubernamental para castigar a los opositores previos de un presidente recuerda el comportamiento por el que Richard Nixon fue sometido a juicio político, y sugiere una forma de gobierno que dista mucho de ser democrática.