Zur Wahl steht Amerikas wirtschaftliche Zukunft
STANFORD – In einem Jahr werden die USA ihren nächsten Präsidenten wählen. Es geht dabei um viel, und das Ergebnis wird sich weltweit in einer ganzen Reihe von Sphären niederschlagen, nicht zuletzt der Wirtschaft. Doch basieren die meisten Diskussionen über die wirtschaftspolitischen Vorschläge der Kandidaten bisher mehr auf Gefühlen oder Ideologie als auf gründlicher Analyse.
Sofern es nicht zu einer großen, unvorhergesehenen Katastrophe kommt, wird die Wirtschaftsentwicklung in den USA bei der Wahl eine entscheidende Rolle spielen. Wenn die Konjunktur stark bleibt – die Arbeitslosigkeit ist, was die Gesamtheit der Arbeitnehmer angeht, auf dem tiefsten Stand seit 50 Jahren, und was Afroamerikaner und Latinos angeht, auf dem niedrigsten Stand aller Zeiten –, hat Präsident Donald Trump gute Chancen, wiedergewählt zu werden.
Doch die Risiken wachsen. Falls sie sich verwirklichen, würde ein Trump-Sieg unwahrscheinlicher. Laut aktuellen Modellrechnungen von Moody's Analytics würde es einen Konjunktureinbruch – oder eine ungewöhnliche hohe Wahlbeteiligung aufseiten der Demokraten, aber nicht der Republikaner – erfordern, damit Trump in 2020 verliert.
Da der anfängliche Favorit um die Nominierung der Demokratischen Partei, der gemäßigt linke ehemalige Vizepräsident Joe Biden, inzwischen gegenüber der weit links stehenden US-Senatorin Elizabeth Warren aus Massachusetts an Boden verliert, könnten Trumps Erfolgschancen im Anstieg begriffen sein. Andererseits wurde bei der Wahl 1980 der konservativste Republikanische Kandidat, (der von mir beratene) Ronald Reagan, ebenfalls als unwählbar etikettiert.
Falls Trump tatsächlich im Amt bestätigt wird, ist nicht zu erwarten, dass er in allen Fällen eine traditionell konservative Wirtschaftspolitik verfolgt, so wie etwa beim Tax Cuts and Jobs Act von 2017 getan hat, der den US-Körperschaftsteuersatz an den OECD-Durchschnitt anpasste. Aufgrund von Andeutungen Trumps und seiner Berater ist jedoch zu erwarten, dass er eine weitere Runde Regulierungs- und Steuerreformen verfolgen wird.
Die Demokratischen Präsidentschaftskandidaten dagegen befürworten eine Ausweitung des sozialen Netzes, angefangen mit dem Gesundheitswesen. Während einige auf Präsident Barack Obamas Affordable Care Act von 2010 aufbauen möchten – den "aufzuheben und zu ersetzen" Trump und die Republikaner im Kongress nicht geschafft haben –, hoffen andere, die privaten Krankenversicherungen, von denen zwei Drittel der Amerikaner abhängig sind, ganz abzuschaffen.
Subscribe now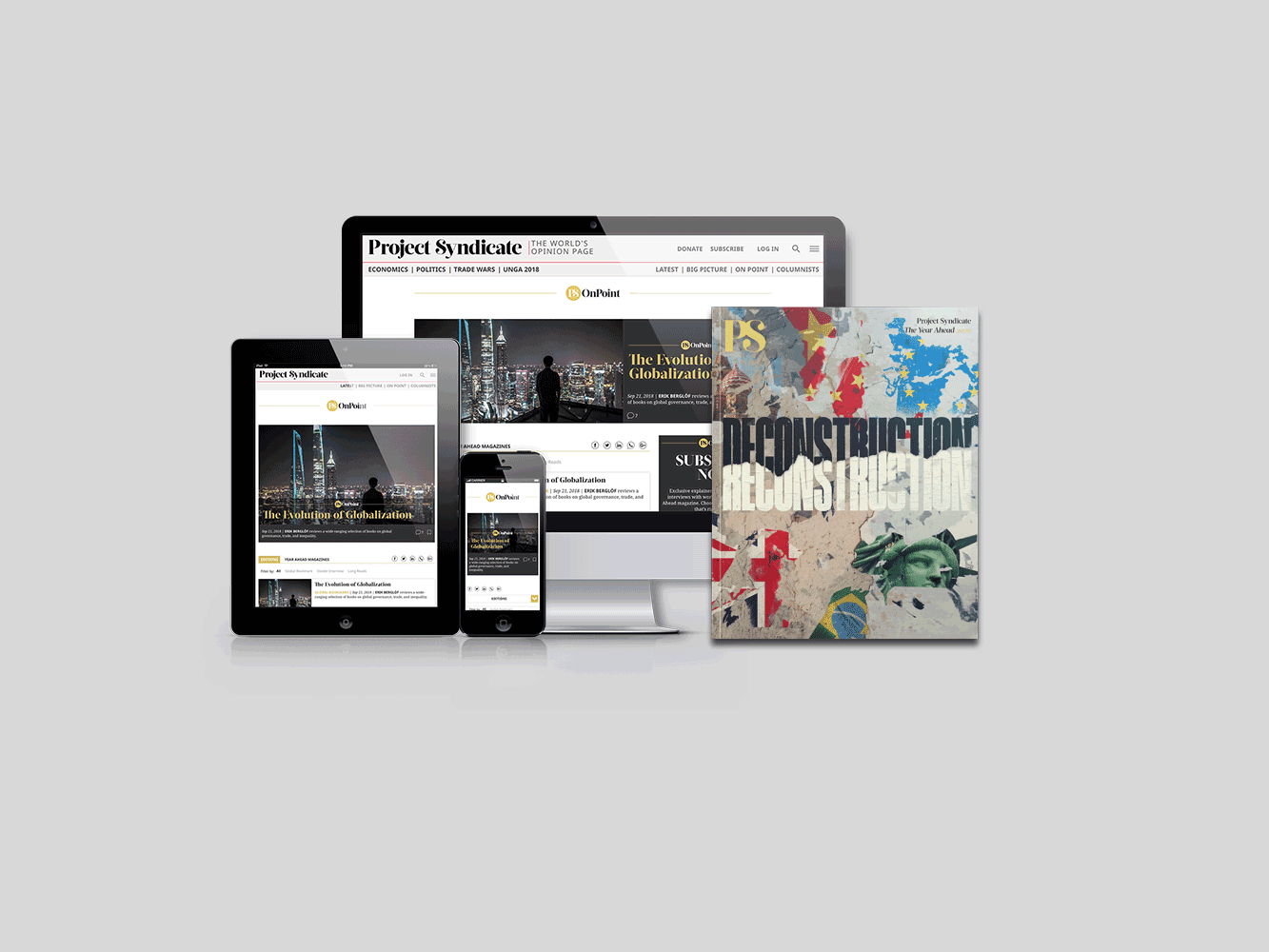 Subscribe now
Subscribe today and get unlimited access to OnPoint, the Big Picture, the PS archive of more than 14,000 commentaries, and our annual magazine, for less than $2 a week.
Anstelle einer privaten Krankenversicherung planen Demokraten wie Warren und der Vermonter Senator Bernie Sanders eine staatliche Einheitsversicherung einzuführen. Die Kosten hierfür wären atemberaubend und beliefen sich einigen Schätzungen zufolge allein in den ersten zehn Jahren auf 30 Billionen Dollar. Sanders würde die Steuern erhöhen; Warren versucht, sich um eine entsprechende Aussage herumzudrücken. Angesichts des Preisschildes hätte dies massive Anhebungen der Einkommensteuer oder der Sozialabgaben oder eine regressive Mehrwertsteuer europäischen Stils zur Folge. All dies ginge stark zu Lasten der Mittelschicht gehen und würde die wirtschaftlichen Anreize abschwächen.
Doch das ist nicht alles: Die Demokraten planen, teure Subventionen, Steuererleichterungen, Ausgabeerhöhungen, Schuldenerlasse und andere Geschenke einzuführen, und sie behaupten, dass sich diese Vorschläge weitgehend durch Steuererhöhungen für die reichsten Amerikaner finanzieren ließen. Biden will die Kapitalertragsteuer verdoppeln, Warren würde den Spitzensteuersatz der Einkommensteuer von 37% auf 70% erhöhen, und beide favorisieren neue Vermögensteuern, die sogar von den meisten Nordischen Ländern inzwischen abgeschafft wurden. Doch ihre Berechnungen gegen nicht auf, und zwar zumindest um eine Größenordnung.
Es gibt einen Bereich, wo sowohl Trump als auch die Demokraten mehr ausgeben wollen: die Infrastruktur. Die Reparatur und Wartung von Straßen, Häfen und Flughäfen fällt teilweise in die Verantwortung des Bundes, doch die einzelstaatliche, kommunale und private Finanzierung sollte ausgeweitet werden. Weder Trump noch einer der Demokratischen Kandidaten, die ihn herausfordern wollen, haben hierfür bisher einen ernsthaften Plan vorgelegt. Da keine der beiden Parteien sich auf ihre Haushaltsverantwortung konzentriert, bedeuten die wachsenden nicht gegenfinanzierten Verbindlichkeiten von Sozialversicherung und Medicare, die ein Mehrfaches der Staatsverschuldung betragen, dass die Amerikaner für die Zukunft deutlich schädlichere Steuererhöhungen oder drakonische Ausgabenkürzungen erwarten können.
Deutlich unterschiedlichere Positionen vertreten Trump und seine Demokratischen Gegner bei der staatlichen Regulierung. Trump hat dem Zurückdrehen der überzogenen Regulierung der Obama-Ära eine hohe Priorität eingeräumt. Auch wenn die Gerichte einigen seiner Bemühungen einen Riegel vorgeschoben haben (wie sie das auch gegenüber Obama taten), hat er erfolgreich eine Anzahl von Maßnahmen in den Bereichen Energie und Umwelt, im Gesundheitswesen und im Finanzsektor, die den Republikanern zu kostspielig erschienen, abgeschwächt oder aufgehoben.
Die Demokratischen Kandidaten, insbesondere Warren, hoffen, genau das Gegenteil zu tun. Einige befürworten eine stärkere Regulierung und die Durchsetzung von Kartellbestimmungen gegenüber den großen Technologieunternehmen; Sanders und Warren treten für die Aufspaltung der größten Unternehmen des Sektors ein. Alle unterstützen den zehn Billionen Dollar teuren, wirtschaftlich, naturwissenschaftlich und numerisch widersinnigengrünen New Deal oder sogar noch radikalere Pläne. Es wäre zu erwarten, dass ein Demokratischer Präsident die Finanzregulierung verschärft und potenziell sogar radikale Änderungen beim Unternehmensrecht einführt.
Beim Handel hat Trump eine hohe Priorität darauf gelegt, Dynamiken zu ändern, die er als unfair betrachtet. Das ist der Grund, warum er eine bescheidene Überarbeitung des Nordamerikanischen Freihandelsabkommens (NAFTA) ausgehandelt hat, die nach vom Kongress ratifiziert werden muss, und steigende Zölle gegen China verhängt hat.
Jedoch bremst der von Trump im letzten Jahr begonnene Handelskrieg gegen China die Investitionstätigkeit der Unternehmen und dämpft die positiven Auswirkungen seiner Steuer- und Regulierungsreformen. Zum Glück haben die USA und China vor kurzem eine vorübergehende Einigung erreicht, die, während über ein umfassenderes Abkommen verhandelt wird, weitere Zollerhöhungen verhindert. Die Demokraten kritisieren Trumps Ansatz zwar häufig, schlagen aber selbst keine weitere Handelsliberalisierung vor.
Eine letzte Frage, die bei der Bewertung der US-Präsidentschaftskandidaten zu berücksichtigen ist, ist, wen sie jeweils als nächsten Chef der US Federal Reserve ernennen würden. Trump – der den derzeitigen Chairman Jerome Powell wiederholt kritisiert hat, weil er eine zu geringe Lockerung der Geldpolitik verfolge – würde vermutlich einen einer derartigen Politik zuneigenden Kandidaten auswählen.
Ein links stehender Demokrat könnte angesichts der Faszination der Linken mit riskanten Ideen, die enorme Mengen notenbankfinanzierter Schulden propagieren, dasselbe tun. Die gemäßigt Linken – Biden, Amy Klobuchar und Pete Buttigieg – könnten Powell, der gute Arbeit geleistet hat, im Amt bestätigen, oder einen gemäßigten Demokratischen Ökonomen wie den ehemaligen stellvertretenden Chairman der Fed Alan Blinder oder den früheren Finanzminister Larry Summers auswählen.
Angesichts der Tatsache, dass das Kandidatenfeld noch immer derart groß ist, scheinen Anleger und Finanzmärkte auf stärkere Signale über die politische Zukunft und die beträchtlichen, aber unterschiedlichen wirtschaftlichen und finanziellen Risiken zu warten, die mit einem Sieg der jeweiligen Kandidaten verbunden wären.
Aus dem Englischen von Jan Doolan