Die Rettung des Atomabkommens mit dem Iran
MADRID – In der Diplomatie gibt es eine alte Faustregel: kann zu einem Thema keine Einigung erzielt werden, erweitert man den Umfang der Diskussion. Gegenwärtig sind die Vereinigten Staaten offenbar drauf und dran, diesen Ansatz umzukehren, indem sie die Diskussion erweitern, um ein bereits bestehendes Abkommen zu vernichten. Und dabei handelt es sich nicht um irgendein Abkommen: die Administration unter Präsident Donald Trump möchte das Atomabkommen mit dem Iran demontieren. Obwohl von Trump in seiner Rede vor den Vereinten Nationen als eine "Peinlichkeit" bezeichnet, stellt das Abkommen der internationalen Gemeinschaft mit dem Iran eine der wichtigsten diplomatischen Errungenschaften des letzten Jahrzehnts dar.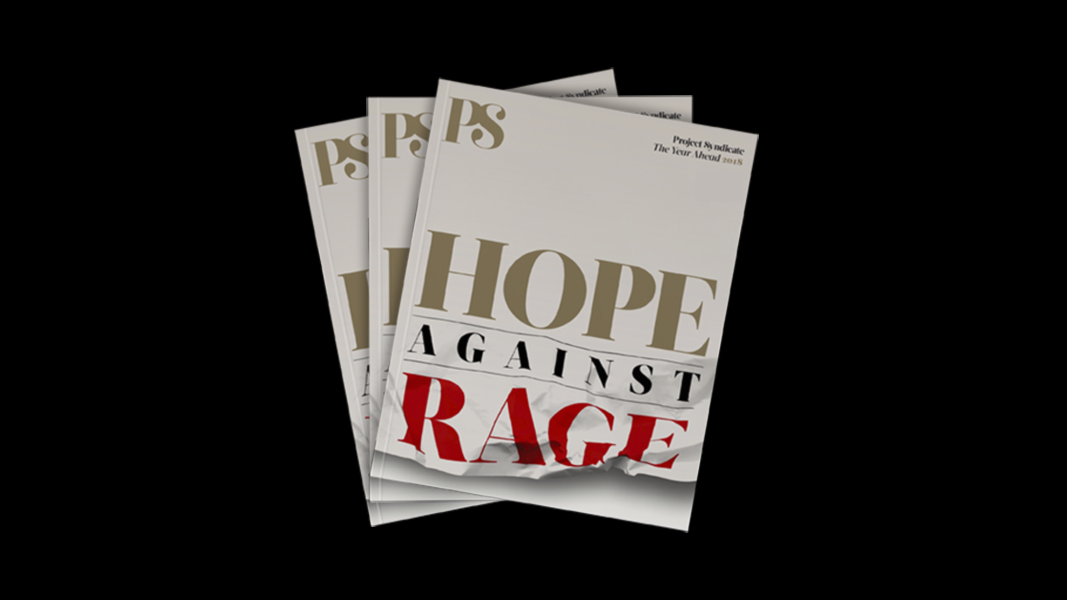 The Year Ahead 2018
The world's leading thinkers and policymakers examine what's come apart in the past year, and anticipate what will define the year ahead.
Der Iran galt bei internationalen Verhandlungen immer schon als harte Nuss. Da sich die Macht auf eine scheinbar endlose Reihe von Kräften und Personen verteilt, die sich vielfach widersprechen oder gar untereinander konkurrieren, ist das Verhandlungsumfeld schwer zu verstehen – von den zu ergreifenden Manövern ganz zu schweigen.
In diesem Kontext ist es unrealistisch, ein "allumfassendes Abkommen" zu erzielen, im Rahmen dessen man sich der gesamten Bandbreite an schlechten Verhaltensmustern des Iran annimmt – nicht nur seinem Atom- und Raketenprogrammen, sondern auch seiner Unterstützung des internationalen Terrorismus, der regionalen Destabilisierung und der Menschenrechtsverletzungen. Um überhaupt irgendetwas zu erreichen, muss das Thema so eng wie möglich abgegrenzt und diskret behandelt werden.
Darin bestand auch der Ansatz bei den Verhandlungen zum Atomprogramm des Iran. Der daraus entstandene Gemeinsame umfassende Aktionsplan (JCPOA) ist eine Fehlbezeichnung. Unerwähnt bleiben in diesem Titel die atombezogenen Waffenprogramme oder Inspektionen militärischer Anlagen. Und die meisten Bestimmungen des Abkommens werden lediglich zehn Jahre in Kraft bleiben.
Doch der JCPOA sollte auch nicht alles abdecken. Vielmehr war er dazu gedacht, die existentielle Bedrohung aufgrund des iranischen Atomprogramms lange genug vom Tisch zu bekommen, um eine Grundlage für ein konstruktiveres Engagement zu schaffen, mit dem man auch auf anderen Fronten Fortschritte erzielen könnte. Das Abkommen war ein Anfang und nicht das Ende.
Doch schon bald könnte das diplomatische Fenster, das sich mit dem JCPOA auftat, auch schon wieder zugeschlagen werden. Nach US-Recht ist der Präsident verpflichtet, dem Kongress alle 90 Tage zu bestätigen, dass der Iran das Abkommen nicht gebrochen hat und dass die fortgesetzte Aufhebung der Sanktionen "von entscheidender Bedeutung für die nationalen Sicherheitsinteressen" der USA ist. Anfang September deutete der amerikanische Botschafter bei den Vereinten Nationen, Nikki Haley, an, dass Trump, um das Abkommen zu torpedieren, einfach argumentieren könnte, dass die anderen Verstöße des Iran beschädigend genug sein könnten, um Sanktionen zu rechtfertigen. Bei dem JCPOA ging es darum, die atomare Frage vom Tisch zu bekommen, um es den Parteien zu ermöglichen, alle weiteren Themen zu diskutieren. Doch wenn die USA alles andere mit einem Mal wieder auf den Verhandlungstisch bringen, wird das Abkommen scheitern.
In diesem Fall wäre es nahezu unmöglich, den Iran an den Verhandlungstisch zurückzubekommen. Die USA wären alleine nicht in der Lage, ausreichend drastische Sanktionen über den Iran zu verhängen, um dieses Ergebnis sicherzustellen und die Europäische Union – die primäre Architektin des JCPOA – würde höchstwahrscheinlich keine erneuten Sanktionen über einen Iran verhängen, der seinen Verpflichtungen nachkommt. Und dass man Russland und China wieder an Bord holen könnte, ist zu vergessen.
Die Konsequenzen einer derartigen Entwicklung würden über den Iran hinausreichen. Der JCPOA ist eines der wenigen Beispiele internationaler Zusammenarbeit der jüngeren Vergangenheit und zeigt, was mit breit angelegten Sanktionen erreicht werden kann. In diesem Sinne verlieh dieser Aktionsplan einer globalen, regelbasierten Ordnung Auftrieb – von der vor allem Europa abhängig ist. Durch die Herbeiführung seines Endes könnte die Trump-Administration künftige multilaterale Initiativen massiv untergraben.
Aus regionaler Perspektive betrachtet könnte das Ende des JCPOA die Marginalisierung Amerikas im Nahen und Mittleren Osten beschleunigen. Das Abkommen mit dem Iran war ein Schlüsselelement der Bestrebungen Präsident Barack Obamas, die USA aus der Region herauszuholen, denn die Vereinbarung versprach, eine der wichtigsten Quellen der Instabilität zu neutralisieren, die die fortgesetzte Aufmerksamkeit der USA in Anspruch nahm. Doch die der Beendigung des Abkommens ließe Amerika hinsichtlich der Angelegenheiten im Nahen und Mittleren Osten wenig glaubwürdig dastehen und von einer Wiederherstellung des Status quo ante wäre man weit entfernt.
Auf kurze Sicht würde Russland das strategische Vakuum teilweise füllen. Das Land hat den schrittweisen Rückzug Amerikas aus der Region ohnehin genutzt, um seine Position dort zu stärken. Nachdem man sich durch das militärische Engagement in Syrien als zentrale Macht etabliert hat, benutzt Russland nun seine Energieressourcen, um diesen Einfluss noch weiter auszudehnen – mit weitreichenden geopolitischen und sicherheitsrelevanten Auswirkungen. 
Die staatlich kontrollierte Ölgesellschaft Rosneft hat bereits Vereinbarungen in Ägypten, im irakischen Kurdistan und Libyen abgeschlossen, während ihr Pendant Zarubezhneft Projekte zur Entwicklung der Öl- und Gasförderung im Iran verfolgt. Unterdessen erzielte der russische Gasriese Gazprom bei der Errichtung der so genannten TurkStream-Pipeline Fortschritte. Fügt man dem noch die geplante Nord Stream 2-Pipeline hinzu, die Russland direkt mit Deutschland verbinden wird, verblassen die Aussichten der EU auf eine – für ihre Energiesicherheit entscheidende - Diversifizierung ihrer Energieversorgung rasch.
Längerfristig wird die Abwesenheit der USA im Nahen und Mittleren Osten wahrscheinlich das Chaos und die Zerstörung prolongieren, die dieses Jahrzehnt definierten. Diese Entwicklung wird mit immer massiveren – und zunehmend übermächtigen – Auswirkungen auf Europa einhergehen. Es besteht freilich ein alternatives Szenario: der Iran, Saudi Arabien und die Türkei könnten unter Ausschluss externer Parteien stillschweigend (oder auch durchaus aktiv) ein Abkommen hinsichtlich des Einflusses in der Region schließen. Doch angesichts lange währender Feindseligkeiten in der Region ist die Entstehung einer derartigen Ordnung alles andere als garantiert.
Schließlich haben wir es noch mit der nuklearen Komponente der Herausforderung zu tun. Der JCPOA bot ein Modell, den Bestrebungen zur Weiterverbreitung entgegenzuwirken und dazu gehörte die Entkopplung der Atomkraft – einer sicheren und zuverlässigen Energiequelle – von der Weiterverbreitung von Kernwaffen. Erteilt die Trump-Administration diesem Modell nachträglich eine Absage, wird seine künftige Anwendung anderswo viel schwieriger, wenn nicht gar unmöglich werden. 
Die europäischen Spitzenpolitiker anerkennen die Bedeutung des JCPOA. Nun müssen sie aktiv werden, um ihn zu retten. Dazu sollten sie mit dem Iran Beziehungen etablieren, die über öffentlich finanzierte Dienstreisen zur Erleichterung europäischer Investitionen oder die Förderung der geplanten Energiepartnerschaft hinausgehen und im Rahmen derer andere ausstehende Themen behandelt werden wie ballistische Raketen, Terrorismus und Menschenrechte.
Um Erfolg zu haben, sind Klartext, Konditionalität und, ja, weitere Sanktionen erforderlich. Trump hat recht, wenn er sagt, dass mehr getan werden muss, um den Iran in Schranken zu halten. Doch für derartige Maßnahmen sollte der JCPOA als Plattform dienen. Genau dazu ist er da. 
Aus dem Englischen von Helga Klinger-Groier