Sauvegarder l'accord sur le nucléaire iranien
MADRID – Il existe un vieux principe de base en matière diplomatique : si vous ne pouvez parvenir à un accord sur une problématique donnée, élargissez alors le champ de la discussion. Actuellement, les États-Unis semblent bouleverser cette approche, en élargissant la discussion dans le but d'anéantir un accord d'ores et déjà existant. Et il ne s'agit pas de n'importe quel accord : l'administration du président Donald Trump entend démanteler l'accord sur le nucléaire iranien. Or, bien que Trump ait qualifié cet accord d'embarras dans son discours aux Nations Unies, l'accord trouvé entre la communauté internationale et l'Iran constitue bel et bien l'un des accomplissements diplomatiques les plus importants de la dernière décennie.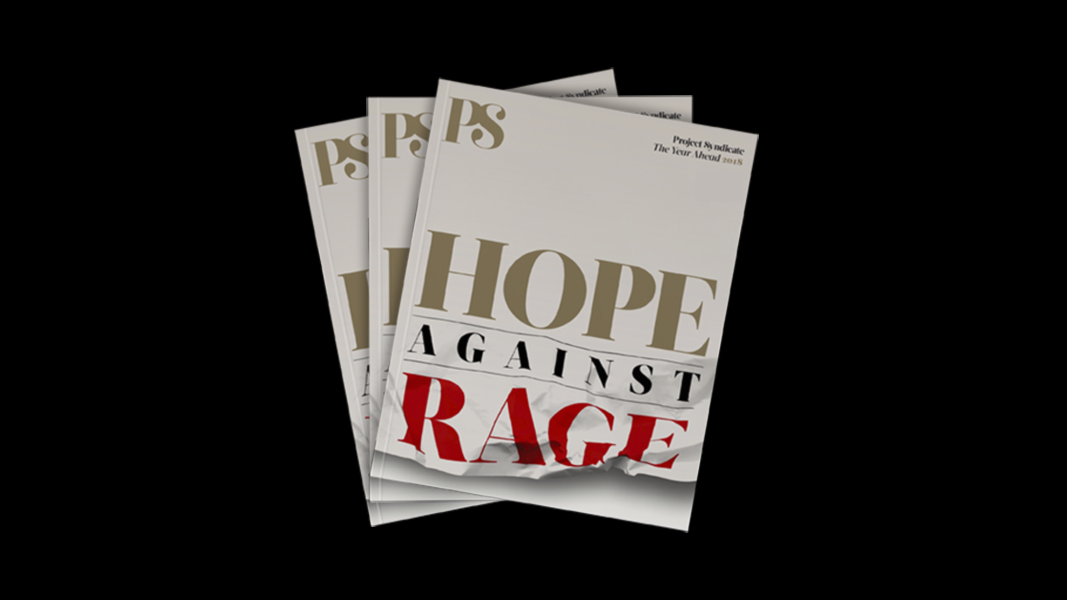 The Year Ahead 2018
The world's leading thinkers and policymakers examine what's come apart in the past year, and anticipate what will define the year ahead.
L'Iran a toujours été un interlocuteur intraitable dans le cadre des négociations internationales. Son pouvoir étant réparti entre une multitude apparemment infinie de forces et de personnalités, qui bien souvent se contredisent voire se concurrencent, l'environnement des négociations est fort difficile à comprendre, et encore plus à arpenter.
Dans ce contexte, la perspective d'un « grand compromis » qui permettrait d'appréhender l'ensemble des comportements répréhensibles de l'Iran – non seulement son programme nucléaire et de missiles, mais également son soutien au terrorisme international, sa participation à la déstabilisation de la région, ainsi que ses violations des droits de l'Homme – semble irréaliste. Pour avancer un tant soit peu, il est important que le sujet des discussions demeure aussi étroit et discret que possible.
C'est précisément l'approche qu'ont appliquée les négociations sur le programme nucléaire iranien. Le Plan d'action global conjoint (JCPOA) qui en a résulté porte en effet très mal son nom. Cet accord n'appréhende en rien les programmes d'armements liés au nucléaire, et ne garantit aucune inspection sur les lieux de quelque installation militaire. La plupart de ses dispositions ne resteront par ailleurs en vigueur que pour une dizaine d'années.
Le JCPOA n'a cependant jamais eu pour vocation de couvrir tous les sujets. Son objectif consistait à neutraliser la menace existentielle que représente le programme nucléaire iranien suffisamment longtemps pour que puissent être bâties les fondations d'un engagement plus constructif, susceptible de permettre une avancée sur d'autres fronts. Cet accord n'a jamais été une fin, mais un commencement.
Or, il se pourrait d'ici peu que la fenêtre diplomatique ouverte par le JCPOA soit brusquement refermée. En vertu du droit américain, le président est tenu d'assurer tous les 90 jours devant le Congrès que l'Iran n'a pas violé l'accord, et que la suspension continue des sanctions s'avère « indispensable aux intérêts de sécurité nationale » des États-Unis. Début septembre, Nikki Haley, ambassadrice des États-Unis à l'ONU, a suggéré que pour anéantir l'accord, il suffisait à Trump de faire valoir que de nouveaux comportements répréhensibles de la part de l'Iran s'avéraient suffisamment dommageables pour mériter des sanctions. Or, l'objectif du JCPOA consistait à exclure de la table des négociations la question nucléaire, afin de permettre aux parties d'aborder tout le reste. Si les États-Unis remettent tous ces sujets sur la table, il en sera fini de l'accord.
Dans une telle hypothèse, il sera quasiment impossible de faire se rasseoir l'Iran à la table des négociations. L'Amérique à elle seule ne pourrait imposer à l'Iran des sanctions suffisamment puissantes pour y parvenir, tandis que l'Union européenne – principal architecte du JCPOA – ne réimposerait certainement pas des sanctions à un Iran qui respecte ses engagements. Quant à la Russie et à la Chine, nous pouvons d'emblée renoncer à l'espoir de les mobiliser à nouveau.
Les implications d'un tel scénario s'étendraient au-delà de l'Iran. Le JCPOA est un récent exemple rare de coopération internationale, et démontre la viabilité d'un système global de sanctions. L'accord a en ce sens considérablement dynamisé l'ordre mondial fondé sur les règles – dont dépend l'Europe en particulier. En précipitant sa disparition, l'administration Trump risquerait de mettre profondément à mal de futures initiatives multilatérales.
D'un point de vue régional, l'anéantissement du JCPOA accélèrerait la marginalisation de l'Amérique au Moyen-Orient. L'accord iranien a été un élément clé de l'effort fourni par le président Barack Obama pour exfiltrer les États-Unis de la région, puisqu'il promettait de neutraliser l'une des principales sources d'instabilité nécessitant l'attention constante des États-Unis. Ainsi, loin de rétablir le statu quo ante, la fin de l'accord ne préserverait pour l'Amérique qu'une faible crédibilité dans les affaires du Moyen-Orient.
À court terme, le vide stratégique serait partiellement comblé par la Russie, qui a d'ores et déjà tiré parti du retrait progressif de l'Amérique hors de la région pour y consolider son emprise. S'étant affirmée en tant que puissance centrale au travers de son intervention militaire en Syrie, la Russie use désormais de ses ressources énergétiques pour étendre encore davantage son influence – avec des conséquences géopolitiques et sécuritaires majeures.
À ce jour, la compagnie pétrolière d'État Rosneft a d'ores et déjà conclu des accords en Égypte, au Kurdistan irakien et en Libye, tandis que son homologue Zarubezhneft entreprend des projets de développement pétrolier et gazier en Iran. Dans le même temps, le géant gazier russe Gazprom progresse dans le cadre de la construction du fameux pipeline TurkStream. Ajoutez à cela le pipeline Nord Stream 2 en attente, qui reliera directement la Russie à l'Allemagne, et les perspectives de diversification des approvisionnements énergétiques de l'UE – indispensables à sa sécurité énergétique – se dissipent rapidement.
À long terme, l'absence des États-Unis au Moyen-Orient sera probablement synonyme de prolongation du chaos et de la destruction qui ont marqué cette décennie, avec des répercussions croissantes – et de plus en plus écrasantes – pour l'Europe. Un scénario alternatif est bien entendu possible : il est envisageable que l'Iran, l'Arabie saoudite et la Turquie parviennent à un accord tacite (voire actif) concernant l'influence dans la région, excluant les parties extérieures. Pour autant, compte tenu des hostilités de longue date présentes dans la région, l'émergence d'un tel ordre n'est absolument pas garantie.
Intervient ensuite la composante nucléaire de ce défi. Le JCPOA fournissait un modèle d'efforts de contre-prolifération qui impliquait une dissociation entre puissance nucléaire – source d'énergie sûre et fiable – et prolifération des armes nucléaires. Si ce modèle est rejeté après coup par l'administration Trump, son application future en d'autres lieux deviendra beaucoup plus difficile, voire impossible.
Il est nécessaire que les dirigeants européens reconnaissent l'importance du JCPOA. Ils doivent désormais agir pour sa sauvegarde. Pour ce faire, il leur faut établir avec l'Iran une relation s'étendant au-delà de simples déplacements éclairs visant à faciliter les investissements européens ou à promouvoir le partenariat énergétique prévu, et répondant aux autres problématiques en suspens, telles que les missiles balistiques, le terrorisme, et les droits de l'Homme.
Une telle réussite exigera de la fermeté dans les discussions, de la conditionnalité, et en effet davantage sanctions. Trump a raison d'affirmer qu'il faut accomplir davantage pour maîtriser l'Iran. C'est en revanche le JCPOA qui devrait servir de plateforme à une telle démarche. C'était précisément l'objectif initial.