Má akciový trh nakročeno k "medvědovi"?
NEW YORK – Prvotní novoroční optimismus mnoha investorů možná dostal v posledních dnech ránu v podobě obav z ekonomického zpomalení v důsledku zvyšování úrokových sazeb. Nikoho by však nemělo překvapit, pokud po současném prudkém pádu cen akcií bude následovat rychlý návrat k býčímu trendu, alespoň krátkodobě. Navzdory nedávnému poklesu totiž nálada investorů zůstává v nesouladu s obezřetností, kterou vyjadřují političtí lídři.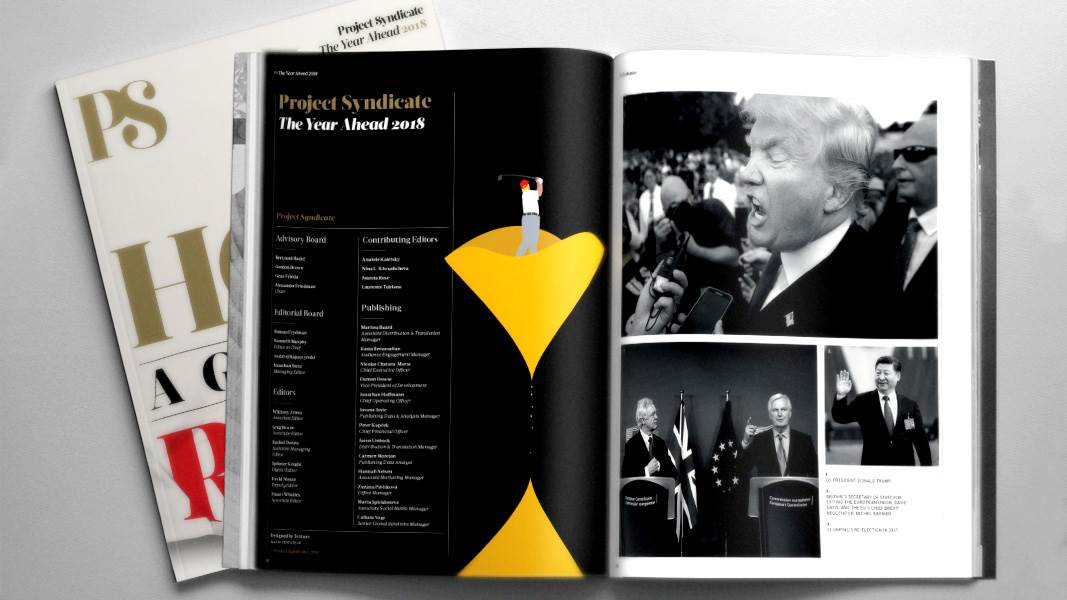 The Year Ahead 2018
The world's leading thinkers and policymakers examine what's come apart in the past year, and anticipate what will define the year ahead.
Tržním protagonistům lze euforii z počátku roku snadno odpustit. Po solidním roce 2017 totiž klíčová makroekonomická data – o nezaměstnanosti, inflaci i spotřebitelské a podnikové náladě – spolu s prognózami HDP naznačovala, že silný růst bude pokračovat i v roce 2018.
Výsledkem – ve Spojených státech i ve většině velkých ekonomik – je ona vzácná chvíle optimismu v kontextu uplynulého desetiletí. Tak především jsou makroekonomická data pozitivně synchronizovaná a inflace zůstává krotká. Nedávná úprava globálních růstových dat Mezinárodního měnového fondu směrem vzhůru navíc přišla právě v té fázi cyklu, kdy by ekonomika měla vykazovat známky zpomalení.
Kromě toho se už rekordní maxima akciových trhů tolik neopírají o uvolněnou měnovou politiku. Býčí náladu podporují důkazy o výrazném zvýšení kapitálových investic. V USA se hrubé domácí soukromé investice ve čtvrtém čtvrtletí roku 2017 meziročně zvýšily o 5,1% a jsou téměř o 90% vyšší než v nejnižším bodě velké recese, tedy ve třetím čtvrtletí roku 2009.
To je příznačné pro hlubší obnovu podnikových výdajů – dokladem čehož jsou zakázky na zboží dlouhodobé spotřeby. Nové objednávky zboží dlouhodobé spotřeby vyrobeného v USA překonávají očekávání; v prosinci 2017 se meziměsíčně zvýšily o 2,9% a v listopadu o 1,7%.
Podobný obrázek vykreslují i další data. Index průmyslové výroby a využití kapacit amerického Federálního rezervního systému zaznamenal v roce 2017 největší roční přírůstek od roku 2010, když vzrostl o 3,6%. A tržní náladu dále zlepší skutečnost, že americký prezident Donald Trump zopakoval svůj závazek usilovat o výdaje na infrastrukturu a veřejné kapitálové programy ve výši 1,5 bilionu dolarů.
Tento býčí trend bude i nadále kontrastovat s varovnými vzkazy mnoha světových lídrů. Německá kancléřka Angela Merkelová v posledních několika týdnech varovala, že současné mezinárodní uspořádání se ocitlo v ohrožení. Francouzský prezident Emmanuel Macron poznamenal, že globalizace prochází velkou krizí, a kanadský premiér Justin Trudeau konstatoval, že neklid, který vidíme po celém světě, je hmatatelný a "neodchází".
Ať už současné korekce jejich obavy odrážejí, nebo nikoliv, politici nakonec mohou mít pravdu. Tak například přetrvávají značná geopolitická rizika. Index populismu v rozvinutém světě, který sestavuje společnost Bridgewater Associates, se v roce 2017 vyšplhal na nejvyšší hodnotu od 30. let, neboť zohledňuje populistická hnutí v USA, Velké Británii, Španělsku, Francii a Itálii. Dokud populismus zůstává politickou hrozbou, bude také riziko zpátečnické protekcionistické obchodní politiky a vyšších kapitálových kontrol i nadále zvýšené, což by mohlo podkopat hospodářský růst.
Trh přitom nesprávně oceňuje trvalé strukturální problémy, zejména neudržitelné navyšování globálního dluhu a neveselé fiskální vyhlídky především v USA, kde je cenou za toto zotavení rostoucí deficit. Krátkodobý ekonomický zisk jinými slovy stojí na politice, u níž hrozí, že v dlouhodobém měřítku ekonomiku potopí.
Například Kongresový rozpočtový úřad (CBO) předpověděl, že americký schodek se při současném vývoji během příštích 30 let ztrojnásobí z 2,9% HDP v roce 2017 na 9,8% v roce 2047. "Vyhlídka tak vysokého a stále rostoucího dluhu," varoval CBO, "představuje značná rizika pro stát a staví politiky před závažné problémy".
Rozpor v hodnocení vyhlídek mezi firemními a politickými lídry má kořeny převážně v odlišných časových horizontech. Generální ředitelé firem se vzhledem ke krátkodobé povaze akciových trhů většinou zaměřují na příštích 12 měsíců, kdežto politici upírají pozornost na střednědobější vyhlídky.
S dalším vývojem v roce 2018 by firemní lídři i tržní protagonisté měli mít – a nepochybně budou mít – na paměti, že se stále blížíme k datu, kdy bude potřeba zaplatit cenu za dnešní zotavení. Nedávné výkyvy na kapitálových trzích naznačují, že vědomí tohoto nevyhnutelného zúčtování pomalu začíná sílit.
Z angličtiny přeložil Jiří Kobělka.