Ist auf dem Aktienmarkt der Bär los?
NEW YORK – Der anfängliche Neujahrsoptimismus vieler Anleger könnte in den letzten Tagen durch Befürchtungen vor einem Wirtschaftsabschwung aufgrund eines Anstiegs der Zinssätze erschüttert worden sein. Es sollte allerdings niemanden überraschen, wenn dem derzeitigen starken Kursverfall der Aktien zumindest auf kurze Sicht eine Rückkehr zum Aufwärtstrend folgt. Trotz des jüngsten Einbruchs der Kurse steht die positive Stimmung an den Börsen jedoch weiterhin im Widerspruch zu den mahnenden Worten von Spitzenpolitikern.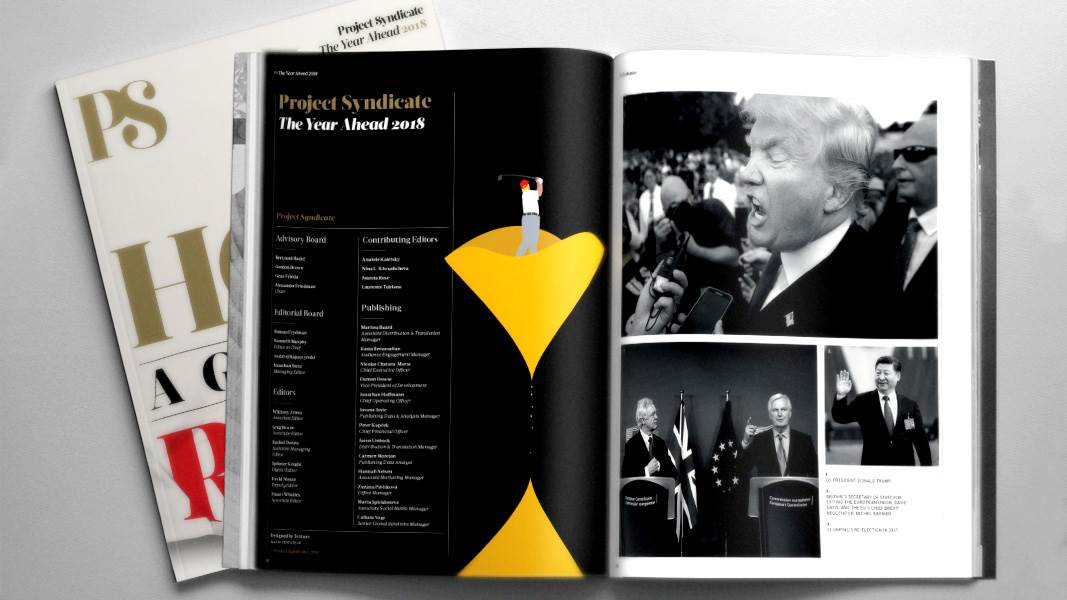 The Year Ahead 2018
The world's leading thinkers and policymakers examine what's come apart in the past year, and anticipate what will define the year ahead.
Man kann den Marktteilnehmern ihre Euphorie zu Jahresanfang leicht nachsehen. Nach einem soliden Jahr 2017 deuteten BIP-Prognosen und die wichtigsten makroökonomischen Daten – zu Arbeitslosigkeit, Inflation sowie Konsum- und Geschäftsklima – darauf hin, dass sich das starke Wachstum im Jahr 2018 fortsetzen wird.
In den Vereinigten Staaten und in den meisten der wichtigsten Volkswirtschaften bestand das Ergebnis in einem – im letzten Jahrzehnt - seltenen Moment des Optimismus. Zunächst einmal präsentieren sich die Makrodaten positiv im Gleichklang und die Inflation bleibt auf harmlosen Niveau. Überdies kam die jüngste Aufwärtskorrektur der globalen Wachstumsdaten durch den Internationalen Währungsfonds genau zu einem Zeitpunkt im Zyklus, an dem die Wirtschaft eigentlich Anzeichen einer Verlangsamung hätte zeigen sollen.
Außerdem sind die Rekorde an den Aktienmärkten nicht mehr in dem Maße auf eine lockere Geldpolitik angewiesen. Der Trend nach oben wird durch einen deutlichen Anstieg der Kapitalinvestitionen untermauert. In den Vereinigten Staaten stiegen die privaten Bruttoinvestitionen im vierten Quartal 2017 im Jahresvergleich um 5,1 Prozent und liegen nun beinahe 90 Prozent höher als im dritten Quartal 2009 während der Talsohle der Großen Rezession.  
Diese Entwicklung ist Ausdruck eines tiefgreifenderen Erstarkens der Unternehmensausgaben – wie an den Auftragseingängen für langlebige Güter zu sehen ist.  Die Auftragseingänge für in den Vereinigten Staaten hergestellte langlebige Güter übertreffen alle Erwartungen, wobei sie im Dezember 2017 im Monatsvergleich um 2,9 Prozent stiegen und im November um 1,7 Prozent.
Andere Daten erzählen eine ähnliche Geschichte. Im Jahr 2017 verzeichnete der von der US-Notenbank Federal Reserve veröffentlichte Index der amerikanischen Industrieproduktion und Kapazitätsauslastung mit 3,6 Prozent den größten Zuwachs innerhalb eines Kalenderjahres seit 2010. Und US-Präsident Donald Trumps wiederholte Zusicherung, 1,5 Billionen Dollar für Infrastruktur und öffentliche Investitionsprogramme zur Verfügung zu stellen, unterstützt die Stimmung auf den Märkten zusätzlich. 
Doch dieser Aufwärtstrend steht weiterhin in starkem Widerspruch zu den Warnungen vieler führender Politiker. In den letzten Wochen warnte Kanzlerin Angela Merkel, dass die derzeitige internationale Ordnung bedroht sei. Der französische Präsident Emmanuel Macron merkte an, dass sich die Globalisierung inmitten einer ernsthaften Krise befinde und der kanadische Premierminister Justin Trudeau verwies darauf, dass die Unruhe, die wir auf der Welt sehen, greifbar ist und auch "nicht verschwinden" wird.
Unabhängig davon, ob die aktuelle Korrektur diese Befürchtungen widerspiegeln oder nicht, könnten die Politiker letzten Endes Recht behalten. Zum einen bleibt das geopolitische Risiko durchaus hoch. Der Populismus-Index für die entwickelte Welt von Bridgewater Associates stieg 2017 auf den höchsten Wert seit den 1930er Jahren, wobei populistische Bewegungen in den USA, Großbritannien, Spanien, Frankreich und Italien Berücksichtigung fanden. Solange der Populismus weiterhin eine politische Bedrohung darstellt, besteht auch die erhöhte Gefahr einer reaktionären protektionistischen Handelspolitik und stärkerer Kapitalverkehrskontrollen und das könnte das Wirtschaftswachstum zu Fall bringen.
Unterdessen werden langfristige strukturelle Herausforderungen durch den Markt fehlbewertet, insbesondere steigende und untragbare globale Schulden sowie ein düsterer Haushaltsausblick, vor allem in den USA, wo diese Erholung mit einem wachsenden Defizit bezahlt wird. Mit anderen Worten: kurzfristige wirtschaftliche Zuwächse werden von politischen Strategien gestützt, die die Wirtschaft langfristig zu schwächen drohen.
Das amerikanische Haushaltsbüro Congressional Budget Office (CBO), prognostiziert beispielsweise, dass sich das Defizit der USA in den nächsten 30 Jahren von 2,9 Prozent des BIP im Jahr 2017 auf 9,8 Prozent im Jahr 2047 verdreifachen wird. "Die Aussicht auf derartig hohe und wachsende Schulden", so die Warnung des CBO, "stellt eine substanzielle Gefahr für die Nation und beträchtliche Herausforderungen für die politischen Entscheidungsträger dar."
Die Meinungsunterschiede hinsichtlich der wirtschaftlichen Aussichten zwischen Führungspersönlichkeiten in der Wirtschaft und jenen der Politik beruht größtenteils auf unterschiedlichen Zeithorizonten. Vorstandsdirektoren stehen größtenteils im Bann der Kurzfristigkeit der Aktienmärkte und konzentrieren sich daher auf die nächsten 12 Monate, während der Schwerpunkt der Politiker auf einem mittelfristigen Ausblick liegt.
Mit Voranschreiten des Jahres 2018 sollten – und werden - Führungskräfte der Wirtschaft und Markteilnehmer nicht vergessen, dass wir dem Datum näherrücken, an dem die Rechnung für die Erholung von heute fällig wird. Die Turbulenzen auf den Kapitalmärkten der letzten Tage weisen darauf hin, dass sich das Bewusstsein für diese unausweichliche Abrechnung bereits entwickelt.
Aus dem Englischen von Helga Klinger-Groier