Hrozba sociálních médií pro společnost a bezpečnost
MNICHOV – Prožíváme bolestný okamžik ve světových dějinách. Otevřené společnosti se ocitly v krizi a na vzestupu jsou různé formy diktatur a mafiánských států, jejichž příkladem Rusko Vladimira Putina. Také prezident Donald Trump by ve Spojených státech rád zřídil stát v mafiánském stylu, ale nemůže, protože mu to nedovolí ústava, další instituce a pulzující občanská společnost.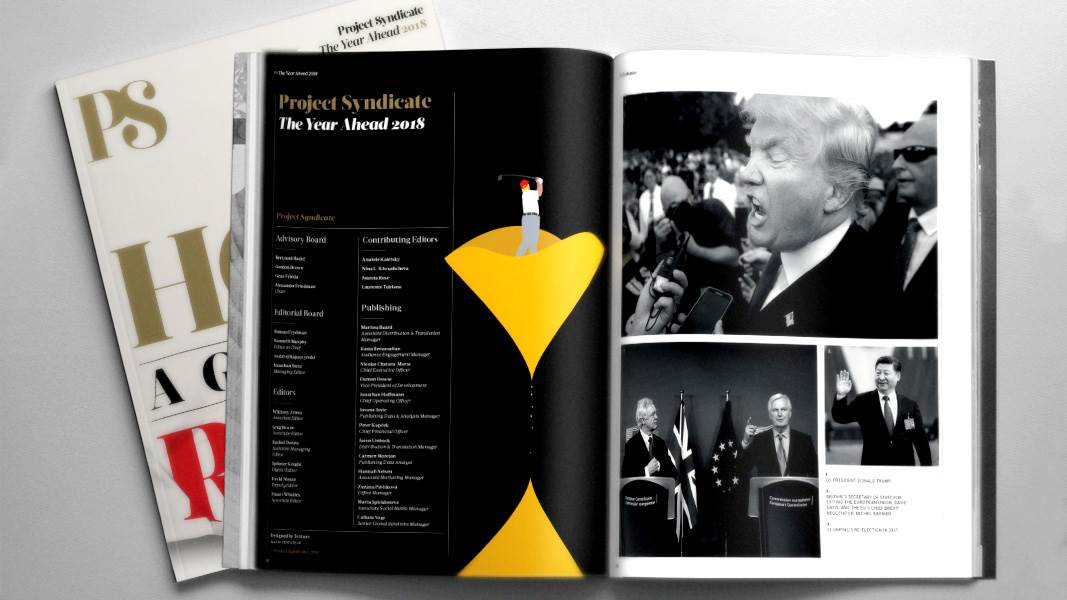 The Year Ahead 2018
The world's leading thinkers and policymakers examine what's come apart in the past year, and anticipate what will define the year ahead.
V ohrožení však není jen přežití otevřené společnosti; v sázce je také přežití celé naší civilizace. Vzestup vůdců, jako jsou Kim Čong-un v Severní Koreji a Trump v USA, s tím do značné míry souvisí. Oba jsou zjevně ochotni riskovat jadernou válku jen proto, aby se udrželi u moci. Hlavní příčina však sahá ještě hlouběji. Schopnost lidstva využívat přírodních sil ke konstruktivním i destruktivním účelům se neustále zvyšuje, avšak naše schopnost spravedlivě vládnout sami sobě kolísá a momentálně se nachází v dolní úvrati.
K impotenci americké vlády přitom značně přispívá vzestup a monopolní chování amerických internetových gigantů, kteří se stali platformami. Tyto firmy často hrály inovativní a osvobozující roli. Facebook a Google jsou však stále mocnější a postupně se staly překážkami inovací, a navíc způsobují řadu různých problémů, které si teprve teď začínáme uvědomovat.
Firmy generují zisky tím, že vytěžují své prostředí. Důlní a ropné společnosti vytěžují fyzické prostředí; sociální média vytěžují prostředí společenské. To je obzvláště hanebné, protože tyto firmy ovlivňují uvažování a chování lidí bez toho, že by si to tito lidé uvědomovali. To narušuje fungování demokracie a čestnost voleb.
A protože jsou platformové internetové firmy sítěmi, těší se ze stoupajících marginálních výnosů, což vysvětluje jejich fenomenální růst. Tento síťový efekt je vskutku bezprecedentní a transformativní, ale zároveň neudržitelný. Facebooku trvalo osm a půl roku, než dosáhl miliardy uživatelů, ovšem druhé miliardy dosáhl za poloviční dobu. Při tomto tempu dojdou Facebooku za necelé tři roky lidé, které by ještě mohl získat.
Facebook a Google fakticky kontrolují více než polovinu veškerých příjmů z digitální inzerce. Aby si svou nadvládu udržely, musí své sítě rozšiřovat a zvyšovat procento pozornosti uživatelů. V současné době to dělají tím, že poskytují uživatelům pohodlnou platformu. Čím více času uživatelé na této platformě tráví, tím cennějšími se pro zmíněné firmy stávají.
Protože se navíc poskytovatelé obsahu nemohou používání těchto platforem vyhnout a musí akceptovat jakékoliv nabízené podmínky, přispívají i oni k ziskům sociálních médií. Výjimečná ziskovost těchto firem je do značné míry důsledkem toho, že se vyhýbají zodpovědnosti – a platbě – za obsah poskytovaný na svých platformách.
Zmíněné firmy tvrdí, že pouze distribuují informace. Skutečnost, že jsou téměř monopolními distributory, z nich však činí podniky veřejných služeb, takže by měly podléhat přísnějším regulacím s cílem zachovávat konkurenci, inovace a spravedlivý a otevřený přístup pro všechny.
Skutečnými zákazníky sociálních médií jsou jejich inzerenti. Postupně se však rýsuje nový obchodní model založený nejen na inzerci, ale i na přímém prodeji výrobků a služeb uživatelům. Sociální sítě využívají dat, nad nimiž mají kontrolu, spojují nabízené služby do balíčků a stanovují diskriminační ceny, aby si udržely ještě větší část benefitů, o něž by se jinak musely rozdělit se zákazníky. To dále zvyšuje jejich ziskovost, avšak spojování služeb do balíčků a diskriminační cenová politika podkopávají efektivitu tržní ekonomiky.
Sociální média klamou uživatele tím, že manipulují jejich pozornost, nasměrovávají ji k vlastním komerčním cílům a záměrně budují závislost na jimi poskytovaných službách. To může být velmi škodlivé, zejména pro adolescenty.
V tomto smyslu se internetové platformy podobají hazardním společnostem. Kasina vyvinula metody, jak "zaháčkovat" zákazníky do té míry, že nakonec prosázejí všechny své peníze, ba dokonce i ty, které nemají.
Něco podobného – a potenciálně nezvratného – se děje i s lidskou pozorností v naší digitální éře. A není to jen otázka rozptylování pozornosti či vytváření závislosti; sociální média dokonce ponoukají lidi k tomu, aby se zbavili samostatnosti. A tato schopnost ovlivňovat pozornost lidí se ve stále větší míře soustředí v rukou hrstky firem.
Uplatňovat a hájit to, co John Stuart Mill nazval svobodou myšlení, vyžaduje značné úsilí. Jakmile lidé vyrůstající v digitální éře o tuto svobodu přijdou, mohou mít velké problémy získat ji zpět.
Mělo by to dalekosáhlé politické důsledky. S lidmi postrádajícími svobodu myšlení lze snadno manipulovat. Toto nebezpečí se přitom nerýsuje kdesi v budoucnu; důležitou roli sehrálo už v prezidentských volbách v USA v roce 2016.
A na obzoru je i vyhlídka, která je ještě více alarmující: aliance autoritářských států a velkých IT monopolů disponujících obrovským množstvím dat, která spojí rodící se systémy sledování spotřebitelů firmami s již rozvinutými systémy sledování občanů státem. Výsledkem může být pavučina totalitní kontroly, jakou si nedokázal představit ani George Orwell.
K těmto sňatkům z rozumu by nejpravděpodobněji mohlo dojít v Rusku a v Číně. Zejména čínské IT společnosti se zcela vyrovnají americkým platformám. Navíc se těší plné podpoře a ochraně režimu prezidenta Si Ťin-pchinga. Čínská vláda je přitom dost silná na to, aby své národní šampiony přinejmenším na svém území ochránila.
Americké IT monopoly jsou už dnes v pokušení zkompromitovat samy sebe, aby si získaly přístup na tyto obrovské a rychle rostoucí trhy. Diktátorští lídři těchto zemí s nimi možná budou velmi rádi spolupracovat v zájmu zdokonalení svých metod kontroly vlastního obyvatelstva a rozšiřování své moci a vlivu ve Spojených státech i ve zbytku světa.
Kromě toho si stále více lidí uvědomuje spojitost mezi nadvládou těchto platformních monopolů a rostoucí nerovností. Koncentrace akciového vlastnictví do rukou hrstky jednotlivců v tom sice také hraje určitou roli, avšak ještě důležitější je prazvláštní postavení IT gigantů. Ti dosáhli monopolní moci, přičemž však zároveň konkurují jeden druhému. Pouze oni jsou natolik velcí, aby mohli polykat startupy, z nichž by se mohli vyvinout konkurenti, a pouze oni mají dostatečné zdroje na to, aby mohli podnikat výpady na území toho druhého.
Majitelé platformních gigantů se pokládají za pány všehomíra. Ve skutečnosti jsou však otroky udržování vlastního dominantního postavení. Zapojují se do existenčního boje o ovládnutí nových růstových oblastí, které otevírá umělá inteligence, například automobilů bez řidiče.
Dopad takových inovací na nezaměstnanost závisí na vládní politice. Evropská unie, a zejména severské země jsou ve své sociální politice mnohem prozíravější než Spojené státy. Nechrání pracovní místa, nýbrž zaměstnance. Jsou ochotné platit za rekvalifikaci či předčasný odchod zaměstnanců vyřazených z trhu práce do důchodu. To dává zaměstnancům v severských zemích větší pocit jistoty, takže jsou pak vůči technologickým inovacím vstřícnější než zaměstnanci v USA.
Internetové monopoly nemají vůli ani chuť chránit společnost před důsledky vlastního počínání. To z nich dělá veřejnou hrozbu a je na regulačních autoritách, aby před nimi chránily společnost. V USA nejsou regulátoři dostatečně silní na to, aby se dokázali politickému vlivu monopolů postavit. EU je v lepší pozici, protože žádné vlastní platformní giganty nemá.
EU používá odlišnou definici monopolní moci než USA. Zatímco americké právo se zaměřuje především na monopoly vzniklé akvizicí, unijní právo zakazuje zneužívání monopolní moci bez ohledu na to, jakým způsobem je jí dosaženo. A Evropa má také mnohem silnější zákony na ochranu soukromí a dat než Amerika.
Americké právo navíc přijalo zvláštní doktrínu, podle níž se škoda měří jako přírůstek ceny, kterou za poskytnuté služby platí zákazníci. Tato škoda se však téměř nedá dokázat, poněvadž internetoví platformní giganti vesměs poskytují většinu služeb bezplatně. Kromě toho doktrína pouští ze zřetele hodnotná data, která platformní společnosti o svých uživatelích shromažďují.
Komisařka EU pro hospodářskou soutěž Margrethe Vestagerová je hlavní zastánkyní evropského přístupu. Unii trvalo sedm let, než zformulovala žalobu proti Googlu. Po jejím úspěchu se však proces vytváření adekvátních regulací nesmírně urychlil. A díky úsilí Vestagerové začal navíc evropský přístup ovlivňovat i postoje v USA.
Je jen otázkou času, kdy se celosvětovou nadvládu amerických internetových společností podaří zlomit. Jejich zkázou se stanou regulace a zdanění pod vedením Vestagerové.
Z angličtiny přeložil Jiří Kobělka.