Het gevaar van de sociale media voor de samenleving en de veiligheid
MÜNCHEN – Het huidige moment in de wereldgeschiedenis is een pijnlijk moment. Open samenlevingen verkeren in crisis, en diverse vormen van dictaturen en maffiastaten, met het Rusland van Vladimir Poetin als voorbeeld, zijn in opkomst. In de Verenigde Staten zou president Donald Trump graag zijn eigen maffiastaat inrichten, maar dat kan hij niet, omdat de grondwet, andere instellingen en een krachtige civil society daar een stokje voor steken.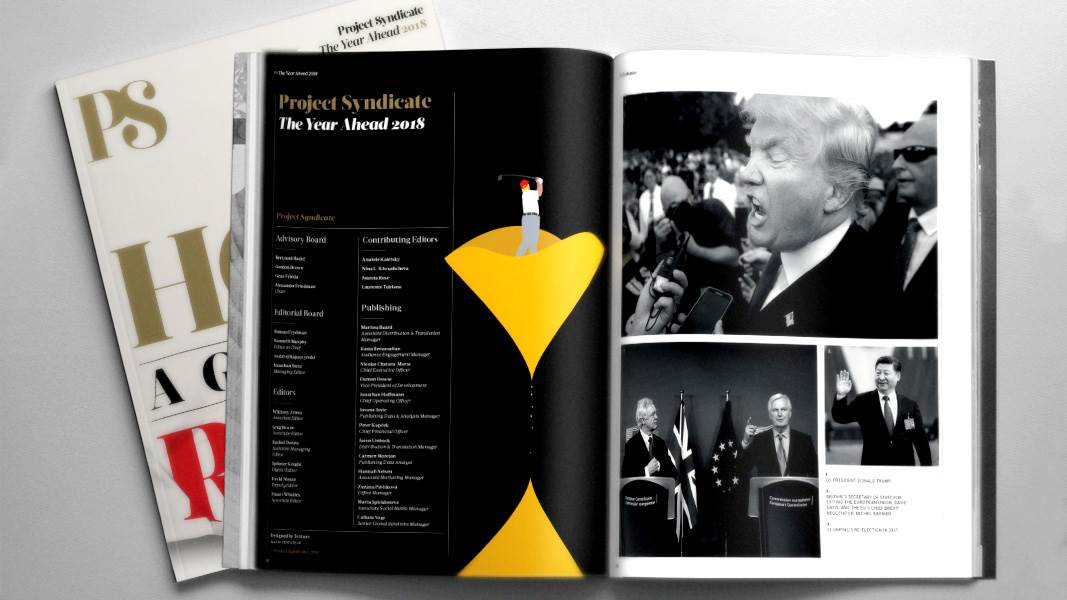 The Year Ahead 2018
The world's leading thinkers and policymakers examine what's come apart in the past year, and anticipate what will define the year ahead.
Niet alleen het overleven van de open samenleving staat op het spel, maar het overleven van onze hele beschaving als zodanig. De opkomst van leiders als Kim Jong-un in Noord-Korea en Trump in de VS heeft daar veel mee te maken. Beiden lijken bereid een kernoorlog te riskeren om zichzelf aan de macht te houden. Maar de grondoorzaak gaat zelfs nog dieper. Het vermogen van de mens om de krachten van de natuur te beheersen, zowel voor constructieve als voor destructieve doeleinden, blijft toenemen, terwijl ons vermogen om onszelf op ordentelijke wijze te regeren fluctueert en zich nu op een dieptepunt bevindt.
De opkomst en het monopolistische gedrag van de gigantische Amerikaanse internetplatformbedrijven dragen enorm bij aan de onmacht van de Amerikaanse regering. Deze bedrijven hebben dikwijls een innovatieve en bevrijdende rol gespeeld. Maar naarmate Facebook en Google steeds machtiger zijn geworden, hebben zij zich ontwikkeld tot obstakels voor vernieuwing, en een scala aan problemen veroorzaakt waarvan wij ons nu pas bewust beginnen te worden.
Bedrijven verdienen hun winsten door hun omgeving te exploiteren. Mijn- en oliebedrijven exploiteren hun fysieke omgeving; socialemediabedrijven exploiteren hun sociale omgeving. Dat is bijzonder verfoeilijk, want deze bedrijven beïnvloeden hoe mensen denken en zich gedragen, zonder dat ze dat in de gaten hebben. Dit staat het functioneren van de democratie en de integriteit van verkiezingen in de weg.
Omdat internetplatformbedrijven netwerken zijn, genieten zij stijgende marginale inkomsten, wat verantwoordelijk is voor hun fenomenale groei. Het netwerk-effect is waarlijk ongekend en transformatief, maar ook onhoudbaar. Het heeft Facebook acht en een half jaar gekost om een omvang van een miljard gebruikers te bereiken, en de helft van die tijd om daar een tweede miljard aan toe te voegen. In dit tempo zal Facebook in minder dan drie jaar geen mensen meer kunnen vinden die nog niet "bekeerd" zijn.
Facebook en Google controleren in feite ruim de helft van alle inkomsten die worden verdiend met digitale reclame. Om hun dominantie te behouden moeten zij hun netwerken uitbreiden en hun aandeel in de aandacht van gebruikers verhogen. Op dit moment doen zij dat door gebruikers van een makkelijk platform te voorzien. Hoe meer tijd gebruikers doorbrengen op dit platform, des te waardevoller zij voor deze bedrijven worden.
Omdat content providers (de aanbieders van inhoud) er niet aan kunnen ontkomen de platforms te gebruiken en de voorwaarden die zij opleggen te aanvaarden, dragen ook zij bij aan de winsten van de socialemediabedrijven. De uitzonderlijke winstgevendheid van deze bedrijven is grotendeels een functie van hun beleid om geen verantwoordelijkheid – en betaling – te aanvaarden voor de inhoud van hun platforms.
De bedrijven beweren dat ze alleen maar informatie distribueren. Maar het feit dat ze bijna-monopolies zijn maakt hen tot nutsbedrijven, die onderworpen zouden moeten worden aan strenger toezicht, gericht op het behoud van concurrentie, innovatie, en eerlijke en open toegang.
De werkelijke klanten van socialemediabedrijven zijn hun adverteerders. Maar er is geleidelijk aan een nieuw bedrijfsmodel ontstaan, dat niet alleen gebaseerd is op het maken van reclame, maar ook op het rechtstreeks aan gebruikers verkopen van producten en diensten. Deze bedrijven exploiteren de data die zij controleren, bundelen de diensten die zij aanbieden, en maken gebruik van prijsdiscriminatie om een groter deel van de voordelen te kunnen behouden die zij anders zouden moeten delen met de consumenten. Dit vergroot hun winstgevendheid nóg meer, maar de bundeling van diensten en de prijsdiscriminatie ondermijnen de doelmatigheid van de markteconomie.
Socialemediabedrijven misleiden hun gebruikers door hun aandacht te manipuleren, deze voor hun eigen commerciële doeleinden aan te wenden, en doelbewust verslaving te bewerkstelligen aan de diensten die zij aanbieden. Dit kan heel schadelijk zijn, vooral voor adolescenten.
Er is een overeenkomst tussen internetplatformbedrijven en gokbedrijven. Casino's hebben technieken ontwikkeld om hun klanten zó verslaafd te maken dat ze al hun geld vergokken, zelfs geld dat ze niet hebben.
Iets soortgelijks – en potentieel onomkeerbaars – gebeurt in ons digitale tijdperk ook met de menselijke aandacht. Dit is geen kwestie van louter afleiding of verslaving; socialemediabedrijven verleiden mensen er feitelijk toe hun autonomie op te geven. En deze macht om de aandacht van mensen vorm te geven is steeds meer geconcentreerd in de handen van een paar bedrijven.
Er zijn aanzienlijke inspanningen voor nodig om wat John Stuart Mill de vrijheid van de geest heeft genoemd hoog te houden en te verdedigen. Eenmaal prijsgegeven, kunnen degenen die in het digitale tijdperk zijn opgegroeid moeite hebben die vrijheid te herwinnen.
Dit heeft verreikende politieke gevolgen. Mensen zonder vrijheid van geest kunnen makkelijk worden gemanipuleerd. Dit gevaar dreigt niet alleen in de toekomst; het heeft al een belangrijke rol gespeeld bij de Amerikaanse presidentsverkiezingen van 2016.
Er is zelfs een nóg alarmerender perspectief: een bondgenootschap tussen autoritaire staten en grote IT-monopolies die rijk zijn aan data, waardoor ontluikende systemen van corporate surveillance op één noemer worden gebracht met reeds ontwikkelde systemen van state-sponsored surveillance. Dit kan heel goed resulteren in een web van totalitaire controle dat mensen als George Orwell zich niet eens hadden kunnen voorstellen.
De landen waar zulke "onzalige huwelijken" zich waarschijnlijk voor het eerst zullen manifesteren zijn Rusland en China. Vooral Chinese IT-bedrijven zijn volledig de gelijke van de Amerikaanse platforms. Ze genieten ook de volledige steun en bescherming van het regime van president Xi Jinping. De Chinese regering is sterk genoeg om zijn nationale kampioenen te beschermen, althans binnen de eigen grenzen.
Amerikaanse IT-monopolies zijn al in de verleiding gebracht om zichzelf te compromitteren teneinde toegang te verkrijgen tot deze grote, snelgroeiende markten. De dictatoriale leiders van deze landen werken misschien maar al te graag met hen samen, ten bate van het verbeteren van hun controlemechanismen over hun eigen bevolking en het uitbreiden van hun macht en invloed in de Verenigde Staten en de rest van de wereld.
Er is ook sprake van toenemende erkenning van een verband tussen de dominantie van de platformmonopolies en de groeiende ongelijkheid. De concentratie van aandelenbezit in de handen van een paar individuen speelt een rol, maar de bijzondere positie die wordt ingenomen door de IT-giganten is zelfs nog belangrijker. Zij hebben hun monopoliemacht verworven terwijl zij met elkaar concurreerden. Maar nu zijn ze groot genoeg om startups te verzwelgen die zich als concurrenten zouden kunnen ontplooien, en alleen zij hebben de middelen om elkaars territorium binnen te dringen.
De eigenaren van de plaformgiganten beschouwen zichzelf als de "meesters van het universum." Feitelijk zijn ze de slaven van het behoud van hun dominante positie. Zij zijn verwikkeld in een existentiële strijd om de nieuwe groeimarkten te kunnen domineren die door kunstmatige intelligentie worden geopend, zoals zelf-besturende auto's.
De impact van zulke innovaties op de werkgelegenheid hangt af van het overheidsbeleid. De Europese Unie, en met name de Scandinavische landen, zijn in hun sociale beleid veel vooruitziender dan de Verenigde Staten. Zij beschermen de werknemers, niet de banen. Zij zijn bereid te betalen voor het (her)opleiden of met pensioen laten gaan van werknemers die hun baan zijn kwijtgeraakt. Dit geeft werknemers in de Scandinavische landen een groter gevoel van veiligheid en zorgt ervoor dat ze welwillender staan tegenover technologische innovaties dan Amerikaanse werknemers.
De internetmonopolies hebben noch de wil noch de neiging om de samenleving te beschermen tegen de gevolgen van hun handelingen. Dat maakt ze tot een publiek gevaar, en het is de verantwoordelijkheid van de toezichthoudende autoriteiten om de samenleving tegen hen te beschermen. In de VS zijn de toezichthouders niet sterk genoeg om de politieke invloed van de monopolies het hoofd te kunnen bieden. De EU is daar beter toe in staat, omdat zij geen eigen platformgiganten kent.
De EU hanteert een andere definitie van monopoliemacht dan de VS. Waar de Amerikaanse rechtspleging zich vooral richt op monopolies die het gevolg zijn van overnames, verbiedt het Europees recht het misbruik van monopoliemacht, ongeacht hoe die is verkregen. Europa heeft veel krachtiger wetten op het gebied van de privacy- en data-bescherming dan Amerika.
Bovendien heeft het Amerikaans recht een vreemde doctrine omarmd die de veronderstelde schade meet in termen van de stijging van de prijs die klanten moeten betalen voor de ontvangen diensten. Maar dat is bijna onmogelijk te bewijzen, gezien het feit dat de meeste internetplatforms het grootste deel van hun diensten gratis ter beschikking stellen. Bovendien laat de doctrine de waardevolle data buiten beschouwing die platformbedrijven van hun gebruikers verkrijgen.
De Europees Commissaris voor het Mededingingsrecht, Margrethe Vestager, is de kampioen van de Europese aanpak. Het heeft de EU zeven jaar gekost om een zaak tegen Google in stelling te brengen. Maar als gevolg van haar succes heeft het proces van het inrichten van adequate reguleringsmechanismen een enorme versnelling ondergaan. Bovendien is de Europese aanpak, dankzij de inspanningen van Vestager, de houding van de VS gaan beïnvloeden.
Het is slechts een kwestie van tijd voordat de mondiale dominantie van de Amerikaanse internetbedrijven zal worden doorbroken. Regulering en belastingheffing, onder aanvoering van Vestager, zullen daarvoor zorgen.
Vertaling: Menno Grootveld