Armes à feu et violence : la responsabilité des républicains
BOSTON – Après la tuerie de masse perpétrée à Las Vegas, dans le Nevada, dimanche 1er octobre au soir, le chef de la majorité républicaine au Sénat s'adressait aux journalistes pour leur dire combien il était scandalisé : « Il est particulièrement inopportun de politiser un événement comme celui-ci, survenu voici à peine un jour et demi. »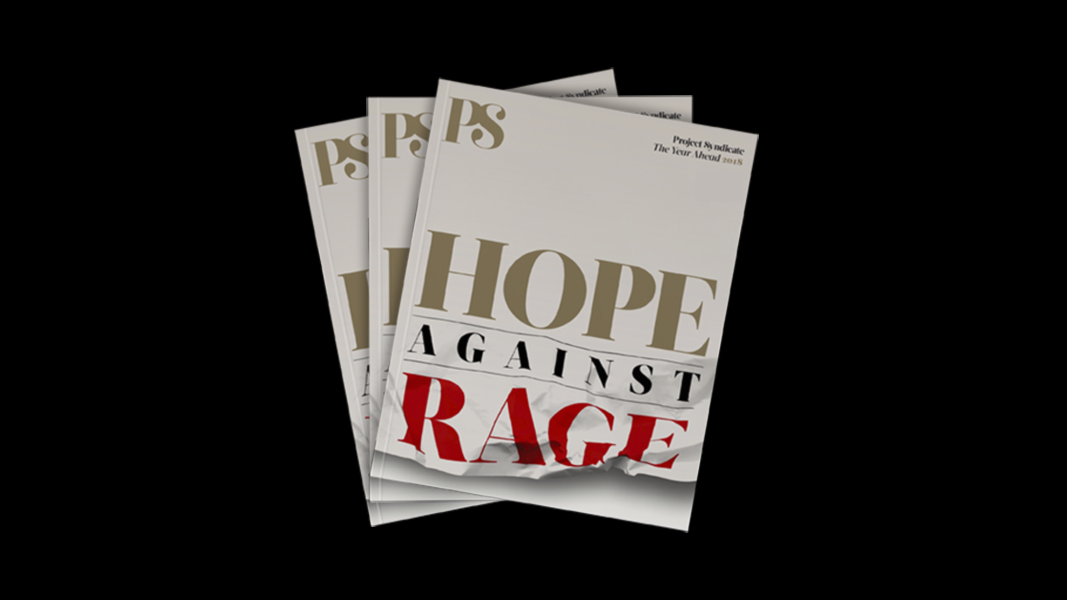 The Year Ahead 2018
The world's leading thinkers and policymakers examine what's come apart in the past year, and anticipate what will define the year ahead.
Alors que 59 personnes ont été tuées et plus de 500 blessées, McConnell a martelé qu'il était « entièrement prématuré d'envisager des solutions législatives » à l'épidémie de violences par armes à feu. La priorité législative de son parti, a-t-il ajouté, demeurerait les réductions d'impôt.
La réponse de McConnell est parfaitement alignée sur les positions prises par le parti républicain concernant les violences par armes à feu. Il est en revanche désespérant qu'aucun des journalistes rassemblés devant lui n'ait même tenté d'obtenir des explications sur ses déclarations.
Il n'aurait pas été déraisonnable de demander au chef de la majorité sénatoriale : « Si vous pensez qu'il est aujourd'hui trop tôt, quand croyez-vous que le moment viendra ? Pouvez-vous établir un calendrier ? » Il ne l'aurait pas été plus de remettre en question l'axiome d'une « politisation » de la tragédie par les démocrates. Crier à la politisation, tel est en effet le leitmotiv des républicains, depuis des décennies, après chaque massacre par armes à feu.
McConnell et ses collègues républicains devraient être tenus d'expliquer pourquoi ils ne veulent pas même envisager de solution politique au fléau des violences par armes à feu en Amérique ; au lieu de quoi on leur permet de poursuivre leur grossier manège, qui n'a qu'un but : éviter la question du contrôle des armes à feu. Et ils devraient répondre de leurs positions, qui traduisent un a priori, révélateur et qui fait froid dans le dos, contre tout débat au sujet des violences par armes à feu, assimilé automatiquement à une question de tactique politique, à une opportunité de marquer des points dans l'affrontement partisan, plutôt qu'à un problème de santé publique et aux politiques publiques que la prise en charge de ce problème devrait déterminer.
On pourrait affirmer que les fusillades de masse qui se sont répétées aux États-Unis au cours des dernières décennies sont toutes marquées du sceau républicain. Après chaque tragédie – ô combien prévisible –, le parti se mobilise pour bloquer toute législation susceptible de renforcer le contrôle sur les armes à feu. En 1996, le Congrès, où les républicains détenaient alors la majorité, est allé jusqu'à menacer de couper les crédits aux centres de contrôle et de prévention des maladies (Centers for Disease Control and Prevention – CDC) si jamais ils tentaient d'étudier le phénomène des violences par armes à feu. Jusqu'au massacre de Sandy Hook, en 2012, les CDC se virent contraints de renoncer à la conduite de toute recherche sur le sujet.
En guise de réponse à la fusillade de Las Vegas, Paul Ryan, le speaker républicain de la Chambre des représentants, écarte d'un revers de la main la question des armes à feu et oriente au contraire la tragédie vers un simple problème de santé mentale. Moyennant quoi il tente du bout des lèvres de vendre des réformes du système de santé mentale auxquelles les républicains auraient prétendument travaillé dans le passé.
Mais Ryan a préféré passer sous silence le vote de ses collègues républicains au Sénat (auxquels se sont joints quatre démocrates) en faveur de la suppression d'une disposition qui contraignait l'administration du régime des pensions de vieillesse et d'invalidité à tenir à jour un fichier des allocataires mentalement déficients à l'intention du système instantané de vérification d'antécédents criminels, le National Instant Criminal Background Check System (NICS). Ce vote a permis au président Donald Trump d'abroger la disposition en question, autorisant de fait des individus souffrant de troubles mentaux à faire sans la moindre entrave l'acquisition d'armes à feu.
Ryan n'a pas jugé plus souhaitable de rappeler que dans ses efforts répétés pour abroger la loi de 2010 sur les soins abordables (l'« Obamacare »), son parti a notamment proposé de couper les financements des programmes de santé mentale et de supprimer l'obligation faite aux compagnies d'assurance et à Medicaid de disposer d'un régime de couverture des soins de santé mentale.
Journalistes et experts semblent embarrassés lorsqu'il s'agit d'estimer qui, dans cette histoire si typiquement américaine, est coupable. Ils reportent sur le Congrès, sur les « élites de Washington » ou sur le système politique dans son ensemble l'échec du pays à régler le problème des violences par armes à feu. Mais à répartir aussi équitablement les torts, on les dilue, et l'on frôle l'« information mensongère ». Il est temps d'appeler un chat un chat : la responsabilité du parti républicain est écrasante.
Prenons la question des bump stocks, ces dispositifs qui s'adaptent au fusil, que le tueur de Las Vegas a utilisés, et qui permettent d'accélérer la cadence de tir. Certains sénateurs républicains s'attirent désormais des louanges pour avoir laissé entendre qu'ils soutiendraient leur interdiction. Mais lorsque la sénatrice démocrate Diane Feinstein, en 2013, a proposé cette même interdiction, les républicains s'y sont, à une immense majorité, opposés. Après des dizaines d'années d'opposition forcenée à la moindre tentative de contrôle des armes à feu, la concession minime des républicains concernant l'interdiction des bump stocks – qui n'aura pour conséquence que de ralentir un peu le rythme des tueries perpétrées avec des armes semi-automatiques – ne mérite pas tant d'éloges.
Certes, certains parlementaires démocrates et indépendants ont parfois uni leur voix à celle des républicains pour bloquer les tentatives de légiférer sur les armes à feu. Mais à une différence près, et elle est fondamentale : les démocrates qui se sont opposés au contrôle des armes à feu l'on fait en dépit du programme de leur parti, tandis que les républicains étaient quant à eux en conformité avec le leur. Entre les deux partis, le degré de culpabilité n'a donc pas de commune mesure. Pour en avoir la preuve, il suffit de remonter la piste de l'argent versé. Selon le Los Angeles Times, la National Rifle Association (la NRA, le puissant lobby des armes à feu) a donné en 2016 52,6 millions de dollars pour le financement des campagnes électorales, dont seulement 265 dollars – vous avez bien lu ! – sont allés à des candidats démocrates. McConnell, à lui seul, a reçu 1,3 million de dollars de la NRA.
Après le massacre de l'école primaire de Sandy Hook, en 2016, à Newtown, dans le Connecticut, lors duquel un tireur solitaire a assassiné 26 enfants et leurs professeurs, le sénateur Joe Manchin, un démocrate, a déposé une proposition de loi visant à rendre obligatoire le contrôle des antécédents de tout acheteur potentiel d'une arme à feu. L'amendement Manchin n'est pas parvenu à rassembler les soixante voix qu'il lui aurait fallu pour surmonter la procédure d'obstruction lancée à son encontre par les républicains. Quatre seulement des 54 sénateurs qui votèrent en faveur du projet de loi étaient républicains ; cinq seulement de ceux qui votèrent contre étaient démocrates.
Ce sont bien les tueurs de masse, comme Adam Lanza à Sandy Hook, Omar Mateen au dancing le Pulse à Orlando, en 2016, Stephen Paddock à Las Vegas et tant d'autres, qui appuient sur la gâchette. Mais le parti républicain est le complice politique de tous ces crimes. 
Traduction François Boisivon