Die Verantwortung der Republikaner für die Schusswaffengewalt
BOSTON – Nach dem Massenmord bei einem Konzert in Las Vegas (Nevada) am Sonntagabend äußerte der Vorsitzende der Republikanischen Mehrheitsfraktion im US-Senat, Mitch McConnell, gegenüber Reportern: "Es ist insbesondere unangemessen, ein Ereignis wie dieses zu politisieren. Es ist gerade mal anderthalb Tage her."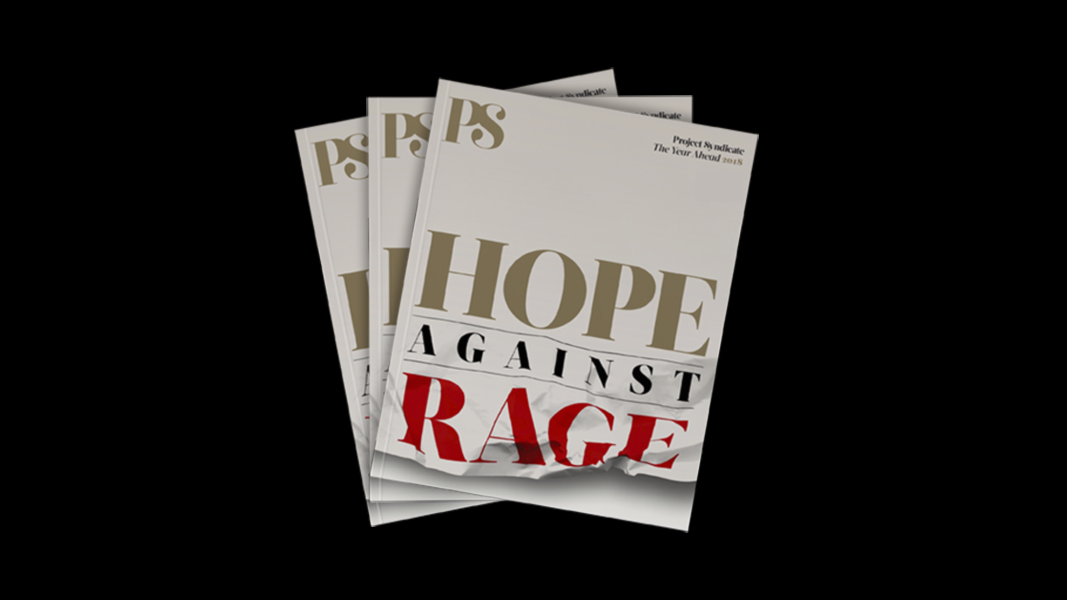 The Year Ahead 2018
The world's leading thinkers and policymakers examine what's come apart in the past year, and anticipate what will define the year ahead.
Angesichts von 59 Toten und mehr als 500 Verletzten beharrte McConnell darauf, es sei in Bezug auf Amerikas Epidemie der Schusswaffengewalt "völlig verfrüht, gesetzgeberische Lösungen zu diskutieren". Für seine Partei, so fügte er hinzu, hätten weiterhin Steuersenkungen gesetzgeberische Priorität.
McConnells Reaktion liegt mit der Haltung der Republikanischen Partei zur Schusswaffengewalt völlig auf einer Linie. Es ist jedoch entmutigend, dass keiner der vor McConnell versammelten Reporter auch nur versuchte, diese Position gegenüber McConnell in Frage zu stellen.
Es wäre nicht unvernünftig gewesen, den Vorsitzenden der Mehrheitsfraktion im Senat zu fragen: "Wenn Sie der Ansicht sind, dass das jetzt noch verfrüht ist, wann wäre dann ihrer Meinung nach der richtige Zeitpunkt? Könnten Sie einen Fahrplan hierfür vorlegen?" Auch wäre es nicht unangemessen gewesen, die Prämisse in Frage zu stellen, dass die Demokraten eine Tragödie "politisieren". Schließlich ist der Vorwurf der Politisierung seit Jahrzehnten nach jedem Massaker mit Schusswaffen die Standardreaktion der Republikaner.
Statt McConnell und seine Republikanischen Kollegen weiterhin mit ihren durchsichtigen Bemühungen durchkommen zu lassen, dem Thema Schusswaffenkontrolle aus dem Weg zu gehen, sollte man sie zwingen, zu erklären, warum sie nicht bereit sind, politische Lösungen für die Geißel der Schusswaffengewalt in Amerika auch nur zu diskutieren. Und man muss sie zur Rechenschaft ziehen für ihre Positionen, die den ebenso vielsagenden wie verstörenden Instinkt widerspiegeln, jede Diskussion über Schusswaffengewalt als Gelegenheit zu sehen, parteipolitisch Punkte zu sammeln, und nicht, als solche zur Thematisierung von politischen Strategien und Fragen der öffentlichen Sicherheit.
Es lässt sich argumentieren, dass die wiederholten Massenmorde mit Schusswaffen in den USA während der vergangenen Jahrzehnte alle einen Republikanischen Stempel trugen. Nach jeder (vorhersehbaren) Tragödie macht die Partei mobil, um alle Gesetzesmaßnahmen zu blockieren, die die Schusswaffenkontrolle stärken könnten. Im Jahr 1996 ging der von den Republikanern kontrollierte Kongress so weit, zu drohen, er würde den Centers for Disease Control and Prevention die finanziellen Fördermittel entziehen, wenn sie auch nur versuchten, die Schusswaffengewalt zu untersuchen. Bis zum Sandy-Hook-Massaker des Jahres 2012 war die Behörde gezwungen, jede derartige Forschung zu unterlassen.
Die Reaktion von Paul Ryan, dem Republikanischen Sprecher des Repräsentantenhauses, auf das Massaker von Las Vegas bestand bisher darin, das Thema Schusswaffen abzublocken und die Tragödie stattdessen primär als Problem der psychischen Gesundheit darzustellen. Entsprechend propagiert Ryan schwer atmend Reformen des Systems für die psychische Gesundheit, an denen die Republikaner angeblich in der Vergangenheit gearbeitet hätten.
Allerdings ließ Ryan lieber unerwähnt, dass seine Republikanischen Kollegen (und vier Demokraten) im Senat für die Aufhebung einer Bestimmung votierten, die die Social Security Administration zur Meldung der Namen geistig behinderter Sozialversicherungsempfänger an das National Instant Criminal Background Check System verpflichtete. Nach diesem Votum setzte US-Präsident Donald Trump die Regel außer Kraft, was es geistig Behinderten erlaubt, ungehindert tödliche Schusswaffen zu erwerben.
Ryan versäumte außerdem zu erwähnen, dass zu den wiederholten Bemühungen seiner Partei zur Abschaffung des Affordable Care Act von 2010 ("Obamacare") auch Pläne gehörten, Programmen zur Förderung der psychischen Gesundheit die Finanzmittel zu streichen sowie eine Bestimmung aufzuheben, die Versicherungsunternehmen und Medicaid zur Behandlung psychischer Erkrankungen verpflichtet.
Journalisten und Kommentatoren neigen dazu, bei der Bewertung der Schuldfrage in dieser unverwechselbar amerikanischen Geschichte konkrete Festlegungen zu vermeiden. Sie geben für das Versäumnis, das Problem der Schusswaffengewalt in Amerika zu bekämpfen, dem Kongress, dem "Washingtoner Establishment" oder dem politischen System als Ganzem die Schuld. Eine derartige künstliche Unparteilichkeit läuft auf "Fake News" hinaus. Es ist Zeit, die Dinge beim Namen zu nennen: Überwiegend verantwortlich ist die Republikanische Partei.
Man betrachte das Problem der "Bump Stocks", jener Vorrichtung, die der Täter beim Massaker von Las Vegas einsetzte, um schneller feuern zu können. Einige Republikanische Senatoren wurden jetzt dafür gelobt, dass sie ihre Unterstützung für ein Verbot dieses Geräts angedeutet haben. Doch als die Demokratische Senatorin Diane Feinstein 2013 ein ähnliches Verbot vorschlug, leistete die überwältigende Mehrheit der Republikaner Widerstand. Nach Jahrzehnten eines derart eisernen Widerstandes gegen alles, was nur entfernt nach Schusswaffenkontrolle aussah, sollte das geringfügige Maß an Flexibilität, das die Republikaner nun in Bezug auf ein Verbot von Bump Stocks zeigen – welches das Töten mit halbautomatischen Waffen ein wenig langsamer machen würde –, kein Grund für hohes Lob sein.
Natürlich haben sich gelegentlich einige Demokratische und parteilose Abgeordnete im Kongress den Republikanern angeschlossen, um Gesetze zur Kontrolle von Schusswaffen zu blockieren. Doch es gibt einen grundlegenden Unterschied: Demokraten, die sich der Kontrolle von Schusswaffen widersetzen, tun dies unter Missachtung des offiziellen Programms ihrer Partei. Republikaner, die dies tun, handeln im Einklang mit ihrem Parteiprogramm. Infolgedessen ist das Schuldmaß beider Parteien nicht annähernd ähnlich. Zum Beweis hierfür muss man nur der Spur des Geldes folgen. Laut der Los Angeles Times spendete die National Rifle Association (NRA) 2016 52,6 Millionen für den Wahlkampf. Davon gingen gerade mal 265 Dollar – ja, Sie haben richtig gelesen – an Demokratische Kandidaten. McConnell erhielt allein 2016 1,3 Millionen Dollar von der NRA.
Nach dem Massaker an der Sandy Hook Elementary School in Newtown, Connecticut, im Jahr 2012, bei dem ein Einzeltäter 26 Schulkinder und ihre Lehrer ermordete, brachte Senator Joe Manchin (ein Demokrat) eine Gesetzesvorlage ein, um generelle Überprüfungen des Vorstrafenregisters für alle gewerblichen Schusswaffenkäufe vorzuschreiben. Die Manchin-Vorlage schaffte es nicht, auf jene 60 Stimmen zu kommen, die erforderlich gewesen wären, um ein Republikanisches Filibuster abzuwenden. Nur vier der 54 Senatoren, die für die Gesetzesvorlage stimmten, waren Republikaner; nur fünf der 46 Senatoren, die dagegen stimmten, waren Demokraten.
Massenmörder wie Adam Lanza in Sandy Hook, Omar Mateen im Pulse-Nachtclub in Orlando 2016, Stephen Paddock in Las Vegas und zahllose anderen haben den Abzug betätigt. Aber die Republikanische Partei war bei all diesen mörderischen Taten als politischer Komplize beteiligt.
Aus dem Englischen von Jan Doolan