¿Puede Ramaphosa recomponer Sudáfrica?
,
WASHINGTON, DC – La victoria de Cyril Ramaphosa en la contienda de diciembre para liderar el Congreso Nacional Africano (CNA), el partido gobernante de Sudáfrica, fue un repudio contundente al presidente Jacob Zuma. Ahora, casi con certeza, Ramaphosa será electo presidente de Sudáfrica en 2019 -si no antes-. Ha prometido estimular la moribunda economía del país e implementar una agenda anticorrupción de amplio alcance.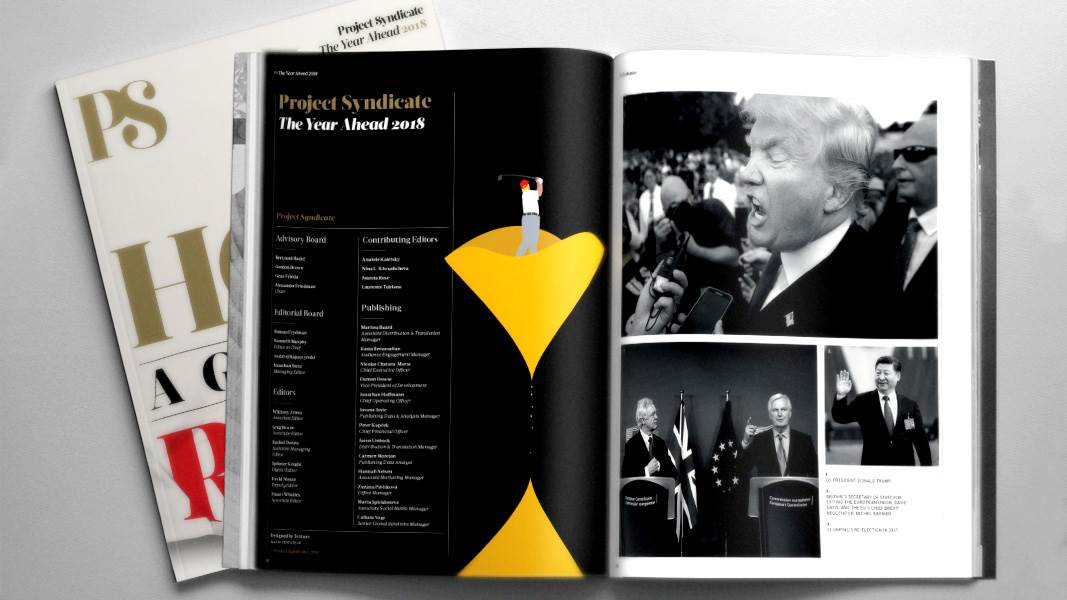 The Year Ahead 2018
The world's leading thinkers and policymakers examine what's come apart in the past year, and anticipate what will define the year ahead.
La cuestión clave, sin embargo, es cuánto impacto tendrá el cambio en la cima en la turbulenta democracia de Sudáfrica.
Es poco probable que Ramaphosa pueda hacer milagros. Primero, enfrenta el desafío de reformar su propio partido. La identidad del CNA como el partido que liberó a Sudáfrica del flagelo del apartheid en 1994 le ha permitido ganar cada elección desde entonces. Sin embargo, hoy el CNA es acusado de ineficacia y decadencia moral, y sufrió derrotas sin precedentes ante el opositor Alianza Democrática en zonas urbanas en las elecciones locales de 2016.
Los miembros desilusionados del CNA pueden ser fuertes aliados para los intentos de reforma de Ramaphosa; fueron lo suficientemente fuertes como para elegirlo por sobre el candidato preferido de Zuma, su ex esposa y ex presidenta de la Comisión de la Unión Africana Nkosazana Dlamini-Zuma. Pero, como en muchos países, desde Irán hasta Rusia, los votantes urbanos jóvenes que exigen un cambio se enfrentan a los votantes rurales de más edad, el núcleo de la base del CNA. Es poco probable que estos votantes se vuelquen en contra del partido, amortiguando así cualquier amenaza existencial a su predominio en las urnas y desalentando los esfuerzos de reforma.
El mayor desafío al que se enfrenta Ramaphosa proviene del propio estado. Debe encarar la decadencia estructural alimentada en el gobierno de Zuma. Las redes de clientelismo y corrupción de Sudáfrica se han vuelto tan endémicas que el término "captura del estado" -acuñado por el Banco Mundial para describir a los estados post-soviéticos de Asia central donde los oligarcas cooptaban a las instituciones públicas para rédito personal- se usa de modo generalizado.
La captura del estado de Sudáfrica está profundamente arraigada. El país es una democracia, a pesar de todos sus defectos, con instituciones complejas. A diferencia de una dictadura férreamente controlada, si se la decapita, no se matará al monstruo.
Para cooptar tantos intereses, las redes tentaculares de clientelismo de Zuma deben atravesar muchas capas de burocracia y jerarquías empresariales. Disolver esta conglomeración lucrativa en un momento en que la economía tiene poco más para ofrecer a las multitudes de empleados públicos y trabajadores -el desempleo actualmente está en casi el 28%- será difícil e impopular.
Es más, Zuma está debilitado pero no acabado. Ramaphosa ganó la pelea por el liderazgo por un estrecho margen, y su vicepresidente, David Mabuza, y secretario general de CNA, Ace Magashule, son acólitos de Zuma.
La facción de Zuma también ha retenido teóricamente el control del Comité Ejecutivo Nacional de 86 miembros del CNA. Si bien las lealtades de algunos miembros hoy parecen cambiar continuamente, el Comité fue vital a la hora de proteger a Zuma de intentos previos de removerlo.
Finalmente, el propio Ramaphosa bien puede estar en conflicto. En su rol de arquitecto clave del acuerdo que puso fin al régimen del apartheid, demostró ser un negociador extraordinario. Todo indicaba que iba a ser el vicepresidente de Nelson Mandela cuando Mandela se convirtió en el primer presidente post-apartheid de Sudáfrica, pero hizo un paso al costado cuando se lo pidieron, demostrando pragmatismo y paciencia.
Pero también es claramente un producto del sistema del CNA. Amasó su gran fortuna de la mano de los programas de Empoderamiento Económico Negro del CNA en los años 1990. Si bien se lo considera honesto a pesar de su estilo de vida extravagante, por cierto se ha beneficiado del clientelismo del CNA.
Suponiendo que Ramaphosa tiene la determinación, la destreza política y el respaldo como para impulsar un cambio arrasador, no estará sólo. Algunas de las instituciones de Sudáfrica -entre ellas el poder judicial y el defensor del pueblo- han demostrado ser resilientes frente a la inmensa presión para someterse a la agenda de Zuma.
El 29 de diciembre, la Corte Constitucional le dio un gran impulso a quienes quieren que Zuma sea removido del cargo antes de que termine su mandato en 2019. La corte dictaminó que el Parlamento no le había exigido cuentas al presidente por un escándalo vinculado a fondos desviados del estado. Los jueces exigieron que la Asamblea Nacional considerara un juicio político.
La estatura moral de las cortes las convierte en un aliado importante en los esfuerzos por depurar la política sudafricana. Pero es improbable que un juicio político, un proceso largo y dificultoso, conduzca a la destitución de Zuma mucho antes de terminar el mandato.
El otro camino para consolidar la posición de Ramaphosa es un voto de no confianza dentro del Comité Ejecutivo Nacional. Pero, en una clara señal de su debilidad actual, Zuma pudo conseguir que no se incluyera una moción de no confianza en la agenda del Comité a comienzos de este mes, solo haciendo una concesión importante: permitir una investigación de la captura del estado que venía bloqueando desde hace más de un año. Sus propios vínculos con la familia Gupta, vinculada a una infinidad de escándalos, aparecerán de manera prominente.
El comité ejecutivo nacional del CNA ha debatido establecer un proceso para garantizar la renuncia de Zuma, que los seguidores de Ramaphosa quieren en el lapso de semanas. Pero aún no se ha especificado una fecha. Dada la astucia política de Zuma, bien podría prolongar el proceso por muchos meses. De todos modos, sus días están contados.
Ramaphosa, por su parte, ha advertido que Zuma nunca debería ser humillado. Su conocimiento de que el poder dentro del CNA es "una cuestión muy delicada" es elocuente. Entiende perfectamente las limitaciones que enfrenta.
La comunidad internacional puede desempeñar un papel importante al respaldar a Ramaphosa. El escenario clásico es esperar demasiado de un nuevo líder y luego desilusionarse cuando no cumple rápidamente con sus promesas. Si los inversores y accionistas internacionales que respaldan su agenda son demasiado impacientes, no podrá generar el crecimiento económico que impulsará su respaldo entre los votantes sudafricanos.
La victoria de Ramaphosa es una señal importante de que muchos dentro del CNA entienden que deben cambiar o corren el riesgo de ser recordados como el partido que permitió que unos pocos avarientos liquidaran el país. Pero el cambio será lento y difícil. Se espera que Ramaphosa gane una partida de apuestas elevadas con una mano regular. Los votantes sudafricanos y el mundo observante deben entender que es poco probable que sus opositores se replieguen rápidamente.