Kann Ramaphosa Südafrika auf Vordermann bringen?
,
WASHINGTON, DC – Cyril Ramaphosas Sieg im Kampf um den Vorsitz des in Südafrika regierenden Afrikanischen Nationalkongresses (ANC) im Dezember war eine deutliche Absage an Präsident Jacob Zuma. Ramaphosa wird 2019 – wenn nicht schon früher - beinahe sicher als Südafrikas Präsident gewählt werden. Er versprach, die moribunde Wirtschaft des Landes anzukurbeln und eine weitreichende Agenda gegen Korruption umzusetzen.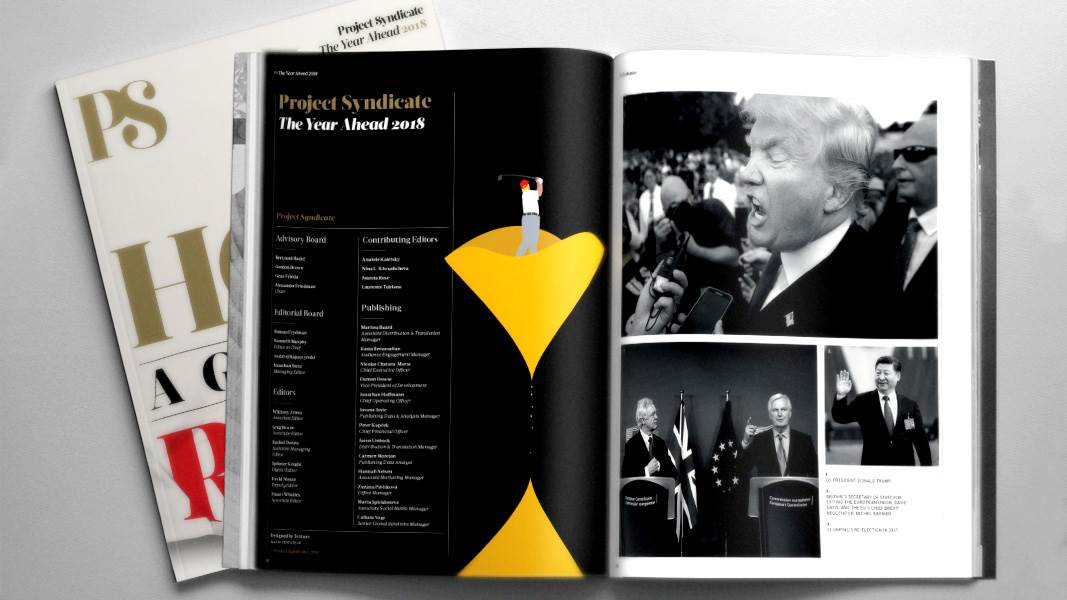 The Year Ahead 2018
The world's leading thinkers and policymakers examine what's come apart in the past year, and anticipate what will define the year ahead.
Die Schlüsselfrage lautet allerdings, in welchem Maße sich Veränderungen an der Spitze auf die krisengeschüttelte Demokratie in Südafrika auswirken werden.
Ramaphosa wird wohl keine Wunder vollbringen. Zunächst steht er vor der Herausforderung, seine eigene Partei zu reformieren. Die Identität des ANC als Partei, die Südafrika 1994 von der Geißel der Apartheid befreite, hat ihr seit diesem Zeitpunkt bei jeder Wahl zur Stimmenmehrheit verholfen. Heute jedoch wird der ANC sowohl der Untauglichkeit als auch des moralischen Verfalls bezichtigt und er verlor bei Lokalwahlen im Jahr 2016 in beispielloser Weise Stimmen an die Oppositionspartei Demokratische Allianz.
Enttäuschte ANC-Mitglieder könnten für Ramaphosas Reformvorhaben starke Verbündete abgeben; sie waren schließlich mächtig genug, ihn gegenüber Zumas Wunschkandidatin - seiner Ex-Frau und früheren Kommissionsvorsitzenden der Afrikanischen Union, Nkosazana Dlamini-Zuma – vorzuziehen. Aber wie in so vielen Ländern vom Iran bis Russland stellen sich junge, auf Veränderungen drängende Wähler aus den Städten gegen ältere Wähler aus ländlichen Gebieten, den Kernbereichen der ANC-Basis. Diese ländliche Wählerschaft wird sich wahrscheinlich nicht gegen die Partei wenden und diese so vor jeder existenziellen Bedrohung ihrer Vorherrschaft an der Wahlurne bewahren sowie auch Reformbemühungen dämpfen.  
Die größere Herausforderung für Ramaphosa hat ihren Ursprung im Staat selbst. Er muss den unter Zuma begünstigten strukturellen Verfall in Angriff nehmen. Südafrikas Netzwerke der Günstlingswirtschaft und der Korruption sind mittlerweile so vorherrschend, dass der Ausdruck "State Capture" nun in aller Munde ist –  ein von der Weltbank geprägter Begriff zur Beschreibung  postsowjetischer Staaten in Zentralasien, wo Oligarchen öffentliche Institutionen für ihren persönlichen Profit vereinnahmten.
Diese State Capture ist in Südafrika tief verwurzelt. Trotz aller Mängel ist das Land eine Demokratie mit komplexen Institutionen. Anders als in einer streng kontrollierten Diktatur reicht es nicht, dem Monster einfach den Kopf abzuschlagen.
Um so viele Interessen zu vereinnahmen, müssen Zumas tentakelartige Netzwerke der Günstlingswirtschaft zahlreiche Schichten der Bürokratie und der Wirtschaftshierarchien durchdringen. Die Auflösung dieser lukrativen Verquickungen zu einer Zeit, da die Wirtschaft den Scharen an Beamten und Arbeitnehmern wenig zu bieten hat – die Arbeitslosigkeit beträgt derzeit beinahe 28 Prozent – wird schwierig und unbeliebt.  
Überdies ist festzustellen, dass Zuma zwar geschwächt, aber nicht von der Bildfläche verschwunden ist. Ramaphosa gewann die Wahl zum Vorsitzenden mit knappem Vorsprung und seine gewählten Stellvertreter David Mabuza und ANC-Generalsekretär Ace Magashule sind Gefolgsleute Zumas.
Außerdem hat Zumas Fraktion nominell auch die Kontrolle über das 86 Mitglieder umfassende Nationale Exekutivkomitee (NEC) des ANC. Obwohl sich die Loyalitäten einiger Mitglieder mittlerweile offenbar ändern, war das NEC federführend bei der Abwehr früherer Versuche, Zuma von der Spitze des ANC zu entfernen. 
Schließlich könnte Ramaphosa selbst auch in einem Interessenkonflikt stehen. Als federführender Architekt des Abkommens zur Beendigung des Apartheid-Regimes erwies er sich als meisterhafter Verhandler. Er galt als Favorit für den Posten als Mandelas Stellvertreter, als dieser erster Präsident Südafrikas nach der Apartheid wurde. Doch als man Ramaphosa darum bat, machte er den Platz frei und legte damit Pragmatismus und Geduld an den Tag.
Auf der anderen Seite ist er aber auch in hohem Maße ein Produkt des Systems ANC. Sein großes Vermögen ist praktisch gleichbedeutend mit einem Geschenk der wirtschaftlichen Hilfsprogramme des ANC in den 1990er Jahren. Obwohl er trotz seines aufwändigen Lebensstils als sauber betrachtet wird, profitierte er mit Sicherheit von der Günstlingswirtschaft des ANC.  
Angenommen Ramaphosa verfügte über die Entschlossenheit, das politische Geschick und die Unterstützung für weitreichende Veränderungen, so stünde er nicht alleine da.  Einige Institutionen Südafrikas – wie etwa die Justiz und die Ombudsstelle Public Protector – haben sich trotz immensen Drucks, vor Zumas Agenda zu kapitulieren, als durchaus widerstandsfähig erwiesen. 
Am 29. Dezember gab der Verfassungsgerichtshof denjenigen Anlass zur Hoffnung, die Zuma noch vor dem Ende seiner Amtszeit im Jahr 2019 aus dem Amt entfernt sehen wollen. Das Gericht urteilte, das Parlament hätte es verabsäumt, den Präsidenten aufgrund eines Skandals um veruntreute Geldmittel zur Verantwortung zu ziehen. Die Richter forderten die Nationalversammlung auf, eine Amtsenthebung in Erwägung zu ziehen.
Die moralische Autorität der Gerichtshöfe lässt diese zu wichtigen Verbündeten im Kampf um die Beseitigung unsauberer Methoden in der südafrikanischen Politik werden. Eine Amtsenthebung ist allerdings ein langwieriger und aufreibender Prozess und es wäre unwahrscheinlich, dass Zuma sein Amt verliert, bevor seine Amtszeit ohnehin ausläuft.
Die andere Möglichkeit zur Konsolidierung der Position Ramaphosas ist ein Misstrauensvotum innerhalb des NEC. Doch Anfang dieses Monats konnte Zuma einen Antrag auf ein Misstrauensvotum von der Agenda des NEC fernhalten, indem er nur ein Zugeständnis machte: er genehmigte Untersuchungen zur "State Capture", die er über ein Jahr lang blockiert hatte – ein klares Zeichen seiner derzeitigen Schwäche. Seine eigenen Verbindungen mit der skandalumwitterten Familie Gupta werden dabei eine prominente Rolle spielen.
Das Nationale Exekutivkomitee des ANC diskutierte darüber, einen Prozess in Gang zu setzen, um Zumas Rücktritt zu erwirken, den Ramaphosas Anhänger innerhalb von Wochen sehen möchten. Allerdings wurde noch kein Zeitplan erarbeitet. Angesichts des politischen Scharfsinns Zumas könnte er diesen Prozess um viele Monate verlängern. Seine Tage sind dennoch gezählt.
Ramaphosa seinerseits hat davor gewarnt, Zuma zu demütigen. Ramaphosas Erkenntnis, die Macht im ANC sei eine "überaus heikle Angelegenheit", ist bezeichnend. Er versteht die Zwänge, mit denen er konfrontiert ist, nur allzu gut.
Die internationale Gemeinschaft kann eine Rolle bei der Unterstützung Ramaphosas spielen. Das klassische Szenario besteht darin, sich von einer neuen Führungsperson zu viel zu erwarten und anschließend ernüchtert zu sein, wenn diese es nicht schafft, ihren Versprechen gerecht zu werden. Wenn internationale Investoren und Interessensgruppen, die Ramaphosas Agenda unterstützen, sich zu ungeduldig zeigen, wird er es nicht schaffen, jenes Wirtschaftswachstum herbeizuführen, das ihm die Unterstützung der südafrikanischen Wähler sichert. 
Ramaphosas Sieg ist ein wichtiges Zeichen, dass viele innerhalb des ANC die Zeichen der Zeit verstehen: es muss entweder ein Wandel eintreten oder man Gefahr läuft, als Partei in Erinnerung zu bleiben, die es wenigen Habgierigen ermöglichte, das Land zu verkaufen.  Der Wandel wird jedoch langsam über die Bühne gehen und schwierig zu bewerkstelligen sein. Man rechnet damit, dass Ramaphosa ein riskantes Spiel mit mittelmäßigem Blatt gewinnen wird. Die südafrikanischen Wähler und die Welt müssen verstehen, dass seine Gegner aber wahrscheinlich nicht so schnell aus dem Spiel aussteigen.
Aus dem Englischen von Helga Klinger-Groier