Ramaphosa peut-il sauver l'Afrique du Sud ?
,
WASHINGTON, DC – La victoire de Cyril Ramaphosa au mois de décembre dans la course à la direction du Congrès national africain (ANC), parti au pouvoir en Afrique du Sud, a révélé une volonté retentissante de voir partir le président Jacob Zuma. Il est désormais quasi-certain que Ramaphosa sera élu président de l'Afrique du Sud en 2019 – si ce n'est avant cela. L'homme politique a promis de stimuler l'économie moribonde du pays, et d'appliquer un vaste programme de lutte contre la corruption.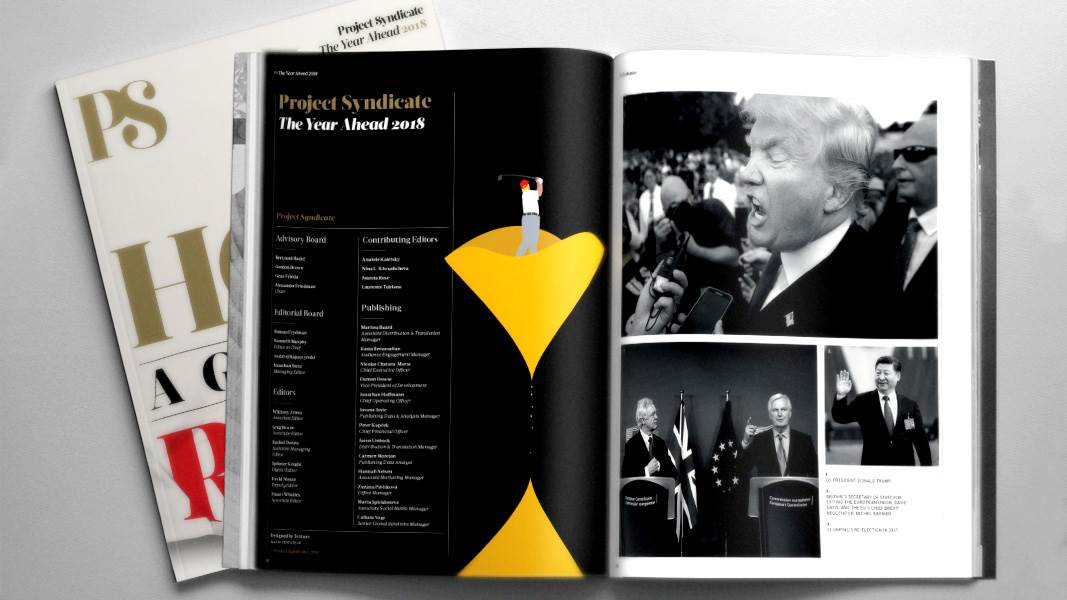 The Year Ahead 2018
The world's leading thinkers and policymakers examine what's come apart in the past year, and anticipate what will define the year ahead.
La question majeure est néanmoins de savoir quel impact ce changement au plus haut niveau exercera sur une démocratie sud-africaine en difficulté.
Ramaphosa ne fera sans doute pas de miracles. Il est tout d'abord confronté au défi consistant à réformer son propre parti. L'identité de l'ANC en tant que parti libérateur de l'Afrique du Sud contre le fléau de l'apartheid en 1994 lui a permis de remporter toutes les élections depuis cette année-là. Seulement voilà, l'ANC est aujourd'hui accusé d'incompétence, de déclin moral, et a essuyé plusieurs défaites sans précédent face à l'Alliance démocratique d'opposition au sein de zones urbaines, dans le cadre d'élections locales en 2016.
Les membres les plus déçus de l'ANC sont susceptibles de constituer de solides alliés des efforts de réforme de Ramaphosa. Ils se sont en effet montrés suffisamment puissants pour le faire élire contre la candidate favorite de Zuma, qui n'était autre que son ex-épouse et ancienne présidente de la Commission de l'Union africaine, Nkosazana Dlamini-Zuma. Néanmoins, comme c'est le cas dans de nombreux pays allant de l'Iran à la Russie, les jeunes électeurs urbains qui aspirent au changement se heurtent aux électeurs plus âgés des campagnes, qui constituent le cœur de la base électorale de l'ANC. Il est peu probable que ces derniers se retournent contre le parti, ce qui minimise tout risque de menace existentielle pour la domination de l'ANC dans les urnes, et entrave par conséquent les efforts de réforme.
Le défi plus large auquel est confronté Ramaphosa réside dans l'État lui-même. Le dirigeant politique va en effet devoir remédier au déclin structurel apparu sous l'ère Zuma. En Afrique du Sud, les réseaux de clientélisme et de corruption sont devenus si endémiques que le terme « captation de l'État » – formulé par la Banque mondiale pour décrire les pays post-soviétiques d'Asie centrale au sein desquels les oligarques se sont approprié les institutions publiques à des fins d'enrichissement personnel – est devenu largement utilisé.
La captation de l'État sud-africain est un phénomène profondément ancré. Malgré toutes ses failles, le pays est une démocratie, dotée d'institutions complexes. Contrairement à ce qu'il se passe dans une dictature étroitement contrôlée, trancher une tête ne suffira pas à tuer le monstre.
S'ils parviennent à favoriser de si nombreux intérêts, c'est certainement que les réseaux népotistes tentaculaires de Zuma atteignent d'innombrables niveaux de bureaucratie et de hiérarchie dans les entreprises. Il sera difficile et impopulaire de dissoudre cet ensemble d'arrangements lucratifs, à l'heure où l'économie n'a guère d'autre chose à offrir aux différents travailleurs et fonctionnaires – dans un pays où le taux de chômage s'élève actuellement à près de 28 %.
Par ailleurs, bien que Zuma soit affaibli, il n'est pas encore totalement parti. Ramaphosa a gagné ses fonctions de direction par une faible marge, sachant par ailleurs que son adjoint élu David Mabuza et le secrétaire général de l'ANC, Ace Magashule, sont proches de Zuma.
En outre, le camp Zuma a théoriquement conservé le contrôle du Comité exécutif national de l'ANC, composé de 86 membres. Bien que les allégeances de certains de ses membres semblent actuellement changeantes, le CEN s'est révélé indispensable à la protection de Zuma contre de précédentes tentatives visant à l'évincer.
Enfin, Ramaphosa pourrait bien lui-même se retrouver tiraillé. En tant qu'architecte majeur de l'accord ayant mis fin au régime de l'apartheid, il a prouvé qu'il était un formidable négociateur. Ramaphosa avait été donné gagnant au poste d'adjoint de Nelson Mandela lorsque celui-ci est devenu le premier président de l'Afrique du Sud après l'apartheid, mais il avait reculé lorsqu'on le lui avait demandé, ce qui démontre son pragmatisme et sa patience.
Mais Ramaphosa est également un pur produit du système de l'ANC. Les programmes de discrimination positive de l'ANC dans les années 1990 ne sont pas étrangers à son importante fortune. Bien qu'il soit considéré comme honnête malgré un mode de vie extravagant, Ramaphosa a lui-même certainement bénéficié du clientélisme de l'ANC.
À supposer que Ramaphosa ait la détermination, la compétence politique et le soutien nécessaires pour opérer un changement radical, il n'aura pas totalement les mains libres. Certaines des institutions sud-africaines – dont la justice et le médiateur de la République – ont prouvé leur résistance face à d'immenses pressions visant à leur faire accepter l'agenda de Zuma.
Le 29 décembre, la Cour constitutionnelle a tempéré les ardeurs de ceux qui souhaitent voir Zuma partir avant la fin de son mandat en 2019. Le tribunal a considéré que le Parlement avait échoué à prouver la responsabilité du président dans un scandale concernant le détournement de fonds publics. Les juges ont demandé à l'Assemblée nationale d'envisager plutôt une destitution.
La stature morale des tribunaux en fait un allié important des efforts d'assainissement de la politique en Afrique du Sud. Il est néanmoins peu probable que la longue et périlleuse procédure d'impeachment aboutisse au départ de Zuma bien avant la fin de son mandat.
L'autre voie possible vers la consolidation de la position de Ramaphosa consisterait en une motion de censure au sein du CEN. Seulement, faisant apparaître clairement sa fragilité du moment, Zuma est parvenu ce mois-ci à exclure toute motion de censure de l'agenda du CEN, en faisant pour cela une seule concession majeure : autoriser une enquête autour de la captation de l'État, à laquelle il s'opposait depuis plus d'un an. Ainsi, ses propres liens avec la famille Gupta, coutumière des scandales, devraient apparaître au grand jour.
Le Comité exécutif national de l'ANC a débattu de la mise en œuvre d'une procédure visant à garantir la démission de Zuma, que les soutiens de Ramaphosa souhaitent d'ici quelques semaines. Or, aucun calendrier n'a été fixé. Zuma étant très habile politiquement, il pourrait bien prolonger cette procédure sur plusieurs semaines. Quoi qu'il en soit, ses jours sont comptés.
De son côté, Ramaphosa recommande la prudence et ne souhaite pas voir Zuma humilié. Sa reconnaissance du fait que le pouvoir au sein de l'ANC constitue une « question très délicate » est tout à fait révélatrice. Ramaphosa a clairement conscience des contraintes auxquelles il est confronté.
La communauté internationale peut jouer un rôle dans le soutien à Ramaphosa. Le scénario classique veut que l'on attende trop de choses d'un nouveau leader, pour qu'ensuite la déception l'emporte une fois celui-ci incapable de produire des résultats rapidement. Si les parties prenantes et investisseurs internationaux qui soutiennent sa vision se montrent trop impatients, Ramaphosa ne parviendra pas à générer une croissance économique lui permettant de gagner en soutien parmi les électeurs sud-africains.
La victoire de Ramaphosa est le signe majeur que beaucoup au sein de l'ANC comprennent la nécessité d'un changement dans leurs rangs, sans quoi ils laisseront le souvenir d'un parti ayant laissé une poignée d'avares vendre le pays aux plus offrants. Ce changement sera toutefois long et difficile. Il est prévu que Ramaphosa remporte une main aux enjeux importants avec des cartes moyennes. Les électeurs sud-africains et les observateurs mondiaux doivent comprendre que ses opposants ne se coucheront sans doute pas rapidement.
Traduit de l'anglais par Martin Morel