We moeten alles in het werk stellen om de volgende pandemie op te vangen
GENÈVE – Stel je het volgende scenario eens voor. Binnen een paar dagen verspreidt een dodelijke influenza-epidemie zich over de wereld; het handels- en reisverkeer komt stil te liggen, er breekt sociale wanorde uit, de wereldeconomie krijgt een klap en tientallen miljoenen levens worden bedreigd. Een dergelijke grootschalige ziekte-uitbraak is een alarmerend – maar geheel en al realistisch – vooruitzicht. Om de risico's in te perken moet de wereld nu stappen zetten om zich voor te bereiden.
De afgelopen paar jaren heeft zich een ware litanie aan ziekte-uitbraken voorgedaan, van de gele koorts tot Ebola, ook in dichtbevolkte gebieden. Nu waarschuwt een nieuw rapport van het Global Preparedness Monitoring Board ons dat de mensheid voortstrompelt naar de 21e-eeuwse equivalent van de influenza-epidemie uit 1918, die een derde van de wereldbevolking trof en bijna vijftig miljoen mensen doodde.
Een soortgelijke uitbraak vandaag de dag zou zich veel sneller en breder verspreiden, en zou de wereldeconomie keihard raken – mogelijk resulterend in een verlies van zo'n 5%. En toch is de voorbereiding hierop, ondanks de dreiging die uitgaat van deze en andere gezondheidsrisico's, zelden een prioriteit voor de politieke leiders. Geen regering heeft tot nu toe de International Health Regulations, het voornaamste internationale verdrag voor de gezondheidszekerheid, waar alle landen zich aan hebben verplicht, nog volledig gefinancierd of geïmplementeerd. Het is dus niet verrassend dat de wereld ontmoedigend slecht is voorbereid op een zich snel door de lucht verspreidende pandemie.
De eerlijkheid gebiedt te zeggen dat we al veel van de instrumenten hebben ontwikkeld die we nodig hebben om ziekten te voorkomen, behandelen en in te dammen, zoals vaccins, diagnostiek en geneesmiddelen. Maar de wereldleiders doen niet genoeg om deze op te schalen. En als een pandemie uitbreekt zal het te laat zijn om ernstige schade aan gemeenschappen te vermijden. Dat is de reden dat investeringen dringend nodig zijn om levensreddende gezondheidstechnologieën ter beschikking te stellen van de gemeenschappen die ze het hardst nodig hebben.
Maar het voorbereid zijn op uitbraken is net zozeer een sociale, politieke en veiligheidskwestie als een medische, waarbij factoren een rol spelen als het afgenomen vertrouwen in instituties en de doelbewuste verspreiding van desinformatie die effectieve actie verhindert. Dit kan worden waargenomen bij de huidige Ebola-uitbraak in de Democratische Republiek Congo.
Op veel manieren hebben de Wereldgezondheidsorganisatie en haar partners de reactiemogelijkheden aanzienlijk verbeterd sinds de Ebola-uitbraak van 2014-2016 in West-Afrika, onder meer door gebruik te maken van belangrijke nieuwe vaccins en geneesmiddelen, en van innovatieve technologieën. Maar de huidige uitbraak in de Democratische Republiek Congo ontvouwt zich in een veel complexere omgeving, die wordt gekenmerkt door politisering en een gebrek aan vertrouwen in de autoriteiten en gezondheidswerkers, en die gemeenschappen treft die kampen met zware en langdurige onzekerheid. In zo'n context zijn top-down oplossingen niet genoeg.
Subscribe now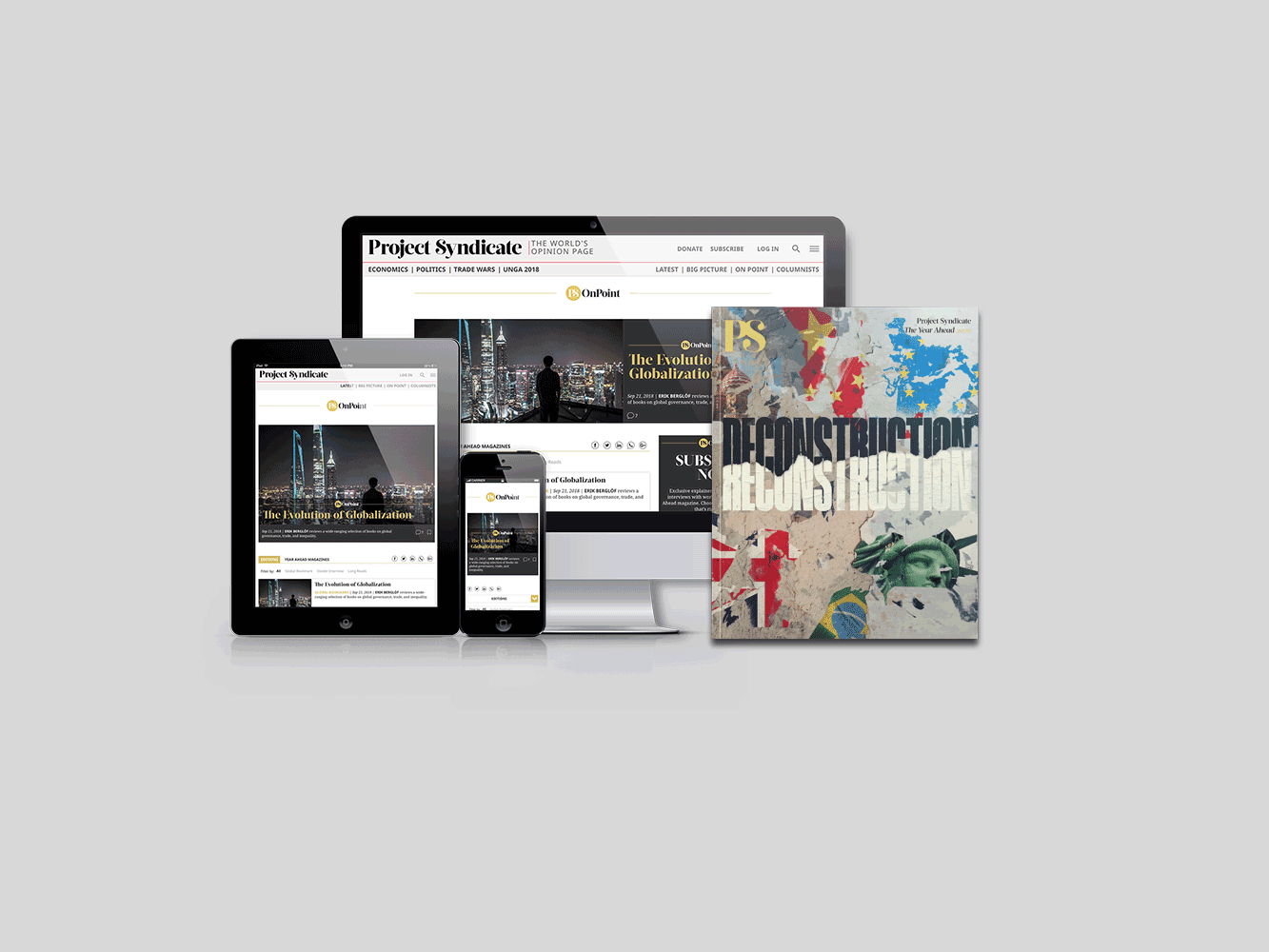 Subscribe now
Subscribe today and get unlimited access to OnPoint, the Big Picture, the PS archive of more than 14,000 commentaries, and our annual magazine, for less than $2 a week.
Uitbraken beginnen en eindigen in gemeenschappen, maar de nationale en internationale autoriteiten nemen nauwelijks de tijd of doen zelden de noodzakelijke investeringen om ze erbij te betrekken. Een betere benadering zou het onderkennen van de behoeften van iedere gemeenschap zijn, en het ervoor zorgen dat de plaatstelijke bewoners volledig betrokken worden bij planning- en aansprakelijkheidsmechanismen.
Uiteraard kost de bescherming tegen ziekte-uitbraken geld. Maar niet zoveel als je misschien zou denken: volgens gegevens van de Wereldbank zouden de meeste landen slechts $1-2 per persoon per jaar hoeven uit te geven om een aanvaardbaar niveau van paraatheid te bereiken. Dit komt neer op een rendement op de investeringen van tien staat tot één, of zelfs nog meer.
En het rendement op de investeringen houdt geen rekening met de voordelen bovenop die voor de gezondheid voor de economie of de sociale stabiliteit. In de hedendaagse diepgaand onderling verbonden wereld is iedereen in gevaar als één gemeenschap niet in staat is om ziekte-uitbraken te voorkomen of in de hand te houden. Om deze reden moeten alle delen van de samenleving, inclusief de veiligheidssector, betrokken worden bij preventie en planning, en moeten rijkere landen meer investeren in het bijstaan van landen met lagere inkomens om een toereikend niveau van paraatheid te bereiken.
Dit omvat niet alleen doelgerichte initiatieven, maar ook meer breed-gebaseerde investeringen die de kwaliteit, het bereik en de duurzaamheid verbeteren van de volksgezondheidssystemen en de volledige betrokkenheid van gemeenschappen bevorderen. De wereld moet dit sowieso doen: Duurzame Ontwikkelingsdoelstelling nummer 3 van de Verenigde Naties mikt erop in 2030 "te voorzien in universele ziektekostendekking, inclusief bescherming tegen financiële risico's, toegang tot essentiële gezondheidszorgdiensten van hoge kwaliteit, en toegang tot veilige, effectieve en betaalbare essentiële medicijnen en vaccins van hoge kwaliteit voor iedereen."
Al veel te lang worden noodtoestanden op het gebied van de volksgezondheid tegemoet getreden met een cyclus van paniek en veronachtzaming – een aanpak die zeer inefficiënt en duur is, en ons allen aan toenemende risico's blootstelt. Overheden in de hele wereld moeten vooruit gaan denken en de financiering verhogen op het niveau van de gemeenschap, evenals op nationaal en internationaal niveau, om de volksgezondheidssystemen te schragen, ons vermogen te verbeteren om te reageren op noodtoestanden, en de verspreiding van uitbraken te voorkomen, zowel van bekende ziekteverwekkers als Ebola als van onbekende, die bijvoorbeeld van dieren op mensen overspringen.
We hebben de kennis en de middelen. Er is geen excuus als we onvoorbereid met een noodtoestand te maken krijgen.
Vertaling: Menno Grootveld
,