El futuro del comercio multilateral del RU
,
CAMBRIDGE – En momentos en que el Reino Unido negocia las condiciones de su divorcio de la Unión Europea, sería aconsejable que la dirigencia del país comience a pensar cuál es la mejor estrategia de comercio internacional a largo plazo. ¿Quiere el RU supeditar su futuro a la firma de acuerdos bilaterales separados con una larga lista de socios comerciales? ¿O sería mejor unirse a megaacuerdos regionales de libre comercio que ya existen y al mismo tiempo trabajar para fortalecer el sistema global multilateral dependiente de la Organización Mundial del Comercio?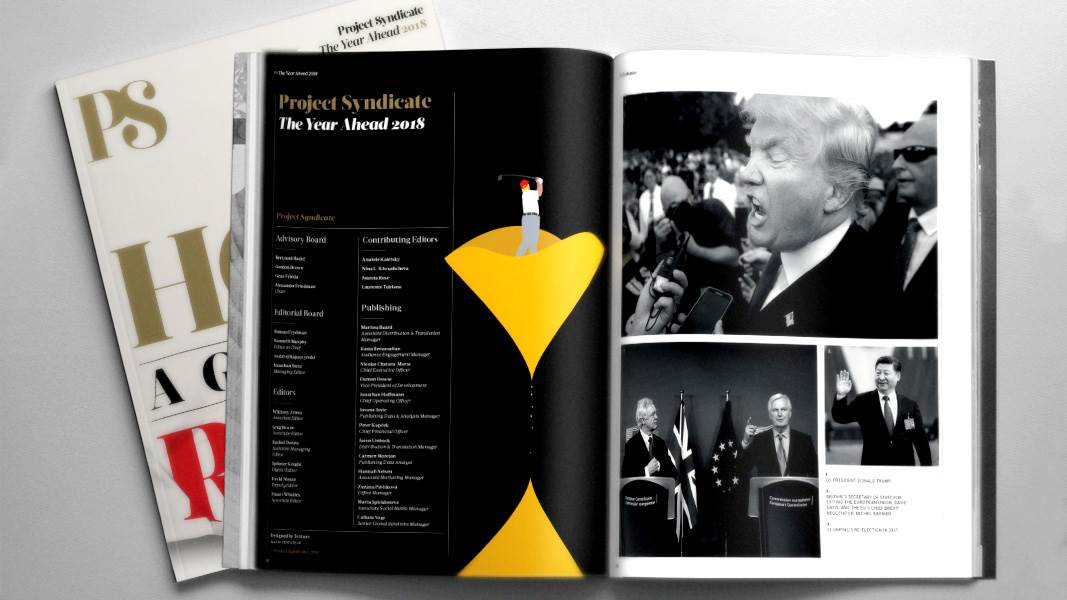 The Year Ahead 2018
The world's leading thinkers and policymakers examine what's come apart in the past year, and anticipate what will define the year ahead.
La estrategia bilateral demandaría una ingente cantidad de tiempo y recursos: los negociadores del RU deberían entablar una serie de discusiones con cada país con el que quieran hacer negocios. El resultado final será una maraña de acuerdos que sólo agravará la balcanización del sistema de comercio internacional.
Esta estrategia reduce los beneficios del comercio. Por ejemplo, según un informe del Banco Interamericano de Desarrollo, las ventajas comerciales derivadas de los 33 microacuerdos regionales de América Latina han sido magras. La clave para mejorarlas, según el BID, es adoptar una nueva estrategia para una mayor accesibilidad entre mercados y dentro de ellos.
Esto hace pensar que, para el RU, la mejor solución son los megaacuerdos de comercio regionales, que dan acceso a varios mercados, pero implican niveles más bajos de integración fiscal y regulatoria que la UE. Esta estrategia permitiría a las empresas del RU posicionarse en cadenas de suministro bien desarrolladas e integradas, que sirven a mercados mucho mayores que los accesibles a través de acuerdos bilaterales.
Puede decirse incluso que una estrategia multilateral no sólo es la mejor opción, sino que es la única. Piénsese en los problemas que tuvo hace poco Bombardier, una multinacional canadiense que produce aviones de pasajeros de entre 100 y 150 plazas, a partir de piezas que compra en todo el mundo (incluidas las alas que fabrica Bombardier UK, principal empleador fabril en Irlanda del Norte).
Bombardier negoció la venta de hasta 125 de sus aviones a Delta Air Lines. Pero Boeing, el gigante estadounidense de la aviación, objetó el acuerdo, con el argumento de que Bombardier vendía los aviones a precio inferior al del mercado, aprovechando subsidios del país de origen que le confieren una ventaja desleal. Pese a las fuertes protestas de Canadá y del RU, el Departamento de Comercio de los Estados Unidos parece dispuesto a imponer un elevadísimo arancel de importación cercano al 300%, cuyos efectos se transmitirán por toda la cadena de suministro y afectarán a los 4200 empleados de Bombardier UK.
Esta experiencia demuestra las limitaciones de los acuerdos bilaterales, especialmente en un mundo en el que las cadenas de suministro y los mercados se extienden mucho más allá de los países involucrados. El RU puede negociar un acuerdo bilateral de libre comercio con, por ejemplo, Canadá, pero esto no servirá de mucho a las empresas británicas, si Canadá no puede vender productos con componentes británicos a sus otros socios comerciales.
El caso de Bombardier también destaca la importancia de participar en la OMC (y en su reforma), ya que los procedimientos iniciados por Estados Unidos contra Bombardier se rigen por sus reglas. Las normas y los mecanismos de resolución de disputas de la OMC tienen amplio impacto, al estar suscritos por 164 países de todo el mundo.
Pero las reglas de la OMC no son perfectas. Por ejemplo, permiten a los países exportadores ofrecer apoyo financiero y subsidios a industrias específicas; al mismo tiempo, dan a los países importadores derecho a usar aranceles para compensar tales subsidios. La OMC ya oyó incontables disputas en relación con sus reglas sobre subsidios y dumping, y es seguro que oirá otra más en relación con Bombardier, porque Estados Unidos y Canadá tienen diferentes maneras de interpretar las reglas.
Pese a que la normativa actual de la OMC no conforma a nadie, hasta ahora los intentos de reformarla fueron infructuosos. Pero el problema no se puede pasar por alto, como quedó claro tras varios casos recientes, por cifras importantes, relacionados con productos de alta tecnología como aviones, semiconductores, paneles solares y biodiésel. Y lo cierto es que las disputas sobre políticas de ayuda estatal y competencia sólo se pueden resolver en un foro multilateral como la OMC.
Puesto que históricamente el RU ha sido menos propenso a la aplicación de subsidios industriales que sus socios comerciales, lo beneficia que haya reglas internacionales claras sobre promoción industrial y aranceles antisubsidios. Por eso, el RU tiene un fuerte incentivo para participar en la OMC y ayudar a mejorarla.
Otro foro multilateral que puede ser muy valioso para el RU es el Acuerdo Transpacífico, un megaacuerdo regional de libre comercio que estipula compromisos modestos en áreas como la política de ayuda estatal y competencia, sin demandar una integración de nivel similar al de la UE. Si bien el ATP sufrió un revés el año pasado, cuando Donald Trump anunció la retirada de Estados Unidos, el mes pasado los once países de la Cuenca del Pacífico que siguen en el acuerdo se comprometieron a mantenerlo.
La membresía del ATP no tiene por qué limitarse al Pacífico, así que el RU puede integrarse. Con sus credenciales en materia de libre comercio y su estatura internacional, el RU puede ayudar a insuflar nueva vida en esta y otras negociaciones comerciales que han sido muy afectadas por los impulsos proteccionistas del gobierno de Trump.
Con el Brexit en el horizonte, el RU no tiene más alternativa que rediseñar sus relaciones comerciales futuras. Como importante productor de componentes sofisticados, su estrategia comercial a largo plazo debe centrarse en obtener acceso profundo e ilimitado a cadenas de suministro transfronterizas integradas. Esto implica alejarse de los acuerdos bilaterales y adoptar un abordaje multilateral que permita al país rebalancear y expandir sus acuerdos comerciales en todo el mundo.
Traducción: Esteban Flamini