Combater a cibercriminalidade com a neurodiversidade
LONDRES — A cibersegurança é um dos principais desafios da era digital. Todos, desde famílias, empresas e governos, têm uma participação na protecção do bem mais valioso da nossa época: os dados. A questão é saber como alcançar este objectivo.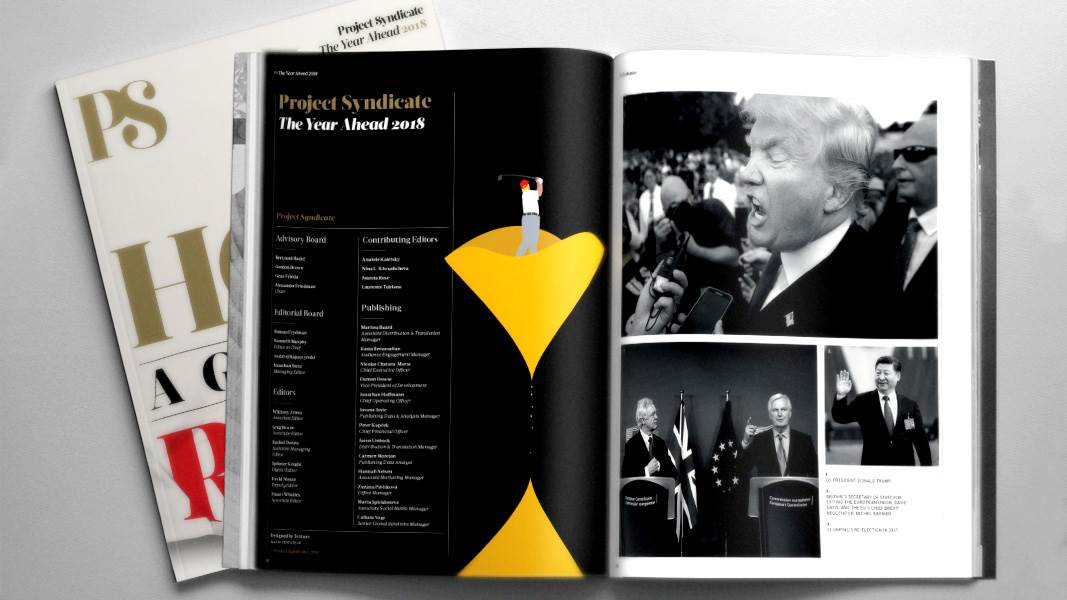 The Year Ahead 2018
The world's leading thinkers and policymakers examine what's come apart in the past year, and anticipate what will define the year ahead.
A dimensão do desafio não deve ser subestimada. Num contexto em que os atacantes se revelam cada vez mais ágeis e inovadores, equipados armas cada vez mais diversificadas, os ciberataques ocorrem a um ritmo mais rápido e com um nível de sofisticação mais elevado do que nunca. A equipa de segurança da minha empresa, a BT (operador de rede e prestador de serviços de Internet), detecta diariamente 100 000 amostras de malware, ou seja, mais do que 1 por segundo.
O pensamento criativo dos atacantes cibernéticos exige o pensamento criativo por parte daqueles que os combatem. Neste ponto, o primeiro passo consiste em assegurar a existência de um número suficiente de indivíduos com talento e formação, empenhados no combate a estes crimes. Afinal de contas, segundo um inquérito efectuado recentemente pela International Data Corporation, 97% das organizações manifestam preocupações quanto às suas competências em matéria de segurança. Um outro estudo levado a cabo em 2002 estima que haverá 1,8 milhões postos de trabalho não ocupados no sector da cibersegurança.
Perante esta grave escassez de especialistas em segurança, torna-se imperativo o desenvolvimento de novas abordagens para atrair, formar e reter indivíduos talentosos, a fim de criar uma bolsa de especialistas altamente qualificados, preparados para vencer os cibercriminosos virtuais no seu próprio jogo.
A chave para o sucesso é a diversidade de talentos e perspectivas. Isto inclui a diversidade neurológica, como a que representam as pessoas com autismo, síndrome de Asperger e distúrbio de défice de atenção. As pessoas com síndrome de Asperger ou autismo, por exemplo, tendem a pensar de forma mais literal e sistemática, o que os torna particularmente hábeis para a matemática e o reconhecimento de padrões, competências que são essenciais para a cibersegurança.
O problema é que as pessoas excepcionais do ponto de vista neurológico tendem a ser prejudicadas com o tradicional processo de entrevista, que depende grandemente de boas competências a nível da comunicação verbal. Consequentemente, estas pessoas defrontam-se muitas vezes para encontrar emprego, e mesmo quando conseguem um emprego, o seu ambiente de trabalho poderá não ter condições para apoiá-las de forma adequada.
A Sociedade Nacional de Autistas do Reino Unido revela que, na Grã-Bretanha, apenas 16% dos adultos autistas têm um emprego a tempo inteiro remunerado e apenas 32% têm algum tipo de trabalho remunerado, quando comparados com 47% das pessoas com deficiência e 80% das pessoas sem deficiência. Esta situação salienta a dimensão do desafio enfrentado por tais candidatos, assim como o vasto recurso por explorar que eles representam.
Reconhecendo o potencial da diversidade neurológica para contribuir para o reforço da cibersegurança, na BT reformulámos a forma como interagimos com os candidatos durante as entrevistas. Incentivamo-los a falar sobre os seus interesses, em vez de esperar que respondam apenas a perguntas típicas sobre os seus objectivos de emprego ou que enumerem os seus pontos fortes e fracos. Esta abordagem já foi aplicada com grande sucesso pela Microsoft, a Amazon e a SAP nos domínios da codificação e do desenvolvimento de software, e pela agência de informações e segurança do Reino Unido, GCHQ, um dos maiores empregadores de pessoas autistas do país.
É evidente que uma abordagem actualizada para entrevista dos candidatos não irá surtir efeito para todos. No entanto, é um começo. De forma mais abrangente, é necessário fazer mais, não só para expandir as oportunidades disponíveis para os candidatos excepcionais do ponto de vista neurológico, mas também para garantir que estas oportunidades sejam adequadamente divulgadas.
A concretização desta mudança exigirá a liderança de — e cooperação entre — governos e empresas. Apraz-me afirmar que, neste domínio, a BT já está a assumir um papel de liderança, nomeadamente através da colaboração com o governo britânico no programa Cyber Discovery, uma iniciativa especial destinada a atrair alunos para a ciberindústria, e através dos nossos próprios programas de aprendizagem.
Na era digital, a neurodiversidade deveria ser vista como uma vantagem competitiva, e não um obstáculo. Temos agora uma oportunidade para investir em pessoas talentosas, que muitas vezes são deixadas para trás quando se trata de trabalho, beneficiando-as, beneficiando as empresas e a sociedade como um todo. Ao reconhecer e desenvolver as competências desta vasta bolsa de talentos ignorados, poderemos resolver a escassez de competências essenciais nas nossas economias e melhorar a nossa capacidade para combater a cibercriminalidade. Estas oportunidades não devem ser desperdiçadas.