Combatir el ciberdelito con neurodiversidad
LONDRES – La ciberseguridad es uno de los desafíos distintivos de la era digital. Está en todos nosotros, desde los hogares hasta las empresas y los gobiernos, proteger el bien más preciado de nuestra era: los datos. La pregunta es cómo hacerlo.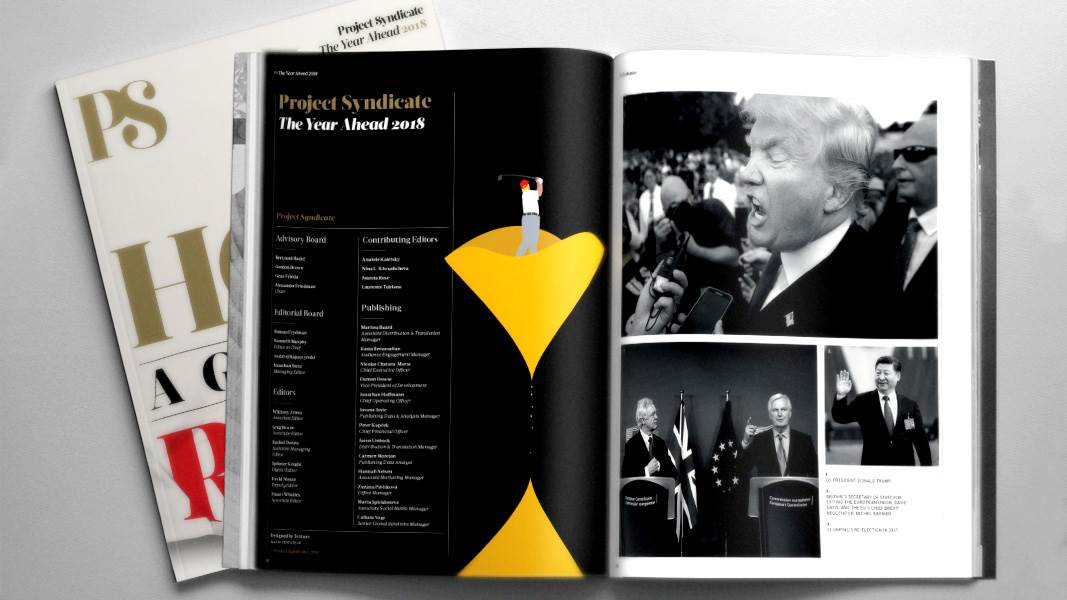 The Year Ahead 2018
The world's leading thinkers and policymakers examine what's come apart in the past year, and anticipate what will define the year ahead.
Por empezar, no debería subestimarse la escala del desafío. Los atacantes se están volviendo cada vez más hábiles e innovadores, y están equipados con una variedad cada vez más diversa de armas. Así, los ciberataques ocurren a un ritmo más rápido y con una sofisticación nunca vista antes. El equipo de seguridad de mi empresa, BT, un operador de redes y proveedor de servicios de Internet, detecta 100.000 muestras de códigos maliciosos por día -lo que equivale a más de una por segundo.
El pensamiento creativo entre los ciberatacantes exige un pensamiento creativo de parte de quienes los combatimos. Aquí, el primer paso es garantizar que existan suficientes individuos talentosos y entrenados que participen en esta lucha. Después de todo, según una encuesta reciente de International Data Corporation, el 97% de las organizaciones tienen temores respecto de sus capacidades en materia de seguridad. Otro estudio estima que, en 2022, habrá 1,8 millones de empleos de ciberseguridad vacantes.
En medio de esta escasez crítica de especialistas en seguridad, es imperativo que desarrollemos nuevas estrategias para atraer, educar y retener a individuos talentosos, a fin de crear un conjunto importante de expertos altamente calificados, preparados para derrotar a los cibercriminales en su propio juego.
La clave para el éxito es la diversidad de talentos y perspectivas. Esto incluye la diversidad neurológica, como la representada por quienes tienen autismo, síndrome de Asperger y trastorno de déficit de atención. La gente con síndrome de Asperger o autismo, por ejemplo, tiende a pensar más literalmente y sistemáticamente, lo que la hace particularmente apta en matemáticas y reconocimiento de patrones -habilidades críticas para la ciberseguridad.
El problema es que la gente neurológicamente excepcional tiende a verse desfavorecida por el proceso de entrevistas tradicional, que depende fuertemente de las buenas habilidades para la comunicación verbal. Como resultado de ello, estas personas suelen tener dificultades para encontrar empleo, y aun cuando encuentran un trabajo, su entorno laboral tal vez no pueda respaldarlas de manera adecuada.
La Sociedad Nacional de Autismo del Reino Unido informa que apenas el 16% de los adultos autistas en Gran Bretaña tiene un empleo pago de tiempo completo, y que sólo el 32% tiene algún tipo de empleo pago, comparado con el 47% en el caso de la gente discapacitada y el 80% en el caso de las personas no discapacitadas. Esto refleja la escala del desafío que enfrentan estos postulantes, así como el vasto recurso que representan y que todavía no ha sido aprovechado.
Al tomar conciencia de hasta qué punto la diversidad neurológica puede contribuir a fortalecer la ciberseguridad, en BT hemos reformulado la manera en que interactuamos con los postulantes durante las entrevistas. Los alentamos a hablar sobre sus intereses, en lugar de esperar que simplemente respondan preguntas típicas sobre sus objetivos de empleo o enumeren sus fortalezas y debilidades. Esta estrategia ya ha sido aplicada con gran éxito por empresas como Microsoft, Amazon y SAP en las áreas de codificación y desarrollo de software, y por la organización de inteligencia y seguridad GCHQ del Reino Unido, uno de los mayores empleadores de gente autista en el país. 
Por supuesto, una estrategia actualizada para entrevistar a los postulantes a un empleo no funcionará en todos los casos. Pero es un comienzo. En términos más generales, debemos hacer más no sólo para expandir las oportunidades disponibles para los candidatos neurológicamente excepcionales, sino también para garantizar que esas oportunidades estén bien publicitadas.
Para llevar adelante este cambio será necesario un liderazgo por parte del gobierno y las empresas, y una cooperación entre ambos. Me complace decir que en este frente, BT ya está asumiendo un rol de liderazgo, que incluye trabajar con el gobierno británico en su programa Cyber Discovery (Ciberdescubrimiento), una iniciativa especial para atraer a los niños en edad escolar a la ciberindustria, y a través de nuestros programas de pasantías.
En la era digital, la neurodiversidad debería ser vista como una ventaja competitiva, no un impedimento. Ahora tenemos la oportunidad de invertir en gente talentosa que muchas veces se queda afuera cuando se trata de trabajo, beneficiándolos a ellos, a las empresas y a la sociedad en su totalidad. Si reconocemos y desarrollamos las habilidades de esta reserva de talentos ampliamente ignorada, podremos afrontar una escasez de capacidades críticas en nuestras economías y mejorar nuestra habilidad para combatir el ciberdelito. Estas oportunidades no se pueden perder.