Wie sich der Kreislauf des Terrors im Mittleren Osten durchbrechen lässt
FÈZ – Im Juli verkündete der irakische Ministerpräsident Haider al-Abadi, dass der Islamische Staat (ISIS) aus Mossul, der zweitgrößten Stadt des Landes, die er drei Jahre zuvor eingenommen hatte, vertrieben worden sei. Früher oder später wird er auch Raqqa, die Hauptstadt des selbsternannten Kalifats – und die letzte echte Großstadt unter seiner Kontrolle – verlieren. Doch diese Niederlagen bedeuten nicht, dass damit der ISIS oder gar der islamistische Terrorismus überwunden ist oder dass die akutesten Konflikte im Mittleren Osten bald beigelegt sein werden.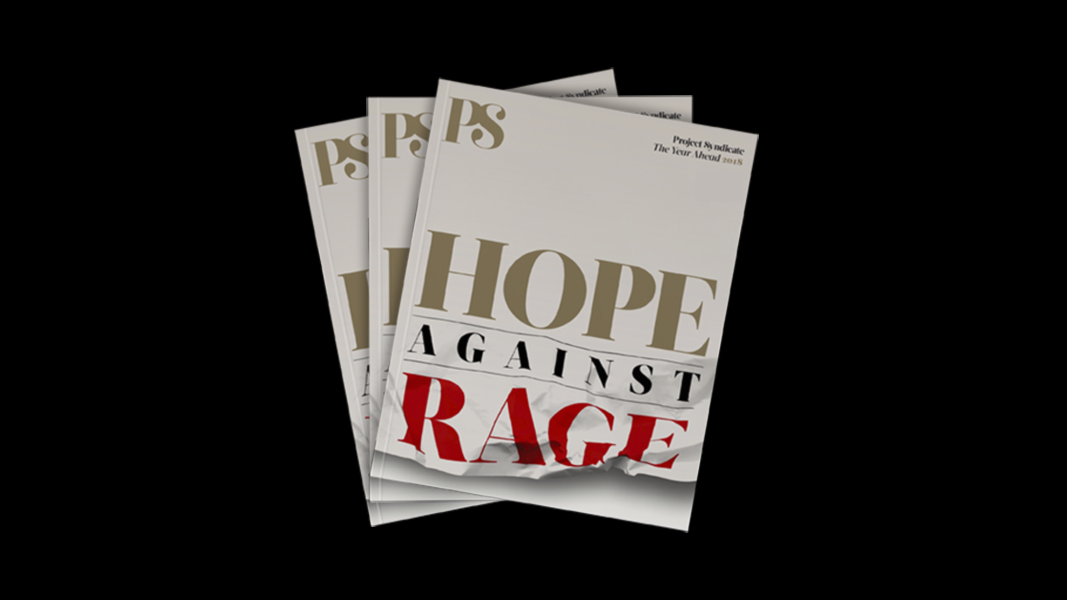 The Year Ahead 2018
The world's leading thinkers and policymakers examine what's come apart in the past year, and anticipate what will define the year ahead.
Natürlich wird der verblassende Traum eines islamischen Kalifats die Fähigkeit des ISIS und ihm verwandter Gruppen schwächen, unzufriedene junge Leute zu rekrutieren. Bereits jetzt ist die Zahl ausländischer Möchtegern-Dschihadisten, die aus der Türkei nach Syrien strömen, um dem ISIS beizutreten, steil von 2000 im Monat auf etwa 50 zurückgegangen.
Doch stehen derartigen Gruppen machtvolle Lockmittel zur Verfügung. Am grundlegendsten dabei ist, dass sie desillusionierten jungen Menschen einen Daseinszweck geben und das Gefühl, irgendwohin zu gehören. Die Tatsache, dass dieser Zweck Mord, Terror und Chaos umfasst, macht das Ganze für frustrierte und aufgebrachte junge Leute möglicherweise sogar noch attraktiver.
Trotz der jüngsten Rückschläge wäre es gleichermaßen ungerechtfertigt wie verfrüht, die vom ISIS ausgehende Bedrohung abzuschreiben. Man betrachte die Geschichte von al-Qaeda, die zeigt, dass selbst wenn ein Staat, der eine terroristische Gruppe fördert, scheitert, eine radikale Ideologie Gewalt nah und fern anheizen kann. Die Führung der Gruppe muss lediglich ihre Methoden anpassen, um weiter Rekruten anzulocken und Anschläge von außerhalb der Grenzen eines befreundeten souveränen Staates zu planen.
Im Irak werden die Terrorgruppen zu diesem Ziel weiter die religiösen Spannungen ausnutzen, die das Land schon lange vor dem US-Einmarsch 2003 gespalten hatten. Allgemeiner ausgedrückt können sie aus den sich verschärfenden Spannungen zwischen sunnitischen und schiitischen Muslimen Kapital schlagen, um entfremdete junge Sunniten anzulocken.
Diese zunehmend gefährliche Dynamik zeigt sich in der Entscheidung Ägyptens, Saudi-Arabiens und der Vereinigten Arabischen Emirate, die diplomatischen Beziehungen zu Katar zu kappen, weil das Land angeblich Verbindungen zu regionalen Terrorgruppen und zum Iran, Saudi-Arabiens stärkstem Rivalen um regionalen Einfluss, unterhält. Sie wird auch in dem verheerenden Stellvertreterkrieg im Jemen sichtbar, der zu einem zentralen Schlachtfeld im saudisch-iranischen Machtkampf geworden ist.
Vor diesem Hintergrund scheint es wahrscheinlich, dass der ISIS von seinen verstreuten Basen auf der ägyptischen Sinai-Halbinsel, im Irak, in Libyen und im Jemen aus imstande sein wird, weiter Terroranschläge im Mittleren Osten und darüber hinaus zu planen und auszuführen. Doch es gibt Wege, um ein derartiges Ergebnis zu vermeiden oder zumindest den Schaden zu minimieren.
Zunächst einmal müssen Regierungen und nichtstaatliche Akteure in der arabischen Welt alle finanziellen Verbindungen zu Terrorgruppen kappen. Neben staatlichen Transferleistungen bedeutet dies, private Bemühungen einzelner Bürger zu Finanzierung des Terrors zu unterbinden. Die Staaten in der Region haben bereits jetzt strenge Strafgesetzbücher; die Regierungen sollten sie gegenüber denjenigen, die den Terror finanzieren, effektiver durchsetzen.
Zugleich müssen religiöse und politische Führer die gewalttätige islamistische Ideologie, aus der sich die dschihadistischen Bewegungen nähren, mit demselben Nachdruck zurückweisen, den sie für Herausforderer ihrer eigenen Autorität reserviert haben. Qui tacet consentire videtur (Schweigen bedeutet Zustimmung). In diesem Fall ermutigt die stillschweigende Zustimmung terroristische Akteure, und die Resultate sind tödlich.
Die Länder des Mittleren Ostens werden inzwischen überall auf der Welt mit extremistischen Ideologien und Terror in Verbindung gebracht. Wenn sie ihren Ruf und die Gesundheit ihrer Gesellschaften und Volkswirtschaften wiederherstellen wollen, müssen sie entschlossen handeln, um die Attraktivität der terroristischen Anwerber zu schwächen. Algerien, Marokko und Tunesien haben eine Anzahl von Schritten in diese Richtung unternommen, aber allein schaffen sie es nicht.
Wie diese Länder dürfen andere im Mittleren Osten sich nicht vom scheinbaren Niedergang des ISIS als territoriales Gebilde einlullen lassen. Letztlich besteht die einzige Möglichkeit, den Kreislauf der Gewalt in der arabischen Welt zu durchbrechen, darin, die Konflikte innerhalb des Islams beizulegen. Um diesen Punkt zu erreichen, müssen die Regierungen der Region jedoch dringen eine zweigleisige Strategie der Verbote und Ächtung fahren.
Aus dem Englischen von Jan Doolan