Globální plán na vymýcení malárie
ABÚ ZABÍ – Na nemoci, jimž lze předcházet, by neměl nikdo umírat. Přesto preventabilní choroby každoročně usmrtí dva miliony dětí, z nichž mnohé jsou příliš chudé a nemohou si dovolit řádnou léčbu. Většinu těchto úmrtí způsobí příčiny, které lze potlačit existujícími léky anebo jimž lze od počátku předejít.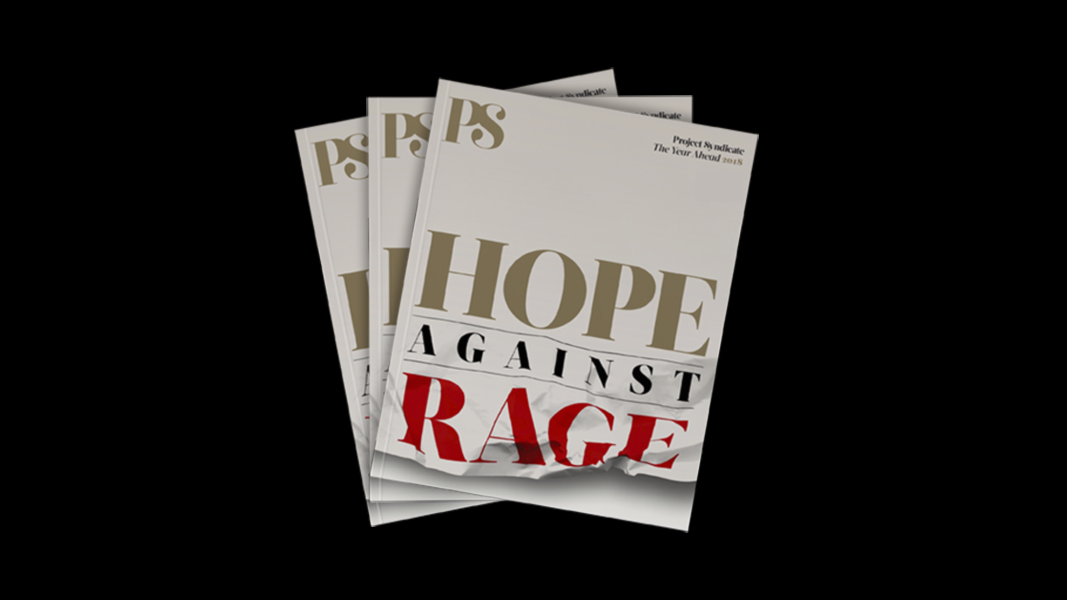 The Year Ahead 2018
The world's leading thinkers and policymakers examine what's come apart in the past year, and anticipate what will define the year ahead.
Jenou z těchto chorob je malárie, život ohrožující onemocnění přenášené komáry. Ve strachu z komářího kousnutí žily ještě před necelými sto lety rodiny po celém světě – včetně Severní Ameriky a Evropy. Malárie nejenže brala život dětem a dospělým, ale plodila chudobu a omezený světový hospodářský růst a znemožňovala milionům plně uplatnit svůj potenciál.
Dnes už malarického parazita vyhubilo víc než 30 zemí a nejméně deset dalších je na cestě k jeho vymýcení do roku 2020. Navzdory tomu malárie zůstává hlavní příčinou úmrtí dětí do pěti let v subsaharské Africe, kde každé dvě minuty vezme život jednomu dítěti. Malárie je také finančně nákladná, africké ekonomiky vyjde na zhruba 12 miliard dolarů ročně.
Navzdory mnoha desetiletím intenzivních snah ve výzkumu a vývoji, díky nimž se v současnosti posuzuje přes 20 možných vakcín, žádné komerčně dostupné očkování proti malárii stále neexistuje. Existuje však řada preventivních opatření, která dokážou přispívat ke snížení rizika infekce. Patří k nim používání insekticidy ošetřených moskytiér, postřik interiérových stěn insekticidy a zaměření profylaktických opatření na nejohroženější skupiny.
Dnes se nám naskýtá příležitost stavět na tom, čeho už bylo dosaženo, jestliže zdůrazníme a podpoříme iniciativy a výzkumné snahy, které by mohly malárii vymýtit. Například výzkumníci Ústavu pro výzkum malárie při Bloombergově fakultě veřejného zdraví Univerzity Johnse Hopkinse objevili, jak se v komáří populaci může šířit odolnost vůči malarickému parazitovi. Tyto poznatky by mohly otevřít cestu k rozvoji strategií potlačování malárie, které se budou samy množit a zmírní potřebu neustálé aplikace insekticidů a spoléhání na moskytiéry.
Další významnou iniciativou, která si zaslouží podporu, jsou zásady "vektorového působení" Světové zdravotnické organizace (WHO), které předkládají strategie k potlačování komárů, much a brouků přenášejících nemoci. Plán WHO poskytuje novou strategii k posílení vektorového působení po celém světě prostřednictvím zvýšení kapacity, zdokonaleného dohledu, lepší koordinace a integrovaných postupů napříč sektory a chorobami. Snahy v oblasti celosvětového zdraví by měly podporovat úsilí zemí, kde je malárie endemická, rozvíjet a zlepšovat strategie vektorového působení.
Musíme také zvážit, jaký vliv na výskyt malárie mají měnící se životní prostředí po celém světě. Například vzhledem k tomu, že odlesňování vytváří příznivé podmínky pro komáry, neboť vede ke vzniku příkopů a louží, v nichž se s vyšší pravděpodobností drží méně kyselá voda, vhodná pro rozvoj komářích larev, země se zvýšenými úbytky lesů mívají vyšší výskyt malárie. Odlesňování také vede ke snížené absorpci srážek, takže narůstá objem stojatých vod.
Ve Spojených arabských emirátech jsme přesvědčeni, že vymýcení nemocí má zásadní význam pro globální rozvoj. Pokud lidé dostanou příležitost vést zdravý život, mohou získat vzdělání, přispívat k ekonomice a pečovat o svou rodinu, čímž vzniká multiplikační efekt, který dále posiluje prosperitu a rozvoj.
Věříme také v zavádění holistického přístupu, který zahrne zajištění finančních závazků, podporu výzkumu a inovací rozvojem infrastruktury a pravidelné svolávání předních světových stoupenců s cílem udržet tempo a sdílet nápady. K vymýcení choroby je zásadní sdružování. Právě proto šejch Muhammad bin Zajd, korunní princ Abú Zabí, přispěl 30 miliony dolarů na sdružení Roll Back Malaria, přední globální rámec aktivit proti malárii.
Jsem hrdá na to, že zasedám ve správní radě Roll Back Malaria, protože věřím, že rozmanitost náhledů vedoucích činitelů má pro nalézání řešení v zápase proti malárii stěžejní význam, zejména dnes, kdy ve snaze nemoc vymýtit zahajujeme smělou novou kapitolu. Škála lídrů podporujících globální zdraví se rozšiřuje a dnes už zastupují populace z celého světa. To je důležité, protože sdružení jako Roll Back Malaria musí fungovat celosvětově, aby zachránila co nejvyšší počet životů.
Doufáme, že další globální spolupráci povzbudíme tento týden, kdy Abú Zabí svolává víc než 200 lídrů v oblasti potlačování chorob na fórum nazvané Reaching the Last Mile. Cílem setkání je sdílet poznatky a osvědčené postupy jak mapovat, potlačovat či eliminovat preventabilní nemoci, včetně inovací, jež by konečně mohly přinést celosvětový konec malárie.
Ve dvacátém století se nám poprvé v historii podařilo chorobu, neštovice, vymýtit. Úplné vykořenění, eliminace či potlačení nemoci je ovšem složité a pro malárii to platí obzvlášť. Ještě před několika lety jsme si mysleli, že eliminace malárie je mimo naše schopnosti, ale svět společně udělal obrovský pokrok. Zdravotnická opatření v letech 2000 až 2015 zachránila životy 6,2 milionu lidí, z nichž 5,9 milionu tvořily děti do pěti let.
Do roku 2020 bude k financování celosvětového boje za vymýcení malárie každoročně potřeba odhadem 6,4 miliardy dolarů.Bude to náročný výkon, ale společně dokážeme vytvořit budoucnost bez této choroby – jasnější a stabilnější pro miliony ohrožených lidí, s širší nabídkou příležitostí pro nadcházející generace.
Z angličtiny přeložil David Daduč