Als we eendrachtig samenwerken, kunnen we malaria de wereld uit helpen
ABU DHABI – Niemand mag overlijden als gevolg van een vermijdbare ziekte. Toch eisen vermijdbare ziekten ieder jaar de levens van twee miljoen kinderen, waarvan velen te arm zijn om zich een goede behandeling te kunnen veroorloven. De meerderheid van deze sterfgevallen was te voorkomen geweest door een behandeling met bestaande medicijnen of door preventieve maatregelen.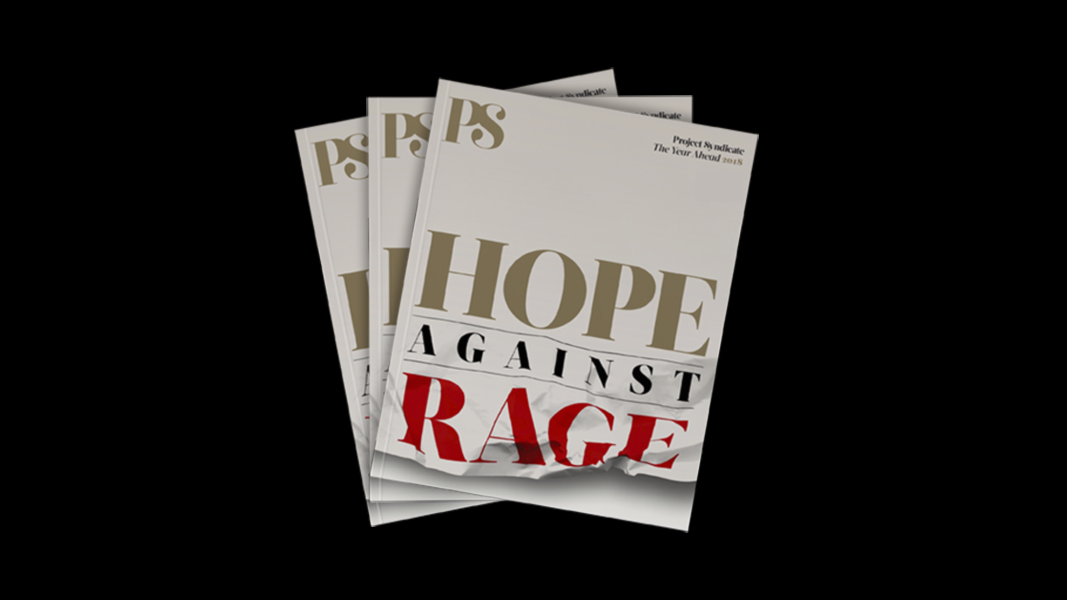 The Year Ahead 2018
The world's leading thinkers and policymakers examine what's come apart in the past year, and anticipate what will define the year ahead.
Malaria, een levensbedreigende ziekte die wordt overgebracht door muggen, is een van deze ziekten. Nog geen eeuw geleden leefden gezinnen overal ter wereld – ook in Noord-Amerika en Europa – in angst voor een muggenbeet. Malaria eiste niet alleen de levens van kinderen en volwassenen; de zieke leidde ook tot armoede en een beperkte economische groei, waardoor miljoenen hun volledige mogelijkheden niet konden ontplooien.
Vandaag de dag hebben ruim dertig landen de malaria-parasiet uitgeroeid, en minstens nog eens tien landen zijn hard op weg om dit doel in 2020 te bereiken. Desondanks blijft malaria in het ten zuiden van de Sahara gelegen deel van Afrika een voorname doodsoorzaak voor kinderen van nog geen vijf jaar oud: iedere twee minuten overlijdt daar een kind aan de ziekte. Malaria is ook duur: het kost de Afrikaanse economie zo'n $12 mrd per jaar.
Ondanks vele decennia van intensieve onderzoeks- en ontwikkelingsinspanningen, waarbij momenteel ruim twintig mogelijke vaccins worden beoordeeld, is er nog steeds geen commercieel verkrijgbare entstof tegen malaria. Maar er zijn wel een paar maatregelen die kunnen bijdragen aan het verminderen van het besmettingsrisico. Daartoe behoren het met insecticiden behandelen van klamboes, het met insecticiden bespuiten van binnenmuren, en het nemen van preventieve maatregelen voor de meest kwetsbare groepen.
Vandaag de dag hebben we de mogelijkheid om voort te bouwen op wat al bereikt is, door initiatieven en onderzoeksinspanningen te benadrukken en te ondersteunen die malaria kunnen uitroeien. Onderzoekers van het Malaria Research Institute van de Johns Hopkins Bloomberg School of Public Health hebben ontdekt hoe de resistentie tegen de malaria-parasiet zich kan verspreiden onder een muggenpopulatie. Deze bevindingen kunnen de weg vrijmaken voor de ontwikkeling van zichzelf voortplantende strategieën voor de beheersing van malaria, zodat de noodzaak afneemt om voortdurend insecticiden en klamboes te gebruiken.
Een ander belangrijk initiatief dat steun verdient, wordt gevormd door de zogenoemde "vector control"-richtlijnen van de Wereldgezondheidsorganisatie WHO, die strategieën bieden voor de beheersing van de populaties van muggen, vliegen en andere insecten die ziektes overbrengen. Het WHO-plan biedt een nieuwe strategie om wereldwijd deze "vector control" te versterken door betere surveillance en coördinatie, en geïntegreerde actie tussen sectoren en ziekten. De mondiale gezondheidsinspanningen moeten de pogingen van landen waar malaria endemisch is ondersteunen om "vector control"-strategieën te ontwikkelen en te verbeteren.
We moeten ook overwegen hoe de veranderende mondiale omstandigheden het optreden van malaria kunnen beïnvloeden. Omdat ontbossing bijvoorbeeld tot gunstige omstandigheden leidt voor muggen, doordat er greppels en poelen ontstaan waarin water staat dat bevorderlijk is voor de ontwikkeling van muggenlarven, zullen landen met méér bosverlies vermoedelijk hogere malariapercentages kennen. Ontbossing leidt ook tot een minder goede opname van de regenval, waardoor het volume aan stilstaand water toeneemt.
In de Verenigde Arabische Emiraten geloven we dat het elimineren van ziekten van cruciaal belang is voor de ontwikkeling van de wereld. Als mensen de mogelijkheid krijgen om een gezond leven te leiden, kunnen ze een opleiding volgen, aan de economie bijdragen, en voor hun gezinnen zorgen, zodat er een "multiplier effect" ontstaat dat de welvaart en de ontwikkeling een verdere duw in de rug geeft.
We geloven ook in het omarmen van een holistische aanpak, die het veiligstellen van financiële toezeggingen omvat, het bevorderen van onderzoek en innovatie via infrastructuurontwikkeling, en het regelmatig bijeenbrengen van mondiale kampioenen om de vaart erin te houden en ideeën te delen. Voor de uitroeiing van ziekten zijn partnerschappen van essentieel belang. Dat is de reden dat sjeik Mohammed bin Zayed, de kroonprins van Abu Dhabi, $30 mln heeft bijgedragen aan het Roll Back Malaria-partnerschap, het belangrijkste mondiale raamwerk voor actie tegen malaria.
Ik ben er trots op in het bestuur van Roll Back Malaria te zitten, omdat ik geloof dat een diversiteit aan leiderschapsperspectieven cruciaal is voor het vinden van oplossingen om de ziekte te bestrijden, vooral nu we aan een nieuw hoofdstuk beginnen in de queeste om de ziekte uit te roeien. Het tableau van leiders dat de mondiale gezondheid ondersteunt groeit, en vertegenwoordigt nu bevolkingen uit de hele wereld. Dit is belangrijk, omdat partnerschappen als Roll Back Malaria mondiaal moeten opereren om het grootst mogelijke aantal levens te kunnen redden.
We hopen deze week verdere mondiale samenwerking te kunnen bevorderen, als ruim tweehonderd leiders op het gebied van de uitroeiing van ziekten in Abu Dhabi bijeenkomen tijdens het forum Reaching the Last Mile. Deze bijeenkomst is erop gericht inzichten en best practices te delen als het gaat om het in kaart brengen, beheersen of elimineren van vermijdbare ziekten, waaronder innovaties die uiteindelijk de malaria in de hele wereld kunnen uitbannen.
In de 20e eeuw zijn we er voor het eerst in de geschiedenis in geslaagd een ziekte, pokken, uit te roeien. Volledige uitroeiing, eliminatie of beheersing van een ziekte is ingewikkeld, en dat geldt vooral voor malaria. Een paar jaar geleden dachten we dat eliminatie van malaria buiten ons bereik lag, maar in eendrachtige samenwerking heeft de wereld enorme vooruitgang geboekt. Tussen 2000 en 2015 hebben interventies in de openbare gezondheidszorg de levens gered van 6,2 miljoen mensen, waaronder 5,9 miljoen kinderen van nog geen vijf jaar oud.
Tegen 2020 zal naar schatting jaarlijks $6,4 mrd nodig zijn ter financiering van het mondiale gevecht om malaria te elimineren. Dit is een moeilijke opgave, maar samen kunnen we een toekomst vormgeven zónder deze ziekte – een mooiere en stabielere toekomst voor miljoenen kwetsbare mensen, met meer mogelijkheden voor toekomstige generaties.
Vertaling: Menno Gootveld