Grenzen aan de groene groei
BERLIJN – De afgelopen jaren heeft de beweging om een 'groene economie' op te bouwen die de wereld weg kan sturen van constante milieu- en economische crises, en een nieuw tijdperk van duurzame groei kan bewerkstelligen, steeds meer momentum gekregen. Maar deze beweging is bron van onverwachte controverse, waarbij velen weinig meer dan business as usual met een laag groene verf voorspellen. Zal het verzoenen van milieu- en economische imperatieven moeilijker blijken dan gedacht?
Het antwoord is ja. De populaire perceptie is dat de groene economie ons in staat zal stellen ons te bevrijden van de afhankelijkheid van fossiele brandstoffen, zonder opoffering van groei. Velen betogen dat de verschuiving naar een groene economie zelfs nieuwe groei kan aandrijven. Maar hoe aantrekkelijk dit idee ook is, het is niet realistisch, zoals we in ons nieuwe boek Inside the Green Economy laten zien.
Zeker, het is mogelijk dat een echt 'groene' economie welvarend zal zijn. Maar het model dat vandaag de boventoon voert concentreert zich op snelle en makkelijke oplossingen. Bovendien herbekrachtigt het het primaat van de economie, en slaagt er daarmee niet in de diepte van de benodigde transitie te erkennen.
In plaats van onze economieën opnieuw uit te vinden met als doel hun functioneren aan milieulimieten en -imperatieven aan te passen, probeert de huidige groene economie de natuur te herdefiniëren, om deze aan te passen aan het bestaande economische systeem. We verbinden inmiddels een geldelijke waarde aan natuur en nemen deze op in onze begrotingen, door de bescherming van 'natuurlijk kapitaal,' zoals ecosysteemdiensten die de aftakeling van de natuur compenseren, gemeten in de abstracte mondiale valuta van koolstof-metrie. Nieuwe op de markt gebaseerde mechanismen, zoals de handel in biodiversiteitscertificaten, zijn een goed voorbeeld van deze benadering. Niets van dit alles houdt de vernietiging van de natuur echt tegen; het reorganiseert deze vernietiging simpelweg via marktbegrippen.
Als resultaat van deze enge benadering hebben de huidige concepties van de groene economie zoveel blinde vlekken dat de hele onderneming als grotendeels een kwestie van geloof gezien moet worden. De krachtigste talisman is technologische innovatie, wat rechtvaardigt simpelweg te wachten totdat er een uitvinding langskomt die alles oplost. Maar alhoewel nieuwe ideeën en innovaties duidelijk cruciaal zijn om complexe uitdagingen tegemoet te treden, qua milieu en anderszins, zijn ze noch vanzelfsprekend noch onvermijdelijk.
Innovatie, en vooral technologische innovatie, wordt altijd vormgegeven door de belangen en activiteiten van de protagonist ervan, en moet dus worden beoordeeld in zijn sociale, culturele, en milieu context. Wanneer de relevante actoren er niet aan werken om transformationele technologieën onder de knie te krijgen, kunnen de resultaten van innovatie de status quo juist bekrachtigen, vaak door de levensduur van producten en systemen te verlengen die niet geschikt zijn om in de behoeften van de maatschappij te voorzien.
Subscribe to Project Syndicate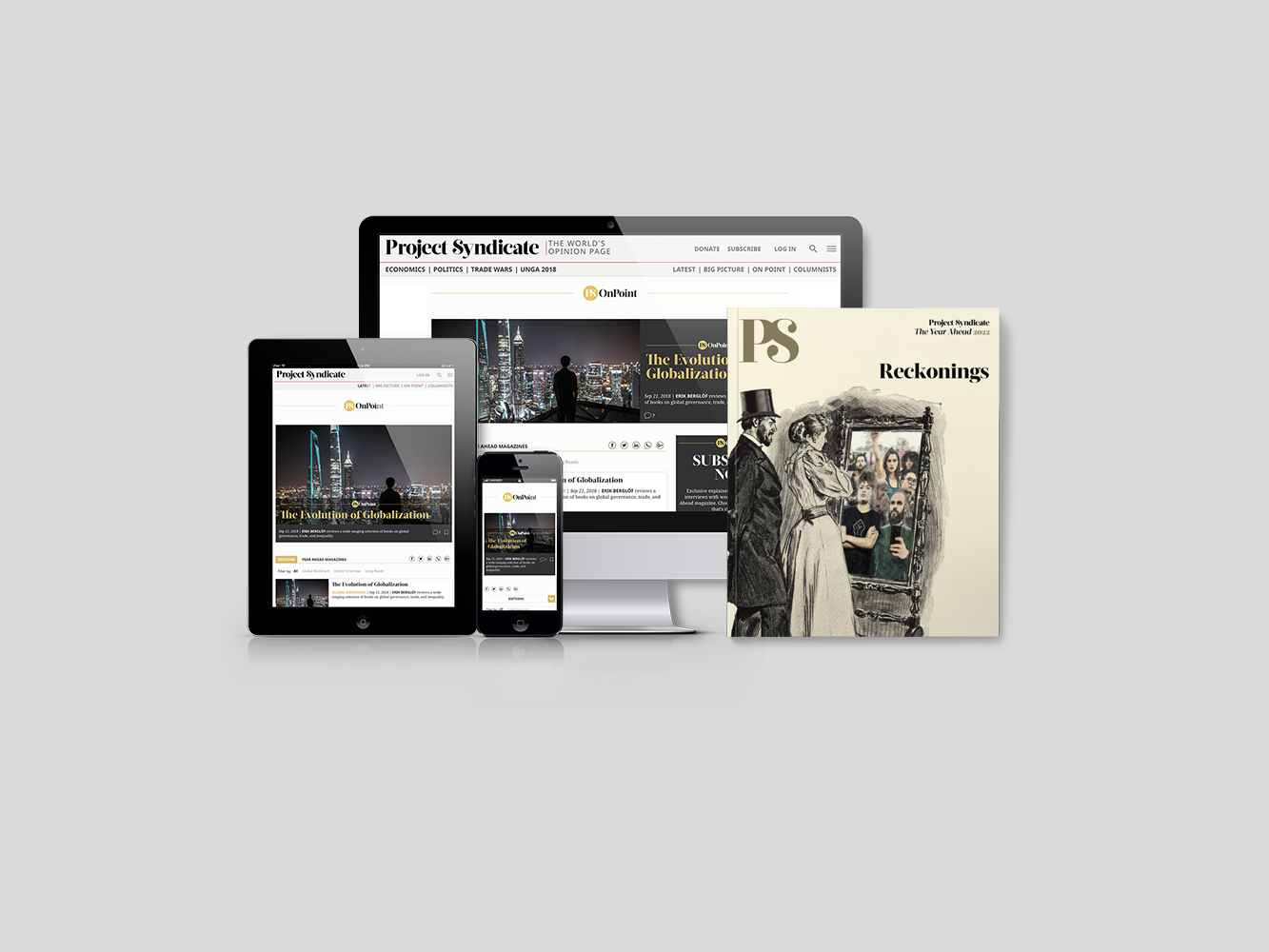 Subscribe to Project Syndicate
Enjoy unlimited access to the ideas and opinions of the world's leading thinkers, including weekly long reads, book reviews, topical collections, and interviews; The Year Ahead annual print magazine; the complete PS archive; and more – for less than $9 a month.
Neem de auto-industrie. Alhoewel deze steeds zuinigere motoren bouwt, bouwt deze ze in steeds grotere, krachtigere, en zwaardere voertuigen in, wat de efficiencywinst door middel van het zogenaamde 'rebound effect' geheel ongedaan maakt. En ze heeft te maken met de verleiding om meer energie te steken in het leren manipuleren van de uitstoot-resultaten, zoals Volkswagen heeft gedaan, dan het ontwikkelen van echt 'groene' voertuigen.
Ook biobrandstoffen zijn niet het antwoord. Het gebruik van biomassa zorgt zelfs voor ecologische en sociale schade in ontwikkelende economieën, terwijl de levensduur van achterhaalde verbrandingstechnologie de facto wordt verlengd.
Het is duidelijk dat de auto-industrie niet blindelings kan worden vertrouwd voorloper in deze radicale reorganisatie, weg van privévoertuigen, te zijn, die in de transportsector nodig is. En dat is nu precies het punt. Als we de economische groei willen ontkoppelen van  energieconsumptie en echte efficiency van hulpbronnen willen bereiken in een wereld van negen miljard mensen, om het nog maar niet te hebben over het garanderen van rechtvaardigheid voor allen, kunnen we de economie niet leidend laten zijn.
In plaats daarvan moeten we de groene transitie als een politieke opgave zien. Alleen een politieke benadering kan door echt representatieve instituties verschillen van mening en belang begeleiden, aan de hand van het soort open debat dat het maatschappelijk middenveld betrekt, en dat van vitaal belang is voor een pluralistische democratie.
Nu zijn natuurlijk niet alle landen pluralistische democratieën. In veel landen die dat niet zijn (en zelfs in sommigen die het wel beweren te zijn) hebben zij die campagne voeren voor een sociale, economische, en ecologische billijker wereld te maken met zware repressie. Als we willen dat deze mensen hun onmisbare rol vervullen in het aandrijven van de benodigde transformatie moeten democratische landen het respect voor basale mensenrechten, zoals het recht op vrijheid van meningsuiting en vreedzame vergadering, bovenaan hun agenda's voor buitenlands beleid zetten. Deze grondrechten zijn het normatieve fundament waarop transformationele strategieën onderhandeld zullen moeten worden.
Want uiteindelijk is het grootste obstakel voor de socio-ecologische transformatie die de wereld nodig heeft niet technologisch; veel van de vereisten, van biologische landbouw tot transportnetwerken die niet afhankelijk zijn van privé-voertuigen, liggen al binnen ons bereik. Het echte probleem is het gebrek aan politieke wil om deze innovaties, die worden tegengewerkt door gevestigde economische belangen, op te schalen en te implementeren. De uitdaging is dus om deze minderheidsbelangen te overkomen en om de bescherming van het grotere publieke goed te garanderen – een taak die vaak overgelaten wordt aan het maatschappelijk middenveld.
Sommigen zullen aanvoeren dat de roep om een radicale transformatie, in plaats van een stapsgewijze verandering, ongepast is. Op een tijdstip dat de wereld met zoveel grote uitdagingen te maken heeft, van economische stagnatie tot politieke onrust tot enorme vluchtelingenstromen, moet elke vooruitgang richting duurzaamheid als een o verwinning beschouwd worden. Pragmatische politiek haalbare oplossingen voor de milieucrisis zouden gevierd moeten worden en niet bekritiseerd.
Maar deze visie onderschat impliciet de ernst van de milieucrisis waar de wereld mee te maken heeft, en gaat uit van een lineaire verandering terwijl de vereiste transitie non-lineair zal zijn. Terwijl niet te ontkennen valt dat sommige eigenschappen van de groene economie – de conservering van hulpbronnen, de transitie naar hernieuwbare energie, specifieke technologische innovaties, en effectieve economische stimuli zoals belastingen – belangrijk zijn, leiden ze bij elkaar opgeteld niet tot de grootschalige verandering benodigd om de belangen van huidige en toekomstige generaties te beschermen.
De taak die 's werelds democratieën nu te wachten staat is om het project van de moderniteit voort te zetten, en de nieuwste kennis over de grenzen van onze planeet te omarmen, terwijl een brede democratische participatie bevorderd wordt. Dit is geen kleine opgave en deze vereist passie en vasthoudendheid. Maar het ligt niet buiten onze mogelijkheden. De eerste stap is om de beperkingen die de 'groene economie' op ons denken en acties plaatst in te zien.
Vertaling Melle Trap