Naar een transformerend natuurakkoord
NEW YORK – In oktober zullen vertegenwoordigers van de 196 deelnemers aan het VN-Verdrag inzake Biologische Diversiteit samenkomen in Kunming, China om het eens te worden over een nieuw Mondiaal Raamwerk voor Biodiversiteit. Deze overeenkomst zou net als het klimaatakkoord van Parijs van 2015 een keerpunt in onze relatie tot de natuur kunnen betekenen.
Maar voorvechters van biodiversiteit hebben een belangrijke les van klimaatactivisten te leren. Mondiale klimaatactie kreeg pas momentum nadat het duidelijk werd dat het probleem om meer dan alleen het milieu ging en een transformatie van transport, energie, landbouw, infrastructuur, en veel andere industrieën zou vergen. Overeenkomstig gaat het snelle verlies aan biodiversiteit waar we nu getuige van zijn over veel meer dan de natuur; de ineenstorting van ecosystemen zal het welzijn en middelen van bestaan van iedereen op aarde bedreigen. Daarom moet het Biodiversiteitsverdrag verder dan traditionele opvattingen van 'natuurbehoud' kijken en samenwerken met alle relevante sectoren uit de economie en het maatschappelijk middenveld.
Sinds de totstandkoming na de Earth Summit in Rio de Janeiro in 1992 is het Verdrag grotendeels succesvol geweest in landen ertoe bewegen nieuwe beschermde gebieden in te stellen, zodat bijna 15% van het wereldwijde landoppervlak nu een of andere bestemming als natuurreservaat heeft (alhoewel het percentage beschermde mariene reservaten veel kleiner is). Maar ondanks dit relatieve succes is het verlies aan biodiversiteit doorgegaan, wat suggereert dat het creëren van natuurgebieden niet afdoende is. Om de snelle teruggang van soorten en habitats te vertragen en tot stilstand te brengen moeten we aanpakken hoe onze maatschappij (zee-)landschappen en de hulpbronnen die eraan aan onttrokken worden beheert.
Zoals het er nu voor staat zijn al onze economische stimuli gericht op het aanmoedigen van activiteiten die het verlies aan biodiversiteit aandrijven. Landbouw, infrastructuur, en stedelijke gebieden groeien allemaal snel, net zoals ontginnende industrieën zoals bosbouw, mijnbouw, en visserij. Naast het direct omvormen van landschappen kunnen deze praktijken natuurlijke habitats verstoren en veel grotere gebieden degraderen door toegang te creëren voor stroperij, illegale houtkap, en andere activiteiten. Giftige stoffen, afwatering, en watergebruik door industrie en landbouw doen zelfs nog meer schade.
Er is nog maar 5% van het landoppervlak op aarde dat niet door menselijke activiteiten is aangetast, en dat aandeel zal waarschijnlijk verder blijven krimpen als we niet snel veranderingen institutionaliseren. Een studie uit 2015 door wetenschappers van The Nature Conservancy vond dat als de huidige trends aanhouden de constructie van infrastructuur voor transport en energie (inclusief hernieuwbare energie) samen met mijnbouw en landbouw de conversie van de overgebleven intacte ongerepte gebieden in Zuid-Amerika in 2050 dreigt te hebben verdubbeld, en in Afrika zelfs verdriedubbeld.
De verantwoordelijkheid voor het beschermen van de natuur is traditioneel gevallen aan milieuministeries, beheerders van reservaten, en natuurbeschermers, die ook allemaal aan de onderhandelingstafel zullen zitten dit jaar. Maar om echt transformerend te zijn moet het post-2020 Mondiale Raamwerk voor Biodiversiteit ook leiders uit de financiën, planning, het transport, de energie, en de landbouw betrekken, en dan vooral die met de invloed om verandering van gehele economieën tot stand te brengen.
Secure your copy of PS Quarterly: The Year Ahead 2023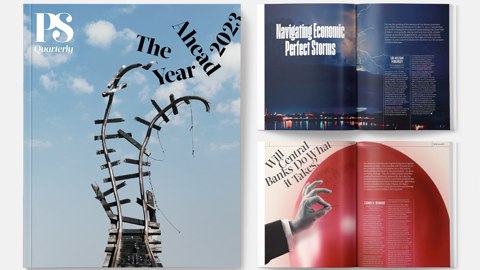 Secure your copy of PS Quarterly: The Year Ahead 2023
PS Quarterly: The Year Ahead 2023 is almost here, and available only to Digital Plus or Premium subscribers.
Subscribe now to secure a print copy of the magazine, as well as digital access to all its content, including exclusive insights from German Minister of Foreign Affairs Annalena Baerbock, US Treasury Secretary Janet Yellen, Nobel laureate economist Joseph E. Stiglitz, and more.

Landbouwministeries bijvoorbeeld zijn van cruciaal belang om natuurlijke habitats in stand te houden en voor de bescherming van biodiverse corridors voor bestuivers en andere fauna. Om de conversie van habitats te vertragen kunnen regeringen landbouwsubsidies voorwaardelijk maken op grond van milieuoverwegingen, en van buitenlandse landbouwbedrijven eisen dat importen worden geproduceerd zonder natuurlijke habitats te converteren.
Ook energieopwekking, transport, en infrastructuur zijn allemaal grote veroorzakers van het verlies aan biodiversiteit, wat een meer robuuste planning en inspanningen tot verlichting vergt van veel meer ministeries dan alleen die belast met natuurbescherming. Of nou door regelgeving of stimuli, overheden moeten meer doen om de impact van deze activiteiten op de natuur te minimaliseren. En wanneer voorkomen onmogelijk is moet van projecten geëist worden te compenseren voor het verlies aan biodiversiteit door te investeren in het herstel van gedegradeerde of ontboste gebieden. Tot dat doel moet het nieuwe raamwerk richtlijnen opstellen voor hoe specifieke sectoren zich in de loop der tijd kunnen verbeteren.
Het garanderen van echte aansprakelijkheid en transparantie vereist een heldere agenda. Maar waar zouden landen dan specifiek voor aansprakelijk moeten zijn? The Nature Conservancy heeft een meting voorgesteld op basis van 'nettowinst voor de toekomst' die deelnemers in staat zou stellen om jaarlijkse verbeteringen in de conditie van natuurlijke habitats en de biodiversiteit binnen productielandschappen zoals landbouwgrond aan te tonen.
Toegegeven, zo een indicator is moeilijker te meten dan meer standaard maatstaven zoals beschermd areaal. Maar met nieuwe goedkope ruimtelijke technologieën zoals global positioning systems (GPS), geografische informatiesystemen (GIS) en remote sensing is de data benodigd om vooruitgang te meten ruim binnen bereik. Idealiter zouden we de conditie van elke habitat op mondiale schaal evalueren en zo een gedetailleerd begrip van alle ecosystemen vormen. En met deze data zouden we dan vooruitgang kunnen monitoren in habitats per land, ecologische regio, of bioom.
Het redden van de natuur is geen taak voor de overheid alleen; het moet een inspanning door de hele maatschappij zijn. Zelfs met een optimale wetgeving en handhaving kunnen regeringen waarschijnlijk niet alle grote oorzaken van het verlies aan biodiversiteit elimineren. Steun van het zakenleven, lokale overheden, lokale gemeenschappen, maatschappelijke organisaties, en op geloof gebaseerde organisaties zal essentieel zijn. Een sectorgerichte benadering die 'nettowinst voor de toekomst' ondersteunt kan een platform zijn waar alle belanghebbenden vrijwillige engagementen aan onze hogere doelen kunnen doen.
De internationale gemeenschap heeft minder dan een jaar de tijd om een raamwerk te onderhandelen dat capabel is onze relatie tot de natuur te transformeren. Als regeringen willen dat de Biodiversiteit-top in Kunming een keerpunt wordt zullen ze zich moeten engageren aan de lastige taak totaal te veranderen hoe we hulpbronnen ter land en ter zee beheren in alle fases van ontginning, productie, en consumptie. Dit kan alleen als onderhandelaars inzien dat het Mondiaal Raamwerk voor Biodiversiteit niet alleen zaak voor milieuactivisten is.
Vertaling Melle Trap