El plan de Jean-Claude Juncker para el desastre europeo
MÚNICH – Un grupo de senderistas está perdido. Quieren llegar a un castillo que se ve a la distancia sobre una colina, pero el camino que llevan parece ir en otra dirección, y quien los guía sólo los exhorta a ir más rápido.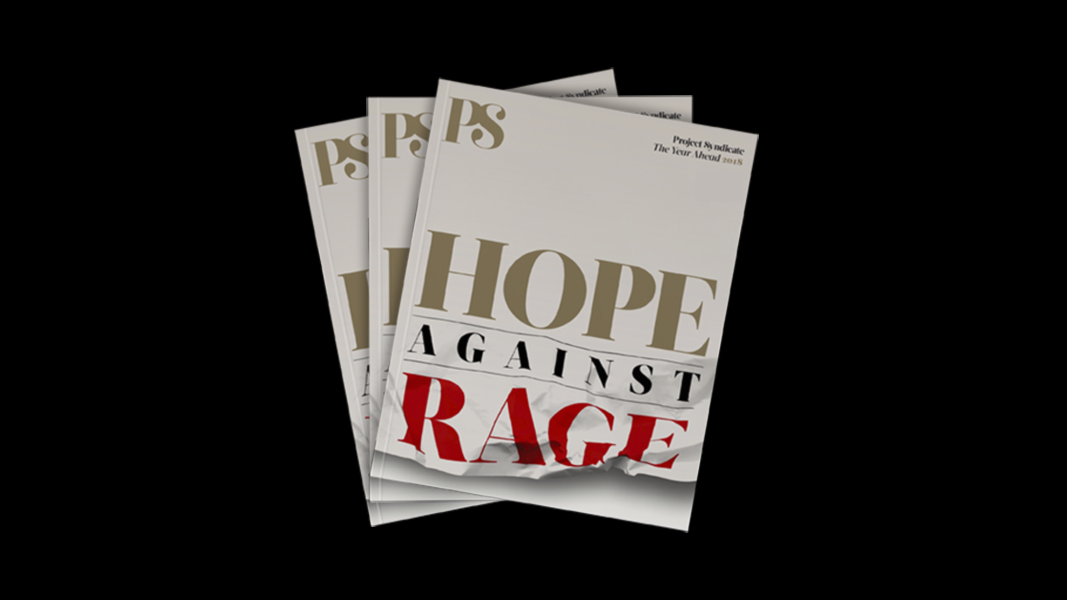 The Year Ahead 2018
The world's leading thinkers and policymakers examine what's come apart in the past year, and anticipate what will define the year ahead.
Hoy la eurozona está en la misma situación de los senderistas. Es cada vez más evidente que crear el euro era el camino equivocado. La moneda común causó una burbuja crediticia inflacionaria en Europa meridional. Cuando la burbuja estalló, la competitividad de la región quedó destruida, y Europa septentrional tuvo que acudir al rescate proveyendo sumas cuantiosas en garantías, créditos públicos y transferencias. Estas medidas perpetuaron los precios relativos erróneos derivados de la burbuja y ocultaron el problema subyacente.
En tanto, el Acuerdo de Schengen, que eliminó la mayoría de los controles fronterizos entre estados miembros de la Unión Europea, facilitó a inmigrantes venidos de regiones más pobres de Asia y África la entrada masiva a los estados de bienestar de Europa septentrional en años recientes.
En respuesta a estos hechos, el presidente de la Comisión Europea Jean-Claude Juncker usó el discurso sobre el Estado de la Unión de este mes para pedir que más países se unan a la eurozona y al Espacio Schengen. Juncker es el guía carismático pero confundido que lleva por mal camino a nuestro metafórico grupo de senderistas.
Todos los estados miembros de la UE que no están en la eurozona (excepto Dinamarca) ya están legalmente obligados a avanzar hacia la adopción del euro, mediante el cumplimiento de diversos "criterios de convergencia". Pero es evidente que Juncker quiere agilizar el proceso, apelando a flexibilizar los criterios de pertenencia a la eurozona y ofrecer incentivos financieros para el ingreso de nuevos miembros.
En vista de los problemas que ya hubo en la eurozona, es una propuesta sumamente peligrosa, que de concretarse, probablemente impulsará la misma clase de sobrecalentamiento destructivo que hemos visto en Europa meridional. De hecho, en previsión de un ingreso a la unión monetaria, las familias búlgaras, croatas y rumanas ya han acumulado un exceso de deuda en moneda extranjera (sobre todo euros), y esto generó importantes dificultades financieras.
Es comprensible que los bancos occidentales que imprudentemente otorgaron préstamos en euros a estos países ahora quieran darles la máquina de imprimirlos: así los países deudores podrán tranquilizar a los acreedores y, de ser necesario, devolver los préstamos emitiendo efectivo (como hicieron los países de Europa meridional a lo largo del último decenio).
Dar a Bulgaria, Croacia y Rumania la posibilidad de emitir euros evitará que se corte el crédito privado y permitirá la refinanciación de los préstamos en moneda extranjera. Pero la abundancia artificial de crédito barato también inflará las pensiones estatales, los salarios de los empleados públicos y las transferencias sociales. Y esto a su vez llevará a un sobrecalentamiento del mercado inmobiliario y aumentos de los salarios locales, lo que debilitará la competitividad internacional.
Normalmente, un país que se encuentre en esa posición se apresurará a devaluar su moneda. Pero como la pertenencia a la eurozona anula esta opción, los países del norte de Europa con una posición financiera sólida tendrían que acudir una vez más al rescate: proveer transferencias financieras y garantías crediticias por medio del Banco Central Europeo, y tolerar que los nuevos miembros de la eurozona sigan usando la máquina de imprimir euros en su propio beneficio.
En síntesis, el plan de Juncker para acelerar el ingreso a la eurozona amenaza con recrear a más escala el caos del último decenio, que empezó con una burbuja en Europa meridional y terminó con la crisis de deuda soberana de Grecia.
La propuesta de Juncker de extender hacia el este el Espacio Schengen es igualmente errada, y parece ignorar las enseñanzas de la historia reciente. La inmanejable oleada migratoria de 2015 mostró que Europa no tiene suficientes controles fronterizos internos y externos. Tal vez a Juncker lo tranquilice pensar que después de eso los flujos migratorios se frenaron, gracias al acuerdo alcanzado entre la UE y Turquía a principios de 2016. Pero datos de Frontex, la autoridad europea de control fronterizo, indican que eso ocurrió cuando se levantó un vallado en Macedonia, a pedido de Austria y de los países del Grupo Visegrád (Eslovaquia, Hungría, Polonia y República Checa).
También contribuyeron a la estabilidad europea la valla en la frontera entre Hungría y Serbia, y los controles cada vez más estrictos de Hungría en la frontera con Rumania. Pero ahora los migrantes cruzan el Mar Negro de Turquía a Bulgaria, y su número puede aumentar si se paralizan las negociaciones para el ingreso de Turquía a la UE. Por eso, el resto de la UE debe oponerse a cualquier propuesta de eliminar los controles fronterizos actuales, que es exactamente lo que sucedería si Bulgaria y Rumania se integraran al Espacio Schengen.
No está claro qué motiva las propuestas de Juncker. Es verdad que la Comisión Europea tiene que atender los intereses de las instituciones financieras en París, Luxemburgo y Frankfurt: nadie quiere que los préstamos imprudentemente otorgados a países de Europa del este impulsen otra crisis bancaria.
Pero con el plan de Juncker la situación será todavía peor. Una burbuja inflacionaria en Europa del este, acompañada del desmantelamiento de los controles fronterizos, puede desestabilizar a toda la UE y crear otra oleada de migrantes económicos hacia Europa central. Es hora de que el guía de Europa recapacite, consulte una brújula y vuelva al sendero correcto.
Traducción: Esteban Flamini