La feuille de route de Jean-Claude Juncker pour la catastrophe européenne
MUNICH – Un groupe de randonneurs s'est égaré. Ils veulent parvenir à un château sur une colline au loin, mais leur itinéraire semble les conduire vers une direction différente. Et leur chef de leur répéter à l'envi : « Hâtez-vous ! »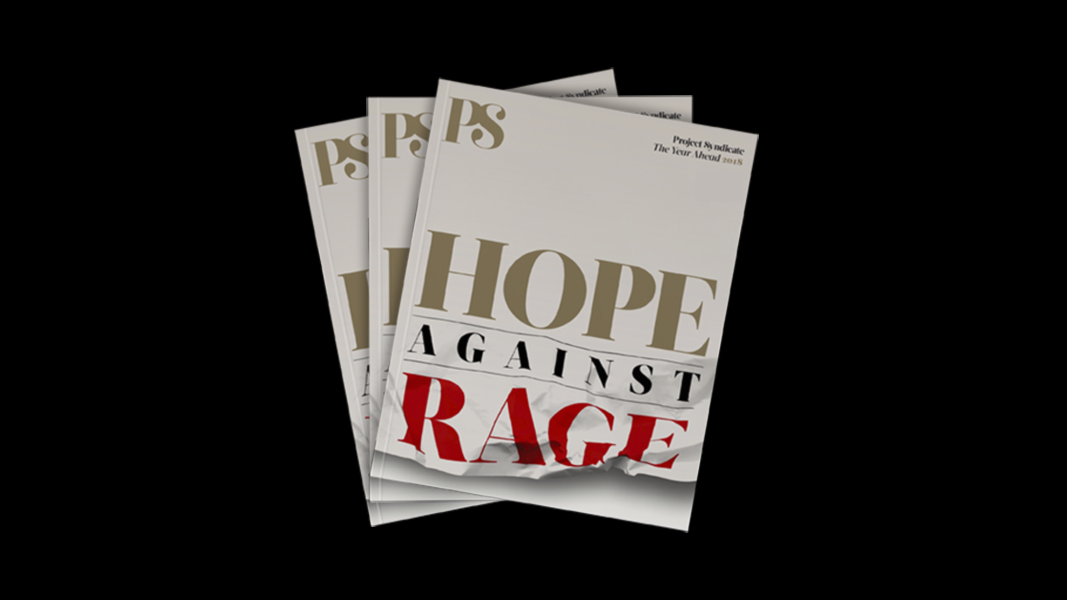 The Year Ahead 2018
The world's leading thinkers and policymakers examine what's come apart in the past year, and anticipate what will define the year ahead.
La zone euro se trouve actuellement dans la même situation que ces randonneurs. Il est à présent de plus en plus clair que le choix de l'euro n'était pas le bon chemin. La monnaie unique a provoqué une bulle de crédit inflationniste dans le Sud de l'Europe. Lorsque la bulle a éclaté, la compétitivité de la région a été détruite et le Nord de l'Europe a dû fournir d'énormes garanties de prêt, du crédit public et des transferts. Ces mesures ont soutenu les mauvais prix relatifs qui ont résulté de la bulle et ont dissimulé le problème sous-jacent.
Pendant ce temps, les Accords de Schengen, qui ont supprimé la plupart des contrôles aux frontières entre États membres de l'Union européenne, ont facilité la capacité des migrants des régions les plus pauvres d'Asie et d'Afrique à affluer vers les États providences du Nord au cours des dernières années.
En réponse à ces événements, le président de la Commission européenne, Jean-Claude Juncker  a utilisé son discours sur l'état de l'Union de ce mois-ci pour appeler encore plus de pays à rejoindre la zone euro et l'espace Schengen. Juncker est un guide charismatique mais perdu, qui détourne nos groupes métaphoriques de randonneurs du droit chemin.
Tous les États non-membres de l'euro, à l'exception du Danemark, sont déjà légalement obligés de travailler à l'adoption de l'euro, en répondant à divers « critères de convergence. » Mais Juncker veut évidemment accélérer ce processus, en assouplissant les critères d'adhésion à la zone euro et en fournissant des incitations financières à l'adhésion des nouveaux membres.
Étant donné les problèmes passés de la zone euro, c'est une proposition extrêmement dangereuse. Si elle se concrétise, elle risque de provoquer le même type de surchauffe destructrice à laquelle nous avons assisté dans le Sud de l'Europe. En fait, les ménages bulgares, croates et roumains ont déjà contracté une dette excessive en monnaies étrangères (principalement en euros), en prévision de l'adhésion à l'union monétaire, ce qui entraîne des difficultés financières.
Bien sûr, il est compréhensible que les banques occidentales qui ont étendu imprudemment des prêts en euros à ces pays veuillent à présent leur donner des planches à billets en euros. De cette façon, les pays débiteurs peuvent rassurer leurs créanciers et rembourser leurs prêts avec de l'argent imprimé localement si nécessaire, comme l'ont fait les pays du Sud de l'Europe durant la dernière décennie.
Fournir à la Bulgarie, à la Croatie et à la Roumanie des planches à billets en euros va maintenir le flux du crédit privé et permettre de refinancer des prêts en devises. Mais tant de crédit artificiellement bon marché va également faire gonfler les retraites publiques, les salaires et les prestations sociales. Et cela, à son tour, risque d'entraîner une surchauffe des marchés immobiliers et des hausses des salaires, ce qui va saper la compétitivité internationale.
Normalement, un pays qui se trouve dans une telle situation doit dévaluer d'urgence sa monnaie. Mais parce que l'adhésion à l'euro s'oppose à cette option, les pays du Nord de l'Europe, financièrement sains, vont de nouveau être sollicités pour des garanties de prêts et des transferts financiers de la Banque centrale européenne, tout en tolérant la planche à billets en libre-service pour les nouveaux membres de la zone euro.
Bref, le plan de Juncker visant à accélérer l'adhésion de la zone euro menace de recréer à grands frais le chaos de la dernière décennie, qui a débuté par une bulle dans le Sud de l'Europe et qui a abouti à la crise de la dette souveraine grecque.
La proposition de Juncker d'étendre l'espace Schengen à l'Est est tout aussi peu judicieuse et semble ignorer les leçons de l'histoire récente. La vague d'immigration ingérable de 2015 a montré que l'Europe a trop peu de contrôle sur ses frontières intérieures et extérieures. Juncker aime peut-être à penser que l'immigration a ralenti depuis, en raison de l'accord que l'UE a conclu avec la Turquie au début de l'année 2016. Mais les chiffres de l'autorité de contrôle des frontières Frontex indiquent que les flux migratoires ont cessé d'augmenter suite à la construction d'une barrière en Macédoine, à la demande de l'Autriche et des pays du groupe de Visegrád (République tchèque, Hongrie, Pologne et Slovaquie).
En outre, des contrôles de plus en plus stricts à la barrière frontalière entre la Hongrie et la Serbie à la frontière avec la Roumanie ont également contribué à la stabilité de l'Europe. Mais les migrants traversent à présent la mer Noire de la Turquie vers la Bulgarie et risquent d'arriver en nombre plus important encore si les négociations d'adhésion de la Turquie restent au point mort. En conséquence, le reste de l'UE doit s'opposer à toute tentative de supprimer les contrôles existants aux frontières, ce qui est exactement ce qui se passerait si la Bulgarie et la Roumanie étaient admises au sein de l'espace Schengen.
On est en droit de se demander quelles sont les motivations de Juncker. La Commission européenne ne peut bien évidemment pas négliger les intérêts des institutions financières de Paris, Luxembourg et Francfort. Personne ne veut que les prêts consentis à mauvais escient aux pays d'Europe de l'Est ne déclenchent une nouvelle crise bancaire.
Mais si Juncker a gain de cause, le résultat risque d'être encore pire. Une bulle inflationniste en Europe de l'Est, associée à la suppression des contrôles aux frontières, pourraient déstabiliser l'ensemble de l'UE et créer une nouvelle vague de migrants économiques vers l'Europe centrale. Il est temps que le guide des sentiers de l'Europe entende raison, qu'il utilise une boussole et revienne sur la bonne voie.