Mit Volldampf ins Chaos: Eine Anmerkung zu Junckers Vorschlägen
MÜNCHEN – Eine Gruppe von Wanderern hat sich verirrt. Man will zur Burg, die man in der Ferne auf dem Hügel sieht, doch führt der Weg erkennbar gar nicht dahin. Darauf reagiert der Führer mit der Aufforderung, den Tritt zu beschleunigen.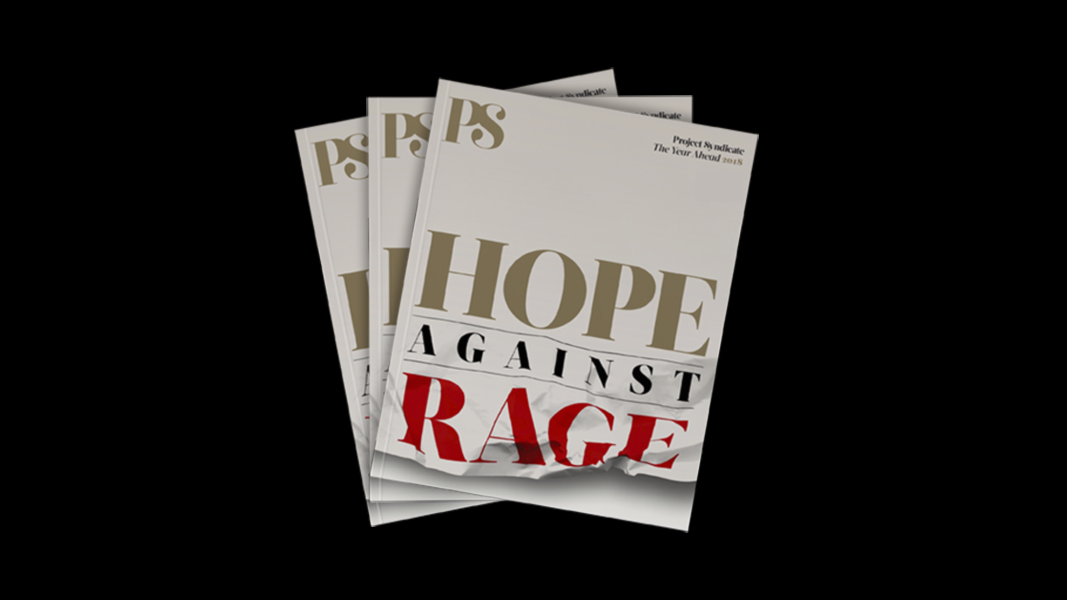 The Year Ahead 2018
The world's leading thinkers and policymakers examine what's come apart in the past year, and anticipate what will define the year ahead.
Das ist die Situation, in der sich Europa und sein Kommissionspräsident Jean-Claude Juncker derzeit befinden.  Der Euro hat sich als Irrtum erwiesen, weil er den Süden in eine inflationäre Kreditblase trieb, die dessen Wettbewerbsfähigkeit zerstörte und nach ihrem Platzen riesige Hilfsprogramme seitens der nördlichen Länder verlangte. Diese Programme stabilisieren freilich die falschen relativen Preise, die sich während der Blase entwickelten. Und das Schengen-Abkommen hat die Schleusen für eine neue Völkerwanderung aus den ärmeren Gebieten Asiens und Afrikas in die Sozialstaaten Nordeuropas geöffnet. Junckers Reaktion darauf ist, noch mehr Länder in den Euro und in den Schengenraum zu holen. Er ist der charismatische, jedoch verwirrte Führer der Wandergruppe, die sich unter seiner Leitung immer weiter verläuft.
Es entspricht zwar der Rechtslage, dass (fast) alle EU-Länder irgendwann beim Euro mitmachen, doch will Juncker offenbar die Konvergenzkriterien aufweichen und außerdem noch finanzielle Anreize für den Beitritt gewähren. Das wird zu ähnlich zerstörerischen Überhitzungen führen wie in Südeuropa.
In der Erwartung des Beitritts haben sich die Bürger Kroatiens, Rumäniens und Bulgariens bereits im Übermaß mit Euro-Krediten eingedeckt und sind dadurch in Finanznöte gekommen. Es ist zwar verständlich, dass die Banken des Westens, die ihnen die Euro-Kredite leichtfertig gaben, nun darauf drängen, dass überall Euro-Druckerpressen aufgestellt werden, damit diese Länder in der Lage versetzt werden, ihre Gläubiger notfalls mit selbst gedrucktem Geld auszuzahlen, ähnlich wie es in Südeuropa in den letzten zehn Jahren ja tatsächlich geschah. Der Schutz der Euro-Druckerpressen wird den privaten Kreditfluss in Gang halten und das Weiterrollen der Fremdwährungskredite ermöglichen. Der durch sie künstlich verbilligte Kredit wird jedoch die Staatssysteme weiter aufblähen, die Renten,  Sozialtransfers  und Löhne der Staatsbediensteten erhöhen, zu Überhitzungen im Immobilienbereich führen und binnenwirtschaftliche Lohnsteigerungen erzeugen, die die internationale Wettbewerbsfähigkeit unterminieren. Da Abwertungen nicht mehr möglich sind, werden die derzeit noch intakten Länder Nordeuropas von neuem gebeten werden, auch diesen Ländern die Selbstbedienung mit der Druckerpresse zu tolerieren und sie mit EZB-Bürgschaften und echten Finanztrans zu stützen. Kurzum, Junckers Programm wird in jenen Ländern Osteuropas, die noch nicht zum Euro-Raum gehören, das gleiche Chaos auslösen, wie wir es in Südeuropa erlebt haben und noch erleben. Es bringt uns Griechenland im Quadrat.
Ähnlich fällt das Verdikt bezüglich Junckers Vorschlag aus, den Schengenraum nach Osten hin zu erweitern. Hat nicht die neue Völkerwanderung der letzten Jahre gezeigt, dass Europa zu wenig interne und externe Grenzkontrollen hat? Warum wurde denn der Flüchtlingsstrom aus der Türkei gestoppt? Wegen den Abkommens mit der Türkei, wie Juncker meint? Oder war nicht doch, wie die europäische Grenzschutzbehörde  Frontex berichtete, der Zaun in Mazedonien ursächlich, den der österreichische Außenminister Sebastian Kurz schon vorher zusammen mit den anderen Visegrad-Staaten hatte bauen lassen. Auch der ungarische Zaun an der Grenze zu Serbien und die ungarischen Grenzkontrollen gegenüber Rumänien sind angesichts der neuesten Flüchtlingsströme, die von der Türkei über das Schwarze Meer nach Bulgarien führen, und auch angesichts der absehbaren Probleme mit den Beitrittsverhandlungen mit der Türkei äußerst nützlich für die Stabilität Europas. Dem Versuch, die Grenzkontrollen an der rumänischen Grenze durch die Aufnahme Bulgariens und Rumäniens in den Schengenraum zu verhindern, sollten sich die Länder Zentraleuropas vehement widersetzen. Was nur treibt den Leiter der Europäischen Kommission?
Sicher, die Interessen der Finanzinstitute in Paris, Luxemburg und Frankfurt darf die EU-Kommission nicht vernachlässigen. Eine Krise von Banken, die sich in Osteuropa mit Fremdwährungskrediten verspekuliert haben, ist zweifellos unschön. Noch unschöner ist freilich der Aufruhr, den inflationäre Wirtschaftsblasen in Osteuropa und neue Flüchtlingsströme nach Mitteleuropa hervorrufen würden. Es ist an der Zeit, den Führer der europäischen Wandertruppe zur Vernunft zu rufen und ihn um eine Kurskorrektur zu bitten.