Adiós, Johnny
Nota del editor:
El ícono musical francés Johnny Hallyday, a quien se atribuye haber llevado el rock and roll a Francia a principios de los sesenta, murió en París el 6 de diciembre a los 74 años. Su funeral del día 9 convocó a cerca de un millón de personas en las calles de la capital francesa. El primero de sus 57 álbumes se tituló "Hello, Johnny".
PARÍS – ¿Qué mejor despedida para un rockero que el gran y silencioso concierto del sábado sobre los escalones de una iglesia? ¿Y qué mejor adiós a un gran intérprete que el efectuado por la inmensa multitud que cantaba alrededor de un cuerpo que parecía haber organizado desde el más allá esta última demostración de entusiasmo y amor?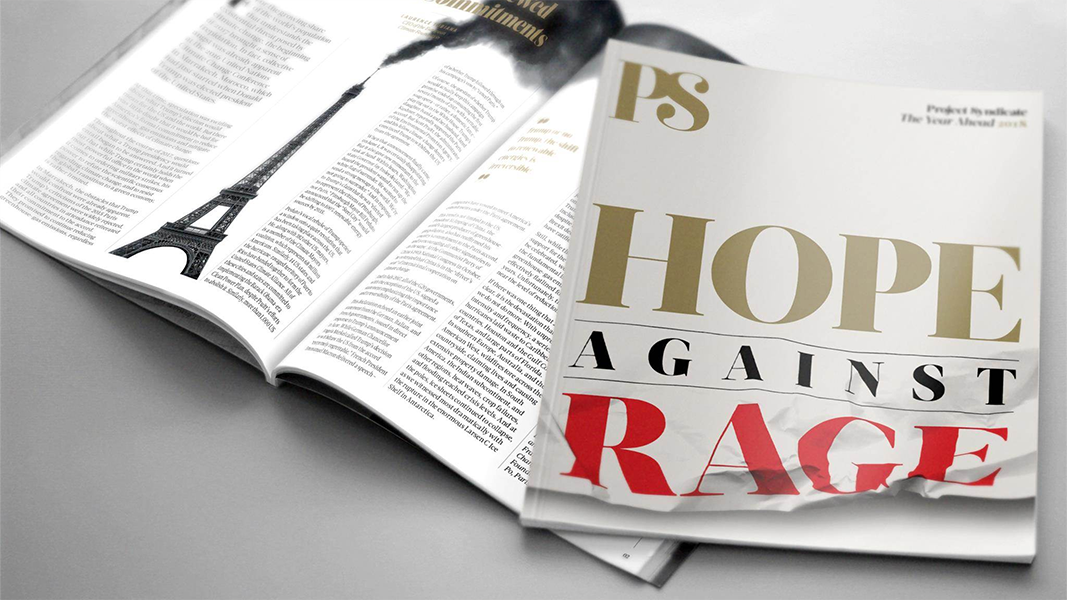 The Year Ahead 2018
The world's leading thinkers and policymakers examine what's come apart in the past year, and anticipate what will define the year ahead.
Aquí reside el rasgo cautivador del funeral de Johnny Hallyday, el cantor nacional de Francia: su capacidad de escenificar su destino hasta la hora final, y la potencia estelar que su ser retuvo incluso en la muerte.
Eligió para su última actuación un traje alargado y blanco. Nada quedaba de sus ondulantes caderas y sus aullidos, ni de los ojos pálidos perpetuamente al borde de la risa o el llanto (nunca se sabía cuál de los dos). Y sin embargo ahí estaba él, carisma y presencia, el hechizo de un chamán que te invitaba por última vez a bailar el coro eterno con su aura de misterio y su sonrisa. Y ahí estaba el espíritu de Francia: jóvenes y mayores, el presidente francés y dos de sus predecesores, los novelistas Philippe Labro y Daniel Rondeau, celebridades, artistas, fanáticos de hace 50 años que vestían flecos apache, una remembranza de los mineros en huelga de Lorena, las palabras de Jacques Prévert, lágrimas que la gente común derramaba.
Y todos ellos parecían aún estar bajo la influencia de Hallyday: el gran actor súbita, descarnadamente humano y perdido. El viejo cantante poco sentimental con una lágrima en la mejilla. La columna de motociclistas que descendía por los Campos Elíseos, que nunca llevó tan bien su nombre fúnebre.
También estaba la Place de la Madeleine. Habitualmente tan formal y fría, en un momento se hacía eco del ritmo de las cuerdas al movimiento de los bayous de Luisiana, y al instante siguiente recordaba el concierto en el Olympia, tan cercano pero a medio siglo de distancia, en el que el saturnino agitador agitó diez mil corazones.
Había un flujo de emoción no visto en Francia desde los funerales de Víctor Hugo y Edith Piaf, desde el catafalco de Jean Jaurès por la Rue Soufflot. Un millón de personas de luto que no sabían si llorar, cantar, arrojar sillas, pedir un bis o encender velas.
Quien desaparecía en un último desfile de pasión y energía, de desasosiego y rebelión silenciosa, de fisuras internas y deseo de armonía, era alguien que había pasado toda su vida intentando no sobrevivir. Y ese día fue tan llorado que su ausencia parecía parte de un espectáculo, de alguna manera haciéndonos olvidar que ya no estaba con nosotros. Quien permanecía en cada uno de nosotros era el Johnny que nos conmovió a todos: la juventud en una gira, como el Capitán Fracasse de Gautier; el padre, un personaje de Modiano quien, entre episodios de bebida, empeñó los regalos que le había hecho su hijo abandonado.
Y también estaba el rockero de los sesenta con ojos de lobo triste y pómulos tallados por Giacometti, con actitud de El guardián entre el centeno y una melancolía tan intensamente desesperanzada que parecía condenarlo a vivir al borde de toda forma de exceso. Era el artista consumado de la escena francesa, un camaleón propagado por la televisión satelital, empapado de falso sudor y brillantina de verdad, un artista que, como un novelista, confesaba como una forma de mentir.
Hallyday fue hijo de una generación que vio la entrada de los soldados estadounidenses en París y que inventó para sí una ascendencia estadounidense. Estados Unidos era cigarrillos, Levi's y Coca-Cola. Pero también era la languidez del blues, Nashville y la luz verde que veía brillar al amanecer tras noches empapadas de alcohol y anfetaminas.
Cuando este desesperado coloso del dolor, el vaquero desvelado y suicida, ofreció su cuerpo en sacrificio a la cámara y a la multitud de fanáticos embelesados, generó en François Mauriac la impresión de una figura mefistofélica. Aquí estaba el héroe, abigarrado y marcado por cicatrices, cuya gloria parecía una herida, cuyas victorias eran estigmas y que, de metamorfosis en metamorfosis, encarnaba lo que erróneamente se llama pop o variedades pero que, en él, era más como la grandeza perdida o el lamento de un poeta ingeniosamente disfrazado.
Y al final triunfaba el rey Lear, la cara de cera con la mirada violeta, sobreviviente de una época cuyos héroes perecían antes de los 30 años, uno que sabía que su supervivencia era un milagro. Y luego, finalmente, esas casi muertes a la manera de Bossuet ("¡Johnny se está muriendo! ¡Johnny está muerto!"): él siempre reviviría, hasta la última vez, cuando vivió nuevamente en París por unas pocas horas bajo un frío sol de diciembre.
El Vaticano de la literatura que es la Academia Sueca rescató a la canción de su infierno canónico con la coronación del Nobel de Bob Dylan. En el caso de Johnny Hallyday, tal vez no resulte demasiado descabellado creer que este hombre de un misterio de esfinge ahora sea, como Baudelaire, "un bloque de granito rodeado de un temor vago" cuya "naturaleza valiente solo canta a los rayos del sol del ocaso".
Traducido del inglés por David Meléndez Tormen