Die richtigen Anreize für eine kohlenstoffarme Zukunft
BERLIN – Das im vergangenen Monat von internationalen Staats-und Regierungschefs in Paris beschlossene Klimaabkommen ist weltweit für das vereinbarte Ziel gefeiert worden, die
globale Erwärmung auf deutlich unter 2 Grad Celsius gemessen an der vorindustriellen Zeit zu begrenzen. Doch das Abkommen ist nur ein Schritt, wenn auch ein wichtiger. Politische Entscheidungsträger müssen sich jetzt darüber klar werden, wie sie dieses Ziel erreichen wollen – kein einfaches Unterfangen, vor allem angesichts der Tatsache, dass man sich, entgegen der landläufigen Meinung, nicht darauf verlassen kann, dass stetig steigende Kosten für konventionelle Energie den notwendigen Übergang in eine kohlenstoffarme Zukunft vorantreiben werden.
Auf den ersten Blick scheinen negative wirtschaftliche Anreize ein naheliegender Schluss. Wenn es teurer wird, einen Spritfresser zu fahren, werden die Leute vermutlich eher darauf verzichten. Doch Preisänderungen bei Kraftstoffen wirken sich nur partiell und mit Verzögerung aus. Autofahrer mögen sich zwar auf lange Sicht für den Kauf eines verbrauchsärmeren Fahrzeugs entscheiden, aber kurzfristig werden sie eher in anderen Konsumbereichen sparen, um die gestiegenen Kosten zu kompensieren. Wenn es darum geht, ein so dringendes Problem wie den Klimawandel zu lösen, ist Keynes' berühmtes Diktum "Auf lange Sicht sind wir alle tot" eindeutig relevant.
Selbst wenn Verbraucher kraftstoffsparend reagierten, kommt hinzu, dass Treibstoffpreise weitgehend von stark finanzialisierten Märkten diktiert werden, die zu starken Schwankungen neigen. Der Einbruch der Ölpreise in den vergangenen 18 Monaten ist ein einschlägiger Fall. Der Ölpreis selbst war kein Ansporn, den Verbrauch zu verringern und hat zudem Anreize zur Entwicklung alternativer Energiequellen untergraben. Investitionen in Solarenergie mögen lohnenswert erschienen sein, als der Ölpreis bei 100 US-Dollar pro Barrel lag, waren aber weit weniger reizvoll als der Preis unter 50 Dollar fiel.
Denkbar wären Steuererhöhungen seitens der Politik, um solche Preisrückgänge zu kompensieren. Derartige Erhöhungen müssten allerdings mitunter (so wie heute) massiv sein und es ist nie eine gute Idee, eine erratische Politik zu betreiben, die die Volatilität des Marktes widerspiegelt.
Die Bepreisung von CO2-Emissionen könnte ein ähnliches Schicksal ereilen. In der Europäischen Union sind die Kohlenstoffpreise seit mehreren Jahren gering, und einstweilen scheinen Marktakteure der Herde in dem Glauben zu folgen, dass es so bleiben wird. Es gibt aber keine Garantie, dass ein freier Handel mit Emissionen anders funktionieren wird als andere Finanzmärkte und keine starken Schwankungen der CO2-Preise erzeugen wird. Wenn sich die Erwartungen plötzlich ändern sollten, könnte die Herde in die entgegengesetzte Richtung laufen und die CO2-Preise in die Höhe schnellen lassen.
Secure your copy of PS Quarterly: The Year Ahead 2023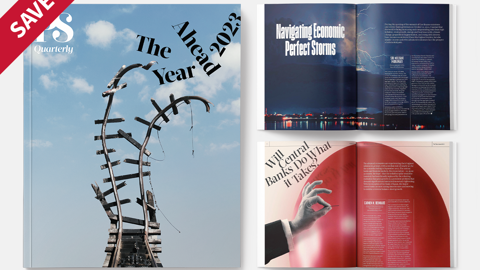 Secure your copy of PS Quarterly: The Year Ahead 2023
Our annual fourth-quarter magazine is here, and available only to Digital Plus and Premium subscribers. Subscribe to Digital Plus today, and save $15.

Ein weiteres Problem des auf Preisen basierenden Ansatzes zur Abschwächung des Klimawandels besteht darin, dass das Potenzial der Märkte, falsche Anreize zu schaffen unberücksichtigt bleibt. Wenn die Kosten für konventionelle Energie steigen, sehen neue Energieanbieter eine Chance. Dementsprechend haben Investoren in der Zeit vor Juni 2014, als die Erdölpreise hoch waren, intensiv in die Erschließung von Schieferöl und -gas in den Vereinigten Staaten investiert. Die zusätzlich produzierte Energie führt jedoch letztlich zu einem Preisverfall und verringert den Anreiz, in alternative Energiequellen oder Energieeffizienz zu investieren. Diese Reaktion des Marktes ist normal, läuft der Bekämpfung des Klimawandels allerdings zuwider, die stetig steigende Kosten voraussetzen würde.
Der letzte Grund, warum Negativanreize allein nicht ausreichen, um dem Klimawandel entgegenzuwirken, ist der vielleicht irrationalste von allen: Nachdem die Steuern über einige Jahre erhöht wurden, wird die Öffentlichkeit jedwede Politik, die zu einer Erhöhung der Energiepreise führen könnte, entschieden ablehnen; unabhängig davon, ob die aktuellen Preise hoch oder niedrig sind. Die Überzeugung, dass die Energiekosten "explodieren" ist trotz des jüngsten Ölpreis-Einbruchs so weitverbreitet, dass jedes neue Vorhaben, das auch nur geringfügige Preiserhöhungen mit sich bringt – sogar bei insgesamt immer noch niedrigeren Energiepreisen als vor fünf Jahren – inzwischen zunehmend schwierig auf den Weg zu bringen ist.
Was das bedeutet, ist klar: Wenn politische Entscheidungsträger beginnen, Strategien für die Umsetzung des Abkommens von Paris zu entwickeln, sollten sie sich nicht allzu sehr darauf verlassen, dass steigende Energiekosten ihre Ziele voranbringen werden. Eine Strategie, die davon ausgeht, dass der Markt diejenigen bestrafen wird, die nicht in eine kohlenstoffarme Zukunft investieren, ist unrealistisch.
Ein besserer Ansatz ist möglich: Die direkte Belohnung derjenigen, die in eine kohlenstoffarme Zukunft investieren; sei es durch eine Verbesserung der Energieeffizienz oder die Entwicklung oder Erschließung sauberer Energiequellen. So könnten Regierungen etwa beschleunigte Abschreibungsregelungen für Investitionen in Unternehmen einführen, die eine kohlenstoffarme Strategie verfolgen; Subventionen für Investitionen in energieeffiziente Gebäude anbieten und eine Politik zugunsten industrieller Innovation gestalten, die auf eine Verringerung der Emissionen und Steigerung der Wettbewerbsfähigkeit abzielt. All das würde fossile Energieträger sowohl für Investoren, als auch für die Verbraucher weniger attraktiv werden lassen.
Ein auf derart positiven Anreizen beruhender Ansatz wäre kurzfristig zwar kostspieliger als Steuererhöhungen, doch die langfristigen Vorteile können gar nicht hoch genug bewertet werden. In Zeiten des ausgeprägten Widerstands gegen höhere Energiekosten dürfte diese Vorgehensweise nicht nur zu den politisch geschicktesten, sondern zu den wirkungsvollsten Instrumenten zählen, um die in Paris vereinbarten Ziele voranzubringen.
Aus dem Englischen von Sandra Pontow.