Wie sich der IWF gegen seine allmähliche Irrelevanz wehren kann
NEW YORK – In diesem Jahr nahm ich nicht an den Jahrestagungen des Internationalen Währungsfonds und der Weltbank in Washington, D.C. teil. Stattdessen widmete ich Berichten über die Veranstaltung viel Aufmerksamkeit und sprach mit Leuten, die dabei waren und die ich respektiere. Was sich dabei ergab, ist für das Wohl der Weltwirtschaft deprimierend. Insbesondere werden die Aussicht auf ihre anhaltende Schwäche und der Zersplitterungsdruck die Glaubwürdigkeit und Effektivität der multilateralen Institutionen zusätzlich in Frage stellen.
Die Fähigkeit des IWF und der Weltbank, Menschen und Institutionen zusammenzuführen, ist unzweifelhaft stark, wenn nicht gar einzigartig. Jedes Jahr locken ihre Jahrestagungen führende Vertreter öffentlicher Institutionen aus den Bereichen Wirtschaft und Finanzen aus mehr als 180 Ländern sowie eine noch erheblich größere Zahl von Vertretern des privaten Sektors herbei. Es ist eine außergewöhnliche globale Zusammenkunft, und das nicht nur, was den Austausch zwischen Vertretern der öffentlichen Institutionen angeht, sondern auch zum Networking zwischen Unternehmensvertretern.
Während der letzten paar Jahre wurden die offiziellen Sitzungen zunehmend von der ständig wachsenden Zahl an Parallelevents überschattet, was den Beitrag der Veranstaltung zu besseren politischen Entscheidungen deutlich verringert. Tatsächlich konnte ich in diesem Jahr niemanden finden, der zentralen Ergebnissen der Sitzungen zur politischen Linie – den von den führenden mit der politischen Entscheidungsfindung befassten Ausschüssen der beiden Institutionen veröffentlichten Communiqués – besondere Aufmerksamkeit geschenkt hätte.
Dies steht in einem deutlichen Kontrast zu früheren Tagen. Ich kann mich noch lebhaft erinnern, dass sich Regierungsvertreter vor nicht allzu langer Zeit sorgsam auf diese Diskussionen zur politischen Linie vorbereiteten. Die Teilnehmer aus dem privaten Sektor warteten damals in der Hoffnung, ein besseres Verständnis der weltwirtschaftlichen Aussichten und des Ausblicks in Bezug auf zentrale nationale und internationale politische Initiativen zu gewinnen, begierig auf die Ergebnisse dieser Diskussionen. Man wusste, dass die Märkte auf bestimmte Bemerkungen reagierten, und die Funktionsträger verbrachten daher Stunden damit, die Communiqués zu überarbeiten, um Fehlinterpretationen zu vermeiden.
Die wohlmeinende Auslegung dieser Veränderung ist, dass sich der substanzielle Gehalt auf die Parallelevent verlagert hat. In Bezug auf den IWF etwa geht dem Communiqué des Internationalen Währungs- und Finanzausschusses (IMFC), dem die politischen Entscheidungen treffenden Gremium der führenden Mitgliedsländer, die Veröffentlichung zweier maßgeblicher IWF-Publikationen zu wirtschaftlichen und finanziellen Trends (dem World Economic Outlook und dem Global Financial Stability Report) vorweg. Diese werden durch Pressekonferenzen und Reden ergänzt, an denen viele Vertreter des Fonds beteiligt sind. Die Themen werden dann von einer breiten Palette von Seminaren sowie von Referaten nationaler Funktionsträger aufgenommen. Infolgedessen werden viele Auswirkungen der verfolgten politischen Maßnahmen bereits deutlich vor der Sitzung des IMFC behandelt.
Doch so sehr ich die multilateralen Institutionen respektiere und bewundere – und das tue ich seit Jahrzehnten –; ich fürchte, dass diese Erklärung zu einseitig ist. Es stimmt, dass sich der IWF dank seiner talentierten und engagierten Mitarbeiter und seiner einzigartigen Beziehungen zu den Ländern eine beeindruckende analytische Kompetenz bewahrt hat. Es stimmt, dass er wichtige Fortschritte hin zu einem besseren Verständnis der Beziehung zwischen Finanzmärkten und Realwirtschaft gemacht hat. Und es stimmt, dass er tapfer eine Vorreiterrolle dabei übernommen hat, die wirtschaftlichen Auswirkungen der Ungleichheit zwischen den Geschlechtern und des Klimawandels zu beleuchten. Doch seine zukunftsorientierten Analysen haben sich zu oft als rückwärtsgerichtet erwiesen, und bei seinen quantitativen Prognosen gab es immer wieder erheblichen Korrekturbedarf.
Subscribe now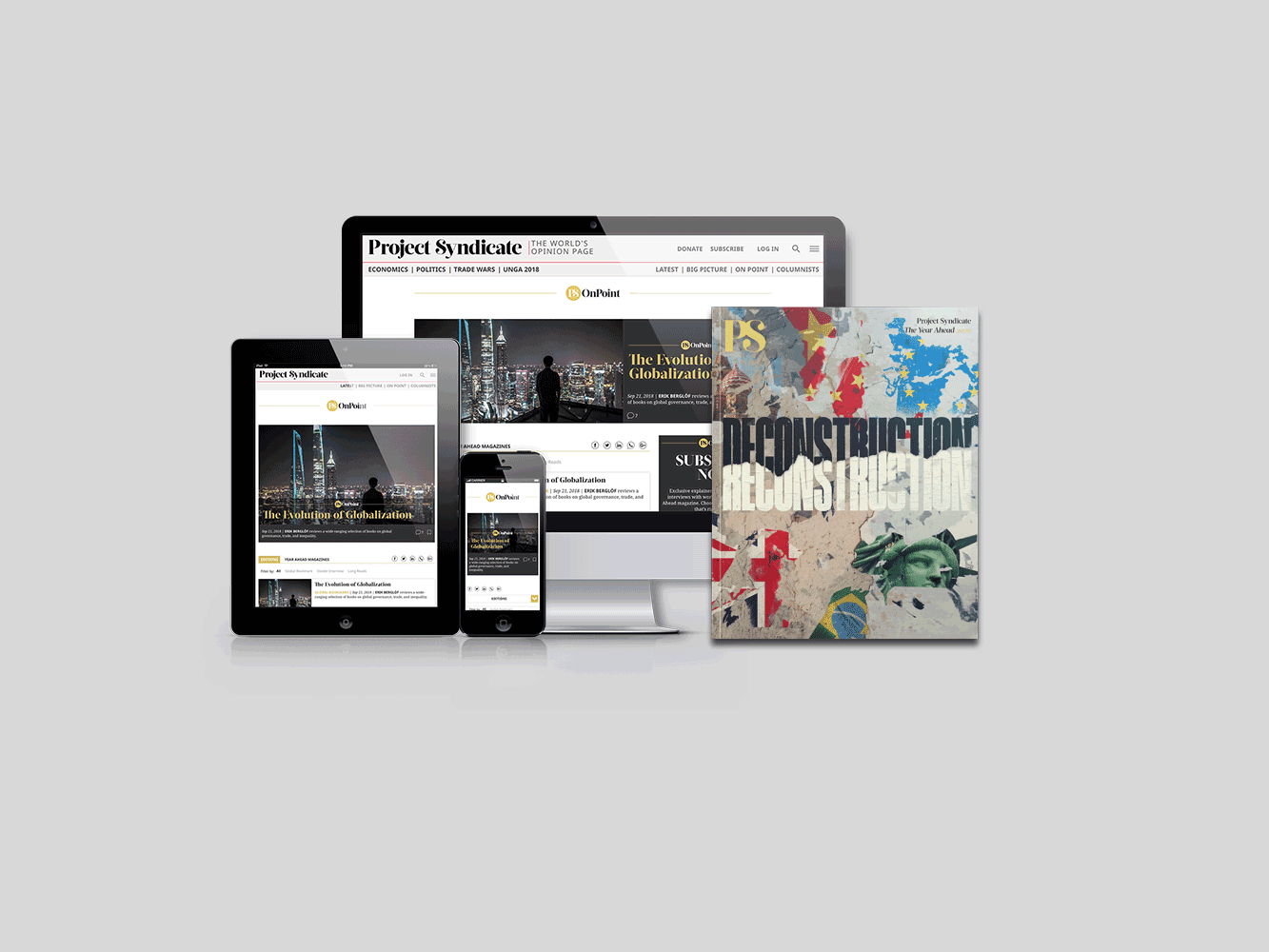 Subscribe now
Subscribe today and get unlimited access to OnPoint, the Big Picture, the PS archive of more than 14,000 commentaries, and our annual magazine, for less than $2 a week.
Noch besorgniserregender ist, dass die politischen Empfehlungen des Fonds – insbesondere jene in Bezug auf die hochentwickelten Volkswirtschaften – kaum Auswirkungen haben (um es höflich auszudrücken). Man muss sich nur die sich verbreiternde Kluft zwischen den Äußerungen der IWF-Vertreter und den faden, repetitiven Formulierungen des IMFC-Communiqués ansehen. Die politischen Erkenntnisse fallen noch auf weitere taube Ohren, wenn die Finanzminister und Notenbanker wieder in ihren nationalen Hauptstädten sind, was die derzeitige Ineffektivität dessen unterstreicht, was einst eine zentrale Chance zur Verbesserung für alle Seiten vorteilhafter politischer Strategien war.
Viele zentrale Gründe für diesen verringerten Einfluss haben wenig mit den multilateralen Institutionen selbst zu tun. Die Politik in vielen hochentwickelten Volkswirtschaften ist zunehmend nach innen gerichtet, was die Geringschätzung der vom Fonds propagierten Politik verstärkt. Jahrelanges niedriges und nicht ausreichend inklusives Wachstum hat den Rahmen für eine internationale politische Zusammenarbeit verengt und die Missachtung globaler Normen und der internationalen Rechtsordnung angeheizt. Selbst die Neigung, den IWF zur Verfolgung nationaler Interessen zu nutzen, hat nachgelassen: Die USA haben sich schlicht entschieden, ihre wirtschaftlichen Instrumente unmittelbar als Waffen einzusetzen.
Doch sind auch der IWF und die Weltbank nicht frei von Schuld. Zunächst einmal haben sie interne Reformen zu langsam umgesetzt. Beide Institutionen sollten außerdem schneller die Verantwortung für eigene Fehler übernehmen, wie etwa jene in Bezug auf Argentiniens jüngstes Finanzdebakel, die übertriebene Verschuldungszunahme in den am wenigsten entwickelten Volkswirtschaften und das Versäumnis, die Folgen der Finanzkrise von 2007-2008 vorherzusehen.
Zudem wurde der lang gehegte Grundsatz der einheitlichen Behandlung der Mitgliedsländer zuletzt spürbar großzügig ausgelegt, und das oft auf eine Weise, die das Standing und die Glaubwürdigkeit der Institutionen, deren Lenkung nach wie vor durch die Vergangenheit bestimmt wird, weiter beschädigt hat. Insbesondere Europa ist im Verhältnis zu den Schwellenländern seit langem überrepräsentiert, und Europa und die USA haben noch immer ein Monopol auf die Leitung des IWF bzw. der Weltbank inne.
Diese Mängel werfen breiter angelegte Sorgen auf. Sie steigern die Neigung zu einer Politik zulasten der Nachbarn auf nationaler Ebene und verschärfen den Druck hin zu einer Zersplitterung und ungeordneten Entglobalisierung. Sie setzen die Weltwirtschaft zudem der Gefahr einer finanziellen Destabilisierung aus, die die schon jetzt fragile und unzureichend inklusive Wachstumsdynamik weiter untergraben würde.
Multilaterale Organisationen beschweren sich häufig, dass die schwach ausgeprägte Neigung starker Regierungen zu institutionellen Reformen die Möglichkeit von Verbesserungen begrenzt. Schließlich sind diese Länder nicht nur die größten Anteilseigner, sondern sie blockieren manchmal auch von der großen Mehrheit der Mitgliedsstaaten unterstützte Initiativen.
Nun sind der IWF und die Weltbank zugegebenermaßen durch die Welt, in der sie operieren, Beschränkungen unterworfen. Doch hat sich ihr Management zugleich tendenziell gescheut, Reforminitiativen anzunehmen und sich zu eigen zu machen. Statt durch Übernahme des mit unweigerlich auf Widerstand stoßenden Ansätzen verbundenen beträchtlichen Reputationsrisikos als ein Katalysator zu agieren, wurden sie häufig an den Rand gedrängt.
Angesichts der Tatsache, dass beide Institutionen nun eine neue Leitung haben, besteht ein neues Zeitfenster für die Einleitung eines Prozesses nützlicher Veränderungen für die Weltwirtschaft. Wir wollen hoffen, dass die enttäuschenden Jahrestagungen des letzten Monats als Weckruf dienen können. Es gibt für diese Organisationen kein schlimmeres Schicksal als allmähliche Irrelevanz.
Aus dem Englischen von Jan Doolan